Are you worried because of the small size of the bathroom? Relax! You don't have to compromise on the style because of the space. Every inch counts in a small bathroom to accomodate all the comfortable and luxurious items in your bathroom. It's important to maximise the available space and add a pop of luxury and functionality to add visual appeal. The shower ideas for small bathroom work wonders in adding charm. With proper planning and smart ideas, you can transform a small bathroom into a beautiful space.
Read more: 22 Trending Modern Bathroom Ideas For Refreshing Look!
If you are looking for inspirational shower ideas for small bathroom to transform it into a luxurious space, we have some designs for you.
Read more: Effective Ways To Plan The Bathroom Renovations
Creative And Practical Shower Ideas For Compact Bathrooms
There are numerous shower ideas for small bathrooms. Opt for the best one for your bathroom to reflect your choice.
Optimal Use Of Shower Fixtures
Space-Saving shower ideas for small bathroom
The best way to save space in a small bathroom with the best bathroom shower ideas is to go vertically for a towel rack, a sleek walk-in shower, a vanity shelf and a functional mirror. Use clear glass for the walk-in shower and bright shade tiles to keep the space bright.
Space-saving showerheads
Body spray showers, neo-angle showers, single spray showerheads and shower panels are good options for bathrooms with limited space. Single spray showerhead has a conventional design with a concentrated flow. 
Creative Shower Enclosures
Frameless glass enclosures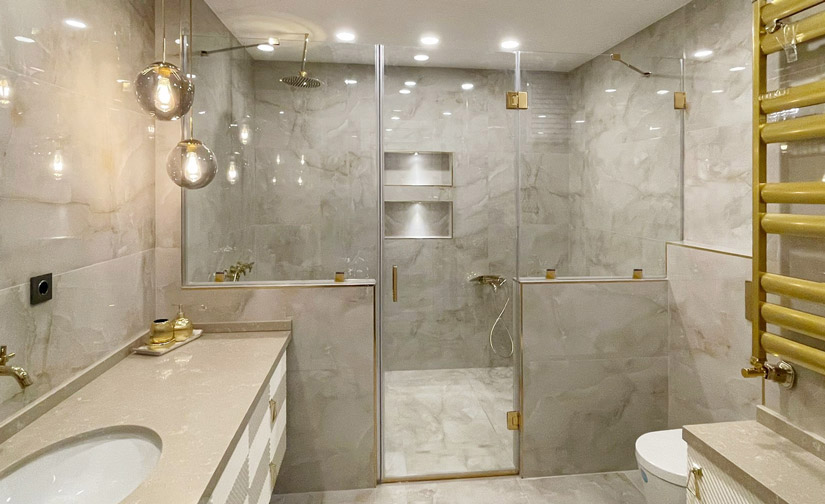 A frameless walk-in shower makes the bathroom feel spacious, accessible, clean and compatible with most shower heads. Decide the drain (center, corner or side) depending on the layout.
Half-walls or partial glass enclosures
This is also an interesting way to create a shower enclosure. Build a half wall and cover it with transparent glass extending to the ceiling. It is a practical way to divide the walk-in shower from the rest of the bathroom.
Frosted or textured glass
These glass doors keep privacy intact while allowing light to pass through them. It's preferred for large-size families with shared bathrooms but also liked by small families due to its versatility.
Innovative Storage Solutions
Built-in niches or shelves
Built-in shelves give a platform to display creativity while saving space in the small bathroom. No need to hang storage shelves occupying extra space on the walls. 
Shower Ideas For Small Bathroom With Organisers
Organisers help keep the bathroom neat and clutter-free. There are multiple options, such as a wire caddy, placing a suction tray, a ladder, using a window sill, adding a bench, twin storage or a neat corner shelf, but opt for the one based on your requirements and available floor space. 
Corner shelves or hanging baskets
A hanging basket or a corner shelf provides an easy storage solution to keep stuff and rolled towels. Organise the items for easy grabbing. 
Stylish Tiles And Finishes For Walk In Shower Ideas For Small Bathroom
Rectangular white tiles
The best way to make the bathroom look bigger is by reflecting light. Hexagon or monochrome pattern tiles can transform the bathroom into a unique space. 
Vertically arranged tiles
This idea creates an image of a tall ceiling. It's an eye-catching and stunning feature. 
Geometric pattern tiles
A walk-in shower ideas for small bathroom in geometric patterned tile adds a statement to the small bathroom. This pattern creates visual interest. 
Chevron-style tile arrangement
This decorative idea will make your bathroom stand out from the usual conventional tile pattern.
Modern makeover with black and white tile
The black and white colour combination is a timeless choice. Creating a solid base with black tiles and extending white glossy tiles up to the ceiling add a clean finishing touch to the limited space bathroom.
Add eclectic aesthetic with mix-and-match tile
Add consistent elements to the bathroom with contrasting tile. The consistent element can be the colour scheme or the tile pattern to add an aesthetic element.
Glass shower tile idea
A doorless walk-in shower ideas for small bathroom with glass tile ensures more light in the bathroom. These glossy glass tiles require frequent maintenance because water and minerals get deposited on the tiles, so the surface needs regular polishing.
Mirrors And Lighting Ideas For Walk In Shower Bathroom
Frameless mirror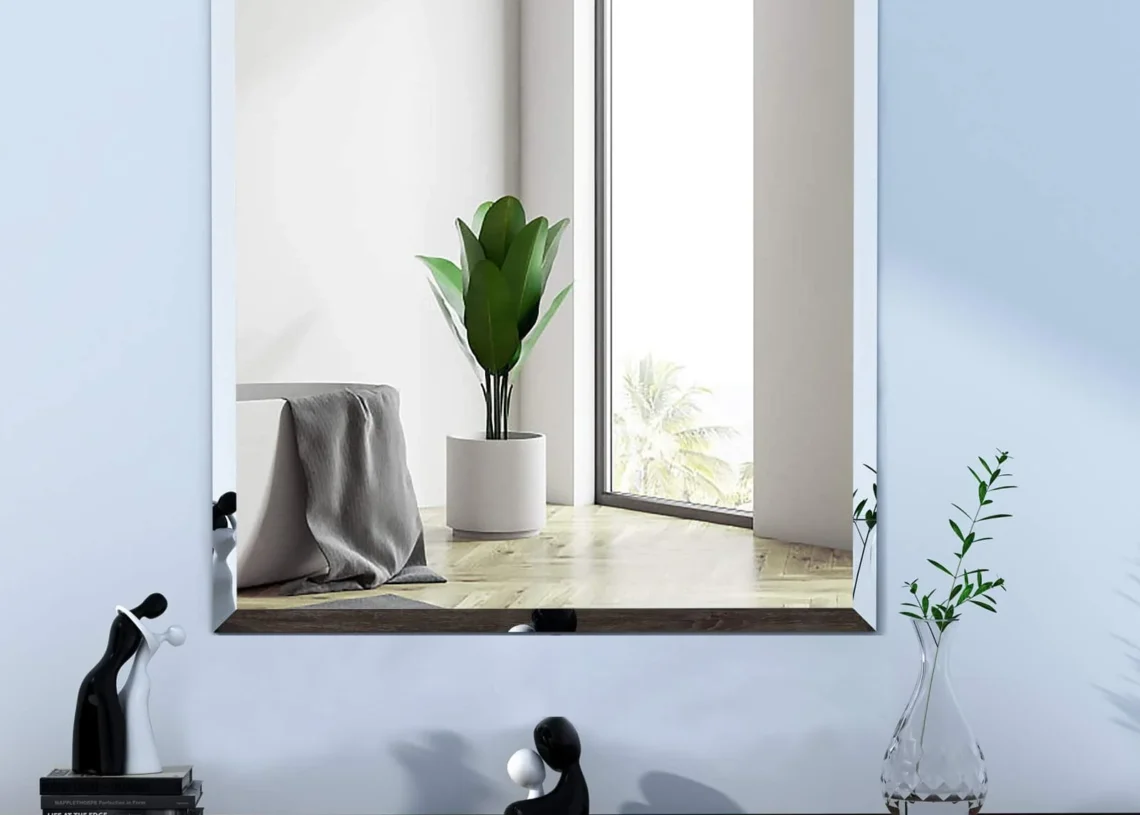 To add luxury to the bathroom, go for frameless mirrors and statement lighting as shower ideas for small bathroom. It will allow tiles to effortlessly shine brightly.   
Brass frame mirror
Bathroom hardware is no more limited to the necessity for the bathroom but rather a jewel. The brass framed mirror looks luxurious, especially when fixed in contrast with other brass fixtures such as door handles and vanity knobs.
Create a focal point with a designer mirror
A unique mirror frame draws all the attention away from other items. The mirror becomes the focal point of the bathroom.
Compact Furnishings And Accessories For Walk In Shower Ideas For Small Bathroom
Space-saving vanities and sink options
There are many space-saving vanity ideas for small bathrooms. Vanity fixed beneath the wash basin, a shallow vanity, a vanity away from the splashing area and many more. Usually, vanity is made in and around the sink area in an open or closed design.
Compact and foldable furnishings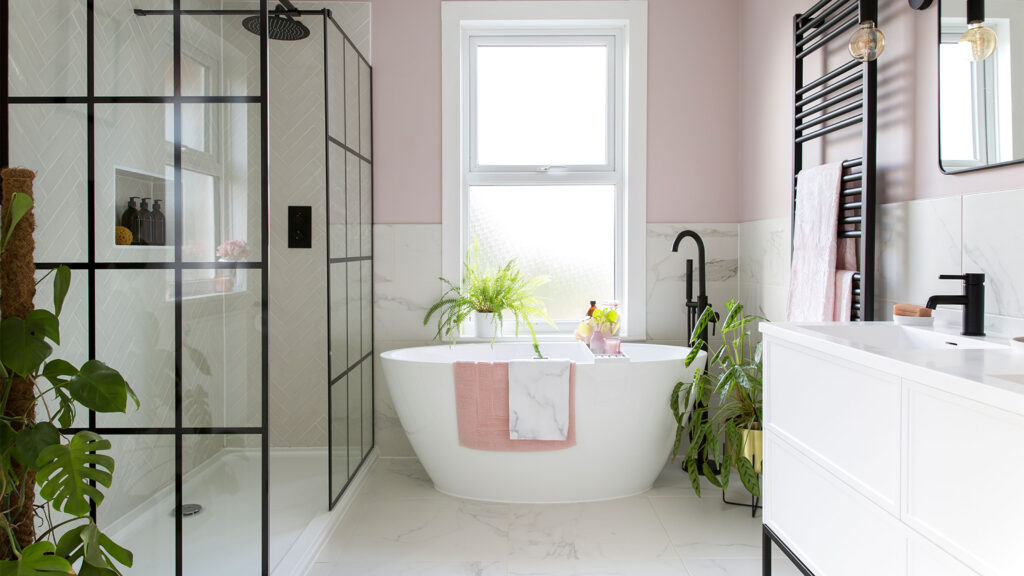 A walk-in shower with a sliding door cubicle, wall-hung vanity to store toiletries, etc, saves floor space for other utilities. 
Hooks, towel bars, and accessories that double as decor elements
The decor element is enhanced with every small item fixed in the bathroom froma hook to hang essentials, towel bars to keep towels and other accessories. Opting for unique compact towel bars looks impressive in a walk in showers.
Importance Of Maximising Space And Functionality Without Compromising On Style
It's essential to maximise the available bathroom space without compromising on style and functionality because this is the place where you begin and end your day. With so many ideas and styles, there's no need to adjust on comfort and style. 
Read more: Chic And Multipurpose Modern Bathroom Ideas That Will Trend in 2023!
Conclusion
Irrespective of the bathroom size, you can play around with multiple ideas to have a comfortable and modern bathroom in a limited space. Select a walk-in shower ideas for small bathroom with all the essential elements, such as a towel rack, vanity, mirror, etc, to store daily-use items. A small bathroom can be easily transformed into a beautiful space.
FAQs
How Do Doorless Showers Keep Water Off The Floor?
Water in a doorless shower can be avoided with a sloped shower pan and a properly fixed showerhead. A properly planned waterproof surrounding can fix the issue. All these will help deal with the issue; however, the chance of water splashing in a doorless shower can't be completely ruled out. 
How Close Can A Toilet Be To A Walk-In Shower?
The toilet should be at a minimum distance of 15 inches from the walk-in shower to keep privacy intact and also to avoid water splashing from one fitting to another.
What Are The Best Shower Ideas For Small Bathroom?
For a small bathroom with limited space, a corner shower is the best option to save floor space to accommodate other fittings. 
Can You Have A Doorless Shower In A Small Bathroom?
Yes, a small bathroom can have a doorless shower, but with proper planning. Deciding on the place to fix the toilet, vanity, and sink plays an essential role in allotting space to all the fixtures.