Home decor has come a long way from a basic need-based interior design to modern bathroom designs, which applies to every part of the home, be it the bedroom, kitchen, living space, bathroom or dining room. Over the period, choices and preferences have changed for mostly good reasons. The bathroom is a functional area of all the spaces that call for the best ideas and innovations.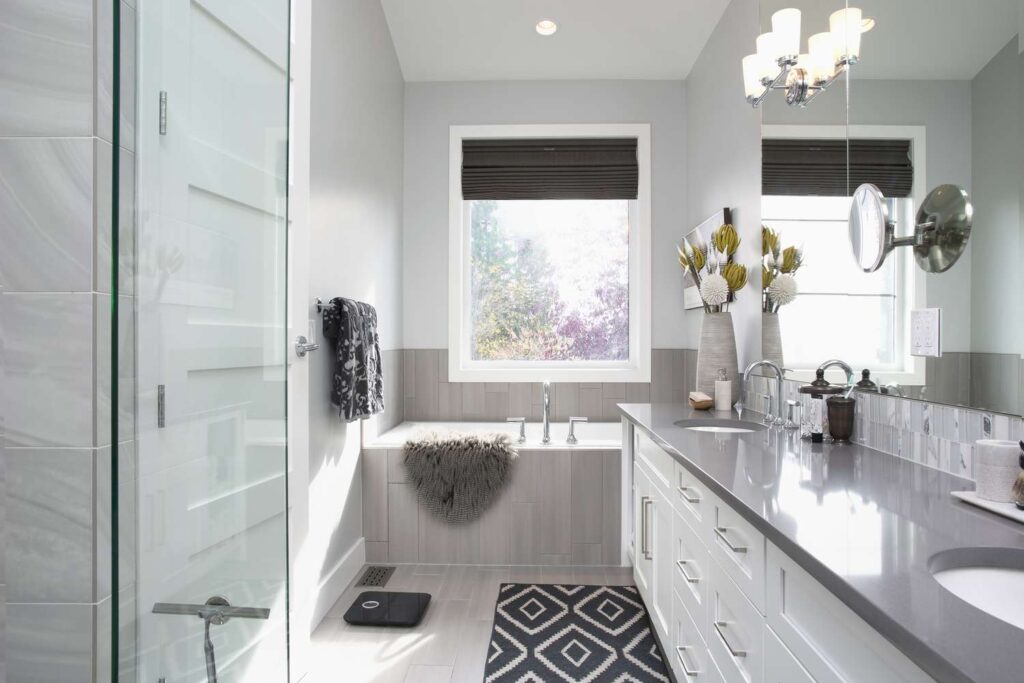 Modern bathroom design can be a pinch to the pocket because, many times, it goes beyond the cosmetic changes and extends to sudden structural changes. The purview of renovation depends on what you want for your bathroom, how many dollars you plan to shell and how much spare time you've to invest in repair and renovation. 
There's no substitute for aesthetics than some new array of natural light kissing the bathroom floor, filling the space with immense warmth and cosiness. These days the trend is changing, moving towards concrete designs. Terrazzo tiles have returned to modern bathroom decor due to their spectacular effect that suits most home interior requirements. Whether you stay in a studio flat or a mansion, you would like to spend some luxury time within your home.
The bathroom is such a space where a minimalist touch basing will wipe out the boredom from the room. To experience a high feeling, it's not necessary to spend time splashing water in the bathtub; your brushing time in the bathroom can also give you an ecstatic feeling. If you are looking for modern bathroom ideas, sit back and relax and scroll the pages for unique ideas. Here we go.
1. Bright White
White displays peace and calmness. Why not try it in the bathroom and have some me time? You can never go wrong with white, so go ahead and paint all over the bathroom with a crisp white shade to maintain a balance in luxury quotient and a softer experience.
2. Go For A Hanging Vanity
Hanged vanity extends a minimalist look to the modern bathroom, especially a tiny bathroom. It keeps the floor uncluttered with a line of luxe.
3. Maintain Balance In The Placement Of Items 
Irrespective of the size of the bathroom, a perfect balance in placement and proportion ensures a complete fusion of items.
4. Create More Virtual Space In The Modern Bathroom

How about having a neat and clutter-free space in the bathroom to enjoy a serene moment from the chaos and tension of the routine schedule? A frameless glass partition adds volume to the area, making it look spacious.
5. Freestanding Bath With A 360-Degree View
Place a freestanding bath to have the desired view creating a focal point in the bathroom. It also lets you decide where you want the focal point. To complete the look, place a tower bath mixer.
6. Introduce A Surprise Element In The Bathroom
Think out of the box. Fix a brass tap and a stone finish bathtub. Sounds unusual and not-so-common trend? But this premium material will add some statement and incredible texture to your bathroom.
7. Spend Some Time In A 3D World
One of the latest trends for modern bathroom ideas is to install three-dimensional tiles on the walls to add more depth and dimension to the space. 3D tiles have the best look with white and black shades.
8. Colour Coordinated Fixtures
The best colour coordination is black and white for the bathroom fixtures. Select a matt finish black or charcoal grey tap and other accessories. A variety of modern bathroom packages are available, from vanity, toilets, wash basins to tiles-all in one package.
9. Bold Black
Black looks elegant and classy, no matter where it's installed. Black marble floors, the same colour, and textured tiles will silently reflect your personality and preferences. Make your private space a bold area full of positivity.
10. Create Contrast Texture
Try some contrast in texture than colour. It will leave a fantastic ambience for you with a great way to elevate some interest. Fix a metal tap, handmade look tiles, and light shade timber hung vanity.
11. Add A Little Wood To The Bathroom
A timber finish look is a subtle way to add a wood look to your modern bathroom. The natural timber of vanity, tiles and cabinets extends a rich and unique look.
12. Go Metallic
The metallic fixture is the latest decor trend, especially for the bathroom. A gold flare is long-lasting and has a neutral, dark palette.
13. Go Bold
Make sure to limit your bathroom to a fixed pattern if your bathroom is tiny. Go bold with items and textures with a sizzling effect. Hang a sensor mirror with metallic taps and showers. Place a vase above the vanity next to the wash basin.
14. Luxurious Lakehouse Look
Create your dreamy lakehouse bathroom with rustic items, shiplap walls, and a vintage Murano glass chandelier. Spend time in your dreamy world.
15. Timber Vibes
Coupling timber with concrete will turn the bathroom into your favourite place with a feel to spend more time relaxing.
16. Standout Shower
A standout shower with a floral curtain gives a cocooning feel keeping you away from the chaos to spend some splendid captures. You will wait to shower every day for a peaceful moment with your inner self.
17. Industrial Vibes
This look is perfect for a spacious bathroom. You may enjoy the industrial vibes with a doorless shower and gridlike tiles on the walls extending to the ceilings with a marble benchtop, making the bathroom strikingly breathtaking. Enjoy the ambience of a modern luxury bathroom!
18. Floral Wallpapers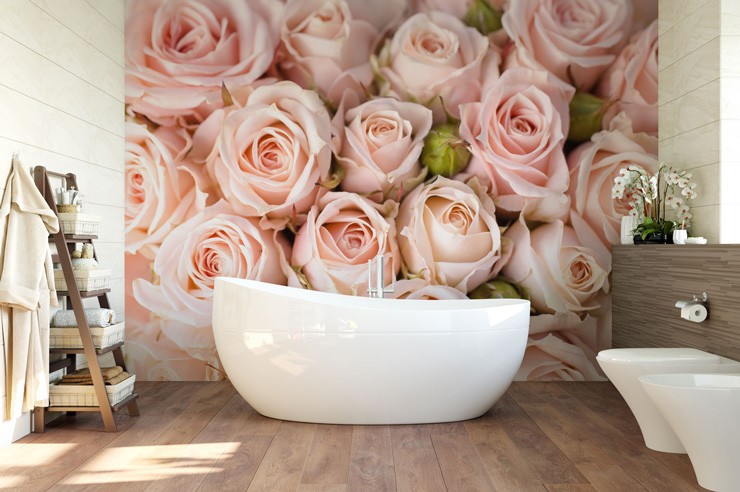 Some floral waterproof wallpaper can brighten the entire space with freshness and a cool ambience. Place a small marble sink to balance the look with a contemporary touch.
19. Spa-Like Bathroom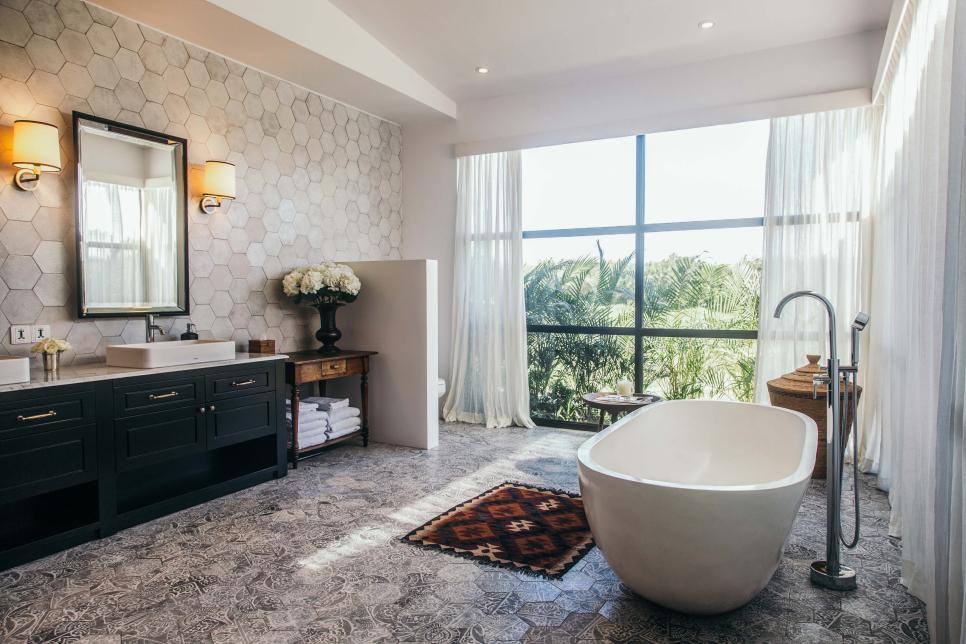 Get out of the basic modern bathroom and create a spa-like space in your private bathroom with a steam shower. Steam showers are trending because it's hassle-free. It doesn't need fire pits or underground pits. Just a touch of a button, and you're good to enjoy. Although the spa-like bathroom looks glamorous in a large space, it can also be created in a small bathroom.
20. Add A Skylight To Your Bathroom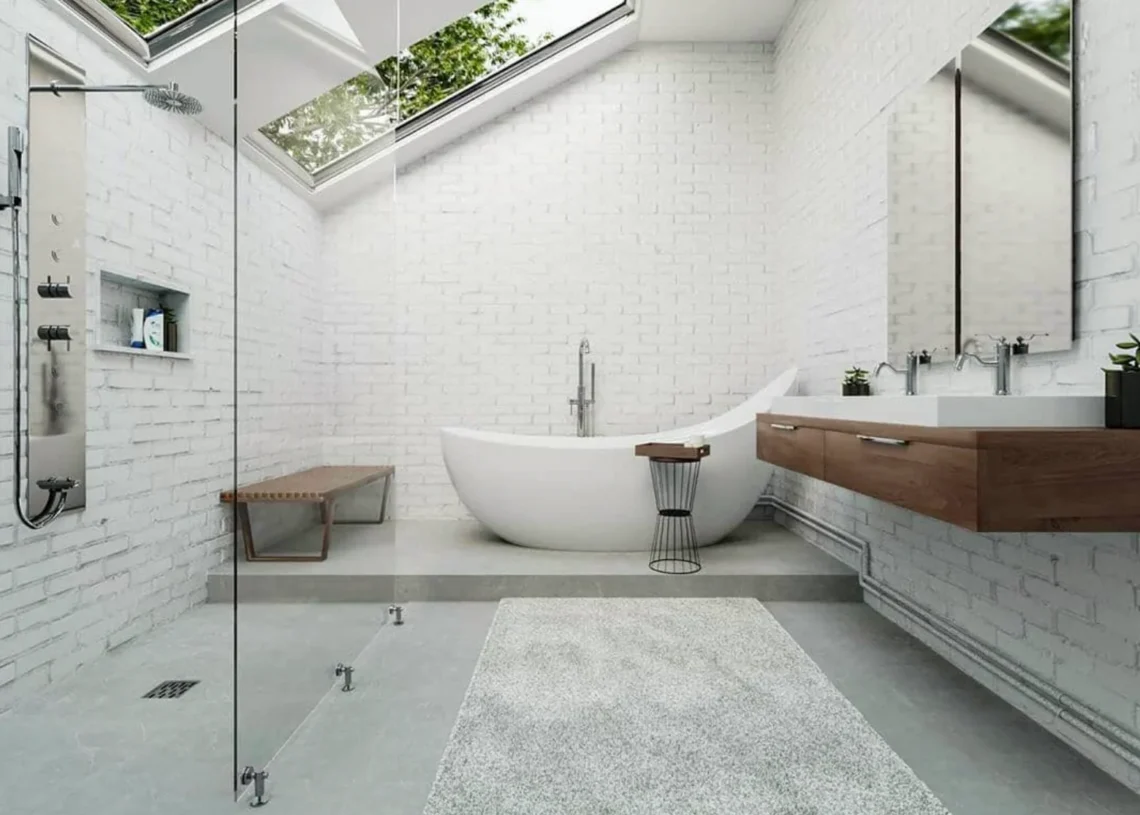 Add drama to the space and elevate the wall material to create a quirky ambience. With a skylight, create a light show in your bathroom. There is no better way to minimize artificial lights and spread more energy in the bathroom than to make way for sunlight to peep into your bathroom to create serenity and warmth. 
21. Brass Fixtures
To spruce up the style quotient of the bathroom, adding brass fittings by default adds warmth to the space regardless of the colour scheme applied to the walls. The only challenge for a perfect brassware match is finding an exhaustive range of bath fittings from a single manufacturer, as only some brass items are similar.
22. Chevron Arrangement Of Tiles
For the minimalist appearance of the bathroom, chevron tiles are outstanding for small rectangular bathrooms. Go for black tiles for the floor and splashback and white for the walls to create a striking focal point in the bathroom and an illusion of spacious space. You will no longer feel like taking a bath in a compact area.
FAQs
What Does A Modern Bathroom Look Like?
Modern bathroom design ideas encompass complete design innovations that include moody mirrors, engraved bathtubs, sensor-fitted toilets, fashionable showers, steam rooms and many more items. The basic rule of creating a modern bathroom is to arrange a set of compatible items that gel well with others creating a harmonious aura all over the toilet.
How To Decorate A Modern Bathroom?
Regardless of the size of the bathroom, you can easily convert it into a modern bathroom. To begin with, jot down the total budget, desired look and time spared for a makeover of the bathroom. Select high-quality tiles, a fancy shower and basin, a bathtub big enough for a playful bath and a breathtaking benchtop.