A relaxing shower in a clean bathroom with the most refreshing aroma lingering around; sounds comfortable right?
We have good, and then we also have bad days, but one of the most essential and best parts of every day is that it eventually comes to an end. Good or bad, among family and in your home, every day ends well, on a comforting note.
Technology is advancing, our lifestyles are evolving, and with everything moving quickly forward, we need all other parts of our lives to catch up. Smart homes with modern interiors are all the buzz right now and rightly so too. Modern minimalist home designs have recently gained more popularity, and their key advantages also tell us why.
They are simple yet detailed and also pay attention to the smallest of minor things. So even if you have a tiny bathroom, there will always be ways out there to make the most out of it.
Modern bathrooms have also been one of the most popular and sought addition to homes recently. They are the brighter and more progressive future of bathrooms. They clearly show how far bathroom design and functionality have advanced.
There has lately been a significant shift in modern bathroom ideas from purely functional spaces to stylish and available rooms. Modern bathrooms reflect this shift, offering a harmonious blend of aesthetics and functionality. There are several modern bathroom ideas that we have here and can't wait to share with you all!
A modern bathroom is the definition of the new and evolved human beings that we've become. The kind that looks forward and beyond basic requirements includes luxury and convenience even inside that small room adjoining our bedrooms. One of the distinctive features of modern bathrooms is their emphasis on simplicity and minimalism.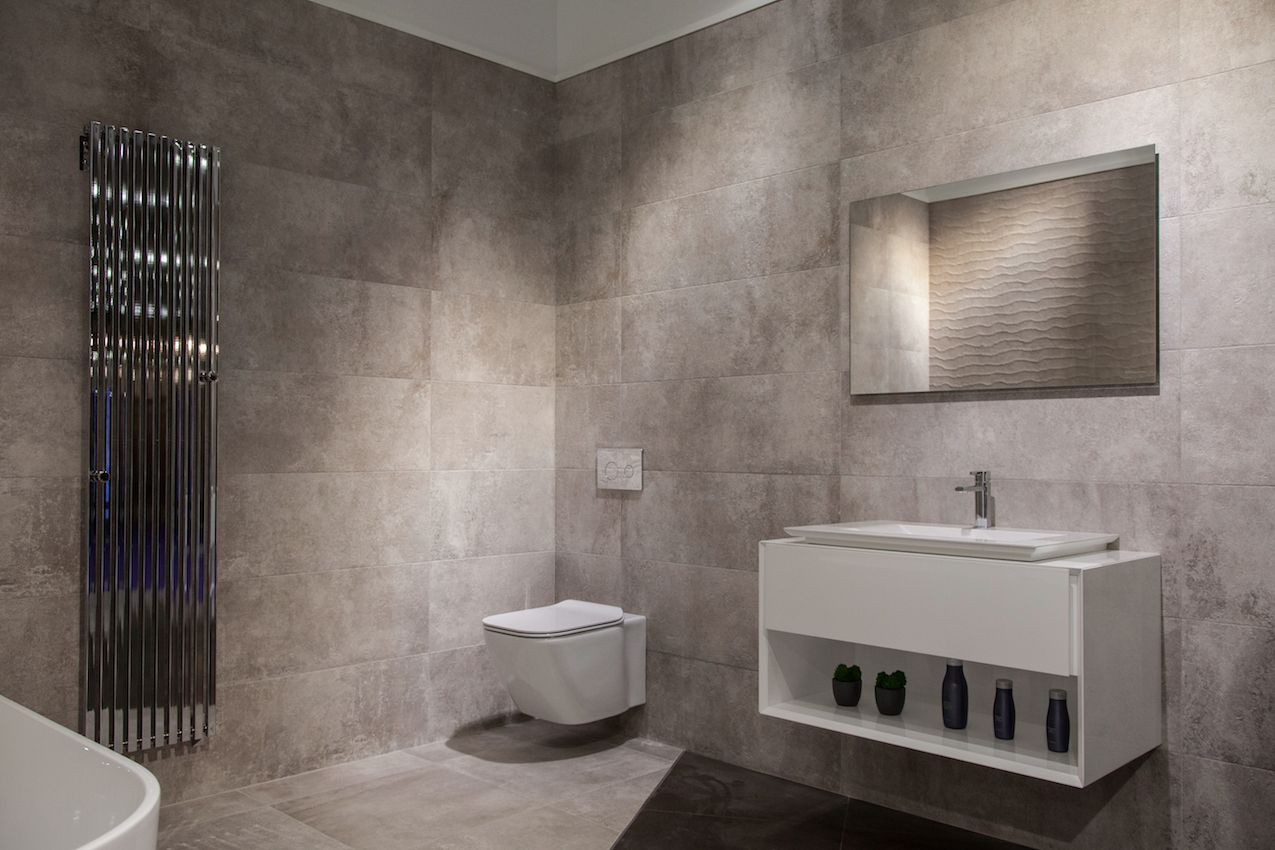 They typically have minimalistic designs with sleek and simple finishes, such as matte or glossy tiles, concrete, or stone. These finishes create a timeless and sophisticated look that stands out in itself. Without being too out there or even too loud, they happen to make an impact and leave an imprint in the unique way possible.
Then comes the use of technology. Like all the other things that have evolved, the telephone is the best example. These heavy and stationary devices have evolved so much that recently used smartphones can easily fit in the palm of our hands and can be carried around everywhere. Similarly, technology and ease of use are other defining features of modern bathrooms.
With technological advancements, modern bathrooms have the most up-to-date fixtures and amenities. Touchless faucets, smart toilets, and digital shower systems that allow users to control water flow, temperature, and lighting are a few examples of this technology. These features enhance the modern bathroom ideas of overall functionality and convenience.
Natural elements such as wood, stone, or plants are commonly used in modern bathrooms to create a sense of warmth and tranquility. These elements remind one of nature but also create a balance so as not to have too much technological punch in a small space. Imagine being surrounded by everything techy but then having some natural elements here and there. These add visual interest to the area and help create a relaxing and calming ambience, which is essential in any bathroom.
Storage is an essential factor that is paid extra attention to in modern bathrooms. With the increase in bathroom accessories and personal care products, contemporary bathrooms are designed to provide ample storage space without sacrificing style. You can store all the products, appliances and tools you wish to keep in the bathroom in the most simply visible or hidden storage options available.
Contemporary bathrooms address this issue through custom-built cabinetry, floating shelves, and hidden storage options, to name a few. Added storage gives the bathroom added convenience and also helps add to the value of the home during resale.
Now, what makes or breaks the look of any room in the house, especially bathrooms and lighting? The right kind and balanced lighting are essential in modern bathroom design. Strategically placed lighting fixtures can add depth and provide the ideal ambience for unwinding or getting ready for the day.
Ambient lighting, task lighting, and accent lighting can all be achieved using a combination of ceiling fixtures, sconces, and vanity lights. Bathrooms are generally described as more of a relaxing space to unwind, so the lighting options must also align with the same.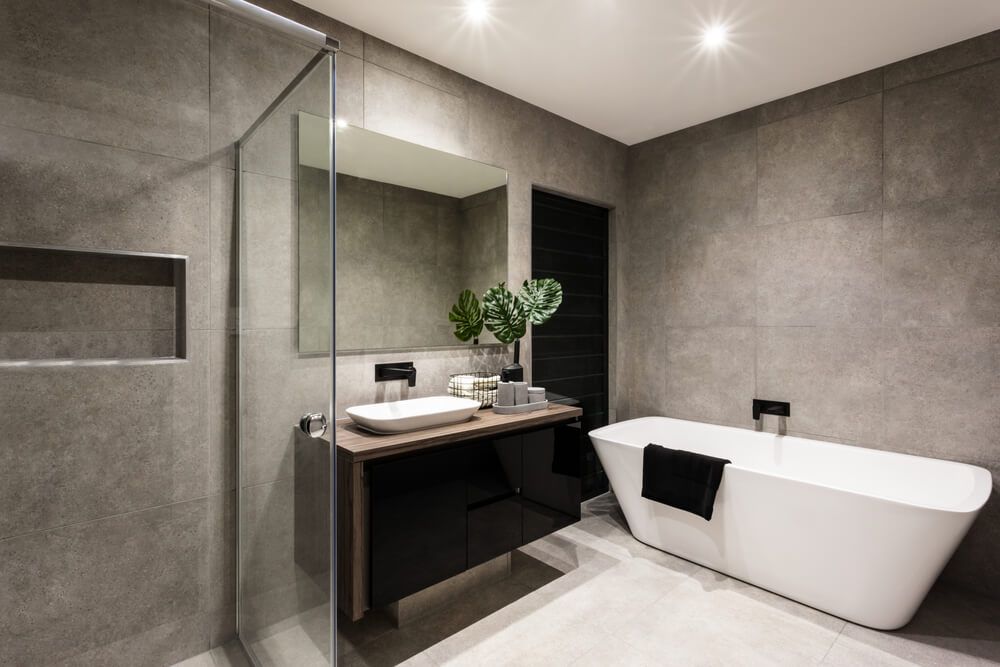 Ease of maintenance is another thing that is one of everyone's priorities, be it any purchase we make. From clothes to cars, we are all gradually shifting to more straightforward, easier, clean and maintained options when it comes to all the different parts of our homes.
Similarly, modern bathroom ideas also revolve around a similar thought process. It should be beautiful, but only a little effort must go into keeping it looking beautiful. Modern bathrooms make your life slightly more accessible, from all the different material options to all the easy-to-maintain designs.
Modern Bathroom Ideas And Themes
Now that we have gone through some things to keep in mind while designing and some modern bathroom ideas, you might also be in for some inspiration. There are so many unique ways to bring your personality and surface it in the décor and outlook of your home. These themes and ideas can vary from person to person, but picking a suitable theme can be a great way to start if you know what you are going for. Here are some suggestions of themes to get started with the perfect modern bathroom makeover!
The Minimalist Theme
The goal of minimalist bathroom design is to create a clean, clutter-free space. This design is ideal for small bathrooms since it makes them appear larger and more spacious. Choose neutral colors such as white, beige, or grey to create this look.
You can also add texture to the walls and floor with tiles or other materials to add visual interest to the modern bathroom ideas. Please stick to the essentials when it comes to accessories and fixtures, such as a single sink, a simple mirror, and a sleek showerhead.
The Nature Lover Theme
Bringing nature into the bathroom is a popular modern trend. It creates a soothing and relaxing atmosphere in your bathroom, making it feel like a spa. Natural materials such as stone, wood, and plants can achieve this look.
Install a wooden vanity, add some potted plants, and lay pebble stones on the floor, for example. Natural sunlight is also essential because it creates a warm and inviting aura.
The Chic Industrial Theme
The chic industrial theme combines sleek, modern design with an urban vibe. Using raw materials such as concrete, metal, and exposed pipes helps distinguish this theme.
Concrete tiles on the walls or floor, a metal vanity, and an industrial-style mirror are a few ways to achieve this look. Industrial-style lighting, such as an exposed bulb pendant light, is highly recommended. This theme will make a strong statement in any bathroom.
The Monochromatic Theme
The monochrome theme revolves around using a single color in various hues and textures to create a cohesive and stylish look. This theme is ideal for those who prefer a clean and modern appearance.
Use white tiles on the walls and floor, a grey or black countertop, and matte black fixtures to achieve this look. Using tiles with different patterns and textures can add texture to the bathroom.
The High-Tech Theme
The high-tech theme focuses on incorporating cutting-edge technology into your bathroom. This theme is ideal for designing an innovative and functional space.
You can add features like a digital shower system, a voice-activated mirror, and a heated toilet seat. LED lighting can also be used to create a modern and futuristic ambience.
In closing…
A modern bathroom are planned to provide an overall sense of luxury and indulgence. They have everything from soaking tubs and rain showers to heated floors and towel warmers to promote relaxation and pampering. They represent a significant shift in modern bathroom design ideas by focusing on a blend of style, technology, functionality, and luxury. Whether you are renovating or building a new bathroom, incorporating modern design elements can help you create a functional and visually appealing space.
All the available options and modern bathroom ideas, designs and upgrades can be overwhelming and a lot to deal with. Always start with a vision and build as you go with it. What is essential here is for your bathroom to have that modern appeal, but at the same time, it is convenient and, honestly, fun to use. Nobody wants a bathroom that seems too worked up, so choose what you like, go as you please and create that perfect bathroom (of course taking up some inspiration from our above listed modern bathroom ideas!) for your beautiful home!