A pergola is an extended, slender construction with four independent pillars or columns supporting the canopy. It may be fully freestanding or directly affixed to a house. There are adjustable, smart, and louvered options for various tastes in addition to the more standard versions, which are topped with a number of cross beams for a covered exterior.
There are countless pergola ideas for various kinds of homes, making it difficult to select the best one for your property. We have chosen the top eight pergola ideas that will exceed your expectations and add elegance, class, and a personal touch to the appearance of your home to clear up this confusion for you.
Benefits Of Getting A Pergola For Your Home
Pergolas are more than just attractive facades. If you've ever wondered what a pergola could provide for you, your family, your house, or your yard, continue reading because we'll be talking about all of its advantages below, so keep reading to make sure that you do not miss out on any important piece of information.
An Extended Living Space: Your living space is expanded by a pergola, which also enhances the amount of time you can spend outside. A pergola, if built and positioned properly on your property, can provide just enough light shade to make even a hot summer pleasant. If you still need more shelter, you can place a retractable shade cover.
Addition To The Beauty Of Your House: The attractiveness of a pergola is unlike that of most typical awnings. They can add visual appeal to an otherwise plain backyard thanks to their highly sculptural and architectural design. Pergolas come in a wide variety of forms, from straightforward, contemporary ones to intricate, ornamental, and elegant ones.
Perfect For Social Animals And Introverts: Pergolas are a perfect way to make sure that you have an outdoor space to host small gatherings without worrying about filling up your home. Organizing such meets becomes much more easier and convenient when you have a pergola. It is a perfect architectural addition to the home of a social butterfly as well as an introvert because there is nothing better than enjoying the weather with a cup of coffee and your favorite book with the comfort of being in your own place.
Pergolas Provide Are Good For Your Plants: Climbing plants like ivy, vines, and blossoms are supported by pergolas, along with other beautiful landscaping elements. The beams can be used to hang planters. Take into account a sizable pergola covered in vibrant blooms and writhing vines.
The Best Pergola Ideas For Your Home
A net, weatherproof fabric covers louvered pergolas, providing full shade cover and weather protection. Smart pergolas can be manually operated with a remote control or smartphone, or they can open and shut automatically based on the weather. A retractable pergola also has a canopy that can be electronically or manually turned on or off.
Overall, based on your personal style, these outdoor structures can be simple or elaborate. The traditional thatched ceiling provides a beautiful environment for the development of a tangle of lush vines and other climbing plants. Following are the handpicked pergola ideas for you from the wide number available all over the internet.
Private Backyard Pergola
Adding privacy screens can enhance seclusion on one or more sides of a pergola, even though many have four open sides. The pergola's one side can be lined with three additional trellises to make the space feel cozier. The screens' available detailing preserves the pergola's link to and openness to the surroundings.
It is one of the best modern pergola ideas because having such a semi-enclosed area will give you privacy while being outside.
Fancy Curtained Pergola
Fabric can be a useful addition to pergola designs, particularly when used to shade the area from direct sunlight or unwelcome views. Consider hanging curtains that can be drawn across the gaps between the pergola's supports if necessary. Use outdoor-appropriate fabric to avoid color disappearing or weather impact. This is one of the best pergola design ideas to make your house look elegant, classy, and well-maintained. You can find some of the best outdoor curtains for this pergola idea here.
Pergola With A Roof
This is one of the most practical pergola ideas ever. Pergolas can provide both flexible shade and sun protection depending on your tastes. They provide partial shade and partial sun shelter in their traditional lattice-style shape. However, you have the artistic freedom to add more shade or sun based on the space between the lattice boards thanks to your own preferences and design choices, making it one of the best pergola shade ideas ever.
Boho Inspired Pergola
A boho pergola is a super chic place to hang out and eat with family and friends equally thanks to the sophisticated blending of various styles and natural elements like wood, wicker lighting fixtures, and natural timber furnishings. It is one of the most perfect pergola ideas and adds to a boho-chic styled home and can be placed to run the lengths of the house as well as a living space extension in a spacious balcony, or a garden living space. Click here to find some of the best boho accessories for your pergola.
Corner Pergola
To serve as an outdoor design feature, a pergola doesn't have to be big or elaborate. A corner of the deck will get a decorative touch from a tiny pergola design. As dusk falls, hanging baskets are illuminated by outdoor lighting fixtures placed close to the peak of the pergola, making the space even more appealing, making this one of the most loved pergola ideas.
Create An Outdoor Dining Space
This is one of the most beautiful pergola ideas from all suggestions. Spending time with your friends and family outdoors while having the comfort of your home is made easy with a pergola which is also an outdoor dining space. For an amazing outdoor dining experience if you have a timber structure, rustic outdoor furniture, and soft lighting.
Extend Your Patio
You can add a pergola right from your back door for immediate shade if your patio lacks a feature or is overly exposed to the sun. This might function somewhat as an addition, adding to the impression of a room in your house. Additionally, if you choose a design with a roof, you will have a portion of your yard that is still usable in inclement weather. Another option from the wide range of pergola ideas is to choose awning designs.
Go With The Bold Theme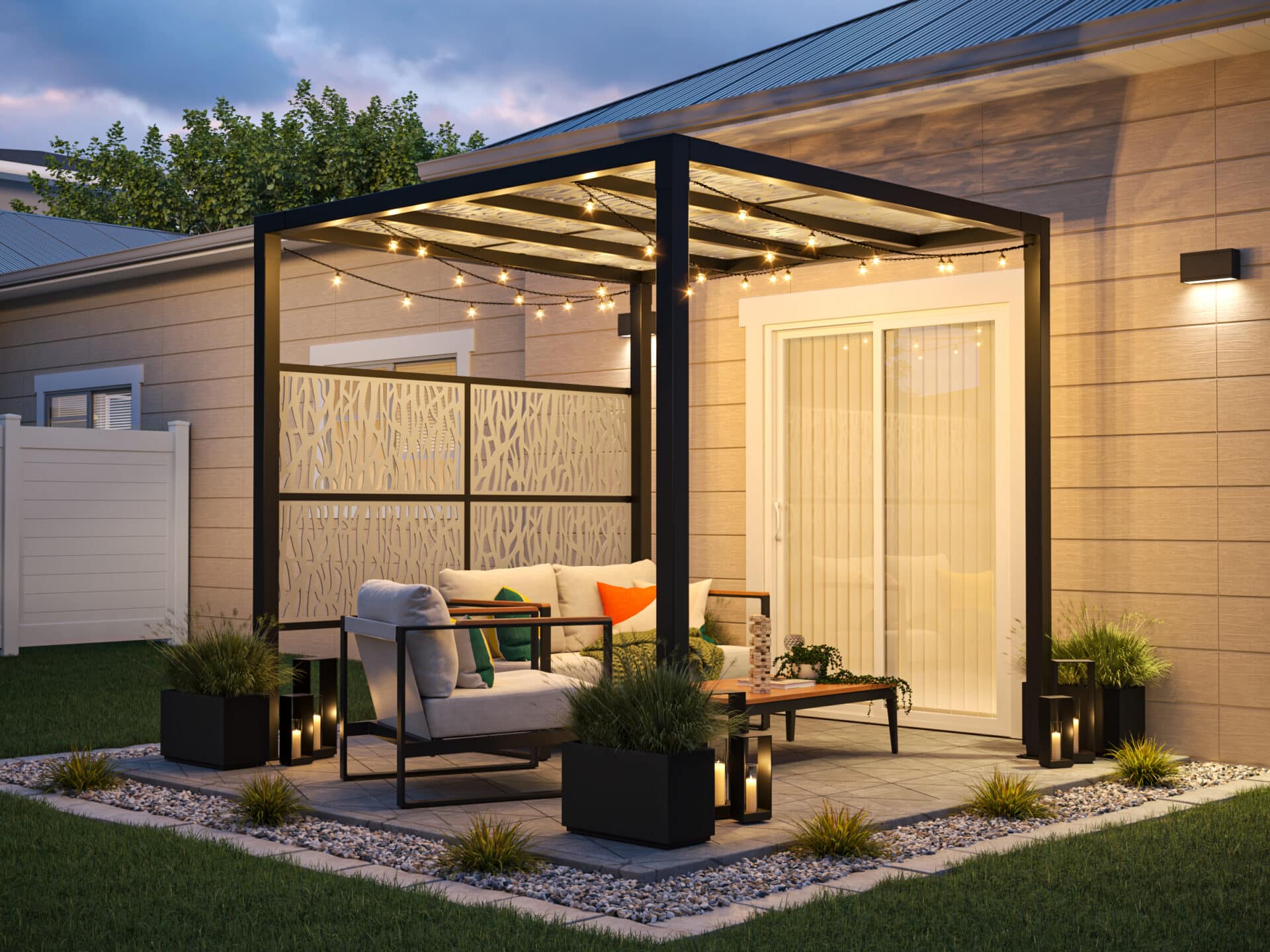 If you're going for an industrial vibe, a black, charcoal, or deep grey adds a striking element to any outdoor area, making it one of the best pergola ideas for your home. Combining this theme with neutral accents is a tried-and-true way to create a mellow yet chic atmosphere. Try merging the inky tone with a bright yellow hue, though, if you're looking for something a little more playful. The use of warmly patterned textiles in a color that resembles sunlight will contrast the black beautifully. Hanging baskets and festoon lights are a lovely way to finish the appearance. To complete the look of this pergola with some exquisite outdoor lighting, click here.
Frequently Asked Questions About Pergola Ideas
Is buying a pergola more affordable than building one?
The size, shape, and material of the pergola will determine whether it is more affordable to purchase or build one. Simple wooden structures may be more affordable, but you must make sure they are the right size and style for your yard. A few technicalities are involved in installing pergolas, and among other things, it's crucial to make sure the building can resist strong winds.
What is a pergola with a roof called?
Pavilions are a common name for pergolas with a roof. A pavilion is a freestanding pergola with a fixed canopy that typically fully encloses the pergola, despite the fact that they are quite similar in design, making it one of the best pergola ideas.
What shade works best for a pergola?
Neutral pergola hues like light grey appear to be in fashion right now. Consider using light-colored panels if a dark structure is still drawing you in. The goal is to store the light in a location that is comfortable to inhabit all year long.
Conclusion
More than just the pretty exterior, pergolas provide shade. If you've ever wondered what a pergola could do for you, your family, your home, or your yard, keep reading because we'll be discussing all of its benefits below. By reading all the way to the end, you can be sure you won't miss anything essential. We hope you got some of the best pergola ideas here and got inspired to customize yours pretty soon.