In residential properties, front yards usually serve two purposes: Creating curb appeal and highlighting the entrance to your home. A well manicured front yard is meant to groom the exterior of your home and complement its architecture.
Australian Gardening Style
Designing an Australian garden is a fun task, though there are few things you need to consider before making a plan for your yard.
Climatic Conditions
An Australian front yard is similar to any other yard. The only difference is the climatic plants and trees, so instead of opting for plants after researching online, try to choose the plants which are suitable for your climatic conditions for a long lasting, beautiful landscape.
Soil Type
Also, recognize the type of soil your yard has. In most regions of Australia, the soil is slightly more acidic to have the front house garden of your dreams, you may have to amend your yard's soil. Check its pH and try out agricultural lime, dolomite or poultry manure to fix the pH of your soil.
Low-Maintenance Landscape
The best thing you can do to have low maintenance landscaping is to choose plants that are suitable for your climate. Australian native plants are your best go as they require a low phosphorus fertilizer annually and a little pruning to keep them in shape.
Follow these low maintenance front garden ideas Australia to have an effortless gardening experience.
Go for climatic plants.
Use native grasses to edge your yard borders.
Plant similar kinds of plants together in groups that prefer similar conditions. For example- if you have multiple plants that require less water or sunlight, plant them together in a group; this way it would be easy for you to take care of them.
Place shredded wood chips or wood mulch around the plants to avoid weeds, this will also lock the moisture in the soil.
Prune the tips of your plants often to have a bushier growth.
Bring on the Blooms
The best kind of landscapes are balanced by incorporating the right type of plants. Having colorful bloomers along with grasses and trees makes everyone feel welcome. Try opting for bold and bright colored bloomers to have a prominent impact, especially if you have smaller space.
The NSW Christmas bush (usually found in Australia's east coast) would be a good option as plants for front yard Australia because it has bright colored flowers and it is easy to grow them. Albery's Red is the most common variety of this plant.
Opting for everlasting daisies is never a regrettable option. They are available in multiple colors and are also easy to grow.

Sloped Yard Solution
A sloped yard not only looks pretty cool but also plays a big role in sustainable gardening.
If you have a small yard then opting for a sloped or terraced gardening will add texture and make your yard look different yet beautiful. Also you'll have much more space for growing plants in the group.
If you have a big yard, then you can go around experimenting with the slope structured yard. Try giving it a modern vibe or a traditional forest kind of look based on the exterior aesthetic of your home.
The most important thing is choosing the right kind of plants for a sloping front yard. Try going for low maintenance, bright colored plants to give depth to the overall landscape setup.
Spotted emu bush or Kangaroo paw are the two best options for low maintenance Australian plants, as they are easy to take care of and are available everywhere in Australia.
Stone Walkway
Stone walkways accent the front entry depending on the way you set and decorate them; they can be used as walkways to your door if stepping stones are installed at a distance or they can also be helpful in vehicle circulation or parking if they were installed for that purpose.
There are two different types of stone walkways; organised ones to give off a modern vibe and randomly placed stepping stones to reflect that natural touch in the yard.
Randomly placed stones can be decorated with little bushes or bloomers on the edge; you can also grow grass on the space left between two stepping stones to make it look more natural and random.
Organized or well placed stepping stones give off a formal and modern look to the yard; you can go for such a look if you have fewer plants and more grass in your yard. However, you must use gravel or pavers instead of bushy plants or flowers to decorate the edge of such a stone walkway.

If you still wish to mix the modern looking walkways with nature, then you must create an edge to it using gravel or pavers, and then you can plant your favorite kind of bushes around it.
The most common materials used for driveways or stone walkways are concrete, bluestone and exposed aggregate as they are much more durable, long lasting and easy to maintain.
Also read about front yard screening Ideas 
A Desert Oasis
Creating a desert themed yard is a bit of work, to begin with, you'd need to change the type of soil in your yard. Also, the typical desert plants won't be fruitful for you as they aren't meant for your climatic conditions.
But there are some desert themed Australian plants you can go for:
Boab Trees
Bush Trees
Cabbage palms
Desert Grass Trees
Desert Oak
Ghost Gum
Saltbush
Triodia
Also, you can't create a desert-themed yard like a normal seasonal plant-based yard; try to plant these cactus, succulents, etc., in groups as per their water, sunlight, and soil needs. This way, it would be easy to take care of them.
Lakeside Landscape
If you have a property that includes a lake, you're lucky to begin with. Your landscaping project is gonna blow up.
Foremost create an edge to keep the garden and the lake separate using stones or moss covered stones for a vintage look, and a platform-like area where you can place a chair to rest and enjoy the breeze and majestic view.
For the rest of the landscaping, use the area wisely to recreate a forest like vibe, using large scale trees, shrubs and bright bloomers. Such as rhododendrons and azaleas (they bloom in seasonal colors and make your yard look fresh/alive.) Use a lot of green bushes and grasses.
Suppose you don't have a natural lake but want a lakeside sitting area to relax. In that case, you can easily have a man-made water body and decorate it using similar plants and trees as mentioned above for a beautiful view.
Build a mini pool or pond in the yard and surround it with seasonal flowers to have an aesthetic surrounding.
Go Green in Style
This is the most basic yet spacious and elegant front yard garden design. You can plant boxwood or bright-colored floral plants at the edges and grass to fill in the space you are left with. Also, this is a low maintenance Australian front yard idea.
Forest Retreat
This type of busy landscape looks majestic in an open environment. Create a stone bed (Using gravels and pebbles or pavers) and a layer of pine straws to create edges. Plant Birch Trees and other evergreen plants to have such a serene view.
You can either plant only floral plants to have more of a floral Australian garden type of landscape or use bloomers and other evergreen bushes and shrubs to create a balanced landscape.
Also, try to grow plants in such an order, you won't need to pay extra attention to any one of them, they all should have similar kinds of water and sunlight needs, or some of your plants may suffer and die over time, making your job harder and disrupting the creation of a beautiful yard.
Plants for Pollinators
Using a flower bed to create an edge will never be out of style. Also, these bloomers will act like pollinators for the bees.
Here are some floral pant recommendations you can go for. These are the best plants for front garden Australia
Rose 'Iceberg'
Grevillea
Bracteantha 'Everlasting Daisy'
Erigeron 'Seaside Daisy'
Polygala 'Sweet Pea'
Viola 'Native Violet'
Geranium
Kangaroo Paw
Penstemon
Alyssum
These are some native Australian plants that are used for landscaping. Some of them are evergreen, and others are seasonal. Regardless of their lasting period, these plants do an excellent job of creating a beautiful landscape.
Elegant Formal Australian Garden
Keeping everything neat (Keep your bushes and grass trimmed) is the easiest way to have a formal Australian front garden.
This image reflects the perfect formal entryway, create a clean walkway and surround it with perennials and shrubs and frame the house with boxwood hedges soft bright or soft colored flowers based on the color of your home. Beside this, plant some large scale trees to balance the whole landscape.
Also Read The Only Guide You Need For Raised Garden Beds.
Light Up the Night
Highlighting the serene beauty of your yard is the best way to flaunt such a garden at night as well. Use gardeners' lightning to illuminate the environment and make such beautiful plants visible in the dark.
Strategically place these lights framing the walkway; it would serve 2 purposes, illuminate your entryway and highlight the beautiful rose and boxwood plants at the edge of the walkway.
A Flowery Fence Line
The white colored traditional white picket fence is a heartthrob when decorated with cottage-style flowers.
The color combination of flowers used complements the white-colored fence. You can use either the same plants used in the picture (Pink shrub roses, purple catmint, chartreuse lady's mantle, and spiky purple meadow sage) to have a similar look, or you can use your favorite bloomers with shrubs to give it a busy yet beautiful look.
Whatever plant you use to complement these white fences will excel your expectations.
An Earth-Friendly Outlet
Having a nature based corner in your yard never disappoints.
Create a mini waterfall or pond in the corner of your yard instead of installing a fancy fountain. This natural outlet will make your yard look a hundred times better.
It's an easy-to-do the process, dig up a not-so-deep hole and surround it with lots of gravel and pebbles to give it a natural pond-type look. Fill it with water also, do not forget to keep changing and refilling it every once in a while because still water harvests deadly bacteria to make you sick.
The other option you can go for is making it a small waterfall using little equipment.
Once your structure is ready, install a fountain motor (Easily available on Amazon) to pump the water similar to the image and cover it up with pebbles to make it look all-natural. This way the water won't be still, and it will look much more beautiful.
Learn about 25 Beautiful Australian Garden Trees Ideas To Add Charm
Mediterranean Escape
If you have very little space in front of your house and you wish to have a yard, then this is the best you can do. However, it won't look like a yard, but it surely will make your house look beautiful if maintained properly.
A Grand Entrance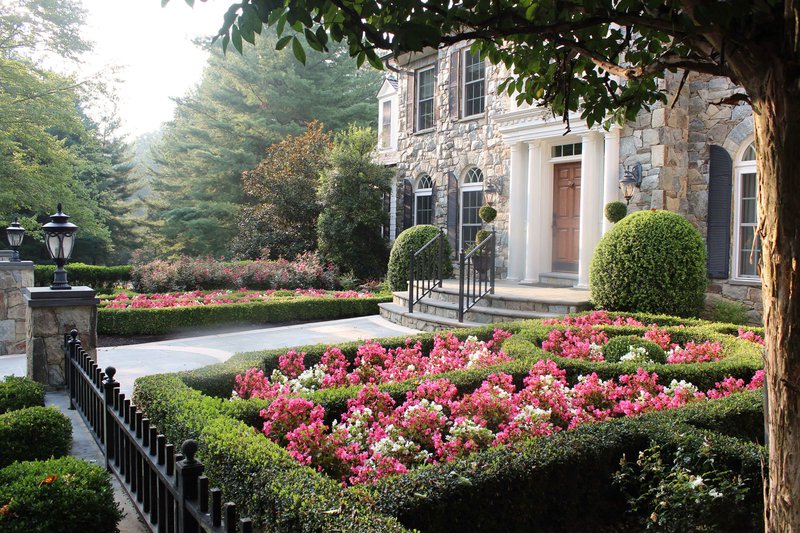 An entryway surrounded by fragrant roses is nothing less than a fairytale; there are various varieties of roses available in Australia. Use boxwood or kangaroo Paw along with the roses to create this beautiful and neat landscape.
Fuss-Free Beauty
If you prefer a low-maintenance, neat and clean look, then this is your kind of yard.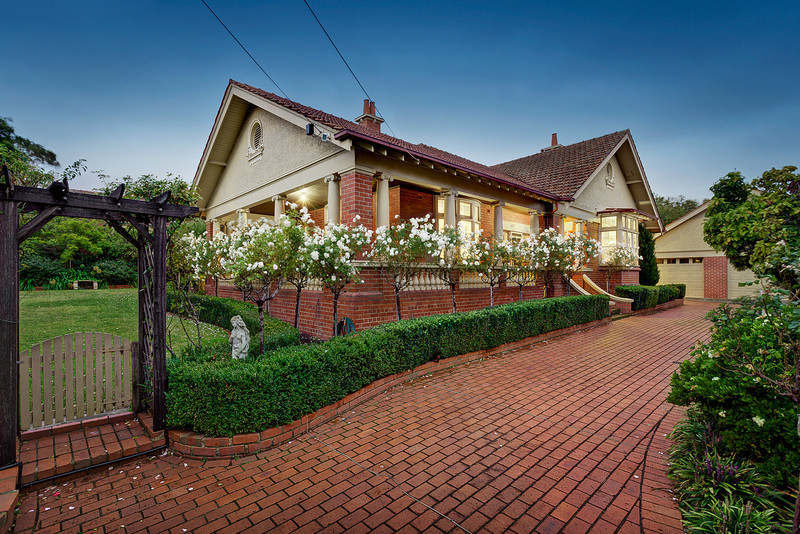 Go for a wide driveway and frame it with seasonal bushes, which also produce flowers; the bushes used in the image are boxwood. But you can also use tea trees, Geraldton wax flowers, grevillea, and Correa. Though you'd need to take extra care of such bushes as they'd need frequent trimming to be in shape.
Perennial Plantings
Perennials can live up to 2 years and bloom every spring, so even if there are no flowers, they'll still make your walkway worth glancing at.
Go for bright-colored perennials such as peony, allium, and purple salvia; these are a few of the examples you can choose. For fall and summer, the best option you can go for are ornamental grasses, and for a landscape that would last a year, choose gold thread cypress bushes; these bushes will especially complement your bright colored bloomers if kept in shape.
Shady Front Yard Landscaping Ideas
This is a farmhouse-styled residence, and using a lot of colors in the yard to gives it depth and a look that is worth glaring at. Use bushes under the shaded trees as the grasses won't survive due to lack of sunlight.
Balance the shades of green by planting perennials as they'll add brighter colored flowers.
A Rosy Outlook
Roses are the best way you can use to welcome your guests or yourself at home after a long tiring day. Also creating a floral entryway display home front landscaping beautifully.
Rose bushes that never bloom can add aromatic beauty to a front yard landscaping ideas Australia. Low-maintenance Knock Out roses provide a consistent flower display from spring till frost, ensuring that the exterior of your property is constantly in pristine condition.
Knock Out roses are available in several colors, such as pink, red, yellow, and white. They must be lightly pruned to prevent plants from spilling over walkways in the early spring.
Frequently Asked Questions
How do you layout a perfect garden?
Place similar kinds of plants together so you don't have to take care of every single one of them separately. And grow the plants in a systematic manner instead of planting them randomly
How to layer a garden bed?
Layering a garden is a must for healthy plants; there are 9 layers you can go for to have an evergreen Australian garden.
Layer 1: Lay the Bark Chip Mulch, as it would help lock the moisture (which is helpful for hot climatic conditions). Also, the bark chip mulch would reduce weed growth and regulate the temperature of the soil.
Layer 2: Soil (You can get your hands on good quality soil by visiting a nearby nursery).
Layer 3: Hay
Layer 4: Use large tree clipping to aerate the soil.
Layer 5: Soil.
Layer 6: Grass cuttings and hay.
Layer 7: Use manure and organic fertilizers to provide nutrients to the soil.
Layer 8: Compost.
Layer 9: Hay
What is the most common garden layout?
The most common type of garden layout is planning the plants in a straight row from north to south orientation.
The north-to-south orientation helps plants get the best sun exposure and air circulation.
Also Read How to Design the Perfect Vegetable Garden Layout.
What are the principles of sustainable landscape design?
Sustainable landscape designs are nothing but sets of principles that make the garden functional, eco-friendly by using organic materials instead of chemical ones, reduction of water consumption, erosion control, maintaining the wildlife habitats by not interfering with the creature's natural habitat, and much more.