Love growing your own vegetables in your garden? This detailed guide on raised garden beds is something you must check out to level up your vegetation game. Raised garden beds are used widely by people with garden vegetation for the multiple benefits they provide, from higher yields, water conservation, and more.
If you have been looking for a guide to help you with important information about raised garden beds, then you have landed at the right place. Here you will find everything you need to know about raised garden beds, from their types to the pros and cons and much more. So without further ado, let's dive into the world of garden vegetation.
Also Read 25 Beautiful Australian Garden Trees Ideas To Add Charm.
Types Of Raised Garden Beds
There are several varieties among raised garden beds, making it confusing to choose one that fits your needs. Hence, we have mentioned the detailed descriptions of some of the most popular types of raised garden beds below to help you with the task of picking one that suits the needs of your garden and yours as well.
Raised Garden Beds Wooden
Raised wooden garden beds are one of the best materials for raised beds as it looks great in all kinds of gardens and provides ample support and structure to the plants. It can also be used in almost all raised garden beds due to its versatility.
All kinds of wood can create lovely, rustic structures for raised garden beds, but redwood is a desirable and rot-resistant option. Wooden raised garden beds are a terrific choice if you're looking for something natural and quiet.
Metal Raised Garden Beds
Metal is an excellent material for raised garden beds as it facilitates heat retention, helping specific plants like lavender to grow better. In terms of design, sheet metal works best as it can be moulded to the desired shape however, it may require some frames to keep it steady and firm. Galvanized steel will work great for this type of raised bed as it is durable and is also good looking.
Metal raised beds are preferred for gardens that are bigger in area because they are easier to accommodate. Metal beds would also be a great investment for larger areas compared to wooden or plastic raised garden beds.
Plastic Raised Garden Beds
These raised garden beds have gained popularity lately because of their accessible accommodation and maintenance. Plastic raised garden beds are affordable, easy to assemble, and require little to no maintenance.
These benefits make plastic raised garden beds an excellent option for inexperienced gardeners looking for a straightforward method of gardening.
Elevated Raised Garden Beds
Elevated garden beds are attractive, versatile, and easy to use. When it comes to their structure, they look like raised garden beds with legs or like a raised garden bed is placed on a table. One of its most famous benefits includes protection from animals, which can potentially destroy your produce.
Composite Raised Garden Beds
Composite raised planter beds are highly preferred because of their versatility. These planters can be used as either a regular raised bed or a trellis system for a unique garden design.
Only a few materials are used in their construction, including composite, wood, and cedar. These beds are easy to assemble and rearrange. If you install composite raised garden beds, your yard won't have decaying, mouldy, or fragmenting wood.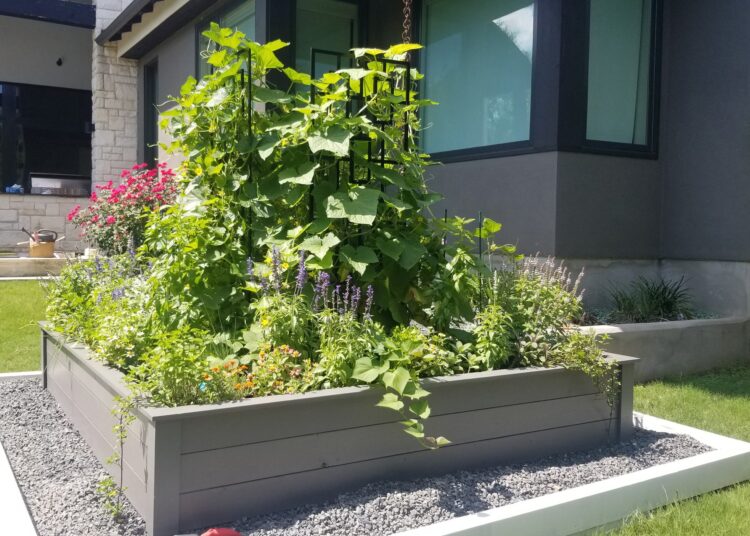 The maintenance of composite raised garden beds is also relatively easy in comparison to the other types of raised beds. These beds will last you for around 20 years with proper maintenance and cleaning.
The Benefits Of Raised Garden Beds
One thing that's relevant to one might be irrelevant to the other depending on their tastes and preference. That is how different characteristics of raised garden beds may affect how they prove to be useful for one and useless for another. To help you with this dilemma, we have the detailed benefits of raised garden beds mentioned below so you can decide whether they suit your preferences and the needs of your garden vegetation or not.
Gardening Made Easy: Raised beds make it simple for beginners and experienced gardeners to get their gardening started by eliminating several obstacles. Although they require a little bit more money upfront, you will see the results as soon as in the first year. The better drainage system also makes early planting more convenient because the soil dries up quicker in the spring and warms up faster for planting than soil at ground level.
Lesser Maintenance Costs: The simpler upkeep is one advantage of planting on raised beds. Raised beds can last for decades with very little structural care if you use high-quality materials and build them well. Raised beds also prevent crops from being consumed by pests, so you won't have to worry about one extra thing. Termites cannot access your excellent root vegetables by adding a wire barrier to the bottom of the bed, and cabbage worms can be avoided by covering the bed with a row covering.
Good Quality & Quantity Of Vegetation: Since raised beds allow you to control the soil quality in which the vegetation is growing, it will directly improve the quality of produce. Crop rotation is simple to do in a kitchen garden because there are many raised beds there. Crop rotation prevents pests from overwintering in the soil and maintains the health of the soil. Also, replacing soil in a raised bed is easier than doing it with the ground vegetation.
Improved Soil Quality: A healthy and productive garden mainly depends on the soil's condition and structure. Raised garden beds give you more power over the quality of soil and its texture. They can be filled with optimal soil that will benefit your plants, as opposed to just using what you already have.
How To Build A Garden Raised Bed
If you want to pick up a diy project during the summer, then this is one of the best ones out there. Building a raised garden bed will not only cure your boredom but will also be beneficial for your garden and vegetation. Read ahead to find the materials required to build raised garden beds along with the steps to do so.
Tools And Materials Needed
Your preferred wood for bed construction>
Framing angles
Hex screws, washers, and nuts
Drill, bolt tightener, measuring tape, drill bit, and a pencil
Planting A Garden Bed | Process & Upkeep Tips
Keeping plants close together reduces potential weed growth areas and aids in soil moisture retention, facilitated by raised beds. Growing as much food as you can while avoiding the urge to cram too many plants is the problem.
Plants that are crowded are stressed due to inadequate air circulation, competition for nutrients, and lack of root space, and as a result, they never attain their full potential. Hence, one of the main challenges in this condition is to follow a process which facilitates the raised bed planting without overcrowding the plants and risking their poor health.
Preparation & Maintenance Tips For Raised Garden Beds
It is important to choose an area in your garden that gets enough sunlight. Six to eight hours of daylight everyday is necessary for the plants hence, make sure that you choose the right spot for your raised bed.
Do regular preventive checks for pest moulds on your plants to ensure that you don't suffer a more significant loss at the time of harvest and rectify any issue in the beginning.
Make sure that you don't fill your garden/yard with raised beds and just stick to one or two to ensure better maintenance and upkeep. Doing this will help you enjoy the activity more instead of adding to your daily tasks.
Do not forget soil maintenance. At the end of the garden season, you will get the perfect opportunity to tend to the soil in your garden beds. Adding suitable compost and leaving the roots in the soil are some ways to ensure better quality of soil as well as the next produce.
Building The Raised Garden Beds
Measurements: First and foremost, you must decide the size you want your raised garden beds to be. Then start cutting the wood accordingly. Cut the boards after measuring and marking the entire length of the walls. They should be at least as tall as the garden bed wall and attach cut posts around the walls for additional strength.
Attachments: The second step is to connect the corner posts on the wall boards. Each frame angle should be fastened with a hex screw on the exterior and a washer and nut within.
Placement: Placing your raised garden beds in the right place is critical because you need to make sure that the plants get all the important nutrients for their growth. The most crucial aspect to consider when designing raised garden beds is how much sunlight it will receive. All plants require sunlight to survive, and what you can grow depends on how much of it you receive.
Add The Soil: The usual way to go about with soil filling in the garden beds is to add one layer of soil and one layer of compost from a trusted brand or gardener. Make sure that you prepare your soil correctly for better results.
Preventive Measures: In order to strengthen the corner seams and prevent them from separating or developing a gap, use deck screws to secure metal corner hooks to each corner. Doing this will also prevent the soil from leaking out. You can get ornate corner brackets to adorn your raised garden bed or ones that let you build a wall without a corner post by inserting the side wall planks into the corner bracket.
The Final Takeaway
Raised beds are great to keep your garden organized and have better produce. The benefits of raised garden beds are numerous; hence, they deserve your attention if you want to level up your gardening game.
From improving the quality of soil and easier gardening, raised garden beds are also easy and cheap to maintain which will help you save a lot of money in the long run.
However, despite all these undeniable benefits of these, it is essential that you pay close attention to the uses, perks, and upkeep process to make sure that you know what you are signing up for.
We hope this guide for raised garden beds was helpful to you and addressed all of your queries and concerns regarding the same. Have fun with gardening in your veggie garden box!
Frequently Asked Questions
How long do raised beds last?
The kind of weather and the type of wood used to build the beds plays a crucial role in determining the longevity of your raised beds. In humid and rainy areas, wooden raised beds may last for 6 to 7 years. Species like cedar or redwood are likely to survive 10 to 15 years.
Are metal raised beds better than wood?
Metal is a more durable and long lasting material for raised beds as compared to plastic and wooden raised beds because you won't have to worry about rotting or insect damage. Metal raised beds can be the best investment for your garden due to their durability.
How to prevent wooden raised beds from rotting?
There are multiple ways in which you can ensure that your wooden raised beds stay intact and do not get harmed by insects or excessive moisture. The type of wood you use, using a wood sealer to keep moisture out will significantly extend the useful life of your wooden raised beds. You can also use a wood preserving spray as it will lock out moisture and prolong the life of your wooden raised bed.
Also Read 4 Important Ways to Extend the Life of Your Wooden Raised Beds.
Is any specific kind of soil required for raised garden beds?
For usage in a pot or raised bed, soil removed from your garden or lawn is too dense. Instead, you should use potting mix (also known as potting soil), a light and fluffy substitute, for pots. You should combine potting soil and garden soil for raised beds.
Which is one of the best raised garden bed soils?
The majority of soil combinations used in raised bed gardens contain topsoil. Despite having few nutrients, it is a crucial component since it contains organic matter. Hence, it comes under the category of one of the most important and best soil for garden beds.