Alush green beautiful garden offers a cool and serene outdoor ambience to unwind and connect with the natural environment. Australia has an amazing landscape that motivates people to highlight their Australian garden as an important part of the exterior design and decor plan as much as the house's interior. While entering the house, the garden leaves a first visual impact spreading positive energy all around that you carry inside the home.
Depending on the available space and choices, you can plan and design your Australian garden in numerous ways. Apart from beautification of the garden for a soothing effect, it has a meditative reason too. All the gardening activities, such as strolling, pulling out weeds, sowing new seeds and harvesting new fruits, vegetables and flowers, are highly meditative. 
If you wish to have a dedicated garden for a particular flower or plant, grow it in the whole yard or a portion of it. If your idea is to have a variety of flowers and plants, divide your backyard into various zones and enjoy the serene beauty. Whether you are an experienced gardener or someone willing to establish a new garden, we have something to suit your home. Here we go:
Australian Native flowers
Pink Rock Lily
These beautiful Australian garden pink, purple and white flowers are easy to grow. Though pink rock lily genus like sunny areas, they grow in the shade away from the scorching sunlight. The tropical species require more warm and humid conditions to grow than the temperate ones. For healthy growth, you have to feed fertiliser. In the cooler months, there's no need to fertilize it and frequently water the plants.
Lilly Pilly
The Australian garden Cherry or Lilly Pilly is an all-season garden tree with glossy leaves and aromatic white flowers produced in summer, followed by red and purple edible fruit. Lilly pilly has robust growth in fertile and well-draining soil. The dwarf variety of Lilly pilly can act as a natural fence around your home to ensure some privacy.
Bottlebrushes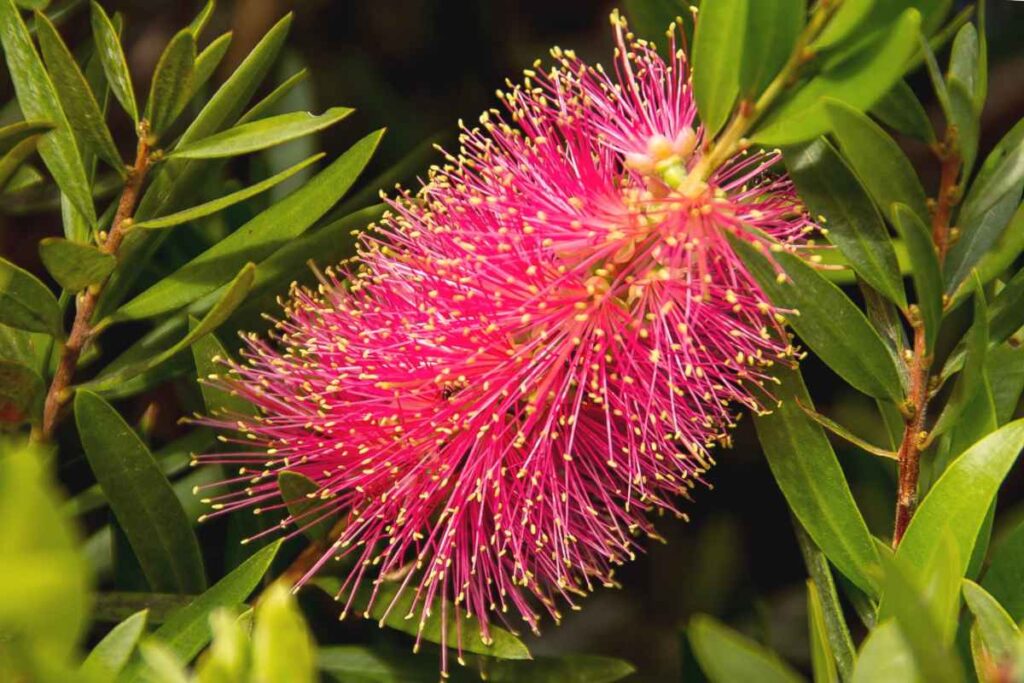 Bottlebrush has derived its name from its resemblance to a bottle cleaning brush. You will surely get one for your garden regardless of size because the bottlebrush is available in many shapes and sizes to suit your requirement. It grows well in damp conditions and delivers picking for birds. It has antibacterial, antifungal and antioxidant properties.
Waxflower Crowea
White or pink star-shaped flower trees are available in low-growing groundcovers or compact shrubs. Due to its spreading quality, it acts as a great border plant. Plant it in well-drained soil in partial sun.
Kangaroo Paw
Another beautiful Australian garden plant derived its name from the resemblance of its flowers to a kangaroo's paw. It's a low-maintenance and high-impact plant. It is the state flower of Western Australia. It grows best in slightly acidic soils with good drainage and proper sunlight. These are excellent food sources for birds, insects and mammals due to the high quantity of nectar.
Desert Flame
It is a perennial tree that spreads vibrancy to the garden with its golden yellow flowers and silvery gray foliage. It grows best in temperate climates in bright sun in most soil types.
Grevillea
Grevillea is a native Australian garden tree that grows from groundcovers and mid-sized shrubs to tall screening plants to protect your privacy. Birds and insects get attracted to its year-round flowers. They grow in well-drained soil under the bright sun. Since flowers have nectars, the locals harvest them to get nectar, but it's not advisable to consume them because there's some possibility of cyanide in some Grevillea trees.
Canberra Bells
It produces red and cream-bell shaped flowers in masses throughout autumn. It is resistant to frost and drought. To maintain the neat shape, prune it lightly after flowering. Though it grows in any soil, with or without sun, it prefers light sandy soil with good drainage and protection from wind.
Aussie Box
It's a famous shrub that makes a low hedge. It's drought and frost resistant and produces small mauve flowers throughout the year. It can grow in full sun and light shade in almost all soil types.
Silver Spurflower
It is one of the best silver-leaved plants to grow in shade areas. The leaves and branches are covered with silver hairs, creating an amazing garden shine.
Wattles
Wattle, the national flower of Australia, grows fast from seed to a tree producing stunning yellow flowers but has a short life span of 7-12 years. They resist hot and cold weather and grow in sunny or partially shady places but drainage-free areas. If you live in an area with winter frosts, it's wise to plant a local species of Wattle as it will grow healthy.
To know more about Australian Garden, read Best 15 Types Of Trees For Beautiful Homes And Gardens!
 

Fast-Growing Australian Native Trees
Lemon-Scented Gum
One of the fast-growing trees has a white or pink trunk with attractive lemon-scented leaves. They can grow up to 35 m. Plant it away from the structures because the roots are very strong and can affect the structure. It can't tolerate frost when young and grows in full sun and well-drained soil. The white-scented flowers make it an ornamental plant in your yard.
Dwarf Flowering Gum
It grows best in full sun, requires partial shade and can tolerate drought once fully grown. Avoid growing it in soil that retains water. 
Frangipani
It is a beautiful addition to your Australian garden. Frangipani is a small, fast-growing tree with green leaves and white and yellow flowers that grows robustly in full sun or light shade in well-drained soil. It's a low-maintenance plant, but you need to protect it from frost until it grows to a height of 2m. Be careful in pruning as heavy pruning will damage its pyramidal shape.
Illawarra Flame Tree
When in full bloom, this large tree looks amazingly beautiful. During spring and summer, a group of red-bell shaped flowers cover the tree. Though it grows to 20 m, it usually remains smaller when grown in the garden.
Banksia (Australian Honeysuckles)
Gold, red and orange spikes are the true beauty of this Australian garden tree that you can choose to grow in your yard or garden in less time. It is available in numerous sizes, from shrubs to spreading groundcovers. It has a spreading habit of around 2m, which makes it fit for pots and in the ground. It has robust growth in proper sunlight and well-drained soil. These flowers are used at parties, weddings and funerals.
 Hickory Wattle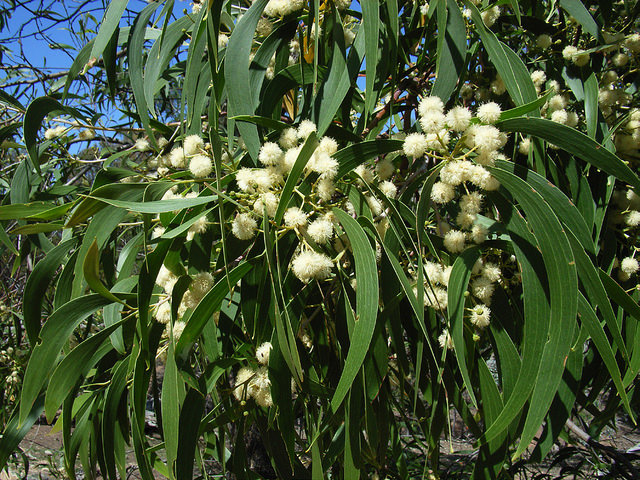 Hickory Wattle is another fast-growing tree that can grow anywhere, provided it receives some water in summer. It has dark green leaves and beautiful cream flowers. Once it grows fully, it becomes frost and drought resistant.
Tahitian Lime
One of the fast-growing in Australian garden trees that grow in well-drained soil and warm climate is the Tahitian lime. They grow to 3m tall and give white flowers and beautiful limes. Water it properly, especially when the fruit is forming. If you want to watch them thrive, keep them under the sun and spread a bit of organic fertilizer once a month. 
Blueberry Ash
One of the best fast-growing trees in Australia, with a sleek shape and blueberries loved by birds. It's a perfect choice for a tall screen planted in shade or sun because it reaches 10m-15m in height. 
Casuarina (She Oaks)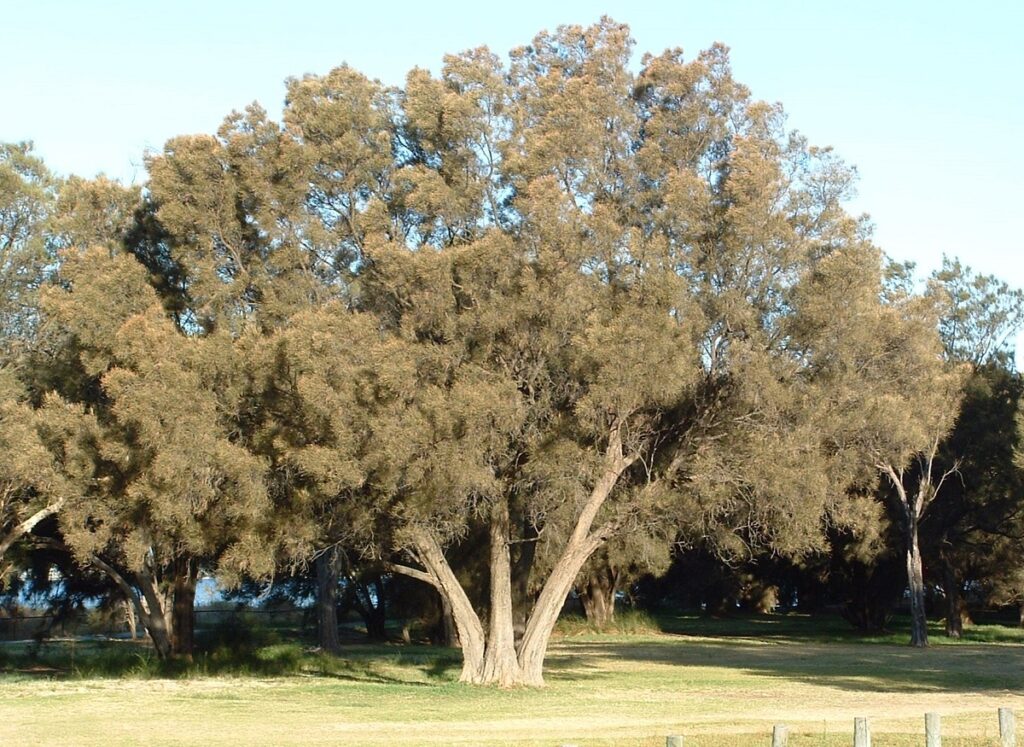 Casuarina is worth considering if you are after fast-growing trees, as it attracts birds. Different varieties, such as river oak, swamp oak and forest oak, are available. Forest oak is one of the favourite Australian garden trees due to its beautiful burgundy leaves. 
Read How To Improve The Gardens to manage your beautiful garden
Trees That Grow In Shady Areas
It's common to hear about trees that grow in full or partial sun, but it is quite interesting to know about trees that grow in shades. Though Australia is known as a sunny country, there are many shade-loving Australian plants you would love to have. Here are a few of them:
Bird's Nest Fern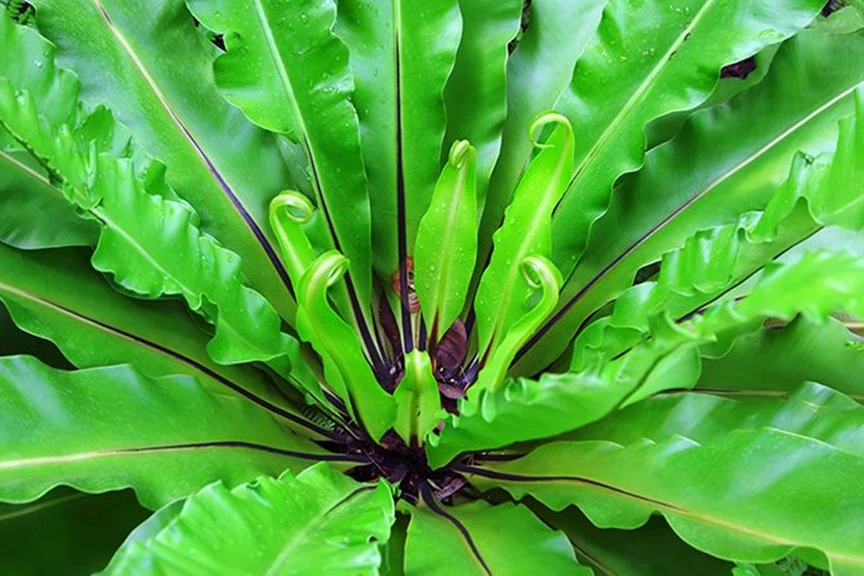 This evergreen plant grows without soil in trees and on rocks in shades as well as in full sun. 
Christmas Bells
These shade plants produce beautiful red and yellow flowers in summer that attract birds and butterflies. It is conducive to grow in any part of Australia, is frost tolerant, grows best in well-drained soil and drinks plenty of water. 
Native Ginger
Native ginger is a useful plant that attracts butterflies, bees and other insects for its flowers around the year. The roots and leaves have a tangy ginger taste, producing scented white flowers and edible blue berries. It can grow in partial shade and any soil but needs plenty of water. Warm temperate areas help them grow perfectly. It can resprout if hit by light frosts. 
Soft Tree Fern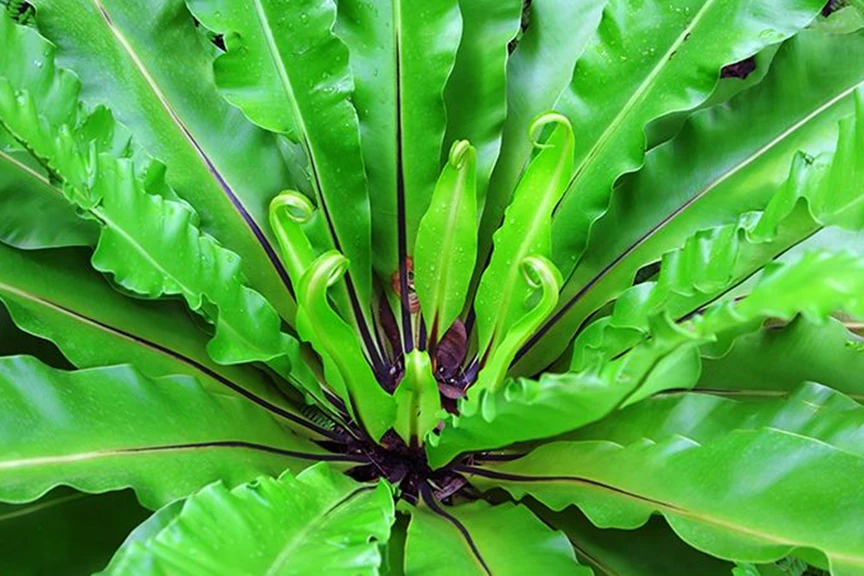 Another plant to grow in the shade is the soft tree fern that grows in partial shade and needs minimum attention. It can grow in any soil, can't tolerate frost but requires plenty of moisture. A mature soft tree fern becomes a host to birds.
Big Leaf Maple
As the name suggests, each leaf can grow as long as 2 feet. It is a beautiful sight when dark green leaves turn yellow and orange-yellow in autumn. This plant thrives in dense and dark areas and can be categorized as a thirsty plant that needs plenty of water.
Australian Garden Designs And Styles For A Unique Look  
Let's look at some Australian garden styles and designs to enhance the outdoor area making it a must-see for visitors.
Easily Accessible Garden
Create a lush green garden with vivid blooms from exotic and native plants and easy access to the visitors through the sand paths accessible even to wheelchairs.
Garden In Balcony
With the increased preference for staying in high-rise buildings and apartments, your passion for having a garden becomes challenging. Don't worry; you can manage to flaunt your gardening skills. Do the basic work- see how much light and wind hits your balcony around the day and decide the best possible plant for your space.
 Coastal Garden
Plant selection is a vital decision to make when it comes to coastal gardening. Select plants that can tolerate windy and salty conditions. The most popular choices are tropical plants and native Australian plants. 
Contemporary Garden
The basic trick to having a minimal garden is to focus on the leaves and texture of the tree and plants rather than the blooms. Position the plants perfectly to ensure they reflect the architectural beauty of your homes. Plants some bamboo and potted plants to add to the look. 
Cottage Garden
Fill your garden with densely planted flowers, roses, scented lavender, a herb garden and a vegetable zone for a charming cottage garden. Place the plants your friends and family gifted to you to have an emotional connection. If they visit your place and witness those plants, they'll be glad to see you respect their sentiments.
Read 7 Essential Winter Garden Jobs Not To Forget This Season! to manage your garden perfectly
Reasons To Have Australian Native Trees In The Garden
Native plants are well adapted to Australia's extreme weather conditions in summer and long dry periods. A few benefits of growing these Australian garden plants are:
Low-maintenance –

  Most native trees are low-maintenance, making it easy for you to grow them.

Food for insects, birds, animals and butterflies

– One of the best benefits of having these trees and plants in your garden is to provide food to local wildlife, birds, lizards and insects. Certain species of eucalyptus provide food for local koalas and flowers to nectar-feeding birds.

Shelter to birds, animals and insects – Many Australian native trees attract birds and insects and provide the habitat. Birds make their nest on these trees.
Protects bio-diversity – Just like other trees and plants, native trees protect the environment by creating healthy ecosystems that purify the air, and water, maintain healthy soil by controlling soil erosion and regulate the temperature.
Beautiful blooms- Australian native trees are well known for their eye-catching blooms that force people to have them in their yards. Having a cup of tea or coffee next to vibrant blooms makes the day.
Medicinal value– Trees like eucalyptus provide medicinal value. Eucalyptus tree oil relieves cough, cold, and congestion and is used in creams and ointments to relieve joint and muscle pain.
 

The best possible way to take care of your trees/plants
Water the plants and trees regularly if they are drinkers.

Trees grown to protect privacy should be pruned regularly for robust growth. 

Gather knowledge about the trees to grow in your garden to decide the best place to plant them. Place it under the full or partial sun as per the tree types. Native trees that prefer shade should be kept in partial sun or no sun zone. 

Grow your fast-growing tree in well-drained soil.
Conclusion
A common confusion pops up in the mind regarding the Australian garden native trees as to how to grow and take care of it.  Spend some time researching the plants you wish to grow in the garden. Gather all the information and then conclude. Consider the factors such as available area to grow, climate, whether you need a shade provider tree or fencing types, water requirement, and more such information.