Most of you would relate to the desire to have an awe-striking outdoor or backyard. But, how can you make the backyard look attractive? Converting your small or big yard or backyard into an amazing patio is the best idea to utilize the available outdoor space, making it the focal point. The patios ideas are also one of the ways to create extra living space and increase the worth of your home as well.
Whatever be the shape and size of your outdoor space, patios ideas will transform the dream of an exotic garden into reality with minimum maintenance. There are numerous materials, such as porcelain, brick, tiles or concrete, to make your patios ideas a successful reality and some amazing furniture to add functionality.
Like most nature-loving people, you would also try to avoid dominating your garden with a patios ideas and blocking the greenery, so maintain balance in retaining the visibility of the greenery and beauty of the patio. While considering all the vital points, bear in mind that the size of the patio plays an important role.
The best way is to use a similar dimension as your living room to ensure the patio has sufficient outdoor seating capacity where you can enjoy relaxing moments during pleasant weather and have an intimate romantic dinner with your partner.
The outdoor patios ideas can be a seasonal retreat or an all-year-round attraction, but it should connect with the overall decor of the house. Here, we'll share some amazing patios ideas to help you create the best one for your space. Here we go.
Factors To Consider While Creating An Attractive Patio
Choosing The Right Material
There are numerous options to choose from to build patios.
Concrete – The cheapest and most functional as it can be dyed into countless colors. Concrete pavers are available in many shapes and sizes.
Brick – The less expensive and popular option for a patios ideas because it can be used for pathways and retaining walls.
Sedimentary stone – Flagstone, a generic term for sedimentary rock, is the least expensive option based on your location and the stones mined in that region. The cost of slate, bluestone, travertine, quartzite, limestone, basalt and sandstones depends on the location.
Tile – While choosing the tile patio, consider the weather and the environment of the place. Tiles made from granite and porcelain can tolerate extreme weather conditions (hot summers and below-freezing points) but can't absorb water due to their non-porous nature. For these reasons, if your yard is prone to flooding or water retention, this is not the right material for your patio.
Gravel- It is quite favourite for fire pits and walkways. It pinches less to the pocket and is perfect for flood-prone and heavy rainfall areas.
If planning to use slate, travertine or limestone, be prepared to seal the cracks occurring due to their soft nature if you are staying in extreme weather conditions. These tiles are never recommended for the pool area because frequent sealing makes it slippery when wet increasing the chance of accidents.
Various Ways To Create Beautiful Patios
Patio with curtain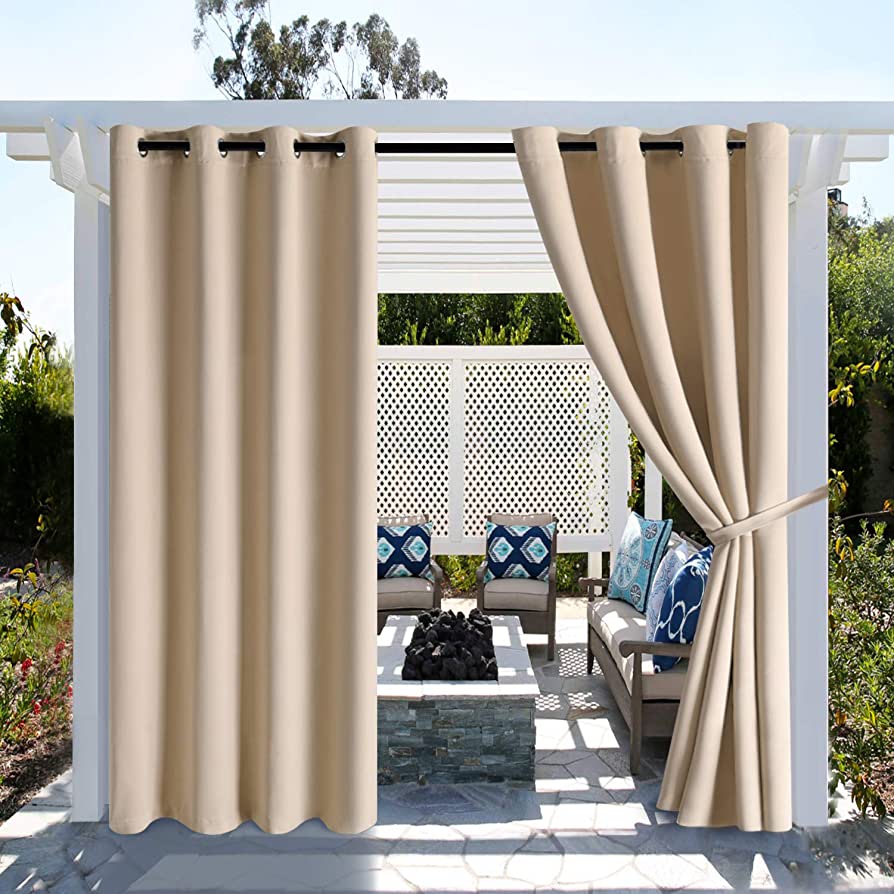 It's time to alter the look of your boring old stone patio into a beautiful space. Don't worry! You don't have to make multiple changes. Add a transparent roofed pergola, give a finishing touch to the tiled or stone floor and hang some neutral shade curtains. Your work is done. You can also place some outdoor furniture like sofa and seats.
Modern patio with pavers and pebbles
The white hue is considered one of the most elegant, modern and classy shades. Why not transform the conventional patio into a modern one? Pergola with white curtain over the pebbles flooring and a concrete fire pit right in the middle of the patio. Place elegant sofas on both sides in white color.
Patio with glass walls
A glass-walled patio shade ideas are a wonderful option for your outdoor space because you can enjoy the outdoors in any weather freely with no fear of rain, storm, snow and cold.
Modern minimalist patio
A modern minimalist Patio filled with serenity all over the outdoor space can become your favorite place to unwind from the daily routine. It will reflect your style statement.
Wood-themed deck tiles for your patio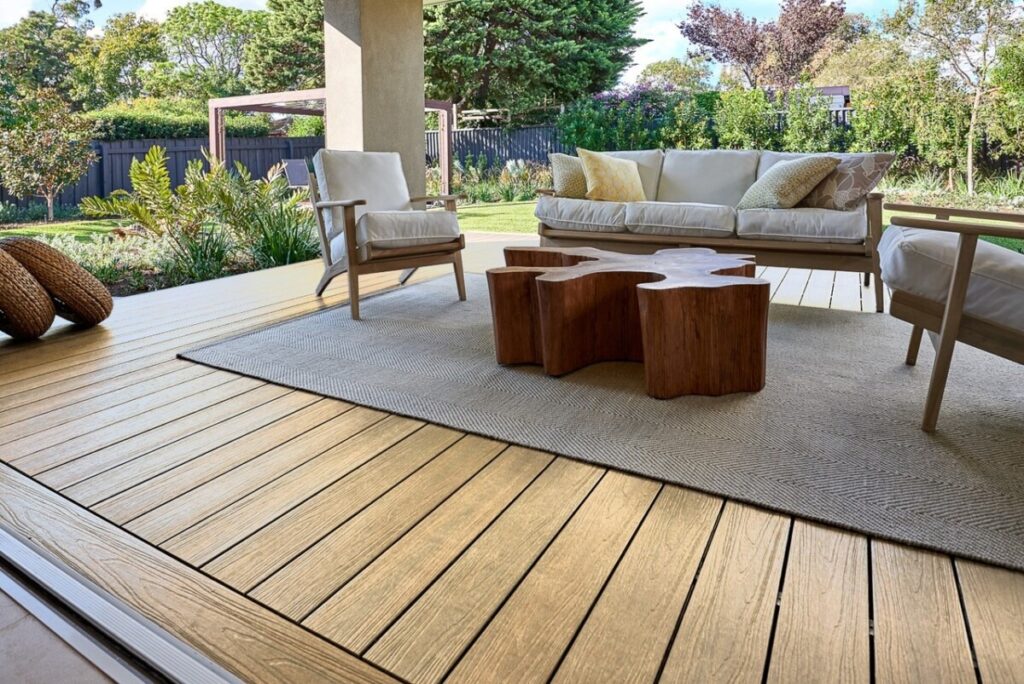 Get fancy and creative with your patio with wood-themed deck tiles. Interlocking tile patterns will  elevate the look to add character and unique features to your outdoors.
Patio with wooden built-in-seating arrangement
Build a cozy backyard patio with in-built wooden seats, fencing and lovely flowers in beautiful wooden pots. To complete the warm look of the outdoor hub, fix some warm lighting, blankets and cozy cushion.
Moroccan patio in bright color combination
Want to have a striking patio in your backyard? It could be the little bright space in your backyard with black wood frames door, a small roof, off white and grey patterned floor tiles and some unique Moroccan accessories with beautiful planters.
Swing sofa seat patios ideas
Get away from ordinary sofas and have comfy swinging sofa seats. This contemporary patio gets the look from the concrete fire pit in the center and the black pergola. Cozy, pleasant hub for warm nights and breezy afternoons.
Rustic charm
Build a cozy modern look hub in your backyard with rustic charm, bricks, wooden beams and string lights. To complete the rustic ambience of the space, get some iron lanterns and vintage-style seatings.
Screened patios ideas
This design incorporates the outdoor space, with the housekeeping intact and its outdoor aura. Comfy seats, beautiful rugs and wooden paving, few comfy cushion and statement lighting make the perfect screened patio. Store memorable moments here!
The corner patios ideas
If your backyard has ample space, dedicate one corner for the patio. A modern, stylish and elegant patio with wood flooring is separate from the house. It will amaze you with its awe-striking beauty. A stand-alone umbrella, a pair of rattan seats and embedded floor lighting will add charm to the area.
Multi-level patio
A multi-level concrete patio with a waterfall and stream will add a soothing sound to the patio, compelling you to spend some time. It's a low-maintenance idea.
Patio kitchen idea
During the pleasant weather, ditch the indoor cooking and experiment with dishes outdoors with a breeze of air swaying your face.
Patio with Asian inspiration
The Asian-inspired patio features comfortable seating arrangements with simple and stylish patio furniture.
Modern landscaping patios ideas
If you own a small yard, create a modern landscaping patio with a dedicated small dining area for a romantic dinner and basic landscaping. Adding ornamental grasses in a fixed pattern will define the space's features.
Open patio
Retain the wall blocks for a large and open patio. Add a hint of color by placing some planters around the seatings.
Sunny patios ideas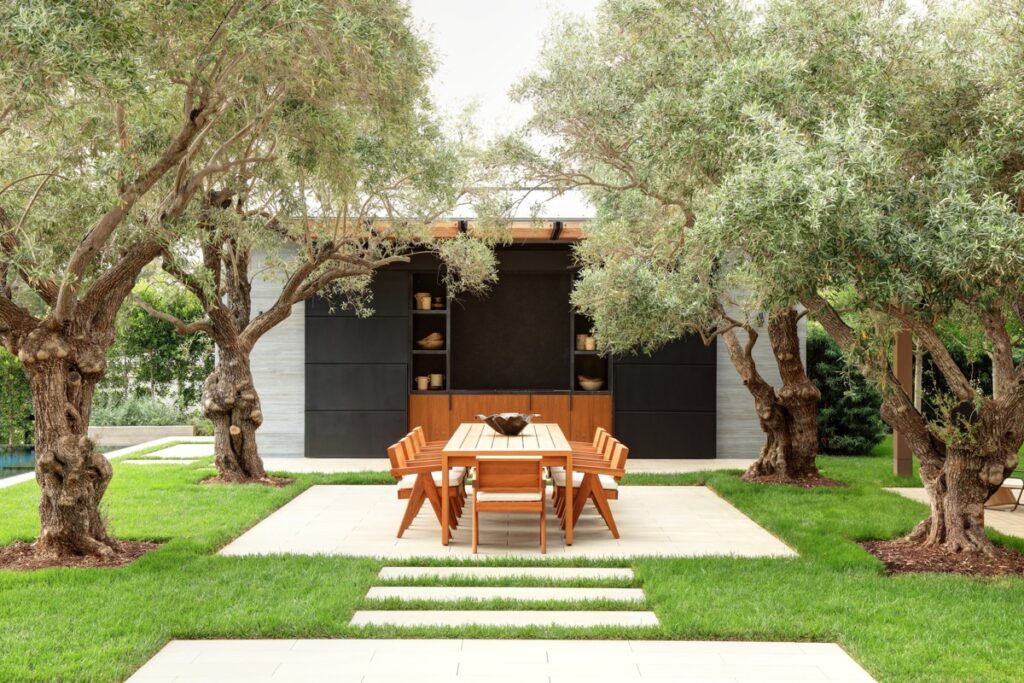 Looking for a substitute for a grass lawn? Create a small patio with ornamental grass and some pebbles. Soak the sun on your beautiful patio on the beach chair.
Concrete patios ideas
A concrete patio with a metal fire pit right in the center is a unique landscaping idea. Spend some time knowing about various patio ideas within the budget.
Compact enclosed patio
Cover the patio with glasses to enjoy in any weather. Make it as comfortable as the indoor space with extremely cozy furniture.
Patio with a pond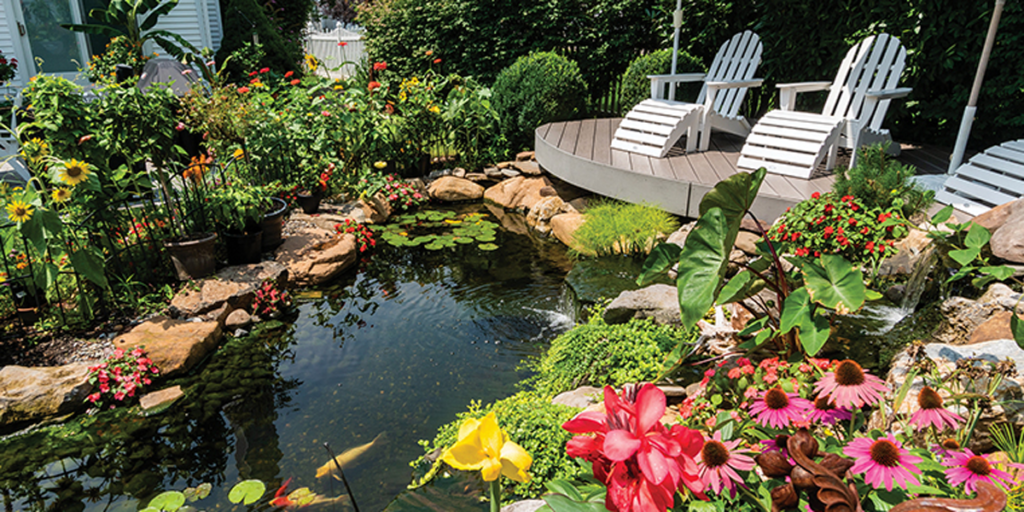 A small patio with a low-maintenance pond will keep you close to nature to breathe fresh air. These patios can accommodate a maximum of two seating chairs.
Sunroom feel patios ideas
The sunroom feel patio is the shaded patio created behind the barn doors with a feeling of an extended part of the house with its modern design. It reflects contemporary style statements. Turning your patio into a sunroom is a great idea to add warmth in the room.
Soundproof patios ideas
If you stay in a high-traffic location and want to cut the noise, create a sound barrier by planting small plants and incorporating water features.
Plant hugging patios ideas
Most of you would love to stay close to nature and spend time outdoors. To create a natural environment, plant as many trees as possible in the available space and let them embrace you with love and affection while sitting on the chair or sofa.
Gravel patios ideas
You don't necessarily need a big outdoor space for a gravel patio. You can easily create it with a limited area. Choose an affordable DIY pea gravel. Cover the floor with landscape fabric to avoid weeds and mud, then spread the material. Complete the look with a wooden center table and rattan chair.
Patios ideas with portable furniture
The furniture layout should reflect versatility, so consider the types of furniture you can easily move from outdoors to indoors. Foldable benches or stools can create an extra seating space or a table for refreshments.
Patios ideas with Bistro style window
Creating outdoor seating next to the indoor kitchen or bar serves a functional purpose and connects the indoor and outdoor areas well. Bistro-style windows are a unique way to add charm, making passing food from the indoor to the backyard patio easier.
Furniture For Your Outdoor Space
Creating a perfect outdoor layout with the most comfortable furniture is challenging; however, little research on the available options will ease the furniture selection process. Spend your outdoor time in the summer with style and comfort. Here are some of the furniture ideas.
Dining set from Robert Plumb  

Outdoor kitchen set-up with benchtop and small cabinetries

Jedd armchairs

Coffee table from MCM house

Center table

Planters with beautiful plants

Rocking chair 

Weathered wood decking
To know more, read Top 8 Pergola Ideas to Enhance the Outdoor Space
Points To Consider While Buying Outdoor Furniture
Buy a thick-leg chair because a thin leg placed on the grass will sink in the grass during rainy days.

When not in use, keep fabric and furniture indoors because continuous exposure to rain and sun will age the furniture.

Try to use timber furniture as it suits the Australian climate.

Use lighter shade fabric for furniture for a cool effect. The dark color will absorb heat, making it uncomfortable for you to sit.
Best Ways To Enclose A Patio Into A Room
Having a patio is undoubtedly a great idea. However, it has pros and cons just like other ideas. A patios ideas can become messy with leaves and bird droppings. However, if you enclose it with a glass cover, you can enjoy the barbeque session without flies and mosquitoes. While retaining the beautiful view and breeze, the outdoor living room created from the flawless transition of the patio is a breathtaking sight to witness. You would love to unwind with serenity all around.
The best way to extend your living room and add value to the property is through patio enclosures, sunroom and screen rooms. Invite your friends on weekends and have fun. I hope by now you know how to enclose a patio into a room Australia.
The Perfect Way To Make The Patio Look Nice
To create a charming patio, you need to work on the furniture ideas for a perfect amalgamation of texture and color.
 If you want to highlight contrasting areas of the garden, use a dark shade patio and to make the garden look more vibrant, use a light shade patio for a neutral background. 

Remove unnecessary items from the garden, like weeds, unused furniture, and unused bicycles. 

Clean algae with a pressure washer.

Add some budget-friendly decorative items to enhance the charm. 

Elevate the look with lighting, mirrors and rugs.
Conclusion
Whether you are lucky to have a patio or wish to create one, consider the shape of the space, size, style, design preference, and purpose. With clarity in purpose, you can create a comfortable and trendy space for your outdoor area and convert it to a dining space, gaming room or lounge. If you have a large backyard space, break it into multiple seating areas, placing a variety of seating options for all. The right patios ideas can help you transform your not-so-thought-over backyard into an eye-catching space.