While not everyone can have the luxury like that of having a beautiful patio, a part of us wants to relax out there with a cup of coffee on a cool evening. Patios are known to elevate the outdoor open space of your home, and regardless of how expensively or affordably they have been made, they always add a ton of charm to the place.
Patio shade ideas are one of the most sought-after elements for patio décor. They can range from detachable umbrellas to full-fledged wood frames that add soothing shade to your patio. While which method to add shade to your patio may vary from person to person and budget to budget, one thing is that it can make or break the look of your patio very easily.
You don't necessarily need to spend a ton to get the look you want because so many options can give you very similar, high-end-like results. Here, We have gathered some of the best patio shade ideas that would be perfect for you in case you were planning to redo your outdoor space or if you were planning to make changes to your existing patio. Considering the size and style of your patio, pick which kind of patio shade works best for your backyard!
Patio Shade Ideas For Your Backyard!
Portable Umbrellas
One of the best and most affordable options for patio shade ideas is portable umbrellas; they get the job done, are available in various options, and can fit all kinds of budgets. Although they provide a limited shade to just a designated part of your patio, they can easily be moved around whenever you want to change the décor. They are seemingly easier to set up, and most of the time, you don't even require professional assistance.
Pergolas
Pergolas are generally the first and most recommended element to add shade to your outdoor seating space. They have a rectangular roof and open walls, providing you with enough shade while ensuring that it's nice and breezy still. They are considered a much more sustainable and long-lasting option compared to others. They are a full fledged project which does require hiring professionals, but rest assured that once they are up and set up, they are pretty low maintenance and last for as long as you can think of.
Read more: Top 8 Pergola Ideas to Enhance the Outdoor Space
Trees
Trees and shade go hand in hand. If you have been blessed with a large-sized tree in your backyard, then using it to your advantage and designing a patio around it is the best thing you can do. Trees naturally provide shade and coverage and can be one of the most sustainable ways to have that coverup in your outdoor lounge. While working around a large living tree could be slightly tricky, you can always hire designers to help you get the job done much more easily and smoothly.
Wood paneling overhangs
Why spend a ton covering your whole patio when you can easily get away with covering just the part you are most likely to use more? Wood paneling overhangs are an excellent way to be budget friendly yet achieve a more durable result with your patio shade. Be it an outdoor bar or a swing on your patio, you can strategically cover just that part of it using wood paneling. These are affordable, durable, and do not require much maintenance either. So even if it is raining outdoors, you can still enjoy that cocktail sitting by your outdoor bar!
Outdoor Curtains
Some of you might have seen this coming; we are talking about curtains. Now, unlike all other options we discussed above, this one covers the sides of your patio, so how does it even bring shade? A ton of sunlight can enter your patio, even from the sides, depending on which direction it is facing. Outdoor curtains are made with thicker and more durable material, making them capable of outstanding sunny and windy weather conditions. Another great factor about them is that they can be opened and retracted as per your needs, giving you shade when you need it and as much sunlight as you want to enjoy.
Lattice Pergola
Lattice pergolas are one of the best statement elements to add to your patio. They give the place a good amount of shade while ensuring that some light still seeps through it. So instead of getting intense sunlight directly falling on you, you get a rather softer beam falling through the holes of the pergola. They can be a slightly more expensive shade, but trust us when we say they are remarkable and give you the best of both worlds!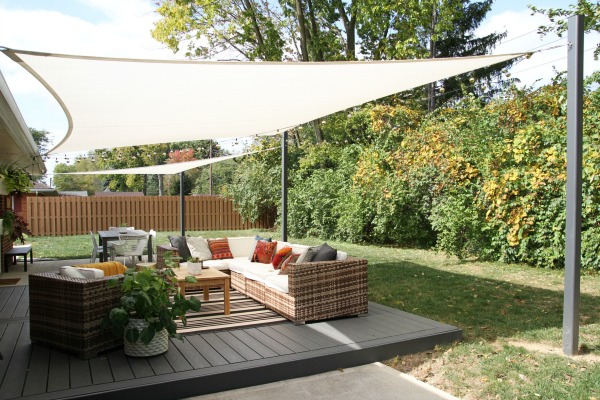 Sun Shade Sail
Canopies but outdoors? Yes, you heard us right. Sun sail shades are the perfect lightweight canopies you can hang in your outdoor lounge area without overwhelmingly adding to the space. They are versatile and convenient and have been very popular lately. Sun shade sails are highly adjustable and can be tied to the sides of your patio or even trees around the area you wish to cover. They are cost-effective and very simple to set up, saving you some coins on installation. Being these temporary removable canopies, they can be moved around as per your need anytime you wish to do so.
Awning
You might have seen awnings hung outside small restaurants and boutiques, but did you know they can easily be added to your patio? Awnings are one of the best affordable options to add shade and coverage to your outside sitting area. They can be custom-made, come in various colors and options, and last for many years. They shield your patio from the sun and rain and ensure that you have something fairly strong covering your head while standing outdoors.
Balcony as an Overhang
Balconies can also multitask as the perfect patio overhang. There are two ways to go about this; either you place your new patio below the already hung-up balcony, or the other has to build a balcony or extend it over your patio. Both ways, you can get the benefits and shade of the balcony on your patio underneath while not even going out and spending extra money on shade-giving accessories. They are sturdy, perfect, ceiling-like structures, even if you want to hang things like lights or fans.
Garage into Patio
With this one, we may be cheating. Your garage is already roofed and shaded, so what if you wish to turn it into a patio-like lounging space? Just think of this; your garage opened up, adding the right kind of furniture, and with its existing roof joining the house, you can make the best use of it. The sun can enter. Still, the place is cooler and shadier; we don't think it can get any better than this.
Convertible Canopy
Convertible canopies are the most old-school, easy way to cover your patio. They can come in a wide range of styles and options, giving you room to experiment with new styles. They are also very budget-friendly and can be set up easily without hiring professionals. Convertible canopies bring along with them their freedom and versatility, giving you the choice and control when it comes to how much you wish to cover, from what point to which one of your patios. You can extend or retract it based on your needs and the weather conditions, giving you absolute control.
Arbor
Arbors are very similar to pergolas, just that they are much smaller in size and have a rather arched and bent-forward structure. Usually smaller in size, they don't do much in terms of adding shade to your space, but very often, they are strategically placed along with trees or large bushes, giving a dreamier and more beautiful look altogether. They can be placed in passageways to create a continuous shaded passage in your garden.
Conclusion
A patio is a great way to utilize your existing outdoor space and make it more fun and usable. You can truly make the most out of your patio with the right kind of décor elements, such as furniture, layout, and space structure. While some people love to gather inspiration and lead their patio makeovers, you can always hire professionals to get opinions and advice on what should work best for you within your style and budget.
We hope to inspire you with some beautiful and creative ways that you can use to add some soothing shade to your patio without disrupting the beauty and charm it has to offer. Out of all the ways mentioned earlier, be sure to pick the one that suits your personality, your home's character, and most importantly, your budget. When all these factors align, it is safe to say that you have found your perfect patio shade!
Read more: 26 Beautiful Patios Ideas To Enhance The Outdoor Of Home