Ever had that moment when you're standing in front of your home, staring at your front door, and thinking, "Hmm, something's missing"? I've been there—twice, to be exact. And let me tell you, the colour of your front door is like the cherry on top of your architectural sundae. It's your home's first impression, a sneak-peek into the world that awaits inside. Today, we're diving deep into the universe of front door colours, their hidden meanings, and how they can be the key to expressing your unique personality.
Whether you're a die-hard follower of Dulux roof colours or are just gathering ideas for that summer facelift your front door desperately needs, you'll be a doorstep designer extraordinaire by the end of this read.
Also Read Top 16 Wall Paint Design Ideas Perfect To Inspire You!
The Timeless Elegance of Classic White
Let's kick things off with good ol' Classic White. You know you're in the land of apple pie and front porch swings when you see a pristine white front door. It's like getting a warm hug from Martha Stewart the moment you set foot in the doorway. But make no mistake—this colour is far from basic. Its strength lies in its versatility. So the next time someone tries to tell you white is 'just too plain,' tell them it's not plain—it's classic!
Warm Beige
For the folks who prefer a subtle, yet inviting palette, a warm beige front door is your best friend. It's like that warm cup of coffee on a cold morning—comforting and soul-soothing. A beige door is less stark than a white front door inside your home, and it adds an air of sophistication that screams 'curated elegance'.
Warm beige pairs perfectly with outdoor door fixtures in bronze or gold, and it provides a nice contrast to lush green door decor. If your home has dulux roof colours in earth tones or grey shades, this door colour will complement it seamlessly.
Soft Gray
Soft Gray is the epitome of modern sophistication. Imagine a sleek, soft grey door framed against a contemporary house with a modern house colours exterior—sounds chic, right? If you're not quite ready to dive into the world of coloured doors, but you find white or beige too vanilla for your taste, then a soft grey front door is your answer.
Gray serves as an excellent backdrop for both bright and muted door decor. Whether you want to go nautical with a navy front door mat or keep it earthy with sage green front doors, grey never disappoints. It's like the Switzerland of door colours—neutral, yet captivating.
Taupe: The Understated Elegance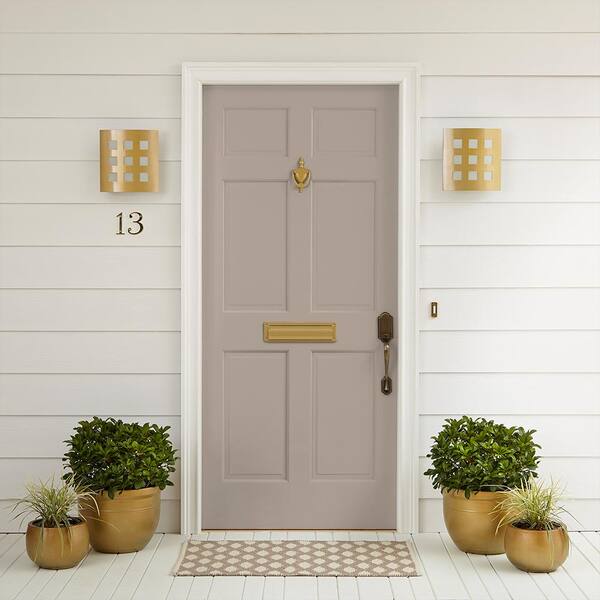 Ah, Taupe. What a humble yet strikingly beautiful hue! It's the fine wine of front door colours; it only gets better with time. Whether your home is a cosy cottage or a modern mansion, a Taupe door will up your entryway's game. Let me tell you, this colour transcends styles. You could go for a sleek, metallic handle for that ultra-modern look or perhaps opt for an antique doorknob for a more vintage charm. It's versatile, friends!
Ever seen a Taupe door in natural light? During golden hours, it almost reflects a soft, golden aura that makes your home look warm and inviting. You'd also be surprised how well it pairs with green door decor. Whether you've got terracotta tiles or metallic grey roofing, a Taupe front door is like that one friend who gets along with everyone.
Cream: A Canvas for Creativity
Cream is not just a colour; it's an emotion. A cream front door sends the message of warmth and homeliness before a guest even steps inside. You might be thinking, "But isn't it too simple?" Trust me, simplicity is the canvas of creativity. It's a front door colour idea that offers endless possibilities.
With a cream door as your base, coloured front doors become an ever-changing art piece. Imagine switching out decor elements for every season—wreaths in the spring, spooky decorations for Halloween, and twinkling lights for the holidays. This colour creates a backdrop that makes everything pop.
Light Greige: A Trendsetter in Disguise
Is it grey? Is it beige? No, it's Light Greige—the superhero of front door colours! With the rise of minimalist architecture and the sleek, no-nonsense approach to design, Light Greige has become the unsung hero of modern house colours exterior. This is the epitome of sophistication, and believe me, it's a head-turner.
Not sure what colour to paint your front door? Light Greige is your go-to. It's the ideal mix of neutrality and style. It's modern, yet timeless. And let's talk versatility; whether you've got a red brick house or a home adorned with wooden panels, Light Greige fits just right.
Greige Green: The Elegant Statement Your Home Deserves
Ah, Greige Green! It's the perfect blend of grey and beige with a subtle hint of green, creating a colour that captures both warmth and sophistication. This shade offers a modern take on the classic green front door while also keeping things neutral enough to suit various exterior styles.
If you're an Aussie searching for front door colour ideas that are trending in Australia, you'll be thrilled to know that Greige Green is making waves in the home design scene Down Under as well. What's not to love? So go ahead, make a statement with this versatile hue.
Pale Blue-Gray: The Calming Effect
You might have already seen a few houses adorned with pale blue-grey front doors and wondered, "What's that inviting shade?" This dreamy hue is a delightful fusion of blue and grey that instantly adds a calming presence to any entrance. Imagine a soft ocean mist or the first light of dawn—that's what walking through a pale blue-grey door feels like.
Pale Blue-Grey pairs well with a variety of modern house colours exterior, including whites, creams, and even darker hues like charcoal or monument colour front doors. It offers a more intriguing look compared to the usual white front door inside and lends a soothing charm that white just can't achieve.
Soft Charcoal: A Chic Spin on the Classic Black Door
Soft Charcoal is the underdog of front door colours that you never knew you needed. At first glance, it may seem overwhelmingly dark, but that's the beauty of it. It's an incredibly versatile shade that adds both depth and elegance to your entrance.
Soft Charcoal is an excellent choice for those looking to add a sense of drama to their entrance. It serves as a perfect backdrop for bright door furniture and other coloured front doors decor. Red door house or pink front door? Time to rethink! This bold choice is gaining popularity, especially among those who wish to make their front door a focal point.
Crisp-Black Color
Want your home to look really nice without talking about it? Try a smooth, cool black for your front door. Trust me, black isn't just good, it's really fancy.
But it's not just about the glam factor. A black front door has other advantages, too. It emanates a feeling of security and authority. Plus, it's like the chameleon of colours, blending effortlessly with just about any other shade you've got going on in your exterior space. Perfect for highlighting that cute little wreath or quirky door knocker you've been dying to show off.
Warm Charcoal Gray
Stepping down the intensity without compromising on style, let's talk about warm charcoal grey. This front door colour is for those who want to keep things chic but with a little less drama. A warm charcoal grey door is versatile; it can swing rustic or modern depending on what you pair it with.
If rustic is your vibe, a warm charcoal grey pairs exceptionally well with a rust wood door frame or even outdoor furniture in a similar tone. It's like your home is giving a warm hug before guests even step inside! If you're searching for dulux roof colours that work well with a warm charcoal grey door, look no further than softer tones that help bring out the warmth in the grey.
Ahoy there, colour enthusiasts! If you're navigating the vast sea of front door colours, make sure you don't sail past deep navy blue. There's a reason why blue front door colours are skyrocketing in popularity; they offer a balance of calm and character that few other colours can achieve.
A navy front door is like that well-tailored suit that never goes out of style—always appropriate, yet never dull. Whether you're in Australia looking at front door colours that suit the sunny climate, or you're somewhere where the seasons change in dramatic fashion, navy is a universally flattering pick.
Olive
Last but definitely not least, let's bring some Mother Nature to our front door with the colour olive. An olive front door is for those who want to bring a touch of earthiness to their home. This colour not only works well with wooden door colour frames but also stands out beautifully against neutral house exteriors.
The green door decor possibilities are endless—potted plants, wreaths, or even a matching sage green front door mat. It's a wonderful way to reflect the natural world around you, right at your doorstep. You may also consider pairing it with paint for front door accessories or frames in monument colour for that perfect balance between nature and modern architecture.
Terracotta
Ah, Terracotta! It's as if the Earth herself lent this rich, grounding hue that feels both exotic and homey. If you're aiming to spruce up your front door, this is a colour that not only stands the test of time but also packs a punch. A Terracotta front door is more than just an entryway—it's an invitation to a world of warmth and comfort.
This hue has an undeniable connection to rustic themes, making it perfect for those with a penchant for farmhouse or Mediterranean aesthetics. If you have a grey front door that's begging for a revamp, look no further. But don't forget, the paint for the front door needs to be robust and weather-resistant, so you might want to dig through the Dulux front door colours to find the perfect Terracotta hue.
Sage Green
Looking for something more calming but still want to make a statement? A Sage Green front door could be your solution. This soothing hue works wonders in providing a serene yet fashionable façade for your home.
Sage Green front doors resonate incredibly well with lush landscaping, enhancing green door decor to the next level. It's versatile enough to suit a variety of house styles and external door colours. Are you worried about how to pick a front door colour that can also match the dulux roof colours? Fret not! Sage Green is flexible and pairs well with a myriad of tones.
Rich Red
When you think of red door house settings, you envision homes that exude passion and vibrancy. Rich Red is audacious, energetic, and eye-catching, making it a perfect choice for those who want to show off a vivacious character right at their doorstep. This colour screams, "Hey, look at me!" making your front door impossible to ignore.
If you're browsing through Dulux reds, keep an eye out for that perfect shade of Rich Red that makes your heart skip a beat. Bonus points: a Rich Red door pairs fabulously with a white front door inside, giving your home a balanced yet exciting colour scheme.
Burgundy
If Rich Red is the life of the party, then Burgundy is the sophisticated guest sipping wine in a corner. It's regal, it's elegant, and it's the epitome of grace. A Burgundy coloured front door adds depth and maturity to your home's exterior.
If you have a modern house with exterior colours leaning towards the minimalist, a Burgundy door adds just the right amount of pzazz without going overboard. But remember, the best paint for an exterior wood door in a Burgundy hue should be of top-notch quality. So, perhaps a glance through the Dulux door paint colour chart could help you find that impeccable shade.
Light Blue
We can't discuss blue front door colours without paying homage to Light Blue, a hue that brings the tranquillity of a clear sky or calm ocean right to your doorstep. It is the epitome of breeziness and relaxation. If you have a brown door that could use a fresh coat, think Light Blue for a crisp, contrasting look.
Light Blue doors evoke a sense of peace and calmness, making them perfect for homes near the beach or amidst greenery. The door colour ideas for Light Blue are limitless, from pairing it with whites and greys to even more daring shades like monument colour front door options.
Pale Pink
Last but not least, let's talk about the underdog in the realm of front door colours—Pale Pink. This colour is not just for the dreamy and romantic at heart; it's a hue that exudes class when executed correctly. A Pale Pink front door adds a soft touch of femininity without overwhelming the aesthetics.
Imagine it in contrast with a light grey front door, almost as a statement front door that brings an unexpected yet pleasing visual appeal. Are you wondering how much to paint a door in this hue? Well, the cost might vary, but the impact of a Pale Pink door—when set against the right backdrop—is simply priceless.
Conclusion
As you can see, your front door isn't just a functional part of your home; it's also an important aspect of your home's aesthetic and even your personal brand. From dulux reds for the daring to a peaceful sage green front door for those who love tranquillity, the colours you choose can make or break your home's curb appeal.
Choosing the right front door colour is not just about aesthetics; it's about expressing who you are. So, the next time someone asks, "show me the front door," make sure it's a door that you're proud to display!
FAQs
Light or Dark Door: What's Better?
It's your call! A light-coloured door can make your house look more welcoming, but a dark door offers a rich, snug vibe.
What's Everyone Choosing for Door Colors in 2023?
Trends change all the time, but for now, it seems like everyone's loving bold blues and radiant reds.
How Do I Even Start Choosing a Door Color?
Look, just go with your gut. What colours do you love? Also, peek at some home design pics online for inspo.
Both Sides of the Door: Same or Different Colour?
No rules here. You can have the inside match your interior and the outside vibe with the rest of your home if you want.
Should My Door and Walls be Twinsies?
Nah, they don't have to be. A door in a different shade can add some extra zing.
Door and Windows: Matchy-Matchy?
Up to you. If you're all about that coordinated look, go for it.
Garage Door and Front Door: Same Hue?
Some folks dig this because it ties the look together, but it's no big deal if you go another route.
Which Door Colour Makes My House Worth More?
There's no one-size-fits-all answer, but you can't go wrong with crowd-pleasers like black, navy, or a classic red.