Small caravans provide a great style of living for people who like to be on the go and want to live an adventurous lifestyle. It is a great housing structure whether you are single or a couple, as it can accommodate two people easily.
From being affordable to sustainable, the benefits of having a small caravan are endless, but there is one thing that many people find quite difficult to do with these. That thing is styling the caravan in a creative and space-saving manner.
If you are someone looking for small caravan interior ideas, then you have stumbled upon the right place. Here, you will find a detailed guide on how you can style your small caravan in a fun and creative way while still keeping it fresh and spacious.
Furnishings, Decor, And Personal Touches
How you decorate and furnish the caravan plays a huge role in its efficiency and comfort level. Read ahead to find some creative, functional and stylish furnishing and decor tips to elevate the look of your small caravan.
Invest in Multi-Functional Furniture
This is one of the best ideas to organise your small caravan without much hassle, as you will not need any extra furniture for storage. Installing multi-functional furniture like beds with storage shelves, tables, and other furniture with drawers and cabinets will help you save a lot of space while also allowing you to have ample storage to keep all the necessities in the caravan.
Drawers And Cabinets In Empty Corners
This is like the cheat code to make any size of caravan look large while having ample storage space. Making sure that you install the right size of drawers and cabinets in all the right parts of the caravan will give you a lot of space to keep your necessities and also keep the place neat and clean.
Also Read Corner Desk Ideas For You To Work In Style 
Mirrors, Light Paint, And Ambient Lighting
This is a very smooth combination of furnishings and decor that will make your caravan look expensive, elegant and very spacious. Mirrors are known to make any place look larger than it is, and so are light colours. When you combine these two elements with the right type of lighting, you get a beautiful and classy caravan. You can also use some drapes on the windows for privacy and to add more personality and style to the place.
Space-Saving Caravan Bed Ideas
Having a comfortable and functional bedroom area is very important to rest up during your journey. Here are some caravan bedroom ideas to make the place look spacious and stylish altogether add some personality and comfort to it:
Install A Pull-Down Bed
Popularly known as Murphy beds, these can be a great addition to the sleeping area in your caravan as they are comfortable, compact and versatile. You can use a pull-down bed in your caravan to have more space available when it's not in use. You will also have extra space to add some bedside furniture for more functionality.
Don't Miss The Chance To Add More Storage Space
Choosing a compact or foldable bed will allow you to add more storage space in the form of a bedside table. You can store all your essentials near your bed for more comfort and efficiency. This idea will also add more personality and help you smartly optimise the available space.
Curtains For Privacy
In order to separate your sleeping area from the rest of the place, you can install privacy sheets/curtains. This will allow you to have privacy without having to create a lot of hassle of installing a door. If you want a more sturdy solution, you can install a sliding door to help you have more privacy.
Kitchen Space Optimization Ideas
Keeping every part of the caravan organised is the key to making it look spacious and put-together at all times. Read ahead to find some of the best space optimization ideas for your kitchen to help you organize it better:
Install Overhead Cabinets
The kitchen often gets quite chaotic, especially when there's less space, but installing overhead cabinets can help you prevent a space crunch. Doing this will not only allow you to store all of your cooking necessities in one place but also keep the small counter neat and clean. This is one of the best ways to ensure that your kitchen is organised and looks clean at all times.
Dining space and pantry are two very important components of a kitchen, which is why it is crucial to ensure that you keep these two compact and functional. A small dining space with sliding cabinets to make a pantry is one of the best ways to combine the two and save a lot of space.
Minimum & Compact Appliances
If you have a small caravan and want to keep it organised and clean at all times, it is very important that you keep the number of appliances limited. Having just the necessary appliances that are also compact is one of the most important factors in ensuring that the place is put together and neat.
Stylish And Space-Saving Bathroom Tips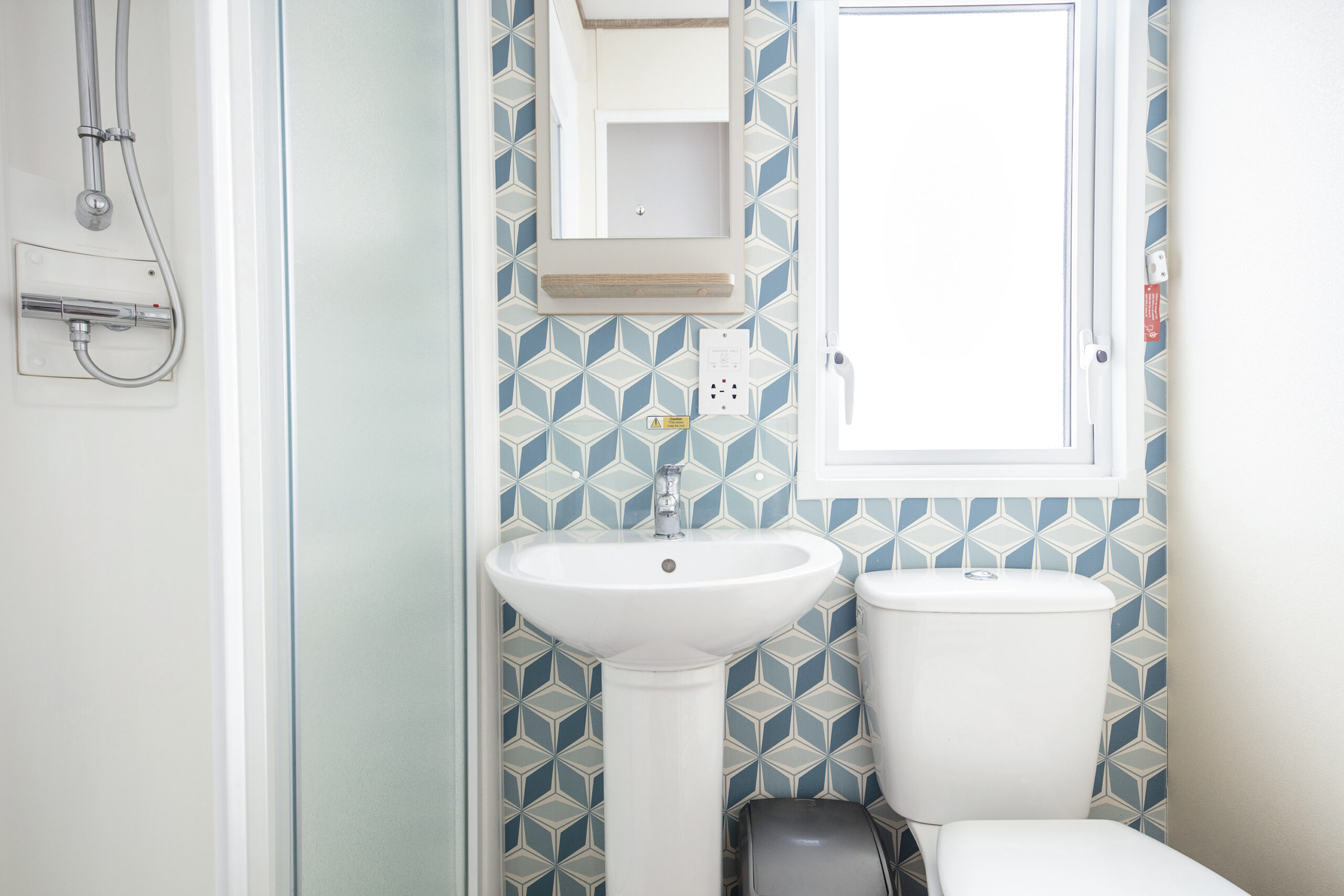 The bathroom should be comfortable and functional, irrespective of the size of your caravan. Consider the following tips to keep your bathroom tidy and organised and also keep it spacious and fresh:
Take Care Of Proper Ventilation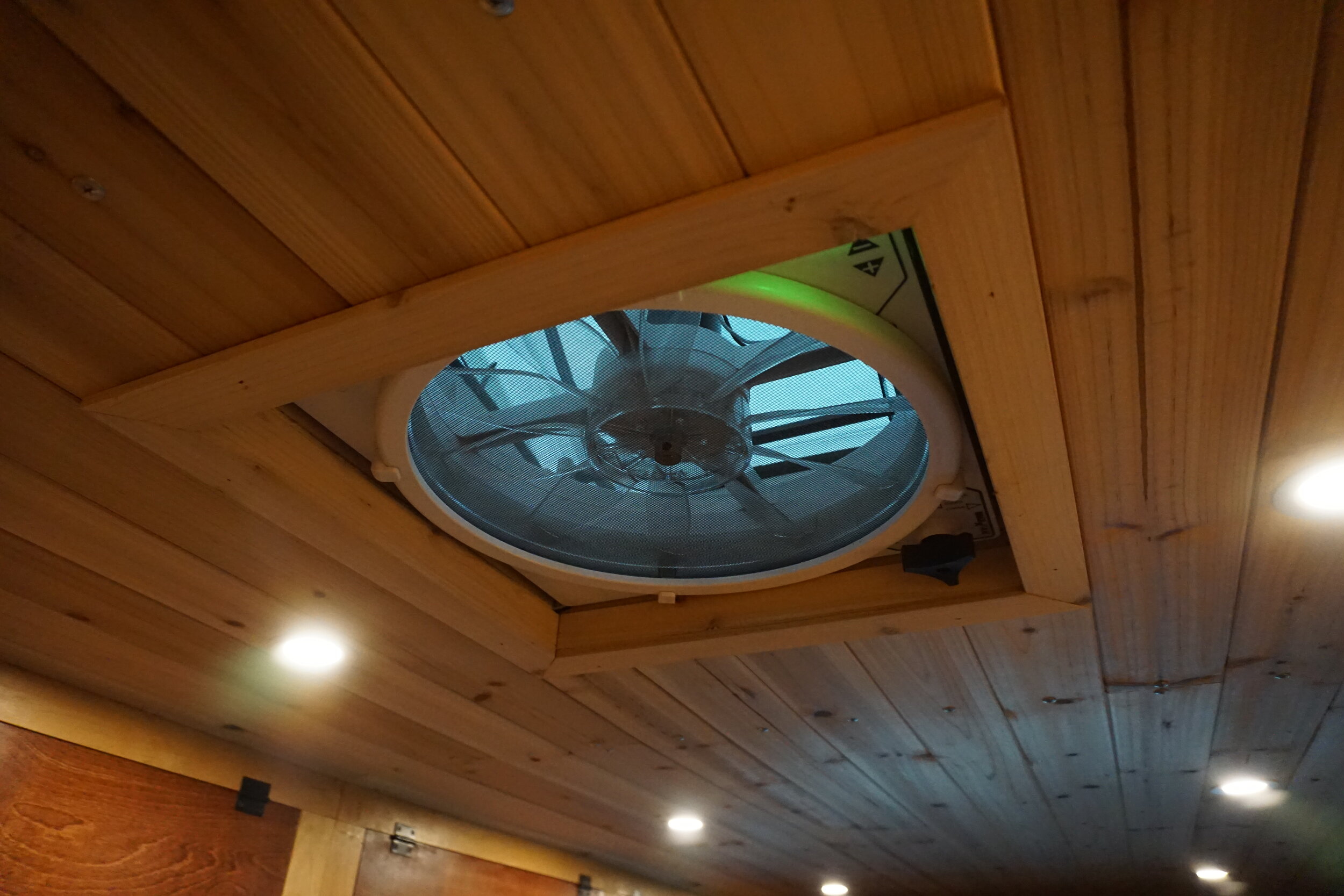 Ventilation is one of the most important factors to keep the bathroom fresh and comfortable to use for everyone. You can install a small exhaust fan or create a small vent in the bathroom to make sure that there is proper air passage and the bathroom is clean and ready for usage.
Cute And Compact Corner Sink
Installing the sink in the corner will allow you to save a lot of space and also add some drawers and cabinets in the bathroom for the necessary products. This is one of the best space-optimal ways to make sure that stuff doesn't occupy unnecessary space in the bathroom and that it stays organised.
Combined Shower And Toilet Space
This is a great idea to save space and add functionality to the place without making too many changes to the interior. Having a combined space for a shower and toil will allow you to have much more space to add amenities to the bathroom.
Caravan Flooring Ideas
Flooring is a very important part of caravan interior designing but it can be tricky to choose the right type considering the plethora of options available in the market. Here are some of the best caravan flooring ideas to help you choose one according to your taste and preferences:
Warm And Cozy Carpet Tiles
This is a very elegant and beautiful flooring type that will make the caravan feel more warm and welcoming. Carpets tiles are a great addition to the interior of a small caravan as they are easy to change and quite low-maintenance.
Anti Slip Rubber Flooring
Rubber flooring is a very durable and sturdy option of flooring in a caravan. It not only makes the place look sleek and clean but also prevents slippage. You can clean this type of flooring with ease and also have a comfortable and safe journey.
The Classic Vinyl Flooring
Vinyl flooring is durable, inexpensive, versatile and comes in a lot of different patterns and designs, making it one of the most loved flooring type among the homeowners. This flooring is easy to clean and comfortable to stand on which makes it great for use in small caravans.
Connectivity On The Road In A Small Caravan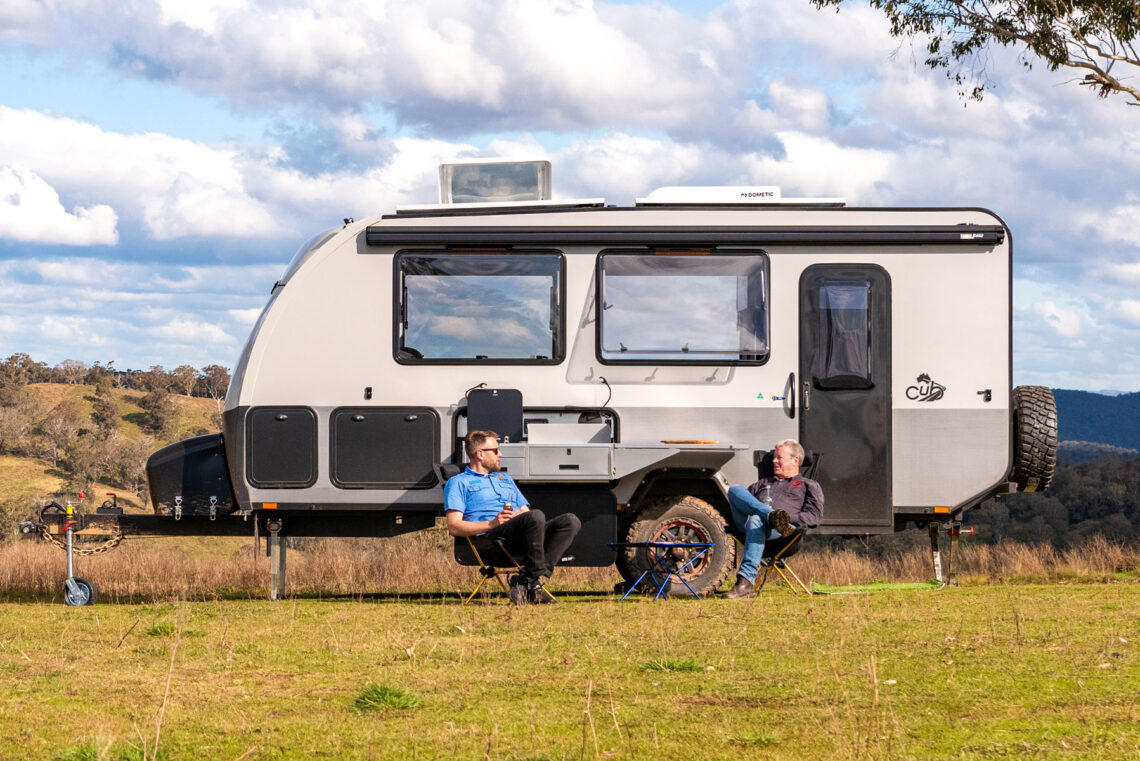 In order to stay in touch with loved ones, navigate, obtain information, and in some cases work remotely, a small caravan must maintain connectivity. The following advice will help you maintain dependable connectivity while travelling in a tiny caravan:
Portable Hotspot/WiFi: Carrying a portable hotspot of wifi device with you is a very basic yet important thing while travelling in a caravan. The internet will help you with smooth navigation, entertainment, and connectivity with other people.
Offline Navigation Tools: These are very important as a backup for when any online navigation tools are not working. Even though navigation tools like maps and compasses are backups, they are still necessary to help you out in any situation.
Improve Receptions With An Antenna: You can install an antenna on the roof of your caravan to get better reception and stay connected with friends and family.
Take Care Of Your Data: Make sure that you use a good VPN to keep your data safe and secure at all times while your're  travelling.
Manage Your Data Usage: It is very important to keep a track of your data usage throughout your journey to ensure that you don't run out of resources at any point of time.
Conclusion
Whether you have a big or a small caravan, you can make it a comfortable and stylish abode by using the right tips and tricks while styling it. From the kitchen and dining to the bathroom and bedroom, every part of the caravan needs to be styled and organised optimally to allow you to make use of the available space.
The above-mentioned tips for small caravans are quite useful when put to the correct use and can help you achieve the ambience that you want to create in the caravan. Do not forget to add personal touches, no matter what type of style you choose for your caravan, as it will make the place feel more homely and cosy. These tips will help you have a comfortable and fun road trip, no matter how long or short it is.
Frequently Asked Questions
How can I make my caravan look homely and cosy?
Adding personal touches to the caravan, like using your favourite colours in the decor, hanging some picture frames, and adding rugs, cushions, etc., will make it look more cosy and give it a homely feel.
How to choose caravan interior colours?
If you want your caravan to look spacious and organised at all times, irrespective of its size, then light colours will do the trick for you. Using modern caravan interior colours like beige, white, french grey, and pastels on the interior of a small caravan will keep it looking fresh and spacious.
Are Murphy beds comfortable?
Yes, Murphy beds can be as comfortable as any normal bed. However, the comfort factor of any type of bed heavily relies on the mattress, so make sure that you get a good quality mattress for a good night's sleep.
Is travelling in a caravan a good idea?
Travelling in a caravan is obviously a great idea as long as the distance you're travelling is something that can be covered in such a vehicle without getting too exhausting. This is a fun way to travel with unconventional means and have quality time with your friends or family.