Whether you are a gaming junkie, a student, or a work-from-home employee, corner desks are everyone's best friends because they always prove their worth. If one piece of furniture could come under the list of most important ones, corner desks would be in it.
With the plethora of styles, materials, and designs available for corner desks out there, it can be quite confusing to determine which one will be the best match for your home and your personal preference.
Hence, to help you with it, we have brought you some of the best corner desk ideas for different purposes that will also look good and not ruin the whole look of your room. Here you will find everything you need to know about corner desks, from different designs to their benefits.
Also Read the Types Of Desks For Different Purposes.
Advantages Of Having A Corner Desk Table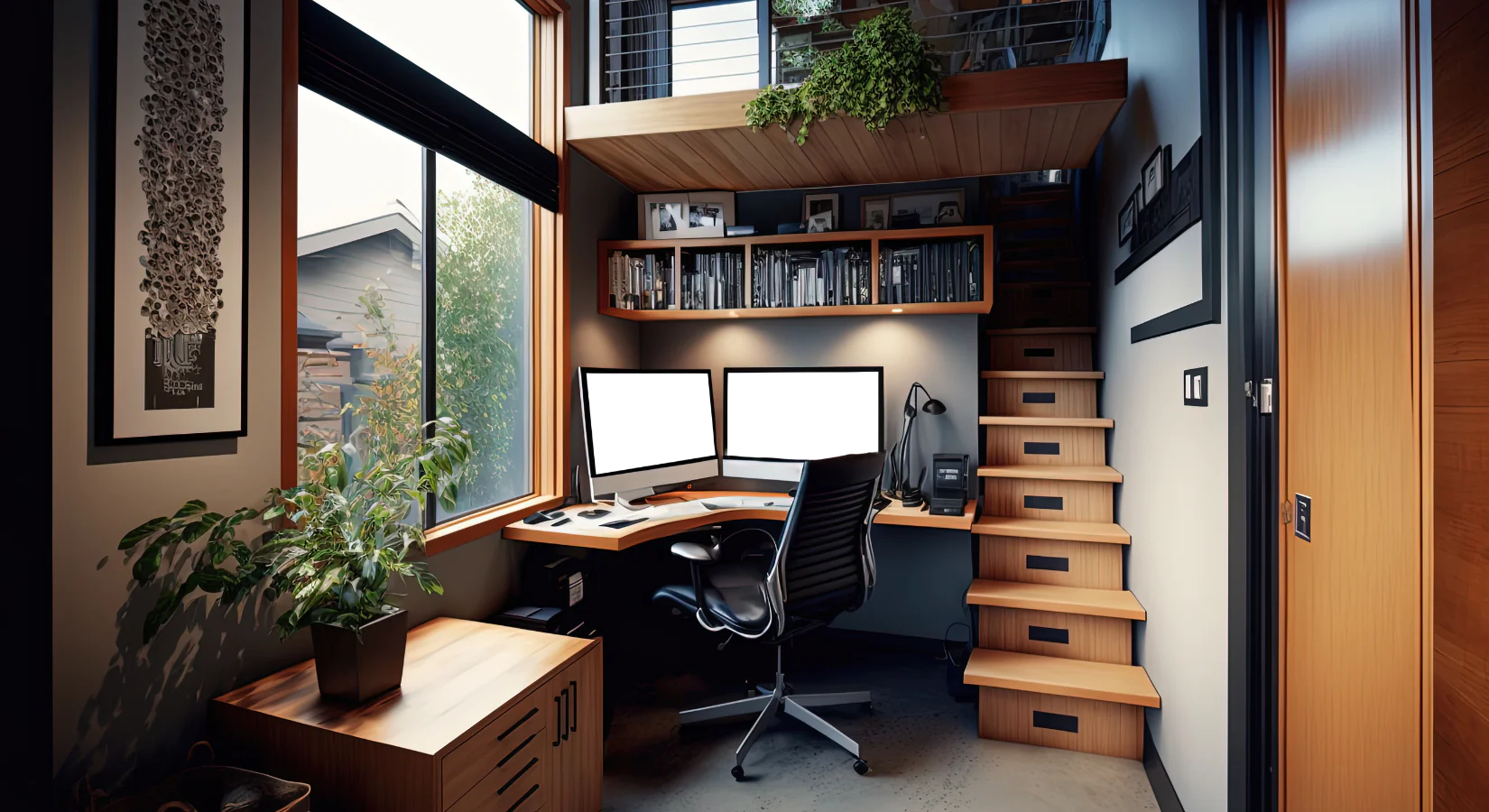 We understand that choosing another piece of furniture might need a little more reassurance to ensure it won't be a mistake. To help you get over this fear, we have mentioned some of the detailed advantages of having a corner desk that will help you solidify your decision to get one.
Corner Desks Are Great Space Savers: As their name suggests, corner desks can just fit in the corner without taking up too much space in the home or office. This is what makes them perfect for spacious as well as small rooms. You can use space that would be squandered with a corner office workstation. A corner desk is ideal if your home office is small and you want to make the most of the available space.
Multipurpose And Versatile: Corner desks don't just serve the purpose of being a desk to study or work on. They have many more purposes to fulfill, including extra storage spaces, organized space for your stationery and documents, and much more. They can be used for working, studying, painting, gaming, and so much more which makes them an essential piece of furniture for almost everyone.
Available In Multiple Designs: There are thousands of designs and shapes in which corner desks come in. From l-shapes ones to round desks, there is a plethora of options available for you to choose from. Also, just because it is a functional piece of furniture, it doesn't necessarily mean that you can't make it match the aesthetic of the rest of the house or room.
No Space Will Go To Waste: Corner desks are amazing even when you don't need one yet don't want an empty corner in your room. Because once you get one, it will surely prove its worth. Hence, getting a corner desk will never fail you but help you make the empty corner of your room look more lively and purposeful.
Separate Work/Play/Study Area: Having a corner desk in your room or home office will help you be more productive as you will have a designated place for you to study, work, game, or practice any other hobby in peace. It will also help you keep the clutter away from the rest of your room by having a separate space like this. There are plenty of bedroom corner desk ideas, corner desk designs for home office, and more available so you can choose one according to your needs.
Top Corner Desk Design Ideas
Corner desks are an amazing invention and a necessary piece of furniture for almost everyone. There are multiple benefits of corner that you must have gone through by now, so let us walk you through some of the most creative, fun, and functional corner desk ideas so that you can choose one based on your requirements, taste, and preferences. Following are the top corner desk designs that you can consider getting for your home:
L-Shaped Corner Desks For Maximum Space
This is one of the most popular, common, yet loved home office corner desk ideas out there. An L-shaped corner desk is perfect for almost all room settings, making it so famous in the home decor industry. Everyone likes this style of corner desks mainly because they are pretty easy to install and don't require a lot of maintenance or aftercare.
There are also thousands of materials, colors, and designs in which this shape of corner desk is available hence, it is very easy to find one that will suit the decor of your room as well as help you with your work.
Glass Corner Desks
Glass corner desks may sound risky, but given the right setting and material, this style of corner desks can really thrive and add a very beautiful and modern look to your place. Glass corner desks can be a little high maintenance due to the risk of breaking but other than that, this one comes under the top ten and the personal favorite list too. Hence, if you have a larger room with enough space to take care of a glass desk, then you should definitely go for this style as it is modern, aesthetic, beautiful, and functional.
Shelved Corner Desk For Maximum Storage
Adding more shelves to your work desk is one of the best diy corner desks setups, as it allows you to customize the storage space on your desk and make your room or home office more organized. You can attach more floating shelves above or below the table for extra space to put your stuff. It is one of the easiest ways to add more functionality to your corner desk while getting the full worth out of it.
Curved Corner Desks For A Twist
This is one of the most functional and cute desk ideas for small spaces. Curved corner desks are perfect for people who want a desk with an ergonomic design which helps everything easily accessible, at your arm's reach. The comfort level of this type of desk is very high as it allows you to stay in your place without having to move around too much to access the things on the table.
Built In Corner Desks
Having a built-in corner desk is a great way to ensure durability and proper functioning according to your needs and preferences. This type of corner desk is amazing for people who like to stick to one place and not move around their work desk much.
Diy Wrap Around Desks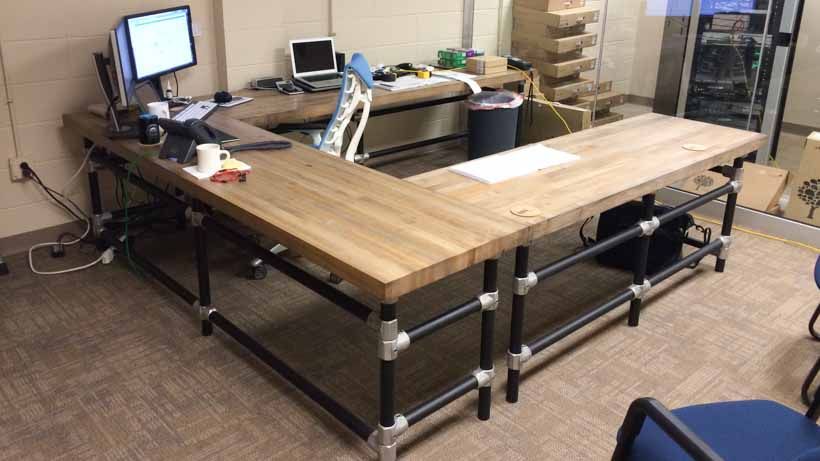 Wrap-around decks are creative, functional, beautiful, and much more. The benefits of this type of corner desk are numerous. Being multipurpose, enabling access to everything on the table, and providing easy space to move your chair are some benefits that make it quite popular and loved in almost all kinds of settings.
Modern Floating Corner Desk Ideas
A floating corner desk is fun and creative. This type of corner desk will also help you customize it according to your requirements. You can add more shelves above it for extra space for your stuff or just for some decor.
Multiple Screen Accommodation With A Large DIY Desk
If you are a gaming freak, then this is one of the best corner desk ideas for you, as it will allow you to fit more than one screen on your table without any added hassle. This type of corner gaming desk will be the perfect choice for rooms with ample space available to fit its immense structure. You can customize it to add some shelves or drawers to fit in more of your stuff and keep your room clutter-free.
Also Read 13 Perfect Storage Furniture Options For Clutter-Free Space!
Straight Wooden Corner Desk With Built In Drawers
This is one of the most common yet loved styles of corner desks due to their simplicity and the ability to be customized according to your needs even after buying one. You can add drawers or shelves in a straight wooden desk to make it more functional. Wood is one of the best materials for a corner desk as it looks good in all kinds of homes and is quite durable as well.
Sit Stand Corner Desks
This corner desk idea is perfect for people who like to adjust their posture every now and then. Electric standing desks are technologically advanced and also run smoothly and guarantee that you utilize your standing desk as planned.
Customized Corner Desks
A wholly customized is a great idea if your requirements are quite specific and cannot be met by any standard corner desk. Getting your desk made according to your home style and your preferences will help you get just the right thing for yourself.
Conclusion
Corner desks are versatile, help you fill in space in an efficient manner and provide ease to do any activity like working, studying, or gaming. They are a great piece of furniture for all types of homes and increase productivity by providing you with a designated space that'll keep the rest of the place clutter-free.
Available in a thousand shapes, styles, colors, and materials, this piece of furniture is something that you will never regret getting. We hope you found the corner desk ideas mentioned here to be helpful and more valuable information on the subject.
Know about the Desk Dynamics: Choosing the Right Workstation for Remote Work Success
Frequently Asked Questions
Is it better to have your desk facing a window or wall?
One of the best places that your desk should face is the entryway of the room so you can keep an eye on who is entering the room and not get startled by your younger sibling lurking behind. A window is also a good place to sit facing towards your desk if you have a nice view to look at.
What is the most efficient desk shape?
Two of the most functional and purposeful desk shapes out there are l-shaped desks and curved desks. These two desk shapes are most popular in the house decor industry and for rightful reasons. L-shaped desks are better for small rooms and curved desks work best in rooms with ample amounts of space.
What is the best desk setup for studying?
Your desk setup has a major impact on your productivity, which is why it is important to have a clutter-free and comfortable desk. Some of the most important components of a good desk are an ergonomic chair, a standing desk, a notebook, and excellent lighting. Make sure to keep your study desk tidy at all times.
Also Read Top Tips to Create the Best Desk Setup for College Students
How should I set up my corner desk?
One of the greatest methods to arrange your corner desk is to designate one wall of the area completely for storage and, if your budget permits it, to construct some bespoke cabinetry. There are also many more ways to organize your desk. However, you don't need to follow some rules to keep it organized. You can try different ways and choose which one suits your taste and requirements better.