When it comes to choosing a desk for yourself, the options are endless, however knowing what you need it for will make the task a hundred times easier.
To help you with the rest, we have mentioned the detailed description of different types of desks to give you a better understanding about the other purposes they serve and help you choose the best one for you. Explore the various options and make a well informed decision on choosing a desk that serves the purpose that you need it for and suits the decor and furniture of the rest of the place that you want to install it in.
Here, you will find in-depth knowledge of different types of desks to help you find the one that you need. So, let's dive into the world of home decor to find the perfect desk for you.
Standing Desk
This type of desk is great for improving your posture and health as it provides multiple benefits. Spending the whole day sitting on a chair can be very bad for you as it can cause many health issues like obesity, bad posture, and more.
Hence, to help you with this problem, standing desks are here. Standing for extended periods of time can increase your productivity and improve the quality of your job. Using a standing desk is not the only thing you might need to improve your posture, but it certainly helps and you must give it a try.
This type of desk can be available with a glass desktop or a wood home office desk. The options are numerous.
Gaming Desk
Gaming desks are made to accommodate everything a gamer needs, from ample space for multiple screens to its comfortable dimensions that help you have access to most of the table from one place. This desk style is great for relaxing after a long day and having a fun game session.
The structure of gaming desks is usually pretty simple and hence, may be useful for not just gaming but work and study as well. Gaming desks can be a little more expensive than the other normal desks due to the multiple benefits they carry like versatility, comfort level, special gaming features, and more. Hence, it will be a one time investment if you want a table that serves your needs and preferences.
Corner Desk
Having a corner desk is a great way to use up the empty space in any room and add functionality to it. Corner desks are the ideal method to maximize space while maintaining a useful workspace. They can be used to create a beautiful little work area in your room to prevent having the clutter of your study or work materials from spreading across the room.
If you are a multitasker or need to use several devices while working from home, then a corner desk might be just what you are looking for as it can accommodate many devices.
Also read the Corner Desk Ideas For You To Work In Style.
Computer Desk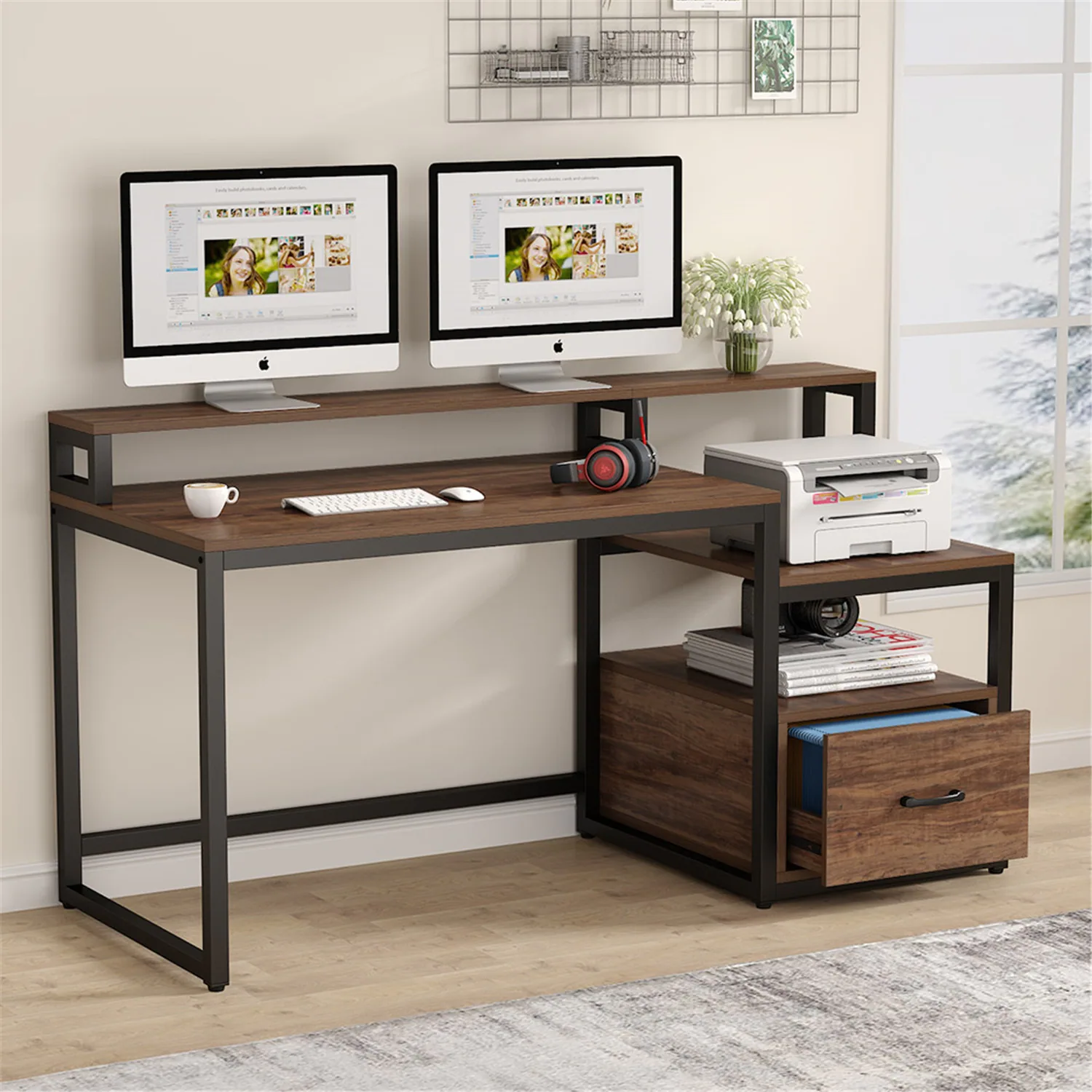 Computer desks are made to create a user-friendly, comfortable space in homes and offices. It is functional, versatile, and visually pleasing, as well as a place to store or hide office supplies including computers, peripherals, and cabling. As this desk is designed specifically to accommodate computers and other supplies, it will allow you to save the rest of the place from clutter.
A sliding keyboard can be added to a computer desk to give users plenty of space. Whether working in an office or having one at home, computer desks will be one of the best choices to save you from uncomfortable tables and clutter.
Lap Desk
Lap desks are great for you if you want to work from your bed or couch or any part of the house and need a small support platform. These desks are not made to be used for most part of the day but usually do small tasks. Lap desks provide a sturdy surface for working, whether you're slouched on the couch or in bed.
You can lay your laptop on it and make it simple to be productive while allowing you to fully enjoy home comforts and free yourself from your business desk. These desks come in different shapes and sizes hence, you can choose one that fits your tastes and preferences so you can get the most use out of it and be comfortable while using it.
One important factor to take care of when choosing a lap desk is to look for strong supports that provide ample stability.
Treadmill Desk
Apart from helping you in hitting your daily steps goal easily, there are several other benefits of treadmill desks. Treadmill desks have positive impacts on a variety of variables, including blood pressure and body fat percentage, and they are especially beneficial for people with medical conditions like prediabetes or prehypertension.
Each person's body and state of health dictates how much use they can get from a treadmill desk daily. Hence, it is difficult to determine one standard amount of time for everyone.
Executive Desk
An executive desk with drawers is frequently the focal point of a typical study or workplace. They are often big, massive, and meant to be seen. They are made of sturdy materials to last a long time and create a functional and stylish workplace.
A storage shelf for secure files can be added to an executive desk. You can also add a sizable hanging file drawer for quick file access. Your home office or workplace might benefit from the adaptability and style of a contemporary executive desk.
Executive desk sizes differ; hence, you can choose one according to space availability and your taste. These desks exhibit modern refinement and good taste and are frequently constructed of sleek glass or robust steel.
Floating Desk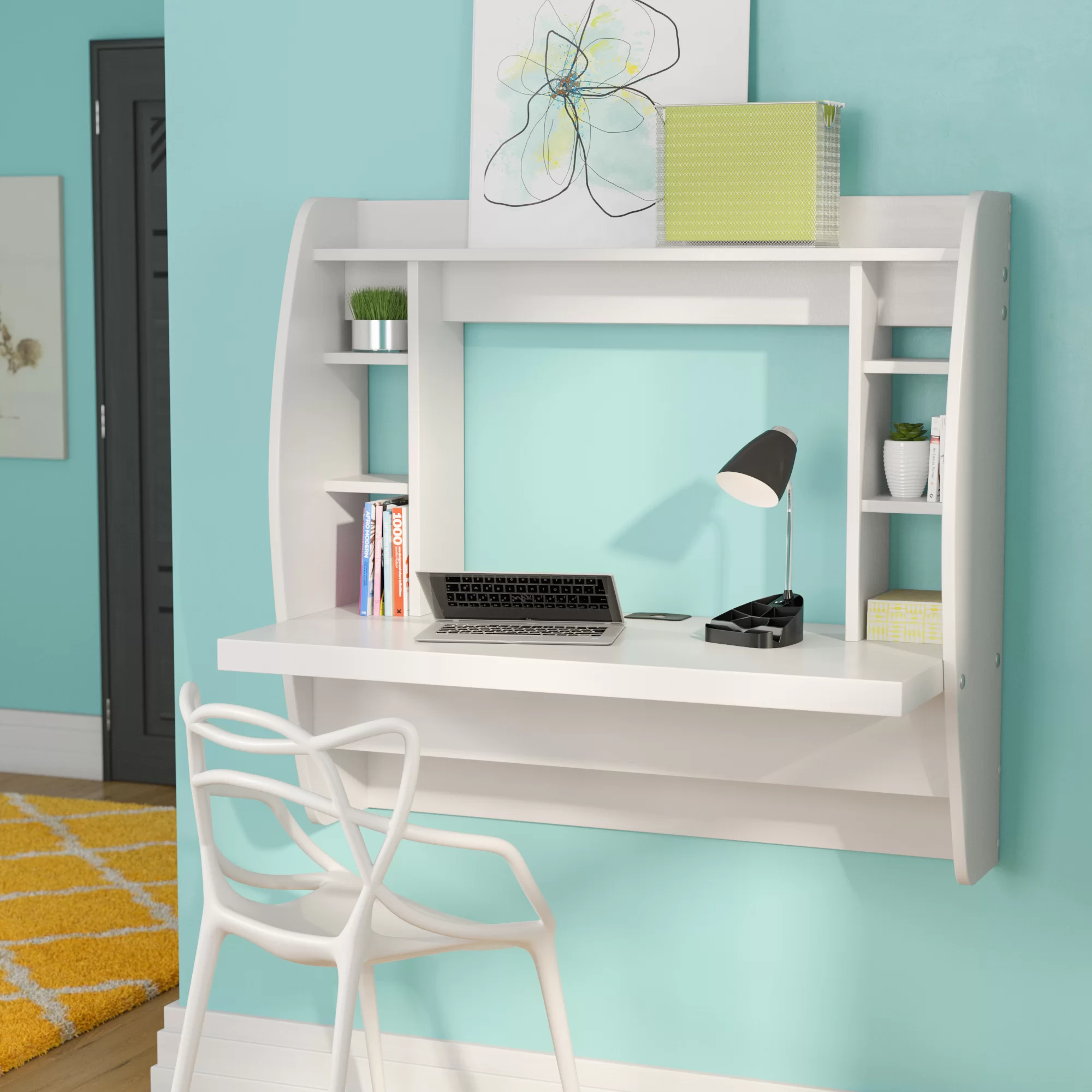 Floating desks are a fun and creative way to add functionality to any part of the house or office. This type of desk is trendy among the home decor industry due to its multiple benefits like adjustability, increased productivity, versatility, and more.
Floating desks are installed on your wall so you can pull the desk out whenever you choose and utilize it. Ensure the floating desk you install is sturdy enough to carry your stuff without deteriorating. A solidly built floating desk can often support 100–200 pounds.
Writing Desk
Writing desks are the best for people who mostly do writing work and want a dedicated platform. This tiny table is used for writing letters and other chores that call for paper work. Many types of writing desks are available in the market, so you can choose one according to your preferences.
Since these desks are primarily used for writing or studying, they don't need any drawers or shelves. Therefore, if you desire a piece of furniture for storage, it might not be your greatest option. This is a classic piece of furniture and is also very versatile to use except for storage.
Also Read The Multi-functional Appeal of the Secretary Desks
Workstation Desk
Workstations are generally utilized for computationally demanding engineering and scientific work. They fit all of your work-related items as they have plenty of space and storage and are pretty comfy as well. To increase efficiency, whether working in the office or from home, many contemporary workstations include amenities like built-in screens, office storage, and privacy screens.
Ladder Desk
Ladder desks are a very creative and beautiful piece of furniture that are also quite functional and increase your productivity. It is either freestanding or attached to a ladder-style bookcase and has a desktop as well as shelves or other storage for books and other items.
Ladder desks not only provide you ample space for working but also to keep your belongings or decor items in front to create an aesthetically pleasing look. If you want a small desk that is also purposeful and looks beautiful, then this is one of the best pieces of furniture for you.
Rolltop Desk
A rolltop desk is a type of writing desk that features a sliding top made of parallel slats that are attached to a flexible framework. It is the perfect example of a piece of furniture that is beautiful and functional. This is an ancient design of furniture and looks gorgeous in homes with vintage decor as its origin dates back to the 19th century.
This is a handy piece of furniture as it has a lot of storage space, which will allow you to store your office or study supplies without the hassle of getting extra shelves or drawers.
Also Read : Finding the Perfect Desk for Your WFH Office.
Conclusion
There are many options available when it comes to desks and you should choose one that suits your needs and preferences the most. From standing and treadmill desks that help with posture and weight loss to writing desks and computer desks that are perfect for studying and working, there are thousands of options available for you to choose from.
We hope the description of the different types of desks mentioned above was helpful for you and made the choice a little easier for you.
Frequently Asked Questions
What is an executive desk?
Executive workstations are frequently utilized in spacious, huge offices but can also be very useful in home offices if you have a work from home job. These large desks often feature two pedestals and have file and box drawers for supplies and paperwork.
What is the name of a little desk?
Secretary desks can conceal your office because they often have a smaller footprint than other desks, which makes them perfect for storing supplies along with a little work surface. A secretary desk is ideal for people who need a lot of storage but not much workplace and compact areas.
Which desk is ideal for a home office?
Executive desks are perfect for working from home as you can count on it to be the ideal everyday home office desk. The working surface of an executive workstation is frequently a sizable rectangle. It also has ample space to store your office supplies, saving you from the hassle of getting additional furniture for storage.
Learn about the desks ideal for home office.
What size should a work desk be?
The common dimensions of a desk can be as such the width ranges from 48 to 72 inches. The depth can be around 30 inches to accommodate the usual office necessities. There must be ample room for your knees and legs to make sure that it is comfortable to use throughout the day.