Whether you work from home or the office, a tidy and organised desk is a must to work smoothly without any interference. A clean desk adds aesthetics to the space and creates a work environment free from stress, minimising procrastination, keeping the concentration level intact and being more creative and productive. In the post-pandemic period, many of us have started working from home. Consequently, people look for desk organisation ideas for a clutter-free working space.
Irrespective of the nature of the job, size of the working space and place of work, you would need desk organiser ideas to create an additional storage space to hide clutter for a neat and clean room. If you are looking for a solution to how to organise your desk, here we have shortlisted some of the best desk organisers for you.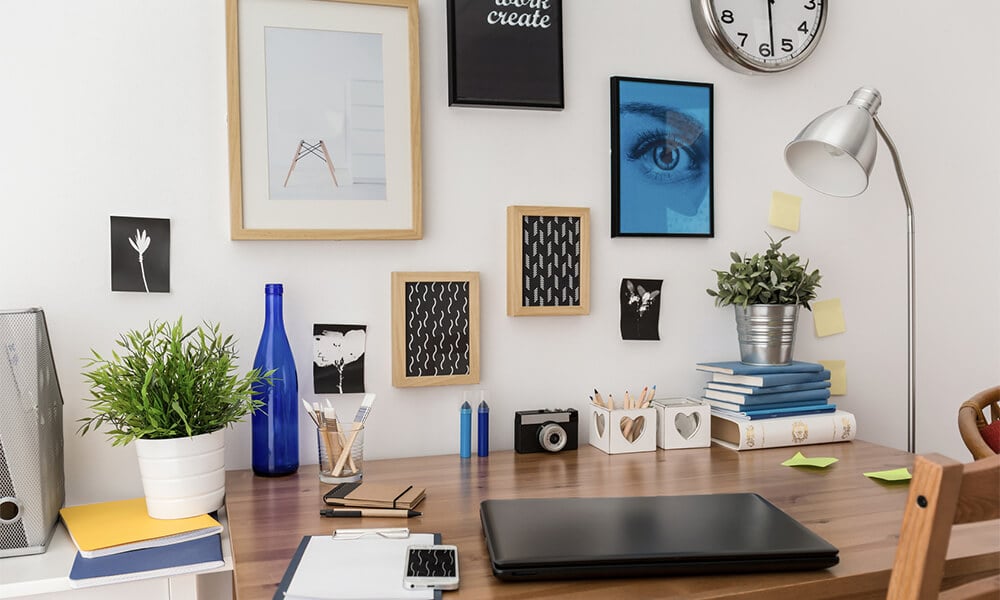 Read more: Types Of Desks For Different Purposes
The Benefits Of Having An Organised Desk
You can focus more on the work – With a tidy and clean workspace; you are able to focus more on the job as there are fewer distractions in the surroundings.
More focus will lead to higher productivity – Productivity depends on many factors, including increased concentration and positive ambience. An organised desk will help you focus on the work leading to high productivity.
Adds aesthetics to the space – Working in a beautiful environment makes you feel energetic and happy. An organised desk adds aesthetics to the entire space. 
Reduced stress levels – A tidy desk reduces stress because a clean workspace motivates you to work without stress.
Positive feeling – To develop a positive work ambience, an organised desk is a vital factor to consider. Make sure the desk is decluttered.
More creativity in work – One requires a stress-free environment and no deviation to display creativity. To build such an environment, an organised desk plays an important role.
It will save time in finding essential things when needed urgently.
Read more: Corner Desk Ideas For You To Work In Style
Desk Organisation Ideas
There are many desk styling ideas to choose from. Consider all the functionality and appealing factors when organising the desk space. Some of them are discussed in the following paragraphs.
Use of a bulletin board behind the desk
If you want to keep all the bills, receipts, and cutting from the magazines and newspapers for some time, the best possible way to avoid clutter and a better desktop organisation is to pin them all on the bulletin board hung behind the desk.
Minimalist desk
Simple is always beautiful! Minimalist desk organisation ideas are a great way to reduce clutter and to keep limited organisation units. Very often, too many shelves around the workplace lead to a mess, so keep the workstation absolutely tidy with only a desktop with a few beautifully decorated minimal desk shelves. It is one of the best ways to ensure a tidy workspace.
Use Ikea hackers
Give yourself more space with Ikea hackers when it comes to desk setup ideas. These hackers have built in desks and storage with baskets, cube shelves and a corner for computers. There's sufficient space to store essential items.
Fancy hanging closet for storage
Showcase your creativity in creating some extra storage space without occupying space on the desk. Get a hanging closet organiser either hung on the door or on a rolling rack to store extra office supplies to make grabbing of things easy.  
Add storage space with a rolling cart next to the desk
The best way to expand the workspace without placing fixed pieces of furniture is to clutch a rolling cart next to the desk, especially of the same height as the desk, for a uniform look. You can easily store extra pens, papers and other office supplies. These small desk organisation ideas will help you add more storage space.
Recycle a multi-compartment utensil organiser
Another brilliant way to avoid clutter is to use a utensil organiser to keep small stuff. The separate compartments give an ease to access the items when required. 
Create a surface area with a monitor riser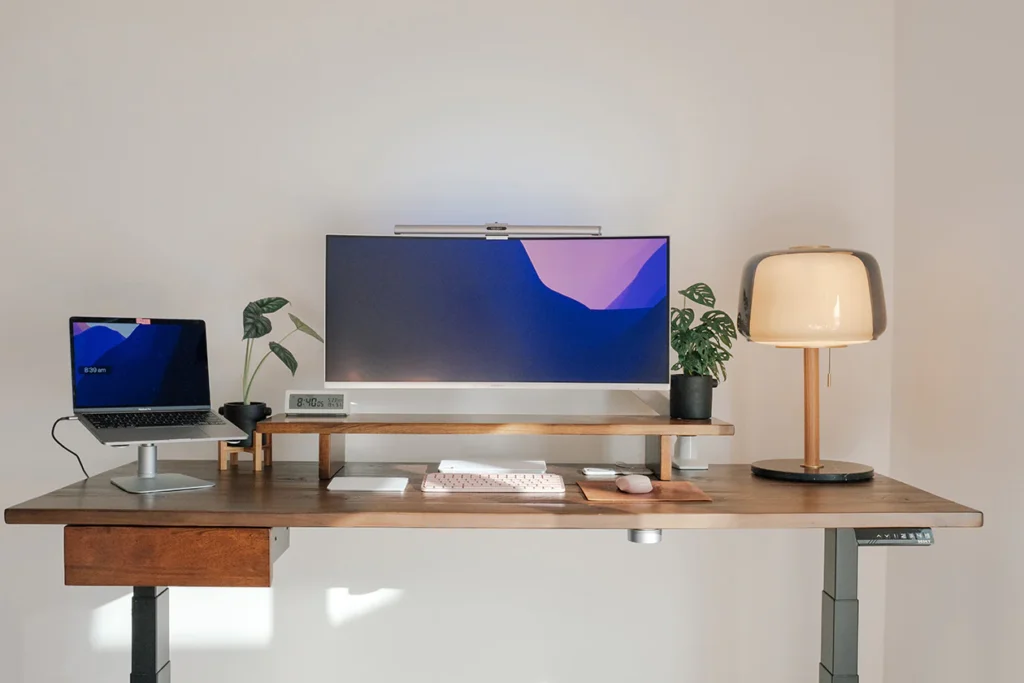 A laptop or monitor riser helps you with additional storage space, adds aesthetics and also makes you sit straight to fix your posture. This laptop storage ideas will be of great help.
Separate space for printer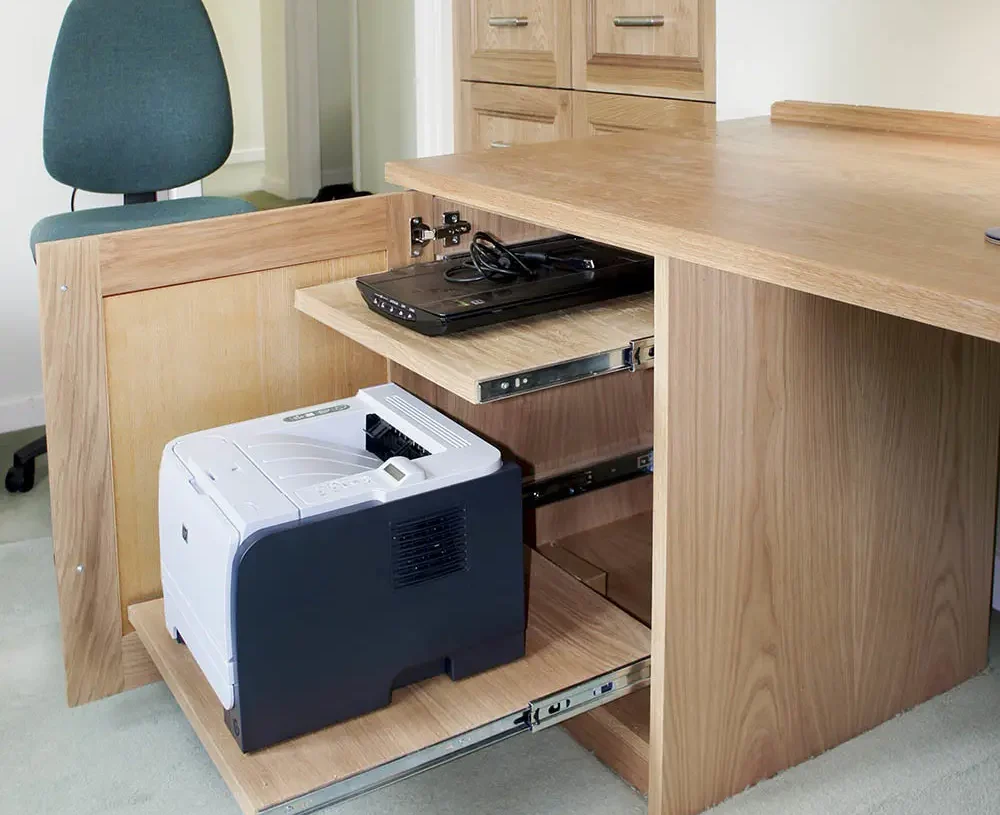 The printer is commonly used almost every day, whether you work at home or in the office. Keeping it on a pull-out shelf will make usage much easier. You will not feel lazy in reaching out to it. Just pull the shelf, and it's ready to use! This desk organisation ideas will amuse you. 
Create space under the desk
Utilising every single inch of the workspace is important to adjust most of the necessary things within the limited space available. If there's enough desk storage where you sit, keep a small-size bookshelf to place some of the books to declutter the room. 
Leaning pegboard on the wall
Fixing a pegboard behind the desk will help you keep some of the stuff off the desk. Keep it close at hand for easy reach. You can use nails to hang larger office supplies and small baskets for storing smaller supplies such as pens, markers and tape. 
A wall outlet shelf to save space
It's a perfect way to store small electronic devices such as speakers or min fans without disturbance on the desk. The shelf can used to charge mobiles too.
Use space under the desk
Measure the space under the table to keep some small shelves to store items and save space on the desk. Make sure to leave enough leg space for comfortable seating during work. The room will look clean and aesthetically pleasing with this desk organisation ideas.
Keep electronics in the desk cabinets
Working with so many devices makes it difficult to store it at the end of the day. One of the simplest ways to organise these devices is to keep a file organiser in the cabinet and put your devices for hassle-free and safe storage.
Clean desk for a clear mind to work
A clear desk keeps your mind clear to concentrate on the work and avoid distractions. One of the ways is to have sleek shelves on either side of the desk to declutter the desktop area.  
Opt for a neutral tone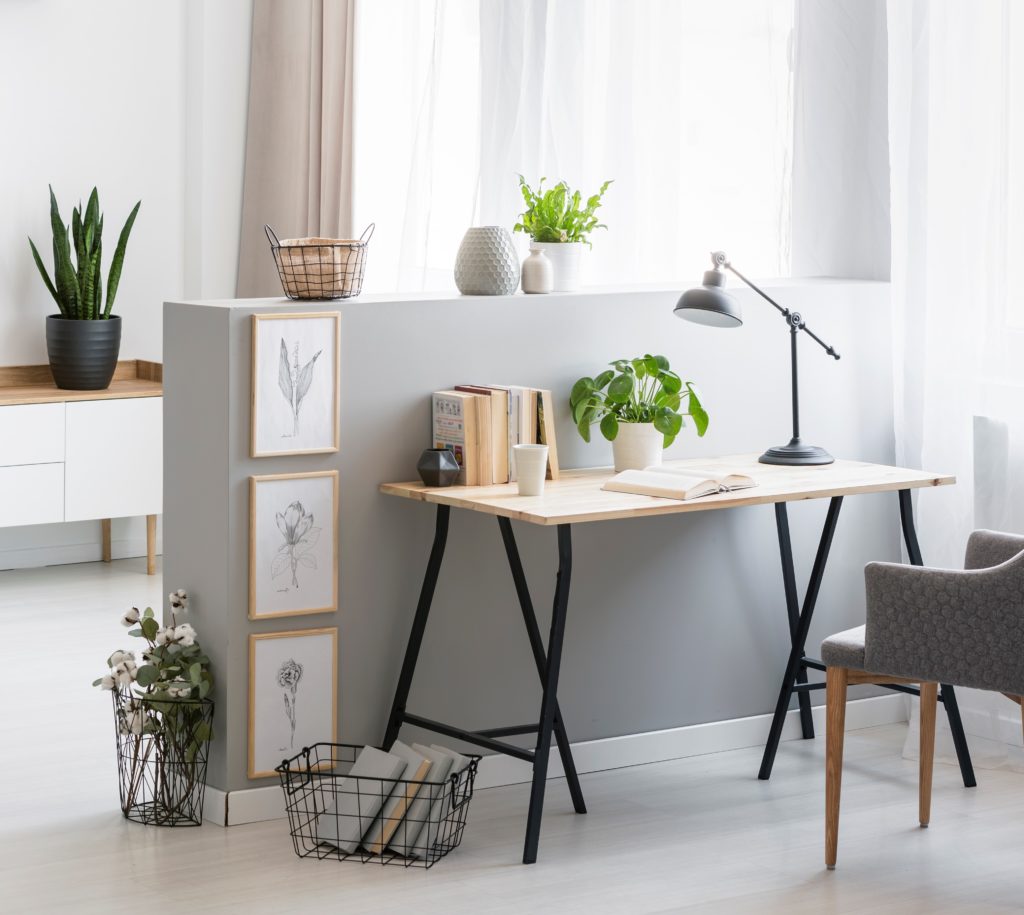 A neutral colour palette around the desk space will enhance your concentration level and help you stay focussed. Probably an excellent try to avoid distractions!
Add a pop of greenery for positive vibes
If you are a plant lover, the best way to keep greenery near you is to have some potted plants on the desk. It will add life and light to the work area filling the room with positive energy.
Label all the storage containers for easy reach
To help you stay tidy at your workplace, label all the small and big containers for easy grabbing. This is another way to declutter by placing items in the well-labelled respective boxes.
Keep a calendar on the desk
If your job profile demands a timely submission of the projects and meeting the deadlines, keep a dry-erase board, desk pad calendar or a conventional flip calendar to make your task easy. You will never miss any deadline.
Floating shelves
To avoid crowding the desk, install a few floating shelves above the desk for easy reach. Use these shelves to keep items like a flip calendar, staplers, tapes, pictures in a frame or some other items.
Built-ins desk organisation ideas on the walls
With the growth in career and work, you would require bigger storage space to keep things. The best way is to go for built in desk ideas for creating additional storage space. You can avoid overcrowding around the workspace for better work efficiency. 
Desk organisation ideas for kids
Most of you would agree that maintaining a kid's desk is a big challenge. The best we can do is to help and guide them to keep their study desk or play desk tidy by adding some floating shelves, well-labelled storage containers and drawer dividers to keep things organised.
Create a comfortable workspace with an ergonomic chair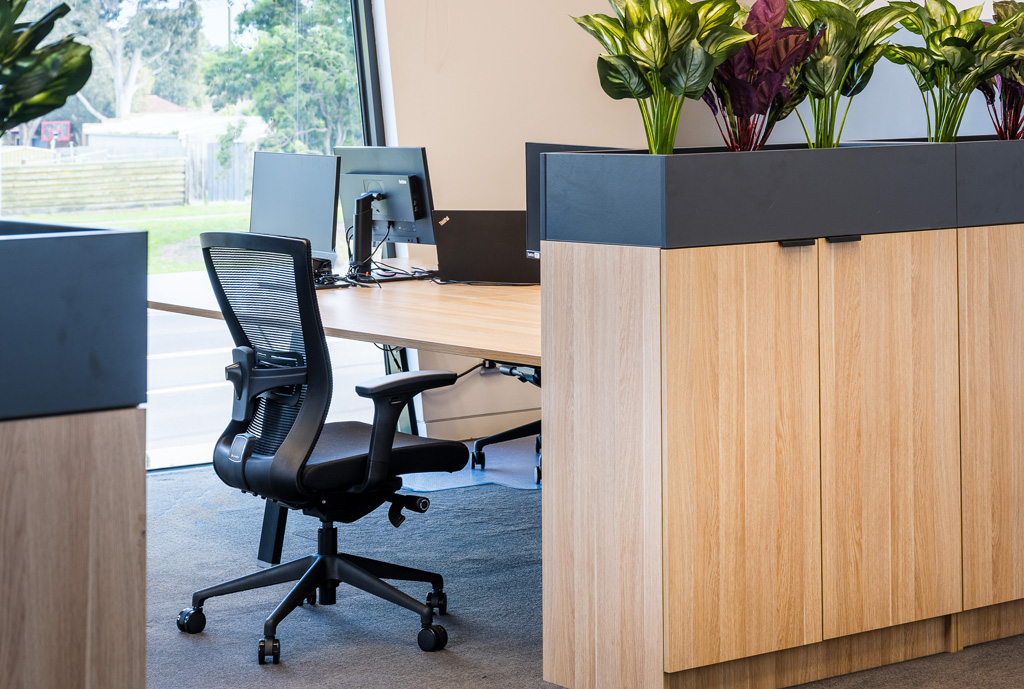 If your chair is uncomfortable, working long hours might lead to some physical discomfort. To avoid any physical issues because of the wrong posture, get a comfy ergonomic chair for relaxing seating. Enjoy the work!
Create stylish storage in a bigger space
Working in a large space gives you the option to display your creativity in making a pleasing and inviting workspace with stylish storage that can serve the dual purpose of practicality and aesthetics. 
How Do I Organise My Desk Aesthetic?
You can organise the desk aesthetically by considering functionality, working hours, your style and design preference and many more. Keep things on the desk you use every day and store items in drawers that you need occasionally. Whether you would go for a minimalist approach for desktop ideas or you have some other choice, designating space for notepads, important documents, pens and frequently used items is a must. There are a few organisers you can go for to have a clutter-free workspace.
Monitor riser to keep monitor or desktop to create vertical space for storage under it and help bring webcam up to eye level. 

Wrangle cables to manage multiple chords to avoid any distractions 

Paper tray organisers stack papers one above the other in a tray for a tidy working space.

Drawer dividers to keep office supplies in a proper way for easy grabbing when needed. 
How To Maximise Space On A Small Desk?
Space can be maximised by prioritising how frequently you use items and keeping them in desk accessories accordingly. Keep things you need every day on the desk and the rest in nearby storage or on the wall space. A few other options for a mess-free space is shredding unnecessary paper and bills regularly, hiding the wireless printer below the desk space, keep a scanned copy of medical records, financial records and receipts. You can buy cable clocks to hide all the wires that occupy space on the desk giving a messy look and inconvenience in working. 
Conclusion
Desk organisation ideas encompass within itself a plethora of options to choose from. Go for the desk idea considering your priorities and the available space. If you have a bigger workspace, you need not worry! For smaller space, look out for the best options available to suit your requirements. Things to put on a desk should be carefully thought over.
FAQs
What is the cluttered desk syndrome?
Cluttered desk syndrome is a sign of distress due to long working hours at a cluttered desk affecting mental and physical health with various symptoms. A messy desk adds stress to your life and consumes valuable time affecting productivity.
How do you manage a messy desk?
A messy desk or cluttered desk can be managed in several ways. You can hang an organiser behind the desk to store small items like pens, staplers, etc., to save space on the desk, keep a file organiser for storing papers you need occasionally or a drawer organiser. 
Should you put your desk in front of a window?
Putting a desk in front of the window sounds great because we all love the natural light and beautiful surroundings. However, visibility might get affected during bright sunny days, and chances of distraction, too, can't be ruled out.