Imagine a well-crafted, elegant wooden desk that combines style with practicality. It serves as a writing surface, a storage solution, and sometimes even a decorative item. This versatile piece of furniture is known as the secretary desk. In this feature, we delve into the rich history of the secretary desks and discuss how it can enhance both living and work environments.
Understanding the Secretary Desk
For those unfamiliar with the term, what exactly is a secretary desk? A secretary desk, often mistaken for merely a "secretarial desk," is a versatile piece of furniture that serves as both a desk and a cabinet.
With various compartments, shelves, and sometimes even hidden drawers, this multi-functional furniture piece often comes with a hinged desktop that can be folded up when not in use. The secretary desk is handy for those who lack room but still want a workspace that doesn't compromise on style or functionality.
History of Secretary Desk
The history of the secretary desk dates back to the 18th century, where it symbolised luxury and sophistication. Back then, it wasn't just another secretary furniture piece but an investment in craftsmanship.
Made with exotic woods and sometimes inlaid with ivory, the antique desk with pull-out writing surface was the epitome of style and class.
The design evolved over the years, from heavy Victorian pieces to more lightweight, fitted desks that better suited modern lifestyles. Vintage secretary desks are now collectors' items, capturing the artistry and ingenuity of bygone eras.
Certainly, this desk is not your typical office secretary workspace. It is a blend of historical significance and artistry that offers more than mere utility; it brings a touch of enduring sophistication to your area.
What is a Secretary Desk Used For?
Ah, the million-dollar question—what is a secretary desk used for? Well, let's bust some myths first. Many people have the misconception that a secretary desk is strictly an 'office-only' furniture item. Wrong! Its use is limited only by your imagination. Here are some ways you can utilize this remarkable piece:
Also learn about the Types Of Desks For Different Purposes
Writing Secretary Desk: Its original and still prevalent use—a convenient space to pen your thoughts, work on your laptop, or simply doodle.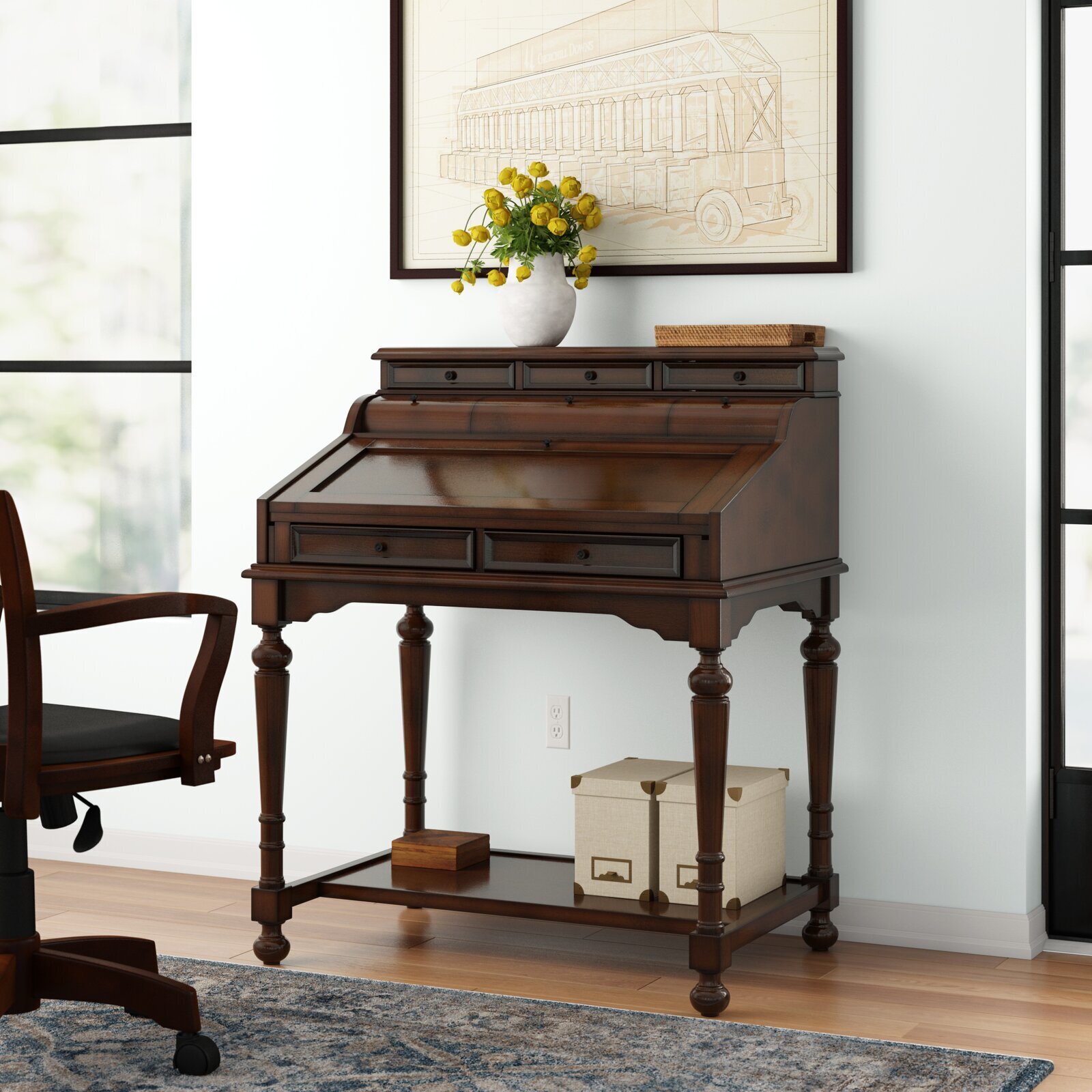 Dresser Secretary Desk: Yes, you read that right. The  desk can double up as a dressing table. Add a mirror, and voila!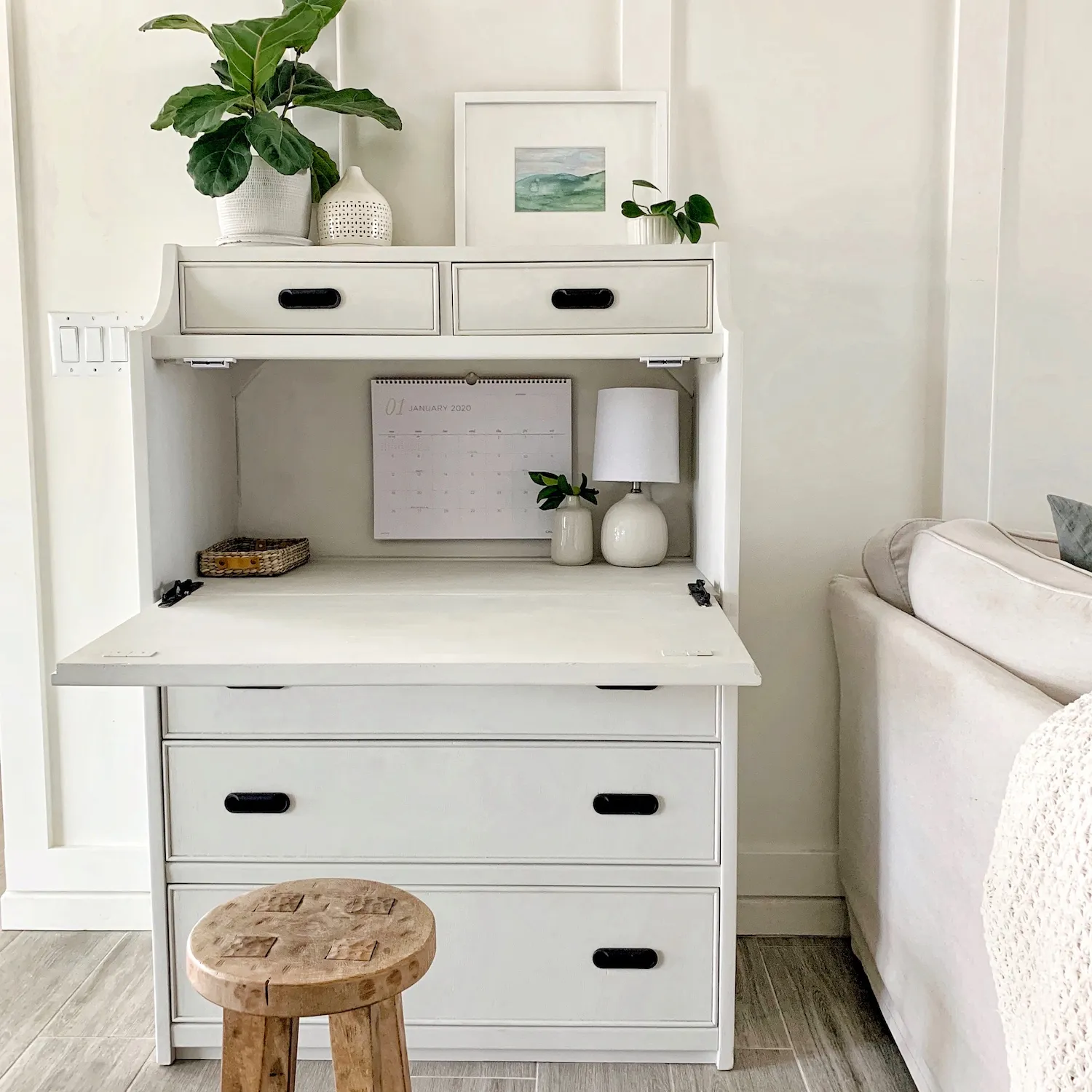 Secretary Desk with Storage: A haven for all your stationery, books, and maybe even a secret stash of snacks.
Secretary Chest Furniture: Larger models serve as chest furniture, where you can store clothes, linen, or other items.
Small Space Secretary: Lack of space? Fear not. Modern designs like the IKEA secretary desk are ideal for compact rooms.
Also check 650 Home Office ideas in 2023.
Different Styles of Secretary Desk
Secretary Desk with Storage
Ah, storage! Who doesn't need more of it? A  desk with storage is a godsend in today's chaotic life, where everyone is juggling a million things.
Apart from offering a surface to pen down your thoughts, these versatile pieces also come equipped with multiple drawers, compartments, and sometimes even hidden cubbies. Whether it's important documents, stationery, or your endless collection of sticky notes, there's a special place for everything.
Dresser Secretary Desk
Imagine you're getting ready for an important meeting, and you realize you've forgotten where you placed your favorite cufflinks or that crucial USB drive. A dresser secretary desk is your saving grace. Combining the functionalities of a dresser and a secretary desk, this unique furniture piece lets you organize both your wardrobe and your work.
A dresser secretary is a splendid fusion, featuring space for your clothing on one side and a fold-down writing surface on the other. It's like having a personal assistant who knows where everything is!
Antique Secretary Desk
If you love everything vintage, an antique desk will be right up your alley. Often made of rich hardwoods and featuring intricate details, these desks are more than just furniture; they're a slice of history.
An antique desk usually has a pull-out writing surface and often comes with amazing features like secret compartments and beautifully crafted hardware. The history of the secretary desk comes alive in these stunning pieces, each with its unique story to tell.
Secretary Desk with Hutch
For the ultimate storage and display, you can't go wrong with a desk with a hutch. A hutch is a set of shelves or cabinets that sit atop the desk, providing you with the extra space you never knew you needed.
This type of secretary furniture is particularly beneficial for those who have tons of books, awards, or decorative items they want to showcase without compromising their workspace. The hutch often comes with a mix of open shelving and closed cabinets, so you can choose what to display and what to stash away.
Secretary Desk Antique
Now, you might wonder, "What's the difference between an antique secretary desk and a secretary desk antique?" Well, the latter is generally a newer piece designed to mimic the look of antique furniture. These desks bring old-world charm to modern-day needs.
They often incorporate vintage elements like distressed finishes, ornate handles, or retro colour schemes. While they may not have been passed down through generations, they sure look like they could have been!
Vintage Secretary Desk
While all things old are new again, vintage is not necessarily antique. A vintage secretary desk is usually a piece that is at least 20-30 years old but doesn't qualify as an antique. These desks often boast styles popular in the mid-20th century, like mid-century modern or Art Deco.
The nostalgia these desks bring makes them highly coveted, and they can be a great way to add character to your room without breaking the bank.
White Secretary Desk
Sometimes simplicity is key, and a white desk embodies this principle perfectly. White desks add a touch of elegance and can easily blend into any decor style. Whether you're a fan of minimalist Scandinavian designs or you love a more traditional setting, a white secretary desk can act as a blank canvas for your creativity.
Pair it with some colourful accessories to make it pop, or keep everything neutral for a sleek, monochrome look. Regardless of your aesthetic preferences, a white secretary desk will always have your back—or should we say, your 'backspace'?
So there you have it, seven glorious styles of secretary desks that offer something for everyone, regardless of your style or needs. Whether you opt for a desk with ample storage, a combo dresser, or something steeped in history, you will find the perfect desk to fit your life.
Where Can I Buy a Secretary Desks?
So, you've finally decided to upgrade your workspace, and you're wondering, "Where can I buy a secretary desk that's just perfect for me?" Good news—options abound! The first obvious choice would be furniture stores.
But don't discount online platforms like Amazon, Wayfair, or even Etsy for custom-made pieces. If you're looking for a vintage secretary desk, antique shops or thrift stores could be your go-to.
For those who love the thrill of a good bargain and don't mind getting their hands dirty, garage sales and estate sales are ideal places to find that unique secretary piece of furniture. And of course, if you're the DIY type, there are various plans available online to build your own secretary desk with drawers or even a fitted secretary with storage.
If you're location-specific and wondering about where you can buy it in your country, many countries have specialized furniture stores. For example, secretary desk Australia options might be different than those available in the United States. Ikea is also global and offers an Ikea secretary desk that's well-suited for small spaces.
Here are some Corner Desk Ideas For You To Work In Style.
What Is the Difference Between a Desk and a Secretary Desk?
You might be asking, "A desk is a desk, right? What's so special about a secretary desk?" Well, not exactly. The main difference lies in the design and functionality.
A standard desk is usually just that—a flat surface often accompanied by some drawers. It's designed to serve its purpose: to provide you with a place to work. A secretary desk, however, is so much more. It's like the Swiss Army knife of desks!
Let's delve into the secretary furniture definition for a moment: A secretary desk is a multipurpose furniture piece that comes with a hinged surface. This means you can fold it away when not in use, making it excellent for space-saving. It often comes with various compartments, drawers, and sometimes even a hutch, making it a secretary desk with storage galore.
Different styles of secretary desks exist to fit every taste and need. From a writing secretary desk that offers a traditional, antique look to the modern office secretary desks that could fit into a contemporary work environment, there's something for everyone.
What Size Is a Secretary Desk?
When it comes to size, the secretary desk is like a chameleon—it can adapt to fit your needs. If you're confined by limited room, a small space secretary would be your best bet. Some are even designed to be wall-mounted, literally taking zero floor space. These compact versions usually focus on vertical storage, with the secretary chest furniture style stacking drawers above or below the desk surface.
For those with larger spaces, the sky's the limit! You can go for a grandiose secretary cabinet furniture piece that could easily become the focal point of your room. There are secretary desks with hutches that offer extensive storage and display options.
Considering a Secretary Desk? Here's Why You Should
Hesitating on what kind of desk to bring into your home or office? A secretary desk could be just what you're looking for. Antique versions even come with extendable writing surfaces, giving you both style and extra space.
Worried about dimensions? Regular models often measure from 30 to 60 inches wide, 15 to 30 inches deep, and 40 to 50 inches tall when closed. But if you've got unique size constraints, custom options are available.
Dimensions do matter. Before you commit, double-check that your chosen desk will fit comfortably in your space. Measure, then measure again.
Final Thoughts
In short, a secretary desk isn't your average workspace—it's a classic piece that delivers both form and function. Whether you've got a large home or a small apartment, there's a model that will fit your life perfectly.
This isn't just another desk—it's a flexible, stylish, and practical piece of furniture that has stood the test of time. You'll get more than just a flat surface; many come with additional compartments and even a hutch. Why settle for basic when you can have it all?
So, don't overlook the secretary desk on your next furniture shopping trip. Your future favourite workspace could be just one purchase away.
FAQs
What is a Secretary Bookcase?
A secretary bookcase blends a writing desk with a bookcase, frequently featuring a hutch as well. This versatile item provides a foldable desk surface for writing and incorporates shelves or cabinets for storage. It's a well-designed, all-in-one solution that maximizes both style and utility while conserving space.
What is an Old-Fashioned Writing Desk Called?
The old-fashioned writing desk you're considering is likely called a "secretary desk." Often made from wood and featuring intricate carvings or details, these desks usually have a drop-front design that allows you to pull down a surface for writing.
They may come in different styles of secretary desks, such as the antique secretary desks with a hutch or the more compact secretary chest furniture.
Is Front Desk the Same as Secretary?
Although both terms are used in an office setting, a front desk and a secretary are not the same. The front desk refers to the initial point of contact in an office, like a reception area. A secretary, on the other hand, is a job role that involves various administrative tasks, from scheduling to correspondence.
If you're shopping for furniture, a secretary desk with drawers would be perfect for a secretary, but a front desk is typically a larger setup without the compact, multi-functional features of a secretary furniture piece.
Can You Use a Writing Desk as a Computer Desk?
Absolutely! Although traditional writing secretary desks were designed long before computers came into play, many of them can be adapted for modern needs. Secretary desks with storage or secretary desks with drawers offer space to store your keyboard, mouse, and other peripherals.
Some contemporary versions even include built-in holes for wiring, making them a versatile addition to your home office furniture.
What Furniture Should be in a Home Office?
In addition to a functional and stylish secretary desks, a home office should also include a comfortable chair, adequate lighting, and ample storage solutions. If you're working with a small space, consider a small space secretary or fitted desks that make the most of your square footage.
Also Read 10 Tips for Decorating Your Home Office.
Shelving or a bookcase is also useful for keeping reference materials at hand. To complete the setup, consider adding personal touches like artwork or plants to make the space inviting.