To achieve a deep state of relaxation and a stress-free lifestyle, we meditate. And what better way to do this than by having a natural landscape in your backyard? A dry, separate space with rock, sand, plants and some wood will give you a a lot of Zen Garden ideas.
What is a Zen Garden?
The alignment of natural elements into your garden that brings a peaceful atmosphere to your home is like owning a zen garden.
The zen garden represents five elements:
Earth– represents the ground that is replicated by a mix of sand, rocks and stone in a zen garden.
Air– The winds flowing from the four directions that give you the air to breathe are the most important component of a zen garden.
Fire– represents the never-ending quest for knowledge and is represented by placing a lantern into a zen garden.
Water– is represented by a small pond or stream. If it isn't possible, then the water element is implemented by creating patterns of sand in a ripple effect. A place full of Peace is created by having the representation of water in a zen garden.
Wood– By planting Bamboo, oak or a Maple tree, you bring wood to your zen garden that symbolises wealth and prosperity.
All these elements, earth, air, fire, water and wood, provide a perfect meditation place that creates a quiet and comfortable environment.
Also Read 16 Unique DIY Vertical Garden Ideas
Planning a Budget-Friendly Zen Garden
With planning and creativity, you can arrange the important parts of nature with a minimal design that ensures Peace and calmness in your space. A zen garden can be planned in your budget by following these simple steps:
Location– Select the right location for your zen garden that is designed for indoor viewing, so choose a place where there is sunlight and less noise.
Design– Several designs are available for your zen gardens. Creating what kind of zen garden totally depends on your imagination and thoughts- whether you opt for a traditional Japanese zen garden or you choose to make a modern and unique appearance.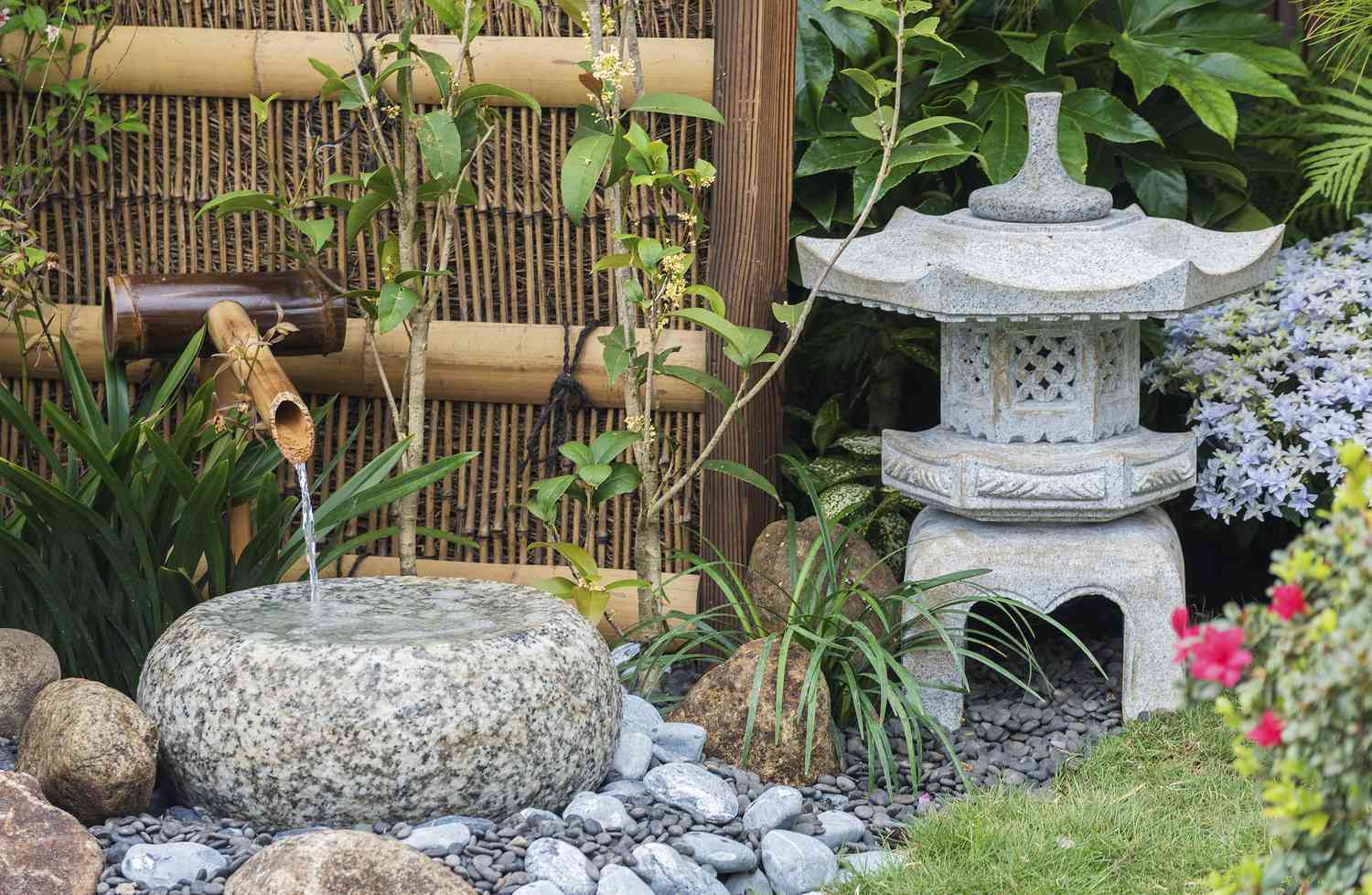 Plants and Materials – The use of simple, low-maintenance plants, trees and materials is a brilliant idea for your budget-friendly zen garden. Choose plants that thrive in the climate, with minimal watering and maintenance. Select the material such as sand, gravel and rock that don't need to be replaced for a long time.
Recyclable materials– Using recycled materials such as bricks, tiles, and stones can be beneficial for your zen garden.
Embracing the natural elements– Using natural elements such as stone, rocks, and wood that are easily collectable.
DIY– Create your zen garden by yourself, which will save you lots in overall costs. Take up this project as a fun activity that will give you a Zen Garden.
With a bit of creativity and imagination, you can have your Zen Garden at your home.
Setting a realistic budget
Designing a zen garden on a budget requires careful financial planning:
Determine how much you are willing to invest in the project.
Allocate funds for different materials that are required, such as plants and other decorative items.
The cost of a zen garden ranges anywhere between $300 to $10,000 or more, depending on the size, design, location, material and labour costs.
Setting up a realistic budget will help you to have a cost-effective and affordable zen garden.
Researching cost-effective materials
The materials used in the zen garden affect the cost. Gravel, sand, rocks, and other natural elements can vary in price, depending on the quality and availability. Doing your research on these materials matters the most in creating your home zen garden. You can keep a check on the materials by:
Choosing low-maintenance plants that require minimal watering and care.
Look for materials that can be recycled.
Collect as much material as you can for your zen garden.
Use as much pebbles as you can
Analyse your zen garden material to achieve an appropriate design and appealing look.
DIY Zen Garden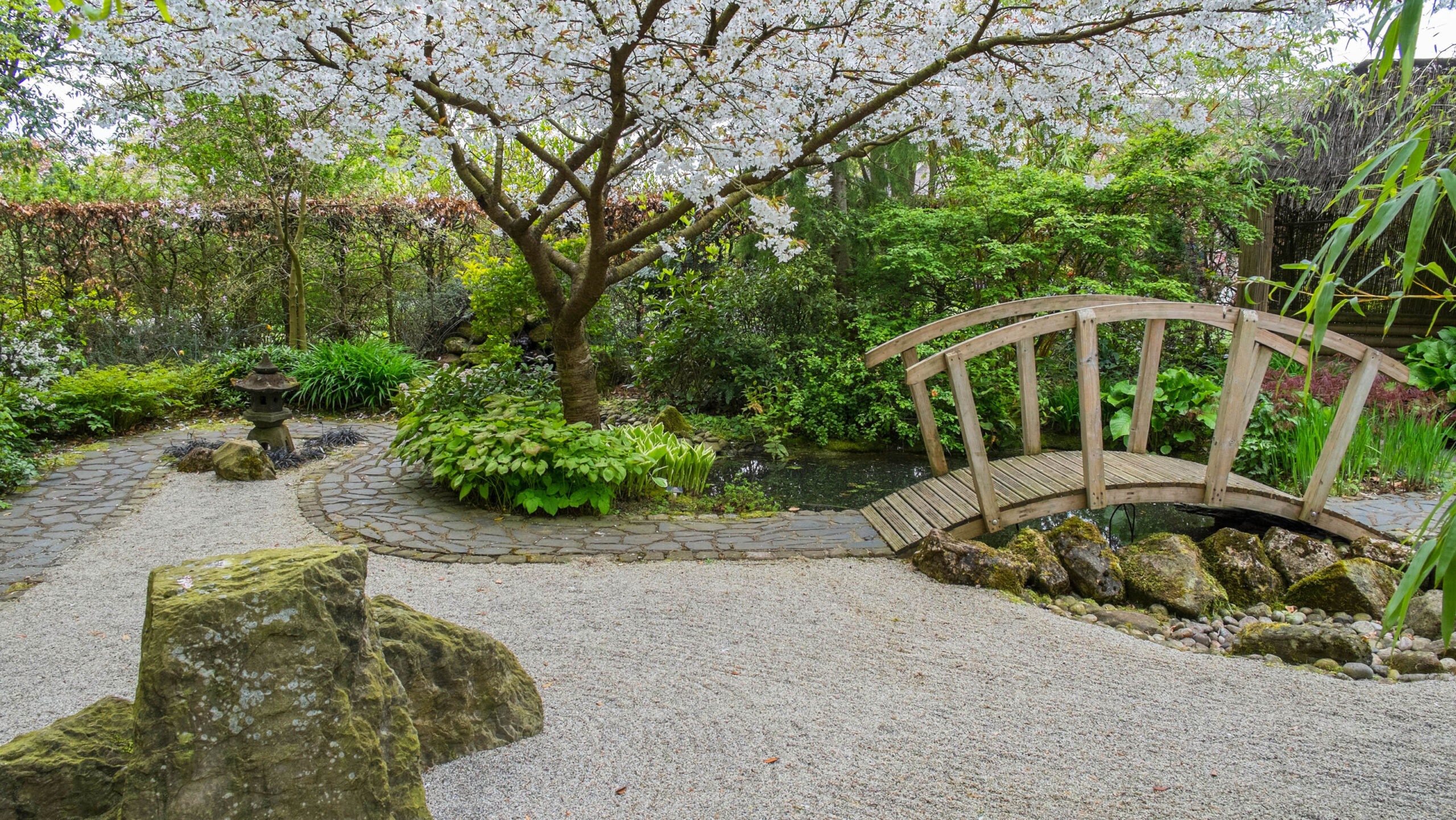 The main materials required to build your zen garden in your backyard are:
Rocks or Boulders
Gravel or Any water feature
Bench
Statue
Plants
It is very easy and simple to build and design a small backyard zen garden by:
Identify the space
Clear the space
Place large stones or rocks
Add gravel or a water feature
Place the plants
Position the small stone over the soil's top
Use Bamboo like a fence
Place the bench and statue
Making small steps or bridge like feature
Placing a light lamp or lantern
A beautiful and attractive zen garden is created yourself, giving you the Peace and calmness you are looking for.
Zen Garden Ideas for Small Spaces
You can bring the zen garden soul into your coffee table or desk with small-scale space.
Balsa wood or clay base design– Using balsa wood or polymer clay as a base for a miniature zen garden and painting it. Add some sand and decorate it with rocks, figurines and a plant.
Mini Zen Garden– Create a lovable and appealing mini zen garden with some sand, stones, and wavy patterns.
Tabletop Zen Garden– Create this calming tabletop with a ripple of water on sand or whatever you can imagine.
Lush Zen Garden– Add mini succulent and some sand with river rocks in a shovel bowl.
Zen Garden Kit– Many varieties of Zen garden kits are available online that can be bought and placed in your room.
Having a zen garden is possible in any available space.
Decor and Accessories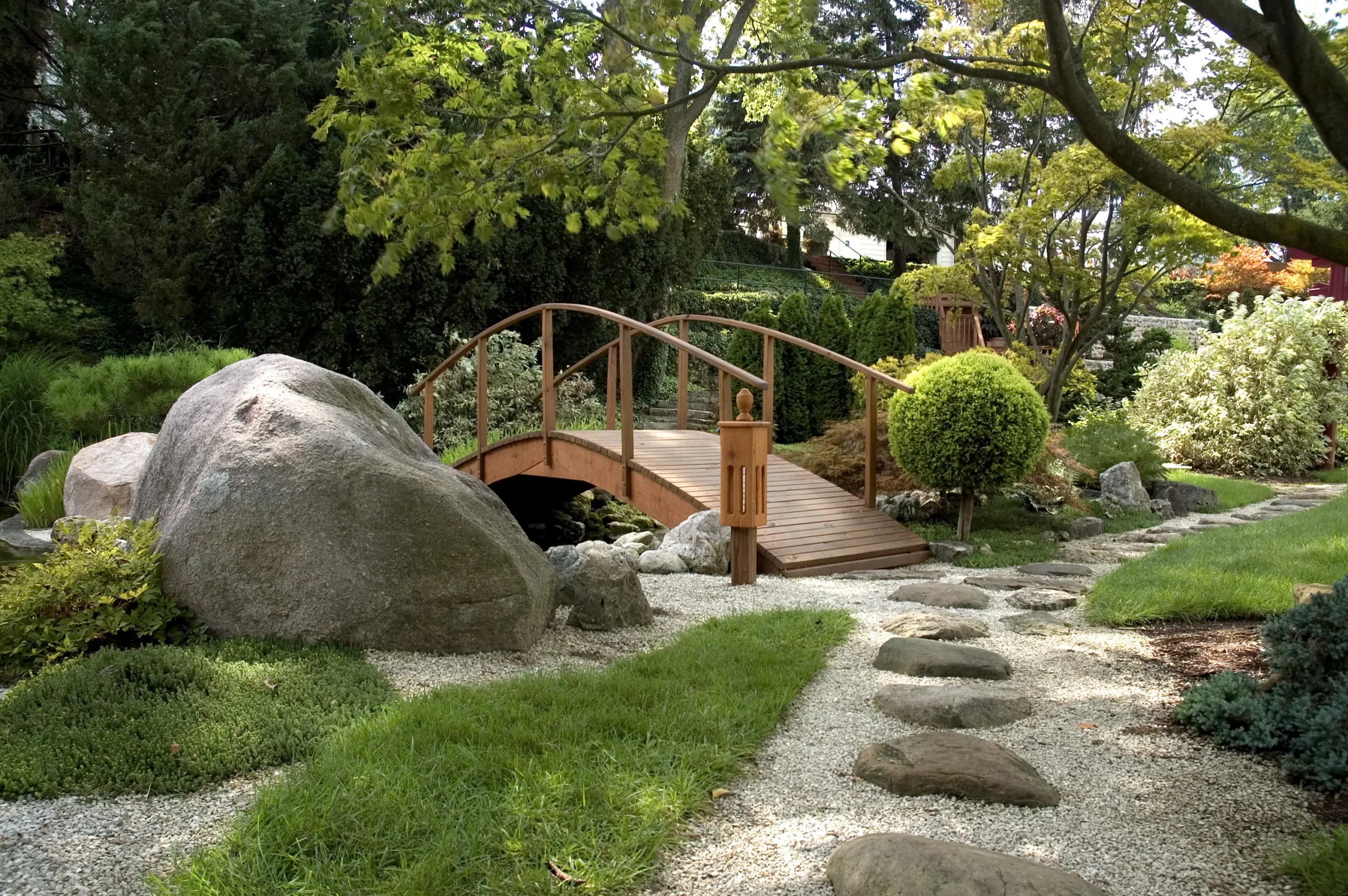 The inspiring zen decor selection is simple but yet very elegant and stylish. Having Peace in your life is of utmost importance. Various decor and accessories are available for your zen garden:
Rock and Sand
Colour
Moss
Bench
Bamboo
Pillar
Buddha statue
Lantern
The diverse range of above-mentioned decor and accessories are available in the market or easily collectable. Imagine what you can do for your zen garden.
Plants for your Zen Garden
Depending on your imagination, you can design your zen garden. Some of the plants that give a natural feel, harmony and balance to your home are:
Japanese Maple
Ferns
Cherry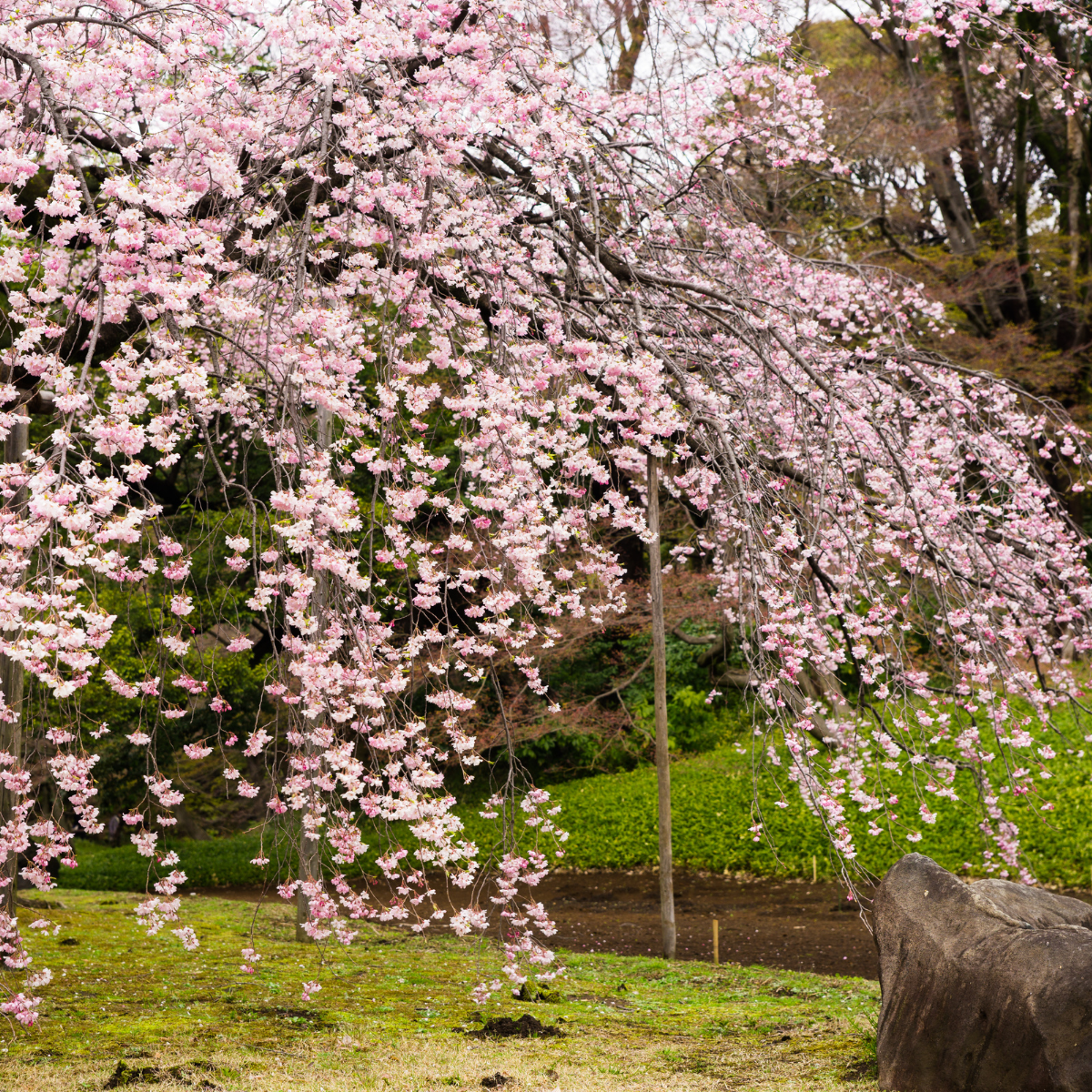 Mosses
Garden Juniper
Decorative grass
Azalea
Hosta
Bamboo
Peony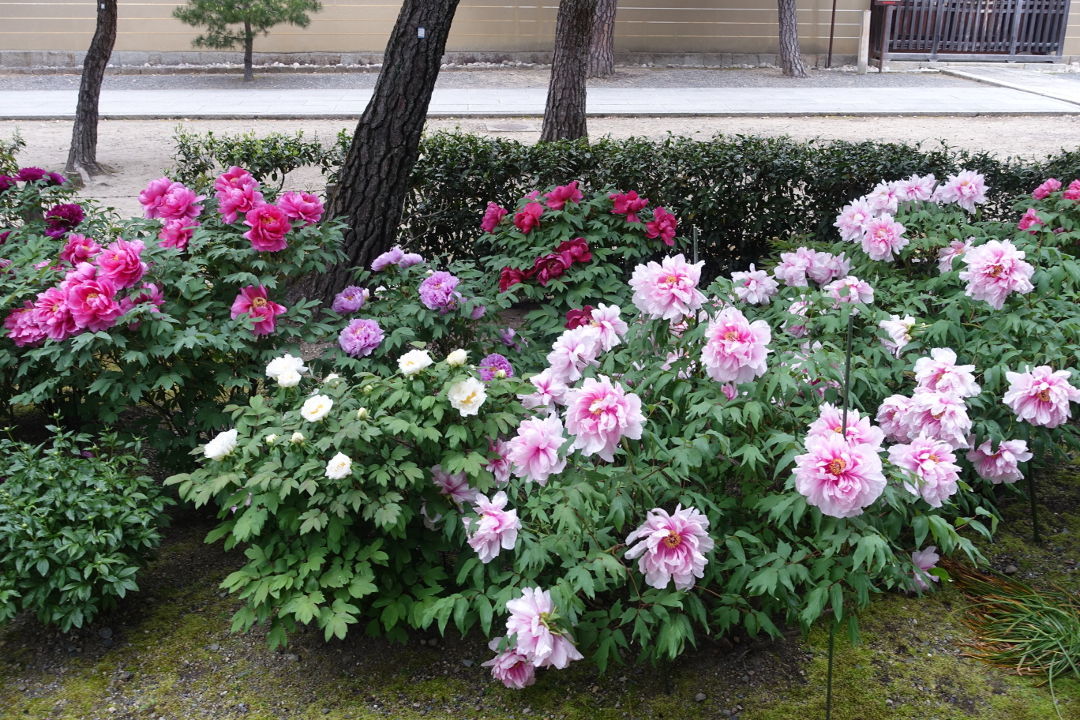 Pine
Enjoying a quiet moment by yourself in a place where these plants are kept will bring you Peace.
Incorporating Natural Elements
Natural materials such as stone, gravel and plants help create a sense of Peace and tranquillity. They blend perfectly into the environment and create a sense of unity and continuity. Here's how you can use them
Rocks and Stones: These are the backbone of most Zen gardens. You can use them to represent mountains, islands or even animals in your garden. Each stone has a unique character; and some are tall and vertical, others are low and horizontal. The secret is to find the right stone in the right place.
Plants: They add colour and life to your garden. But remember that Zen gardens are not overly lush or colourful. Stick to simple, understated plants like moss, ferns and dwarf trees.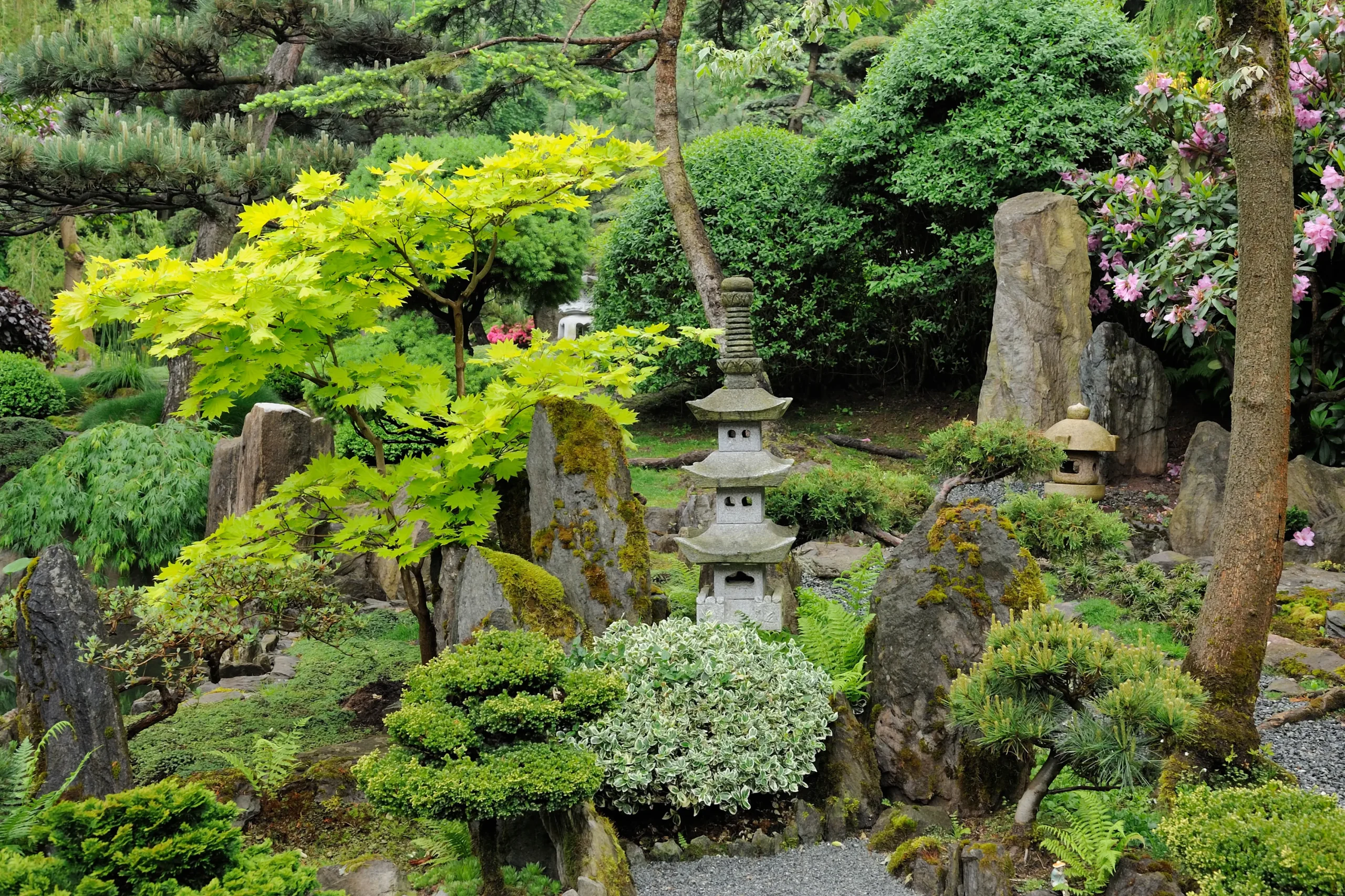 Gravel and Sand: These are used to symbolise water or create a sense of open space. Formed in patterns, they can imitate ripples on the surface of a pond or ocean waves.
The simple zen garden brings up purity and Peace in your home.
Simplicity (Kanso), Natural Ness (Shinzen), Asymmetry (Fukinsei), Mystery or Subtlety (Yugen), Magical (Datsuzoku), Narrowness(Koko) and Stillness (Shinzen) are the seven guiding principles of Zen gardens (Seijaku). Most of these ideas should be incorporated into your Zen garden.
Creating the illusion of space
Breathing in a still and calm place that gives you a vision by arrangement of zen garden material in a:
Odd fashion– Using three rocks instead of two or four gives you the tilted look of your zen garden.
Mixing varied styles and sizes– Combine different sizes, shapes and styles, like placing a tall rock on a flat rock.
Create a distance– by placing the smaller plants, rocks and other items with larger plants, rocks and other figurines.
Embracing Simplicity
Japanese Zen gardens are also known as Karesansui, which are dry landscapes that are carefully designed to create a peaceful atmosphere. It is based on simplicity, harmony and balance, resulting in a space that brings inspiration and Peace.
Embracing the simplest forms of natural elements such as rocks, sands, pebbles, plants, light, and wind is an elementary arrangement for a zen garden.
Achieving the simplicity is easy by:
Limiting your colour combinations
Use of minimal natural elements
The balance between used and unused space
Using Sand or Gravel to represent the water
Conclusion
Zen gardens are useful for giving peacefulness, an exotic, sophisticated and elegant space that is easily maintainable. Also known as the Japanese rock garden, the dry landscape garden is becoming increasingly popular with homeowners.
This maximises time for rest and relaxation instead of maintenance and upkeep. It's very flexible – you can have a miniature desktop version or a great wide view. What makes a Zen garden even more appealing is the ability to create simple, stylised landscape scenes with spiritual and literal appeal.
A right sense of understanding, thought, speech, action, livelihood, effort, mindfulness and concentration prevail in your home by having a zen garden.
FAQ
What is one of the most important features of a Zen garden?
A traditional Zen garden is a minimalist dry landscape of natural stones, gravel, sand and wood with very few plants and minimal water.
What are the three types of Zen gardens?
Zen gardens can be divided into three types:
Mountain Garden, Dry Garden, and Tea Garden. The small space is used to develop all these three types of Zen gardens.
Should I use sand or gravel in my Zen garden?
You can use sand or gravel to fill the base of a zen garden, but it is recommended to place gravel instead of sand as outdoor sand can be messy and grimmer.
What kind of flowers are in a Zen garden?
Commonly used flowering plants in a Zen garden are peony, chrysanthemum, and Japanese iris (Iris) near water. Flowering shrubs include azaleas, camellias and hydrangeas, all of which provide strong appeal.
What do rocks represent in a Zen garden?
Rocks express the human longing for eternity and enduring features in nature and are one of the most essential components of zen design.