Anything that goes top to bottom is vertical. Placing and stacking your green plantation in a layered and fixed way from top to bottom is a Vertical Garden.
A stylish, fashionable, and imaginative way of placing plants in an upright pattern gives an Indoor Vertical Garden, which is becoming a widespread trend to have a height to greens by processing a Vertical Garden.
Maximizing and Crafting your space skillfully is creating a vertical garden in your home.
Mosaic Vertical Garden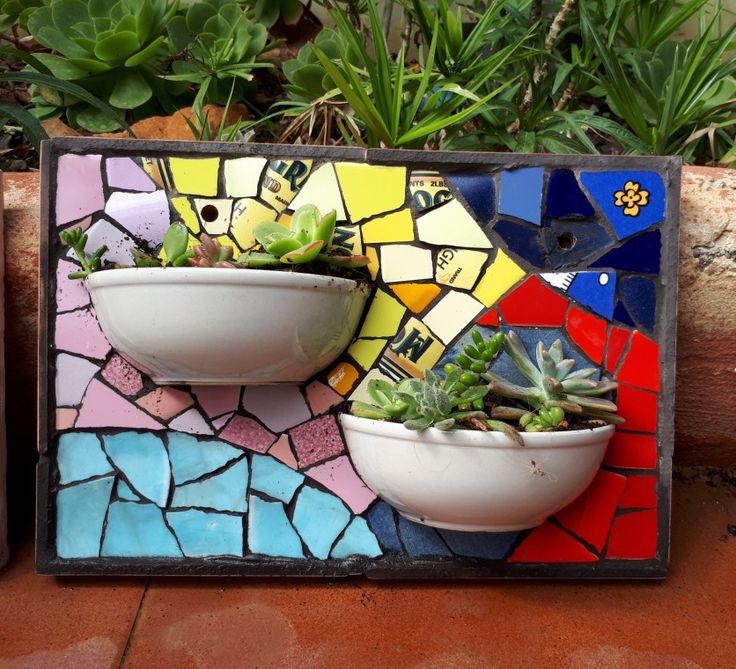 Various coloured stones, glass, or ceramics are plastered together to give us a mosaic surface. Arranging your plants on these mosaics from top to bottom gives us a Mosaic Vertical Garden.
Entrance: Upgrade your home entrance by placing green plants and mosaics on the entrance walls. Vertical Mosaic Entrance Garden is easy to install and provides a street appeal to your home.
Kitchen: Turn your kitchen into a nice-looking area when you place your vegetation and herbs plants with the mosaic tile wall in a vertical fashion.
DIY Mosaic by bed: Do a DIY project by your bedside wall for having a vertical garden. Use broken tile, glass, etc., and mix it with your hanging plants on a bedroom wall.
Mosaic Planter: Plant your greens and herbs in the mosaic pots and hang them vertically in your available home space.
Mosaic Ball: Give a stunning look to your vertical garden by placing a large mosaic ball sculpture.
Suspended Garden
A garden built on a wall is known as a Suspended garden. Hanging your green on the wall and creating a suspended garden can be the hallmark of your home.
Box Garden: Rectangular boxes full of plants and herbs are placed one above the other vertically on the wall to provide the most traditional look to your home.
Bottle Garden: Plants and Herbs are placed in bottles and changed in a vertical manner on your available wall.
Potted Garden: Hang your potted plants with a rope in a vertical pattern. If you want an artistic and gorgeous appearance to your home, then hang your potters in a layered top-to-bottom vertical style.
Basket Garden: Place your baskets full of your green plants vertically to give your room an outstanding grace to your home.
Can Garden: Cans can be used to plant small green plants and herbs that can be set vertically to give your home a beautiful decor.
Fairy Garden Vertical Wall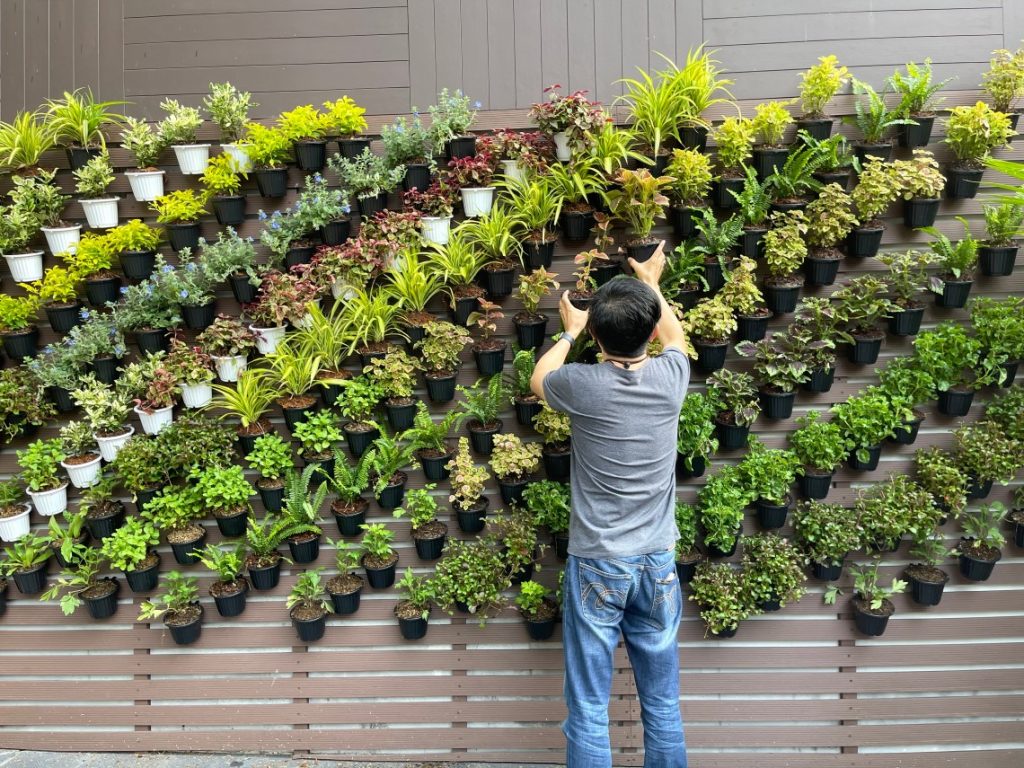 Having limited space and still a desire to have a garden, the perfect solution is to build a fairly vertical garden on an empty available wall. You can create a rich and abundant fairy garden by growing and maintaining the plants vertically.
You can have a fairy garden by:
Choosing the right plants
Choosing the right space or wall to attach your plants vertically
Incorporating artificial lighting into your fairy garden
Enhance the fairy garden by having figurines, miniature houses, or bridges
Use the old and usable jars and cans to give your home vertical garden a fairy appeal.
Succulent Tapestry
A popular plant with fleshy leaves with a water storage capacity is known as a Succulent plant. Some of the succulents are Aloe vera, Jade, Flaming Katy, Spanish Dagger, Ghost plant, Elephant Bush, and more.
The most popular and tempting display of your succulent greens is to hang them on a wall in a vertically decorated design.
Do it yourself (DIY) and create a Succulent Tapestry by following these steps:
Collect 30 to 40 succulents that need to hang on the wall.
The Box frame size should be deep enough and carefully chosen as per your wall for the vertical garden.
Use some PVC to protect your box from any drainage.
Hang your succulent on the wall like a painting or a scenery.
And enjoy the succulent Tapestry Garden in your home.
Vertical Vegetable Wall
Use the trellis panel with the support of a wall to have the various kinds of pots planted with vegetables and herbs.
Best Vegetables to Grow Indoors:
Carrots
Green Onions/ Scallions
Herbs
Hot Peppers
Spinach
Kale
Arugula
Microgreens
Potatoes
Radishes
Tomatoes
All these varieties of vegetables can be grown where there is plenty of sunlight available in your home. Arrange them vertically with the support of your wall and benefit yourself with homegrown vegetables.
Here is The Complete Information On Herb Garden Ideas You Should Know!
Vertical garden with water Feature
Spicing up your vertical garden with water features is obtainable in various designs and materials that range from glass, stone, acrylic, and terracotta. Flowing water through your vertical garden gives your home decor a gentle, peaceful, healing touch.
Some of the water fountains that can be used indoors with your vertical garden:
Wall-mounted fountain: These are available in various sizes and designs and can be placed with your green plants.
Standalone fountains: If you have space with your vertical plant wall, place these standalone water fountains, which have strong bases that have inbuilt water reservoirs.
Tabletop fountains are the lightest indoor water fountains that thrive with your vertical garden, giving your home a soothing effect.
Bookshelf Garden
Turn an old and unused bookshelf in your home into a vertical bookshelf garden. Be creative DIY Bookshelf Garden:
Painting and refurbishing the old bookshelf
Place the plants as per your choice
Put the plants in small pots and large pots
Place the large pots on the bottom and the small pots on the top of a bookshelf.
Hang some plants on the sides and corners of the bookshelf.
Use the artificial lights to be arty.
Hanging Shoe Organizer Garden
If you have a small space, use the shoe organizer by adding a plant to each hanging shoe compartment and creating a green garden indoors.
DIY by following easy, simple steps:
Hang your shoe organizer to a place of your liking in your home
Choose your plants
Place the plants in the various compartments
And your hanging shoe organizer garden is ready
Vertical Moss Art
Moss has the best air cleaning capacity to provide to your home. They are the natural air filters that absorb the dust and help give us clean air. A moss compliments our indoor vertical garden.
Vertical Moss art is the new trend, which is generally a large painting made up of moss that can easily be hung on your wall. This moss art comes in different shapes and sizes.
Use the moss with your vertical garden to bring more greenery to your home.
Vertical Garden in a Frame
Choose and order the vertical garden frames online. Any kind of frame that suits your indoor space is available. Order whichever suits you.
Place the frame vertically against your kitchen wall, bedroom wall, or living wall, and plant your green plant pots in accordance with the structure of the frame.
Crate Garden Wall
Use the crate as an attractive decor by planting your pots directly into the crate. Arrange these green plant crates vertically against a wall to give your home a Crate Garden wall.
Any type of green plants and herbs can be grown in these crates. Flea markets and online are good sources to procure these crates and use them for indoor vertical gardens. A crate wall garden creates an inventive and artistic appeal.
Recycled Bottle Garden
Converting waste material into new materials and objects is recycling. In the same process, used plastic and glass bottles are used to make a recycled bottle vertical garden. Some interesting ideas for a recycled bottle garden:
Install plastic bottles on the wall
Make a wall out of plastic bottles
Use an empty Soda Bottle
Go for a colorful Vertical garden>
Half bottle planter
Vertical Garden with Edible Flowers
Flowers that can be consumed or eaten safely are known as edible flowers. Use vertical structures like walls, trellises, fences, and doors to support the edible flowers to grow upwards.
Edible flowers brighten your vertical garden and bring freshness to your salads. The best edible flowers for small spaces are:
Nasturtium
Coriander
Squash
Courgette
Borage
Violas
Chives
Calendula
All the edible flowers are easy to grow and require minimum maintenance in your vertical spaces.
Also Read Herb Garden Ideas For Everyone
Vertical Terrarium Garden
Any plants you grow on a wall or vertical structure at your home give you a vertical garden. And the Terrarium is a unique design that goes with your vertical garden.
You can use terrariums of different styles, shapes, and sizes to create a distinctive design for your vertical garden. Combining terrariums with your vertically designed garden provides a Vertical Terrarium Garden. Design your home with:
Layered Plant Garden– Different types of terrarium plants in various colors are layered in such a manner to have a stunning effect.
Living walls Terrarium– Multiple types of Terrarium are placed side by side to form a living wall.
Tropical Terrarium– Use sand, rocks, and pebbles with a tropical plant and have the attention of everyone.
Bringing nature to your home in a bold and effective way is to install a Vertical Terrarium Garden at your property.
Geometric Green Wall
Design and create a green wall by planting your pots in geometry shapes
Plant your wall in a square
Design your wall plantation in a rectangular way
Place your pots in a circular frame structure.
Hang your pots in an angular way.
Shapes, Sizes, positions, and dimensions of your greens provide symmetry to your home.
Living Graffiti Wall
If you can't have the green planted in your home, go for a living wall painting.
Garden wall painting gives a lively and vibrant color to your dull wall.
Have your living graffiti placed with your vertical garden to have a distinctive view.
Benefits of Vertical Gardens
Enjoying nature from indoors has benefits for your overall life.
Plants give us fresh air and care for our physical and mental health.
Improve Space Solution by having plants growing vertically
Insulate the building
Reduces air and noise pollution
Reduce water usage in maintaining the plants.
Conclusion
A vertical garden is as good as your imagination can be. The most important aspect of having a vertical garden is choosing plants that fit your space and climate well. Constant urbanization and constraint spaces have given a breakthrough concept of having your green plants installed, maintained and grown vertically.
FAQ
What grows best in a vertical garden?
Herbs grow best in a vertical garden.
How do you arrange a vertical garden?
Hang the plants on the wall to have the best arrangement for the vertical garden.
What are the three types of vertical gardens?
Three types of vertical gardens are wall-mounted, balcony-suspended and free standings.
What is the best soil mix for a vertical garden?
Potting soil, based on loamy soils and other elements, is the best soil mix for vertical gardens.