If you are a gardening enthusiast, then a herb garden is definitely something you might be intrigued with if you don't already have one. Growing herbs of your own is one of the most beneficial forms of gardening, mainly because of the numerous ways it can be great for you.
If you have been looking for a guide to help you choose the right type of herb garden for your home, then you have landed at the right place. So, let us dive into the world of herb gardens to help you choose the best style of your home.
Top Herb Garden Ideas | Styles & Designs
There is a plethora of different ways in which you can plant your herb garden. From sleek and organized vertical designs to creative sensory gardens, the possibilities are endless.
To help you decide which herb garden idea fits your needs and preferences, we have mentioned the top herb garden ideas right here with detailed information about each one of them.
Also Read 30 Clever Indoor Herb Garden Ideas.
Organized & Classic Vertical Herb Gardens
Vertical herb gardens are very versatile and accommodating as they can be installed both indoors and outdoors. They are also suitable for all sizes of homes, making them perfect for all kinds of house spaces.
In this type of herb garden, the herbs are planted in a vertical manner, most commonly planted on a wall or a fence to accommodate the right amount of plants and use the available space optimally. This can help you create a herb garden wall or fence.
Small Herb Garden Centerpiece
This is one of the best ideas to include greenery inside your home while also keeping it functional and highly beneficial. You can not only use this idea for a dining table but also inside your kitchen to have easy access to your herbs at all times.
It's also great for outdoor parties because it lets guests select the herbs they want to use with their meals. Parsley, basil, thyme and many more herbs of the kind thrive in an indoor setting. Hence, you can use them to create this herb garden design in your home.
Hanging Herb Garden Planters
This is one of the best herb garden ideas for people who want to install a small garden on the balcony or want a designated space for their herbs. Hanging small herb planters around your garden or in the balcony will help them get adequate sunlight while also draining the excess water.
This herb garden idea is easy to install and maintain, hence perfect for people who are into gardening but cannot devote a lot of time to it.
Window Sill Herb Gardens To Save Space
A window box herbs garden is a very compact and efficient option as it can be put both inside and outside the house. It is one of the most practical ways to grow your favourite herbs when placed on the kitchen windowsill because you can quickly travel from plant to dish.
Irrespective of whether you have a garden or ample space in your home, you can still use this herb garden style to plant your favourite herbs without them taking up much space in or around the house.
Themed Herb Garden
Themed herb gardens are fun and creative and also give you a great knowledge about different cultures. There are numerous themes to plant your herb garden in and you can choose the ones that you like the most and suit your needs and preferences.
Themed herb gardens can also be classified on the basis of herbs like medicinal herb gardens, herb tea gardens, fragrance sensory herb gardens, and many more.
Spiral Herb Garden
This design of a herb garden provides a very fun and creative approach to grow a variety of herbs in a compact area while constructing a lovely and eye-catching garden feature. It enables water to freely drain and permeate through all layers so that it reaches all the different herbs planted in the garden.
Container Herb Garden
Almost all types of herbs can be properly grown in a container hence, you can easily make this herb garden. It is important to ensure that the growth requirements of the herbs you are planting together are the same so they don't harm each other.
This is a great way to have a garden for when you don't have much space to dedicate to it as you can hang or put the container anywhere with good sunlight and air. There are numerous container herb garden layouts available. If you want some inspiration, choose one that suits your preferences. 
Raised Bed Herb Garden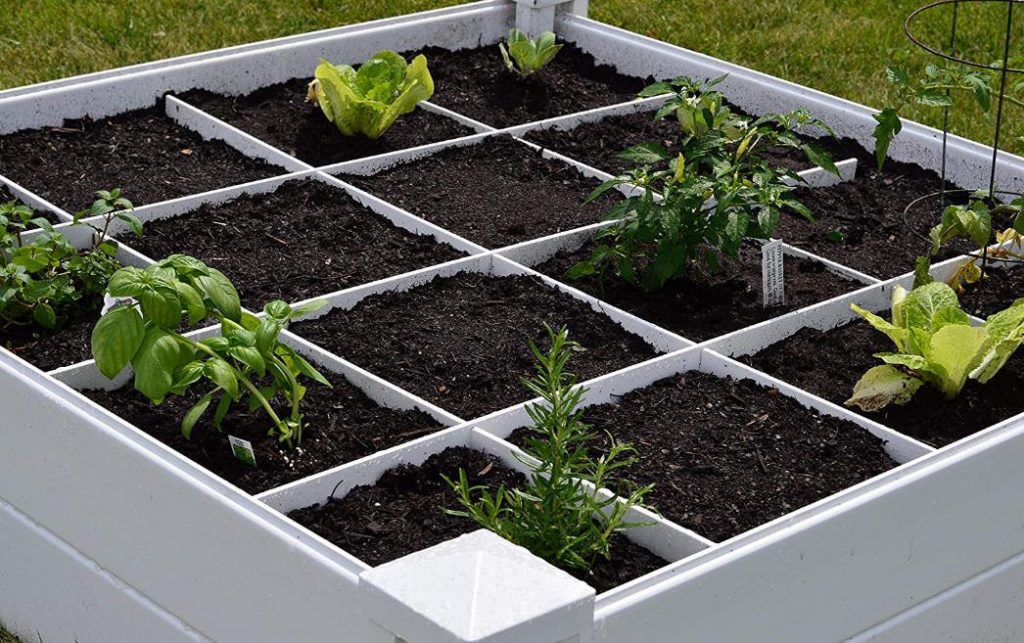 This type of herb gardens are best if you want to grow different types of herbs in a wide area without mixing things up and also having ample control over the space. There are certain types of herbs that can thrive in this kind of environment. Hence, you should do your research before planting the herbs in this garden layout. Herbs that are smaller in size do really well in a raised bed garden.
Types Of Herb Gardens
There are many different types of herbs that you can choose from to plant in your herb garden, which can often make the task quite confusing. Hence, to help you with the hassle of choosing from a thousand types of herbs to plant in your garden, we have brought you some of the best types of garden herbs that you can choose from.
Culinary Herb Garden
If you want your dishes to taste fresh and exotic, then this herb garden will definitely be the best choice for you. You can plant your favourite culinary herbs like basil, thyme, rosemary, oregano, etc. and put them in your food for a fresh burst of flavour and goodness. Do not overlook the money you will spend less on groceries.
Medicinal Herb Garden
Herbs are used for a variety of purposes, but some of the more popular ones are aromatherapy, medicine, seasoning and flavouring for food and drink, and salads. A medicinal herb garden is your best choice if you wish to concentrate on enhancing your well-being from the inside out.
Aromatic Australian Herb Garden
Fragrant herbs that are planted in an aromatic herb garden which are usually not just good to smell when you pass them by but also have an appealing look. Choose herbs with potent, pleasant scents, such as mint, thyme, lavender, and rosemary. So that you can appreciate their scents as you pass by, strategically place them.
Ornamental Herb Garden
As vibrant as a typical flower garden might be, a herb garden can also be quite beautiful when filled with the right flowering plants. Herbs that bloom not only enhance the garden's aesthetic appeal but are frequently tasty as well. To mention a few, lavender, thyme, yarrow, and rosemary are some ornamental herbs you can use in this garden.
Cottage Herb Garden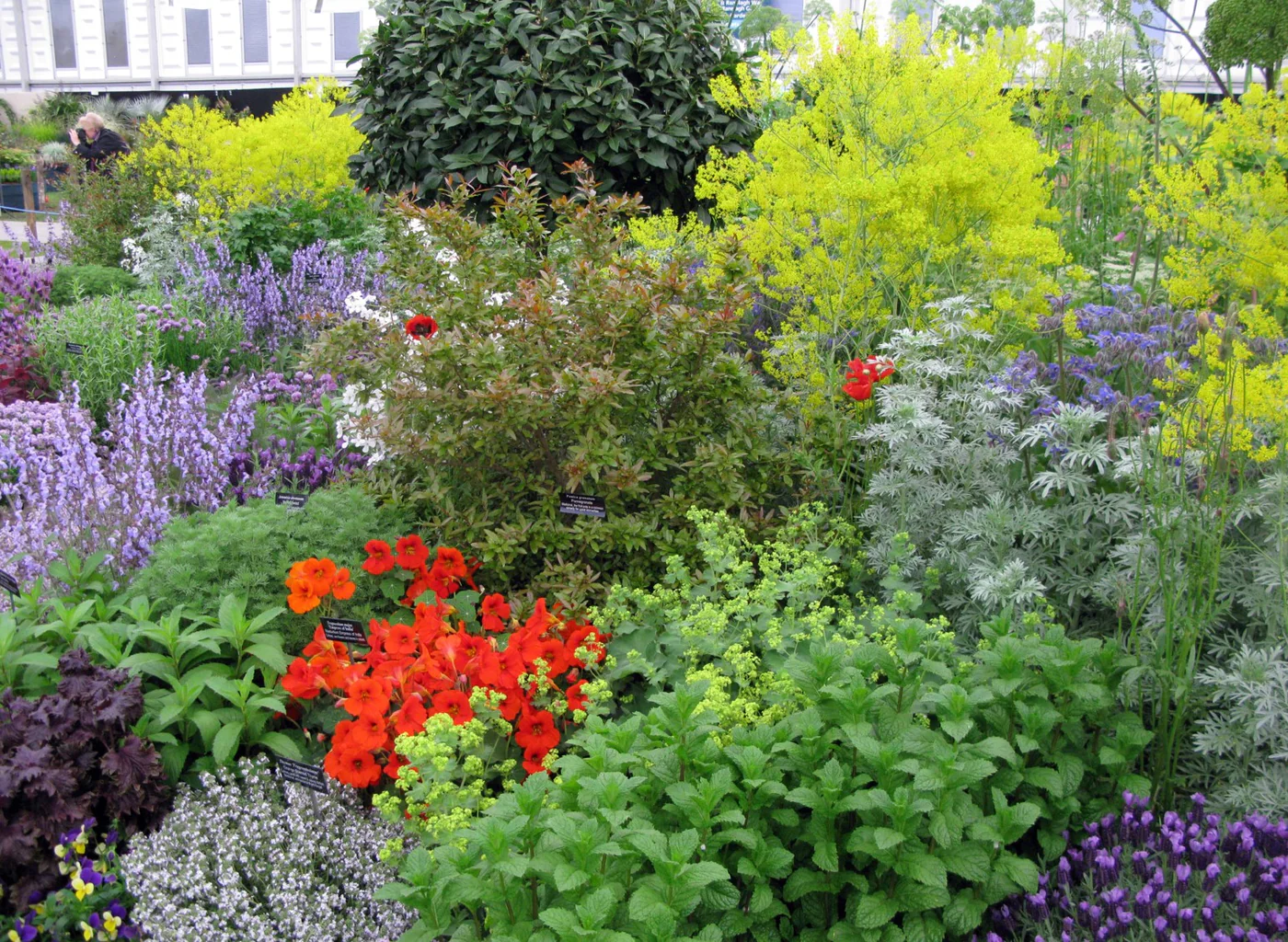 A cottage herb garden is the perfect blend of culinary and ornamental herbs that makes for a very beautiful and efficient herb garden. Curved lines, organic materials, and a mix of thickly packed culinary and decorative plants make up a cottage garden. Basil, parsley, hyssop, and oregano are some of the herbs that you can use to create a cottage style herb garden.
What Herbs Grow Best Together
Companion planting is a great way to ensure the good health of your herb garden. However, it can be a little tricky as not all herbs are good companions to grow together. To help you understand the herbs that are great companions in a garden, we have listed some of the best herb companions right here:
Mediterranean Herbs work really well together. Some of these include thyme, oregano, rosemary and sage.
Lavender & Rosemary require very similar growing conditions, which is why they are one of the easiest herb combinations to grow in your garden. This is not just a good pair because of their identical requirements but also because they are a very fragrant pair of herbs, and the area around it will smell great anywhere you put it.
Sage, Chives, & Parsley are a great combination to grow in your herb garden. Parsley can be paired with a lot of different herbs and hence can be included in a lot of companion herb gardens, the combination of sage and chives is just one of them.
Calendula, Ginger, & Lemongrass are great for companion planting as all three of them can be grown indoors and hence, make a good combination of herbs to grow together.
Lemon Thyme & Lemon Verbena make a good pair for planting together because lemon flavours and scents pair well with the thyme smell.
Lemon Balm & Mint also make a good pair for companion gardening. Good companion plants should have the same site requirement. Hence, lemon balm is compatible with almost all perennial herbs, such as thyme and mint.
Tips For Management Of Herb Gardens
Maintaining your herb garden is a very important factor to ensure their good health and better benefits for you to reap. From how often you should water herbs to the use of fertilizers and pests protection, here is the important information about the steps of upkeep for herb gardens.
Watering Frequency: You can get root rot, fungus gnats, fading leaves, and other problems if you overwater your plants. Watering your herbs two or three times a week should be more than enough as you can always check the moisture in the soil to determining when it does or doesn't need more water.
Mulching: Mulching your herb crop helps to conserve moisture and controls weed growth, which can help it a lot during the hot months. Apply a two-inch layer of mulch over the soil after it has been groomed, weeded, and aerated, keeping the space around your plants' crowns clear.
Fertilizing: The type of fertilizers you use in your herb garden and the frequency of their use depends mainly on the type of herbs you are growing. Culinary herbs can thrive in organic compost. There are also slow-release fertilizers, compost tea, liquid fertilizers, and many more, which can be used in herb gardens depending on their requirements and soil conditions.
Controlling Pests & Diseases: There are certain types of herbs that act as pest repellent themselves, which is great as they do not require any additional protection. If you feel the need to use pesticides, then make sure that you have looked into it properly so that it doesn't harm your garden.
Pruning The Weeds: Maintaining the health and productivity of your weed plants requires regular pruning. It is the act of strategically cutting particular branches. Pruning, when done correctly, can promote new growth, eliminate sick or damaged leaves and stems, and enhance your plants' overall appearance.
Conclusion
Herb gardens are great for beginners as well as experienced people who want to try out something different. There are endless possibilities in which you can include herbs in your garden, and you can choose one or as many as you want according to your needs and preferences.
Get your creative juices flowing and design your herb garden according to your taste and preferences and make sure to follow the maintenance step so that your herbs thrive in whatever design of garden you choose to plant them in. We hope all of your queries and concerns regarding herb gardens are answered here. Have fun planting your own herb garden!
Frequently Asked Questions
How should a herb garden be laid out?
It is very important to consider the soil type and quality, the amount of sunlight, and whether you want to grow your herbs in pots or in a garden bed when choosing a location. If you have a small herb garden, you will need to make the most of your available space. Larger plants can be raised above the garden as a result, freeing up extra ground space for additional plantings.
Also Read Flexible Design Plan for a Simple Formal Herb Garden
Can I use artificial light to grow herbs?
There are many advantages to using LED illumination while growing sustainable food. Herbs germinate more quickly, roots grow more quickly, and yields are increased when producers have control over the light.
Can I grow herbs year-round indoors?
Herbs can be grown indoors at any time of year, but they are mostly grown during the winter when it's too chilly or damp to dig in the ground.
What design works best for a herb garden?
Placing the tall plants above the short ones that can survive in lesser sunlight is the best layout for a herb garden, as it allows all the plants to get the required nutrients to thrive.