Herbs are small plants with green, delicate, and tender stems with aromatic properties used for flavoring and garnishing food, medical purposes, or for fragrances. Consuming herbs prevents heart disease, diabetes, and cancer while providing anti-inflammatory properties. Fresh herbs contain higher antioxidant levels that are beneficial to our health.
An indoor garden with various herbs provides the greenery to your home. Arranging plants in different ways and places at your home is indoor gardening. The plants are grown in containers, pots, and ceramics. The trend of indoor gardens is increasing with planting sustainable herbs in a home environment.
The best location for an Indoor herb garden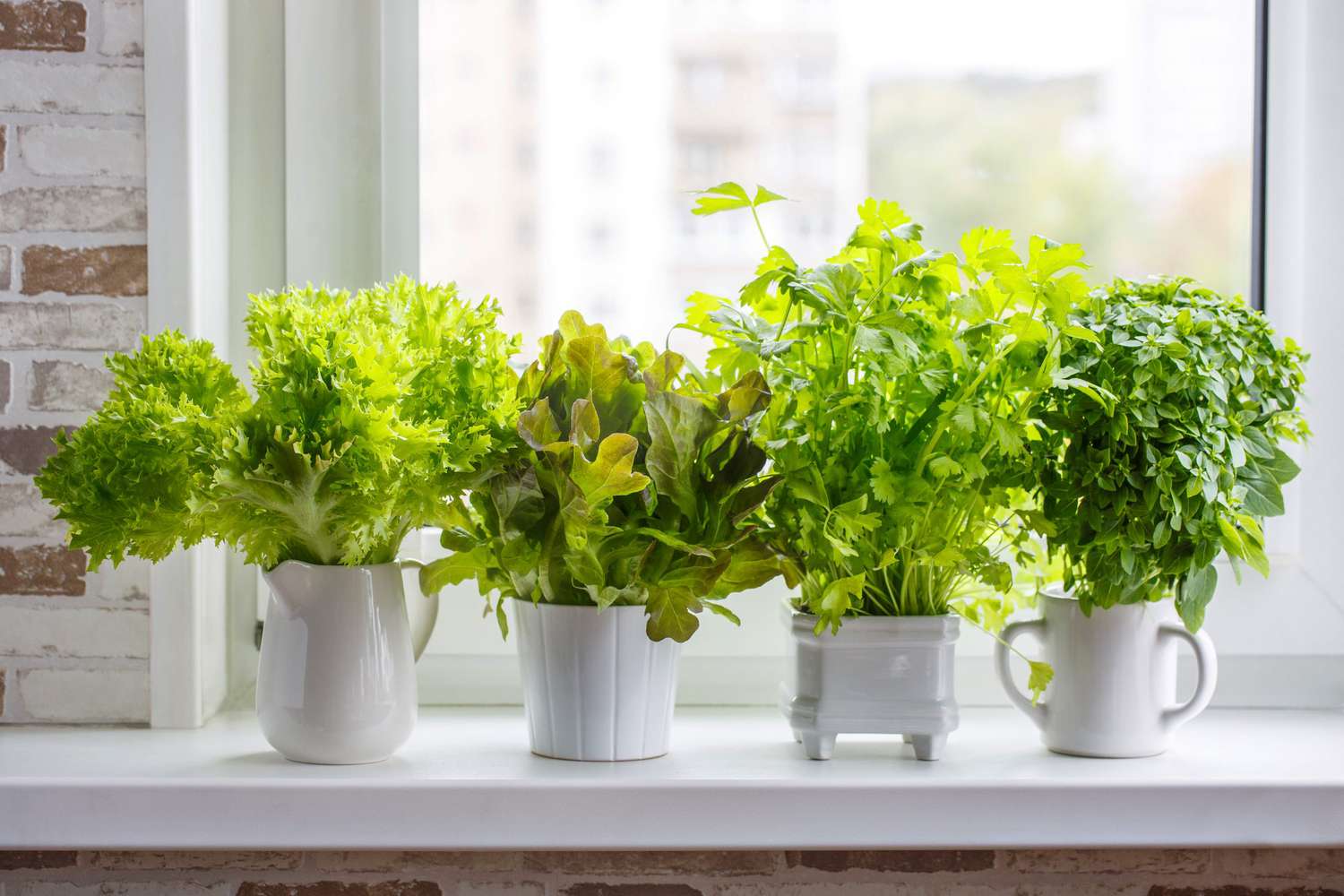 To grow the herbs well indoors, look for a small space in your home where natural light is easily accessible. Place them in a sunny spot and see the herbs grow. Good, strong sunlight is one of the most important factors in growing herbs indoors. A bright and sunny window is an ideal location for growing herbs indoors.
If you don't have a bright spot in your home, you can still be successful in growing the herbs indoors by providing an additional light source with a CFL bulb.
Hanging Herb Garden
If you require fresh herbs but have limited space in your garden, Create a hanging indoor herb garden.
Traditional: Grow herbs in conventional style by having them in vintage boxes that are hung against a wall in a sitting position. Make sure the wall being used has enough light coming on it.
Bottle: The use of a bottle to hold the herbs is an exquisite option. Cut the used bottles to hold the herbs.
Kokedama: It is the practice of suspending the root plant in a mud ball coated in moss. They provide a striking statement to living rooms, balconies, and lobbies. Hang these planters in a trio formation.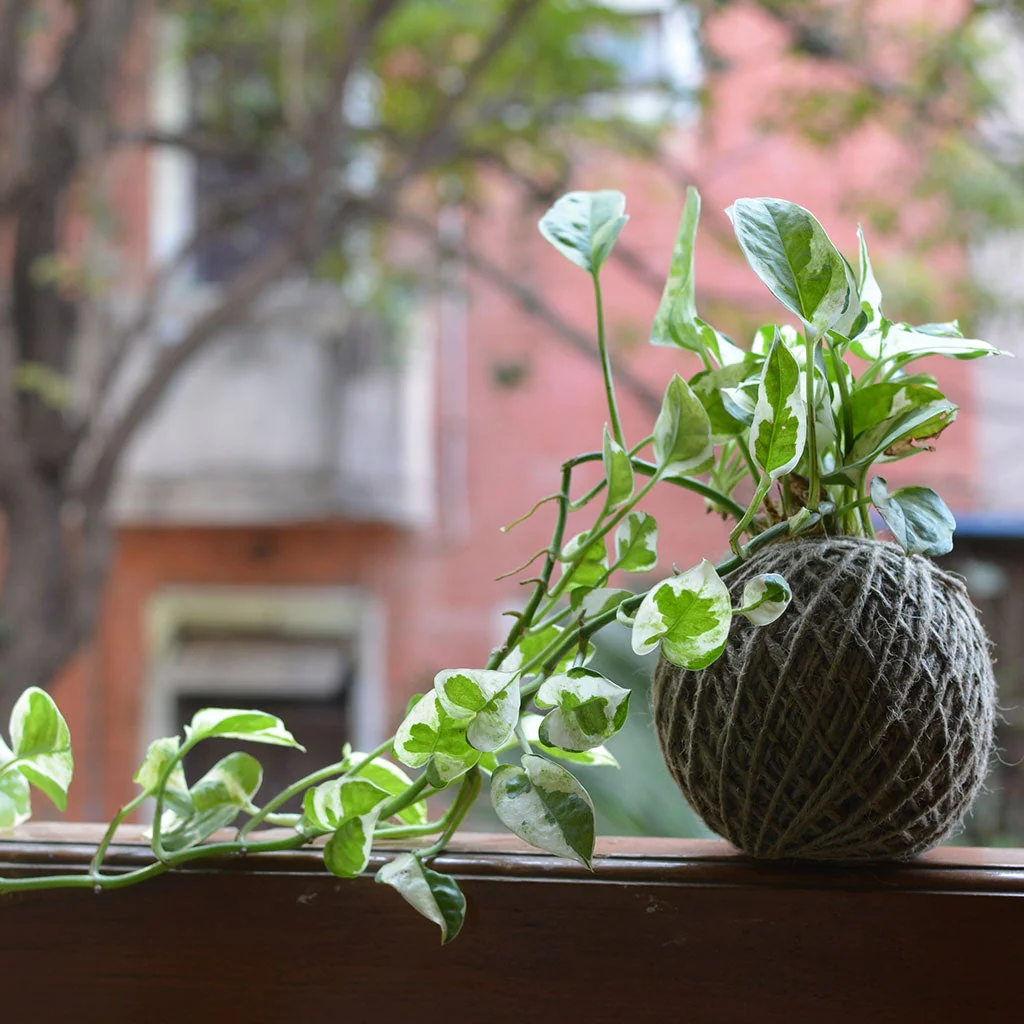 Pallet: Get your hands on a wooden pallet and turn this into an herb garden to hang on a wall. Paint in a colour that works for you.
Jar Hangers: Add the mason jars to a wood board that can be filled with the herbs indoors
Trellis: Herb-filled planters are attached to trellis frames. The planters can grow different types of herbs in each. You can customise it as per your requirements.
Swing it up: The swing planter would hang to your sunny windows. Hang the pots by rope in such a way that it can swing.
Retro: Repurpose the herbs plants in a retro chandelier way. It is a fantastic option for your decor.
Simple: The use of normal planters attached to walls or boards is a convenient way to simplify hanging herbs indoors. The simple design looks good in most of our indoor spaces.
Macrame: Hanging Macrame planters are easily available. Make sure the design suits your herb planter placement.
Multi-Tiered: Fix your plantation of herbs to a wall, window, or board in a tiered arrangement having rows. You can fit quite a few herb plants on each row.
Go Vertical: Arrange the herb garden in a vertical hanging, making sure that you don't pack it up so it blocks the sun.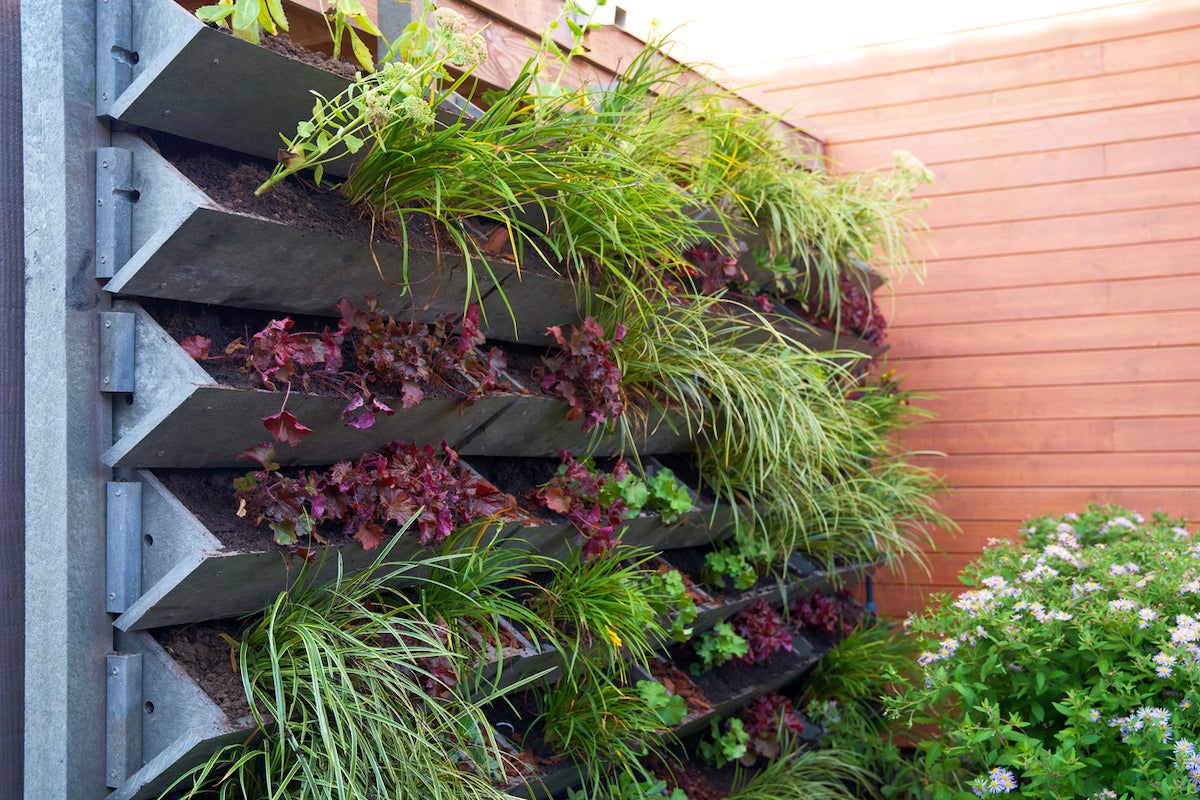 Rail Planter: The rails leading from your kitchen to the backyard are perfect for a hanging herb garden.
Windowsill herb Garden
Wood: Pine wood window sill planter is handmade, very solid, and good quality, with waterproofing. Your Herbs will stay preserved with minimal attention required. Upgrade your window sill by placing this planter and see it blooming.
Hanging up: Hanging planters up the window sill is an excellent option. They come in many sizes, shapes, and styles. You can hang any herb plantations on them.
Shelves: Window shelves can be used to have an indoor herb garden. Extension would be required by placing a wooden or metal board, fixing it up with screws, and placing your herb plants the way you like on the window shelves.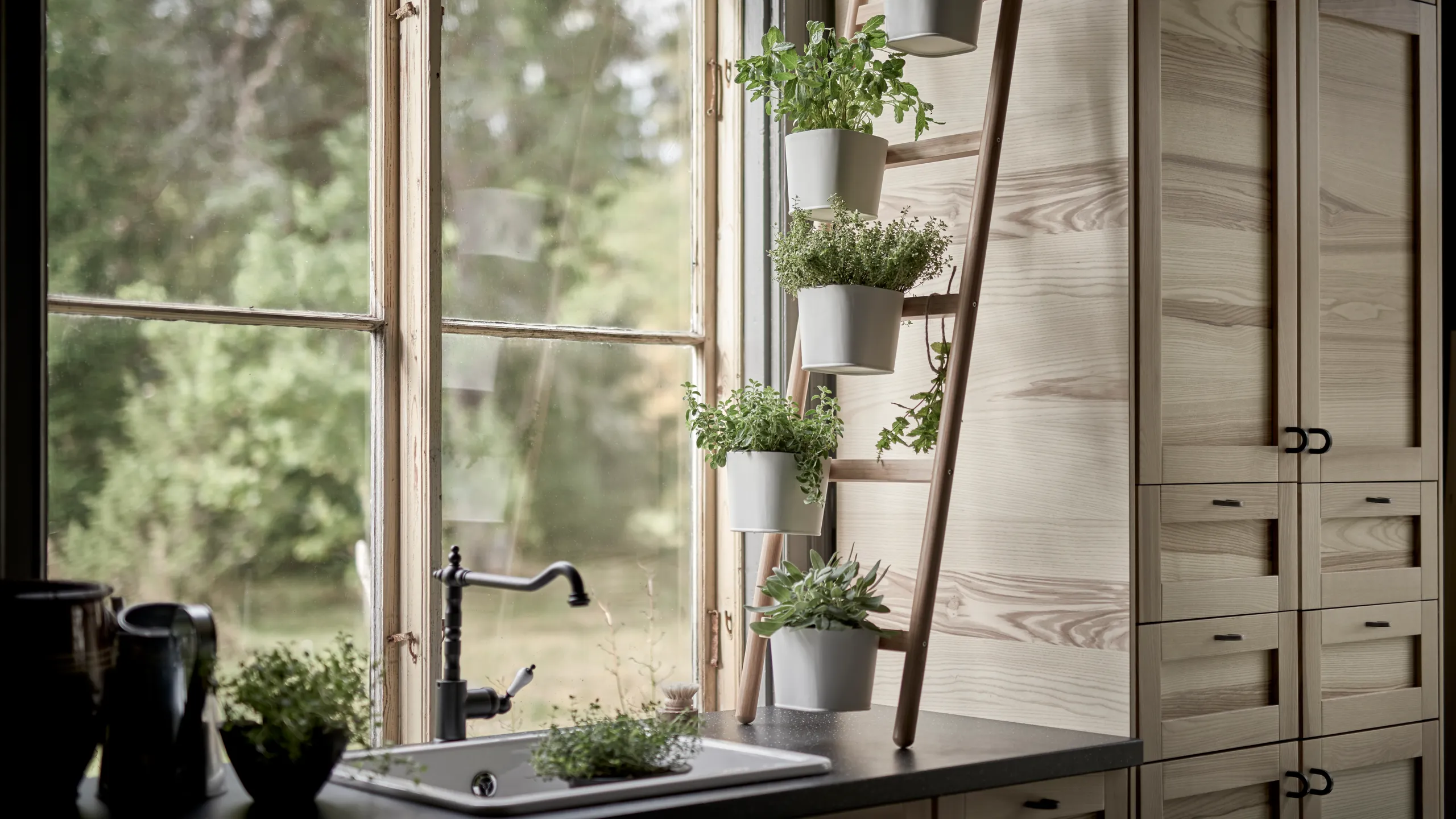 Narrow Storage Shelf: Some window sills are deep enough to fit a narrow shelving unit. If you can do it on your window, plan your herbs accordingly to the size that fits into these narrow shelves.
Vertical Rod: This rod shelf is designed vertically, which can be easily placed on the window case. They have circular shelves fixed to the rod for placing your indoor herbs.
Mason Jar Herb Garden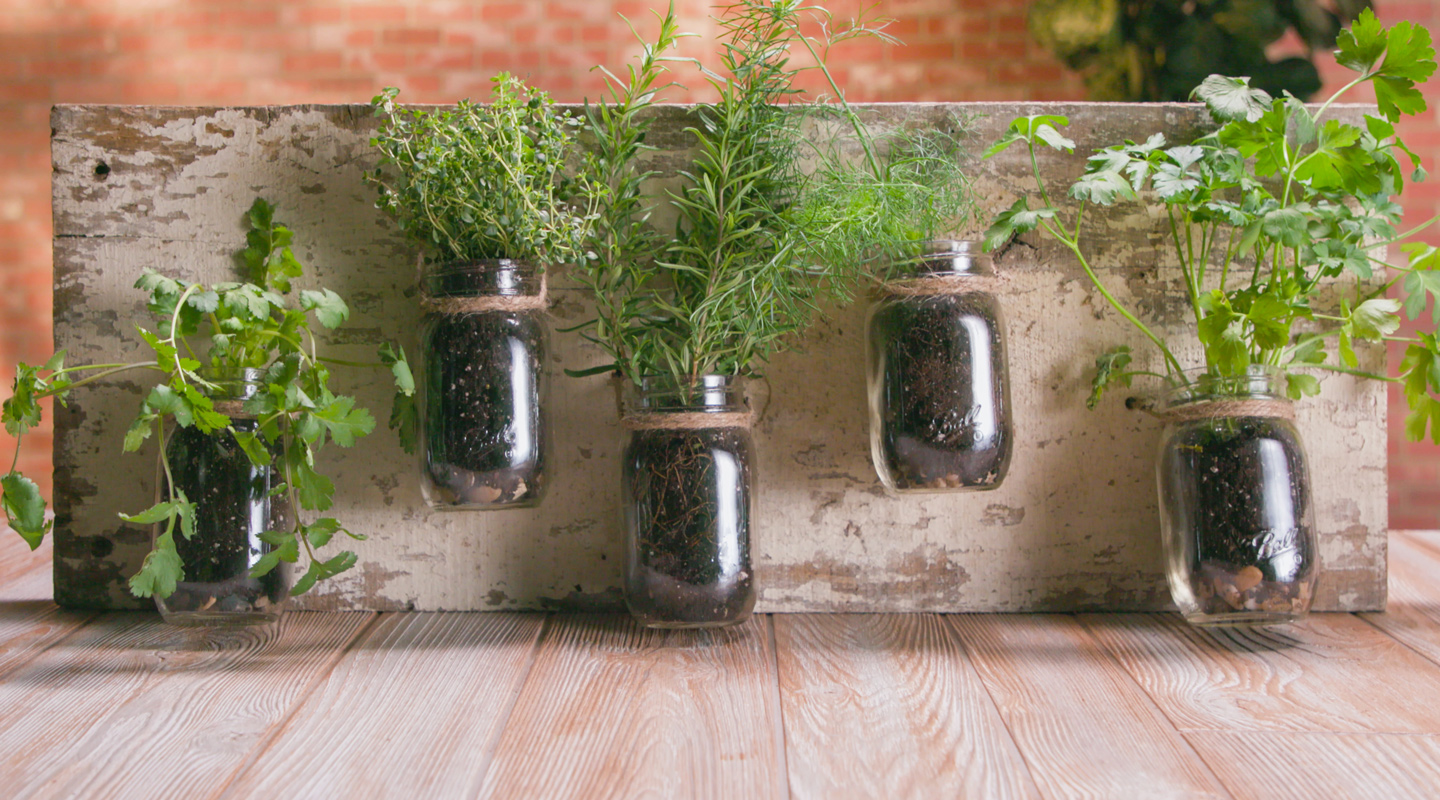 One of the simplest ways to start your indoor herb garden is planting your herbs in the Kitchen jars. A Mason jar, a bag of potting mix, a supply of rocks and pebbles, and a packet of seeds are required to start your Mason Jar Herb Garden.
Assembling an herb garden with mason jars is easy and doesn't take too long. Fill the bottom of your jar one or two inches with rocks or pebbles for drainage. If you have managed to drill a hole in the container, you can skip this. Add the potting mix to your jar, fill it two-thirds of the way, add compost or fertiliser, and sow your seeds by adding half an inch of soil.
Make as many jars as you would be required to have your space filled up with herb garden. Some suitable options to grow herbs in a Jar are Cilantro, rosemary, dill, mint, chives, and thymes.
Having the Mason Jar Herb garden is a very low-cost project that can be undertaken by giving you one or two hours during the weekend.
Herb Terrarium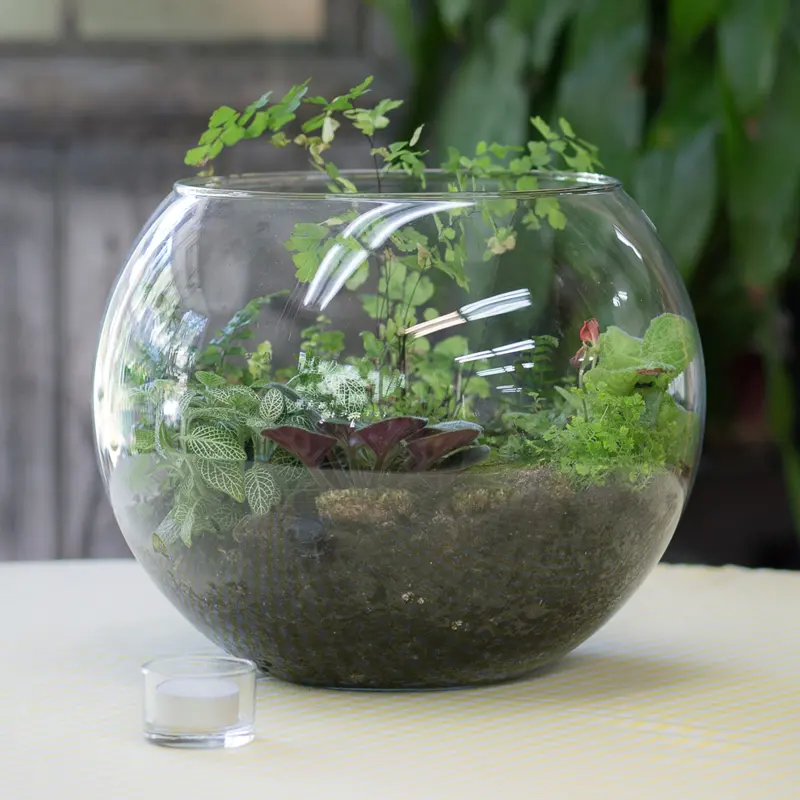 A terrarium is usually a glass container of soil and plants kept as ornamental items in your home. They also make impressive gifts.
Different herbs will need various conditions. Oregano, sage, and thyme can be easily maintained in a glass container
Choose your glass container
Create a base layer using sand or rocks
Add the activated charcoal
Add 3cm of potting mix
Plant your herbs so that roots are under the soil
Add any figurines for your decor
Herb Ladder
Create a herb ladder by filling containers with a variety of tasty herbs. Select containers you can attach to the ladder. Low-weight containers are good options to be placed on the ladder. Drill a hole in the bottom of the container for drainage. Hang the herb plantation on a ladder and put it through glass doors or windows with plenty of sunlight.
The ladder planter makes a lovely herb garden for your home. Spice your indoors by having an herbs ladder placed at your home.
6 ft ladder herb garden
Hanging small buckets of herbs on the ladder
Iron bucket on the ladder full of herbs
Vertical herb garden on the ladder
Wooden ladder with recycled can planters
Know about The Complete Information On Herb Garden Ideas You Should Know!
Herb Cart-on-Wheels
The garden on wheels is movable and can be easily moved within your house and placed at different locations. The most easily available options in the market are:
Metal planter cart
Wood planter with wheels
Mini Green House Herb Garden
If you have space in your house, go for a mini greenhouse herb garden. The benefits of a greenhouse are numerous:
You can extend the growing season.
Protect your herbs from pests.
Herbs are safe from any weather conditions.
Take the pleasure of enjoying herbs around the year.
Wall Mounted Herb Garden
An indoor herb garden is a beautiful addition to your house.
Shoe Organizer Herb Garden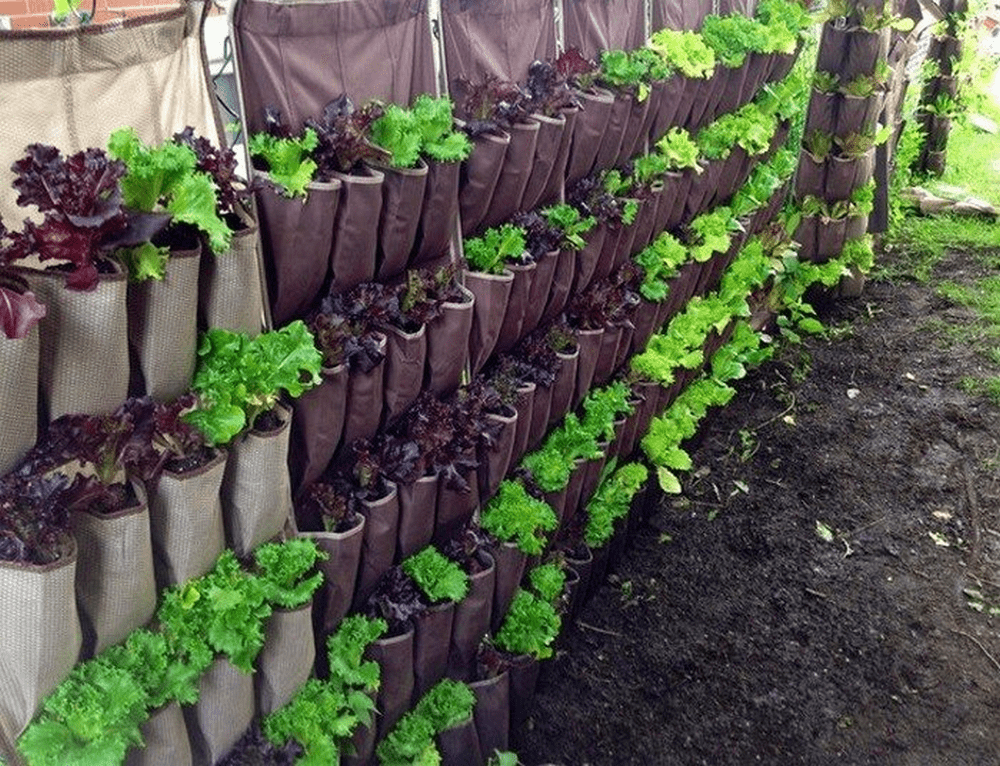 Using a shoe organiser means you have built-in compartments for your herbs. This is simple and cost-effective, but if you have a small space, use the shoe storage organizer. Add a herb plant to each pocket and hang it wherever you like
Bookshelf Herb Garden
A bookshelf will make an ideal spot for your Indoor Herb Garden. You can place various pots and planters on the bookshelf. Stack your books with herbs pots to make your room go green.
Which herbs grow best indoors?
Growing many popular herbs in your home's comfort is a great idea. Some herbs are perennials and grow yearly. Others are annual and will die out every season. To have the best indoor herbs for your garden, plan the plantation as per the sunlight available.
Basil: is a culinary herb requiring full sunlight to grow. It is a very tender plant. Apart from its use in cuisine, Basil is used medically to get rid of stomach pain, loss of appetite, and other conditions.
Mints are aromatic herbs known for their freshness and several health benefits. It has antioxidant properties and requires moderate sunlight to grow. Toss it into salads, blend it with a cool drink, top it up with your poultry dishes, and make a smoothie or a cocktail.
Bay: Another moderate sun herb is widely used in teas, oils, cheese, and liquor. The cosmetic industry uses it in the making of soaps and perfumes.
Oregano: are used as sprinklers over a pizza or soups and salads. Full sunlight is required for their growth.
Cilantro: are used in salsas, curry. With full sunlight required them to grow, Cilantro garnishes tacos, enchiladas, and would.
Apart from these herbs mentioned above, some herbs like Parsley, Rosemary, Chives, Sage, Thyme, and Tarragon are the best additions and can be easily grown in your indoor herb garden.
Conclusion
Fresh herbs are required all year round. You need to have an indoor garden. Add green life to your space with fresh ingredients and accessibility around the clock. Wherever you install the herb pots in the kitchen or any vacant place in your home, the indoor herb garden makes it look good and smell great. Having fresh herbs indoors is a simple and easy way to elevate your living space while keeping you and your surroundings happy and healthy.
FAQ
Which herbs grow best indoors?
Basil, parsley, lemon balm, Cilantro, and mint are easy herbs to grow indoors. The herbs are easy to maintain and are low-cost ventures to your indoors.
What herbs can I plant together?
You can put and plant together the herbs- Rosemary, Oregano, Sage, Thyme, Lavender. Basil, parsley, and Cilantro can be planted together.
Do indoor herbs need drainage?
Yes, drainage is essential for indoor herbs. Container herbs need suitable drainage holes so that the flow of water is there. Poor drainage leads to the rotting of indoor herbs.
When should I start planting indoor herbs?
You can plan and start your indoor herb garden any time of the year, but the spring season is best for growing herbs.
How many hours of light do you need for an indoor herb garden?
Most herbs require at least six hours of daylight. Place herbs in a sunny location. If there isn't enough light, bright a CFL bulb to provide the light to your indoor herb garden.
What herbs shouldn't be potted together?
Growing herb plants in close quarters is very common, but not all herbs make good pairs. Like, Keep fennel and wormwood isolated from other herbs. Rue should be kept away from Sage and Basil. Keep dill clear from tomatoes.