Working from home has gained more popularity in the post-pandemic period, leading to more home office options. Whether you work from home, need a space to pay bills, casually scan emails, or have a computer workstation or a gaming station, a well-organised space allows you to be more productive. What do you need to work effectively? A comfortable desk. Don't worry if you have limited space and can't dedicate the entire area for work. Here, we'll analyse the l shaped desk vs corner desk to help you buy a comfortable desk. Innovative desk ideas work wonders. 
Read more: The Best 11 Lap Desk Designs With The Complete Information
The most vital item for a workspace is a desk. Now, the confusion arises regarding the type of desk to go for. The most popular choice is an l-shaped desk and corner desk, as both provide enough workspace but have different features. In this article, we have analysed various pros and cons of l shaped desk vs corner desk to help you buy one that suits your requirements.
Read more: Floating Desk Ideas For All Types Of Homes
Factors To Consider To Buy The Best Desk 
There are essential factors to consider before reaching a conclusion. L shaped desk vs corner desk will guide to the best desk options to go for. 
l shaped desk vs corner desk based on room size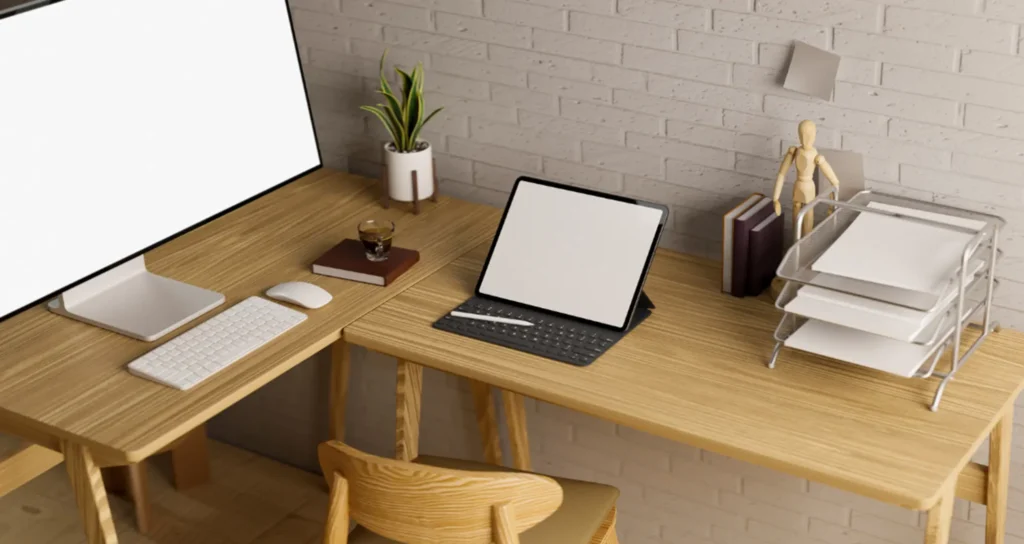 Buy a desk as per your room's size. Measure the corner or centre of the room where you plan to place the desk, and with that specification, place the order. Also, measure the staircase and entryway to ensure the desk enters the room in one piece if there's no option to dismantle it.
Ergonomics
Furniture with poor ergonomics results in strain injuries. It all happens because ergonomics is often overlooked. To boost work efficiency and provide comfort while working, ergonomically designed desks are a must-have for the workspace. Ergonomic is a vital point to count in L shaped desk vs corner desk ideas.
Storage needs
Before buying a desk, consider how much storage space you need to meet your home office or office requirements. L shaped desk vs corner desk analysis will help you deciding which desk is suitable for your room. Drawers are often not part of the desk in modern style small desks built for small spaces. So, keep an eye on desks with storage to fulfil your aim.
Material
Desk material should be sturdy and easy to maintain. Opt for wood, metal, glass or plastic as per your need. Wood steals the show due to its traditional appearance and high quality. It's worth the price. Metal desks are also a good option for an industrial look, followed by glass and plastic.  
Budget considerations
Every decision finally rests on the budget. For a small budget, consider comfort before aesthetics and other factors. Whether it's for your use or for your office employees, a desk with ample space to rest elbows and store everyday use is a must.
Personal style and aesthetics
The desk should reflect your style and elegance. Opt for a desk to fulfil your personal choice and add aesthetics. If you run a start-up with a small space, bear in mind that the first impression is the last, so get colourful and stylish desks. Choose the colour that matches well with office walls. 
Read more: The Best 23 Desk Organisation Ideas For A Tidy Workspace
What Are Corner Desks?
It is a desk designed to fit in one corner of the room. This cool corner desk goes well with any decor to serve a functional and stylish solution. The best corner desk helps to maximise the space and use the area that might be left unused. 
Advantages Of Corner Desk
Saves space

– A corner desk saves floor space as it fits into any corner of the room and creates an illusion of a large space. It is a perfect solution for small size rooms. 

Storage

– Many corner desks have drawers and built-in storage space to store office supplies and some personal items.

Cost-effective

– It's a budget-friendly option. You can buy it without feeling the pinch in your pocket.
Drawbacks 
Not suitable for many layouts

– The corner desk is not suitable for many office or home layouts. 

The feeling of isolation and confinement

– Since the corner desk doesn't have a sharing option, a feeling of isolation develops. You might feel confined to space.

Restricted movement

– The corner desk restricts the sideways movement of chairs. 
What Are L-shaped Desks?
This type of desk forms 90-degree angles, forming an L-shape. It's an ideal design if you want more desk space or a separate segment for work. 
Advantages Of L-shaped Desk
Large workspace and storage space

– The L-shaped desk has the scope of additional storage space and a work area for more comfort. There are more drawers and shelves in these desks because of their bigger size that will help you organise stuff better

Utilising the corner space

– Use the corner area to place the desk, maximising the space.

Easy to customise

– Get it customised as per your specific requirements. Get a keyboard tray or a hutch attached to it.

Ergonomic

– The L-shaped desk reduces the frequent movement to grab things, as simply turning the chair can help you access things.

Ideal for sharing – It is ideal for sharing office space because the L-shape defines the border to work comfortably.
Elbow support – It provides elbow support while you use a mouse.
Good for gaming

– It's a perfect gaming desk to keep a console, screen and some snacks too much in between. Invest in this desk for a comfortable posture. 
Drawbacks
It occupies more space

It is more expensive than a corner desk

Since more than one person can share the desk, it might create a disturbance
Differences Between L-Shaped Desks and Corner Desks
| | | |
| --- | --- | --- |
| Criterion | Corner desk | L-shaped desk |
| Comfort | It provides comfort while working | It is extremely comfortable due to ample space |
| Space occupancy | It is ideal for small and compact space or for those who need a small workspace | It is ideal for large room or for those who need bigger workspace. |
| Mobility | It can only be placed in the corner | It can fit in any space-corner or centre of the room |
| Management of wire | Wire management is complex as there's less space to keep it | Wire management is convenient as there's more space to keep it |
| Cost | It is cheaper because it has two electric lifting colums and one desk surface. | It has more than one desk surface and more electric lifting column |
| Storage | It has less drawers and shelves making unfit for those who news more storage. | It has more shelves and storage to keep all the necessary stuff. |
Conclusion
While planning to buy the best desk, whether for a home or office, consider all the factors like available space in the room, durability, cost, style preference and many more factors. Usually, a corner desk is a better choice for homes and an L-shaped desk for offices; however, an L-shaped one will work wonders if you have a larger room. Before concluding, bear all the points of l shaped desk vs corner desk. 
FAQs 
Does An L Desk Have To Be In A Corner?
It's not necessary to keep it in the corner. If the room has ample space, keep it wherever you find appropriate. For smaller rooms, keeping it in the corner would save floor space.
What Is The Most Efficient Desk Shape?
An L-shaped or U-shaped desk is the most efficient shape if saving floor space and maximising use is your concern because more than one person can share the L-shaped desk. It also provides more storage and elbow space to use the mouse comfortably. 
Can Two People Use An L-Shaped Desk?
Yes, two people can surely use an L-shaped desk as the design provides comfortable seating for two people. You won't feel confined and isolated sharing the workspace.
Should You Put Your Desk Under A Window?
You can put the desk under a window. It will allow natural light to boost your mood and productivity. However, there's a downside to it. Extra light on the screen can cause irritation in your eyes.