Everyone's way of working and seating differs. Are you amongst those who don't always prefer to sit formally on a chair and desk to work when working from home? No worries! Sometimes, it's okay to feel lazy to get up and grab a chair. Many of us like to sit casually on a couch or the bed and work with a laptop on our lap. However, working that way is not advisable because it's uncomfortable and the neck might get tired. A lap desk is a perfect solution to these problems. You can build a lap desk to work and keep some other items. There are many ideas to challenge your skill to build one within the budget.
Read more : Types Of Desks For Different Purposes
Lap desks can be made with minimal tools and look modern. It's the best way to convert your bedroom into a mini office space. In the post-pandemic, many of us are working from home, so the comfort of working at home in your comfy bedroom will boost productivity and help you stay focused. In this article, we have shortlisted some of the best lap desk projects to help you find the best one.
Read more: Floating Desk Ideas For All Types Of Homes
Various Designs Of The Lap Desk
Lap table

Laptop tray table

Shelves
Factors To Consider When Choosing 
While selecting a lap desk, many factors must be considered for a perfect choice.
Inclination –

The desk should be properly tilted for a perfect posture. It will rule out any health condition resulting from wrong posture.

Height –

Adjust the height perfectly for a comfortable seating position. It will never harm your neck and related issues.

Feet –

Some lap desks come with a pad under it that can rest directly on the legs, while others have detachable feet. Go for a design best suited to your needs.

Material –

It is probably the most important factor to consider. There are many materials to choose from, such as wood, plastic, etc. Select a comfy one.

Wrist rest –

While working long hours, you may need a wrist rest for a comfortable position on your hands. A padded wrist rest will give comfy space to your wrists.

Storage for accessories –

Mobile and tablet are often required while working. But where do we keep it? A lap desk with storage will help keep these articles, mouse pads, and USB hubs. 
Different Types Of Lap Desks Based On Materials And Features
Plain desk style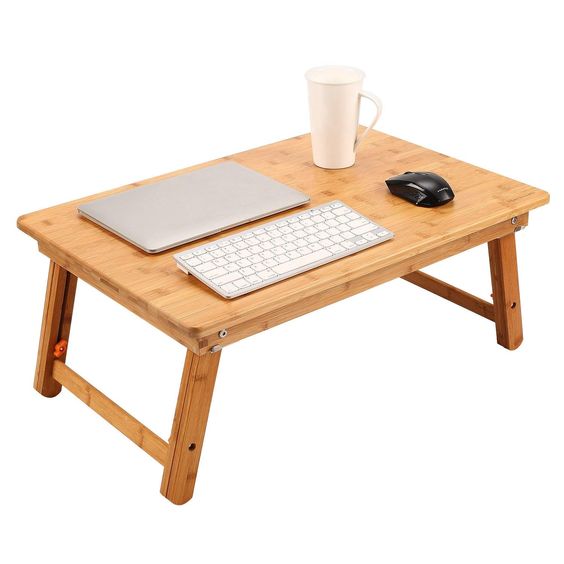 One of the easy and budget-friendly ways to have a lap desk is to make one on your own. It will be a cakewalk if you know a little bit of stitching. Take it to any corner of the house and work with ease.
Vintage style
If you love conventional and vintage designs, this is perfect for your taste. Whether you have enrolled for distance learning course or work from home, it's the best substitute for an organised big desk, especially for limited floor space. Use it for multiple purpose to finish the school work or to keep a laptop.
Bentwood desk style
This is one of the most comfortable options for working on a laptop sitting at your favourite place. The best thing is that it's damn easy to build this modern-style lap desk with a proper design layout. This can be used as a tray to enjoy food while sitting on the bed. Another advantage is spreading your legs under the bentwood desk for ultimate comfort.
Simple desk
This is an inexpensive and a simple design laptop desk to work while sitting on a couch, a bed or a sofa. It provides a flat and smooth surface for smooth working, scrolling of mouse and or writing anything.  If you know the basic woodwork, make it at home within $10.
Padded desk with storage
This is an ideal item for personal use and even for gifting to your friends. With basic woodworking skills, you can smoothly make it. Pad gives extreme comfort to legs to work happily in a relaxing position.
Foldable one board lap desk
If you want a one-board desk, make it in no time using a single wood board. When not in use, fold it and keep it in the corner. Isn't it a space saver? 
Desk with non-foldable legs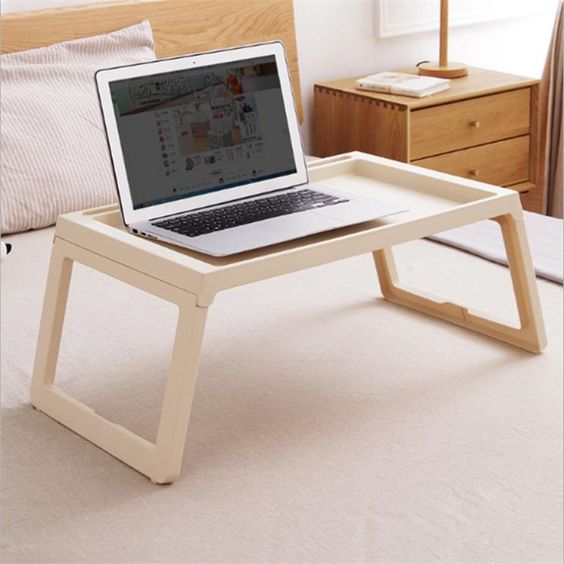 This design with a leg is ideal for sitting on the couch or bed and working. When not needed, keep it on the floor somewhere in the unused corner area of the room. This bench will please your kids to play games and keep themselves engaged in their free time. The best feature is even accidentally it'll not bend, so the fear of laptop falling off is ruled out.
Lap desk for kids made with containers
Allow your kids to enjoy watching their favourite shows on the laptop on this comfy lap desk. Your kid would love this! You can gift this to your child on their next birthday.
Burned wood finish 
This piece looks stylish and natural. You will feel close to nature working on this desk. The style and the final finish of the burned look lap desk is unmatchable. Try buying a matte finish rather than a glossy one.
Lap desk with discarded cupboard or cabinet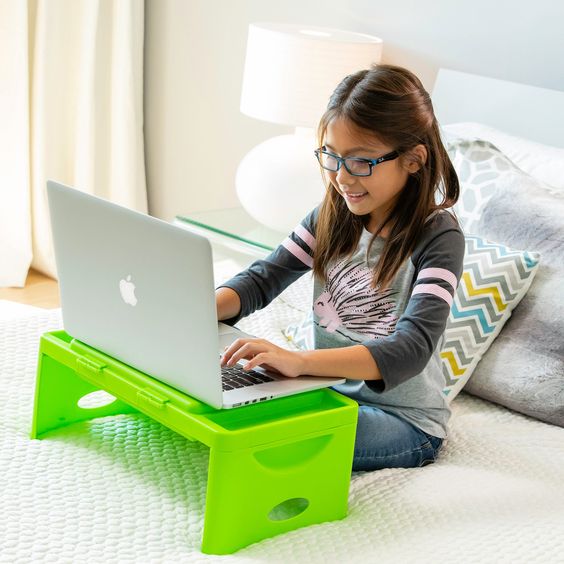 Thinking of environment gives immense pleasure to most of us. I am sure you will feel happy working on this unique-looking desk that can be made using a discarded cabinet or a cupboard. You need to watch some DIY project videos. Isn't it a cool idea?
A lap desk with storage for travelling
This desk is best for you if you frequently travel and have to work. If your kids miss their schools because of some sudden travel plans, it's a useful item for them to ensure they finish their studies comfortably before reaching the destination. It's available online and in stores. Make a comparative cost analysis of both and buy.
Read more : The Best 23 Desk Organisation Ideas For A Tidy Workspace
Benefits Of Using Lap Desks
Better posture
Many like to sit on the couch and bed in their comfort zone to work. But, the right posture is vital to maintain good physical health. There's no harm in working at your favourite place, but the seating arrangement should be perfect. The lap desk helps you maintain a comfortable position.
Less body pain and strain on the eyes
Have you ever felt that the long working hours on the bed are causing body pain? No worries! All these happen because of sitting the wrong way or looking at the laptop from the wrong angle. You can deal with these issues with a perfect lap desk.
Adds aesthetics
The place where you sit for long hours and spend most of your valuable time should be appealing to your eyes. A lap desk with additional features will give a pleasing feel to work.
Provides more space
Why buy a full-size desk when a lap desk can meet all the requirements? Many designs have enough space to keep mouse pads, notebooks, pens and some snacks to munch.
Protects from the heat of a laptop
The best way to deal with the heat of a laptop is a lap desk if you want to sit on a couch and work.
Different Uses Of Lap Desk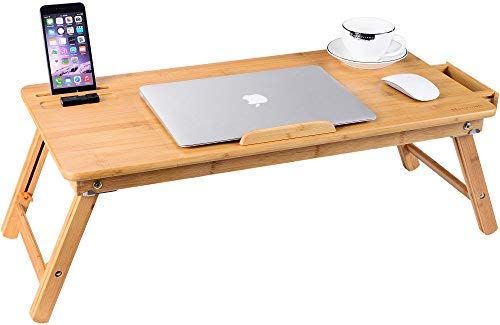 The portable desk has multiple usage based on the requirements. Some of them are as follows:
To keep the laptops, phones and tablets

To keep a mouse, pens and any other small items needed while working
Conclusion
During the pandemic when most of the offices operated from home, people got used to working from the home environment, which is still continuing in some offices. In such a situation, a lap desk became a boon to help many sit comfortably to ensure focus and high productivity. To date, many of you must be working from home and having a portable desk will surely help you sit at your favourite couch or bed for long working hours.
FAQs
Do lap desks prevent overheating?
Yes, lap desks prevent heating by allowing proper airflow of the laptop. For this reason, using a it while working on a bed is essential.
What is the average size of a lap desk? 
The average laptop size is 21.1 inches wide and 12 inches deep for a laptop of size 15.6 inches for enough space to keep your device and other accessories.