We often look for a relaxing space to rest and have a soothing moment after a tiring working day. What more can extend comfort than a comfy bed to sleep on? Beds take up a lot of space in a room, especially with limited space. A Loft Bed Desk allows you to maximize the space, serving the functionality and adding aesthetics. Many of you might have dreamt of living high up in a tree house, which can be fulfilled by having a lofted bed desk placed in the room.
What is a Loft Bed Desks For Adults
A loft bed is a bunk bed without the bottom bunk raised so that space under the bed is open and available for multipurpose use. A good loft bed with versatile desk space is easy to install and provides a style statement for your room. Sleep on top and work below.
As Dorothy Draper says, "Of all the rooms in the house, your bedroom is yours." Let's spice it up with having a loft bed desk. Countless types of loft beds are available. An adult loft bed desk is the most charming option to give you an airy and delightful feeling.
In case of limited room space, a loft Bed would be a perfect design choice with a narrow view. You can substitute the regular bed with a loft bed because a standard bulky bed on the floor would occupy the whole room. However, the adult log bed desk in the room gives it a fancy look.
No rule tells us where and at what height to place the loft bed. It is up to your discretion and preference as to how to go about it. Separating the limited spaces in a room to use it as a kitchen, dining, living and working room is not easy. A loft bed resolves this issue by having the sleeping area on an upper level and the underneath space can be used as storage with a workstation.
If you are searching for a loft bed for adults, we have shortlisted a few to help you find the best possible one for your room.
Also Read 13 Perfect Storage Furniture Options For Clutter-Free Space!
Accessible Specifics
Solid wood
The dream starts here with a solid wood loft bed with a study desk. Whether your aim is to create more space in the room or carve out sleep with creativity, the solid wood loft bed desk will be a perfect fit. The strength of solid wood, the safety of the kit, the guard rail and the convenience of the ladder make it a picture-perfect addition to the decor of your room.
Adding a modern, fun-loving touch and fitting seamlessly into a living space is the Loft Bed Desk for adults. This bed is generally six feet up, providing plenty of space to set up a workstation. Colours could be as per liking. The white or wooden looks are the most versatile and stylish. Pair it with anything and everything, giving us the illusion of an ample  space. A working desk with a dresser is easily accessible in the solid wood Loft Bed.
Find The Best Loft Bed With Desk For Your Home.
Hard Metal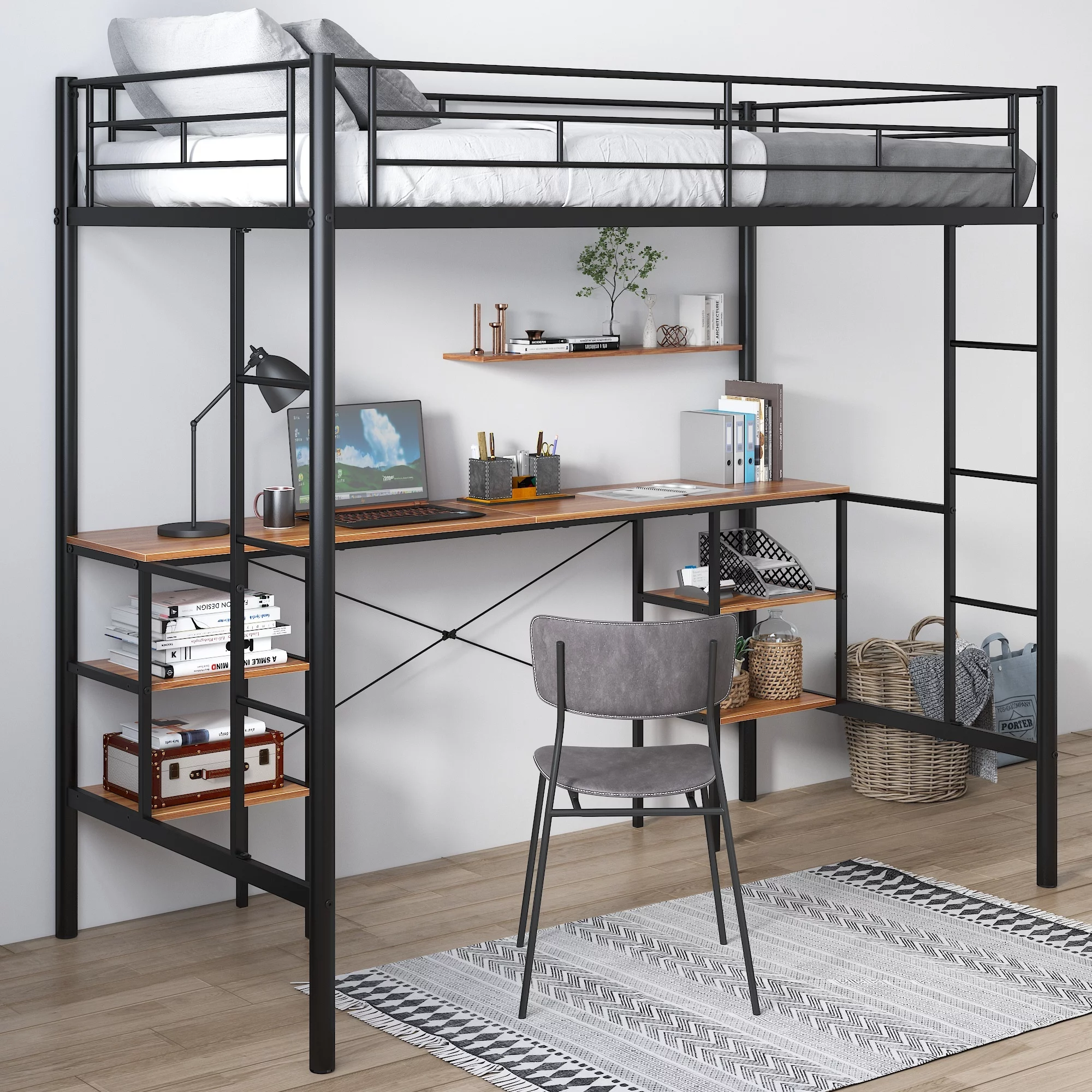 Heavy-duty steel metal frame loft bed desk has a two-tier shelf on each corner, creating a personal workstation making full use of space. Solid construction and metallic colour finishes will be the best addition to your room decor.
The loft Bed is made up of a heavy-duty steel bed frame, giving it a durable and strong look. Holding two people without any issues, the all-metal loft bed with long shelves and desk is a great addition for those looking to maximize space in their room and have a comfortable place to sleep and work.
The metal and pattern frame with the queen-sized mattress and desk is a perfect fit for any couple. Metal loft beds with built-in desks are long-lasting and durable that you can fit in with any decor. Heavy-duty rails support the mattress, and full-height guard rails provide stability and safety. A built-in ladder prevents tripping hazards, keeping the floor and room neat and organized, and the space below is versatile.
Filled to capacity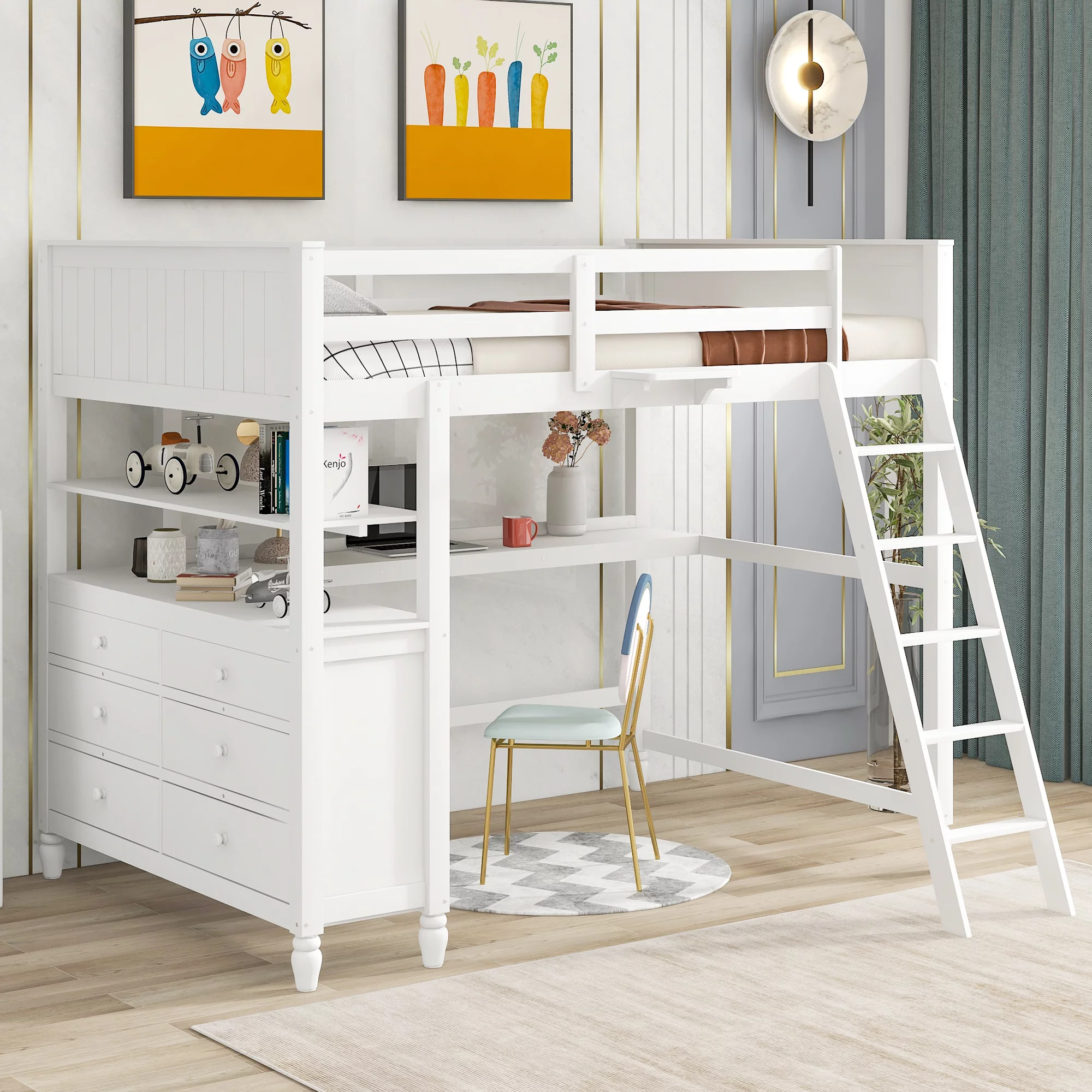 If you have a huge empty space in your room, fill it to the fullest capacity by having a large loft bed desk for adults with multiple drawers and cabinets for all your clutters and goodies. These are huge beds with a desk and lots of storage capacity, which covers lots of space, and the view is filled to the fullest capacity.
Having built-in drawers and bookshelves means you have all the storage you would require with an organized sleeping place. Underneath is a sitting area or work-play space.
Know about the Types Of Desks For Different Purposes
Five Drawer Loft Bed
A multi-functional bed that will work wonders for your space. The storage bookshelf can stack anything. With four large drawers, three open shelves with two baskets, an armoire, a very useful decorative shelf, and more running space towards the length of the bed. Get any mattress that suits you and is enjoyable.
Platform Loft Bed
A simple flat platform loft bed with a ladder and guard rails could easily be paired with our existing decor. Go for a dark grey or espresso colour, as these colours are timeless and give a classy look.
X-shaped Loft Bed
Move it around as it is lightweight, and there's plenty of space under the bed( more than six feet) to work, game or perform any activity you like.
Work from Home
The struggle to look out for a peaceful place to attend a Zoom meeting from your home is over because it is just underneath your bed. Start attending your meetings under your loft bed. Full-size loft bed with an entire workspace below, complete with shelves and desk. All you need is a laptop and a lamp to make yourself feel like you work from home.
Loft Bed with a Book Case
If you are an avid reader and space is a problem to stack your books, this loft bed with a bookcase can provide an easy solution. Beneath is a workstation with a built-in bookcase that doubles as a ladder. These types of Adult loft beds with desks are perfect for book lovers. If you are reading, this type of loft bed desk is meant for you.
With a vertical ladder connected to the bookshelf, these bookshelves are your rungs to climb up to your loft bed. Place desks that run the bed's length up against a wall with a window.
Benefits of Loft Bed Desk
These days, staying in an apartment poses a challenge to decorate the house with limited space, serving the functionality and the visual appeal. Bedroom furniture doesn't always fit as easily as we would like, especially when you require a dedicated workspace.
Generally, you want your room to be highly functional, with a study table, cabinet, bookshelves, wardrobes, and many more things that make the room too restricted, and you don't find a way to adjust all these in a room. To optimize your room's space, a loft bed desk is a viable option.
Dedicated space for work or reading: For small bedrooms, loft beds are the perfect solution as they open up more floor space. Use the area for work and reading if you need a dedicated workspace.
Creating a Usable Space: A loft bed is raised high on the floor with a ladder to climb up to sleeping height. This allows for less horizontal space used by your bed, ultimately giving you more options to decorate further.
Extra Space: When you have a loft bed, the extra space can be utilized as per your family gathering
Comes in many designs: By adding the loft bed desk, there comes versatility; you can create an area specific to your needs and requirements. From wood to metal, all the varieties are available in different colours, shapes and sizes; you can customize accordingly.
Not just limited to Adults: They are meant for any generation, from a child to teenager to an adult; anyone can enjoy the comforts.
Storage space: When you accommodate a loft bed underneath, it offers space by featuring a desk dresser that fits. This gives you plenty of space to store your belongings. Spacious cabinets and shelving can be used to store everything from clothes, books, toys and decorate.
Safety Precautions to be taken when installing an adult loft bed desk
The Strength:  The sturdiness of the loft bed needs to be checked by shaking it vigorously. Having an adult place on the bed to check the weight to ensure  the strength of the loft bed is advised.
Two Guard rail: Minimum of two guard rail without wide openings needs to be there in a log bed.
Placement: A corner is the best place to install the log bed as it gives the support of walls from two sides. Height of the top bed needs to be placed in such a way that an adult can climb up and down without touching the ceiling, light or fan.
Young Children: An adult loft bed desk doesn't mean your child wouldn't be using it. Children above six years can easily use it, but they need to be taught that it's a bed for sleeping, and they need to be careful.
Directions: The manufacturer's directions need to be carefully implemented especially on the size and weight of mattresses.
Precautionary Measure: Older persons and children below five years should avoid the usage and comforts of a loft bed.
Do loft beds come at different heights?
Loft beds are classified according to height- low, mid, high and ultra-high. The average adult loft bed frame is – High Loft. Other options are available too because the height gives a suitable view and how much space you will have under the top bed.
Low Loft: The average height is about 80 cm, so it is easily climbable. The desk is attached from the outside so that you can sit comfortably.
Mid loft: On average, it is 110 cm in height, with plenty of space for the workstation and storage.
High Loft: Usually taller than 130 cm, ideal for the adults. Due to its height, a perfect workstation can build up office work and reading.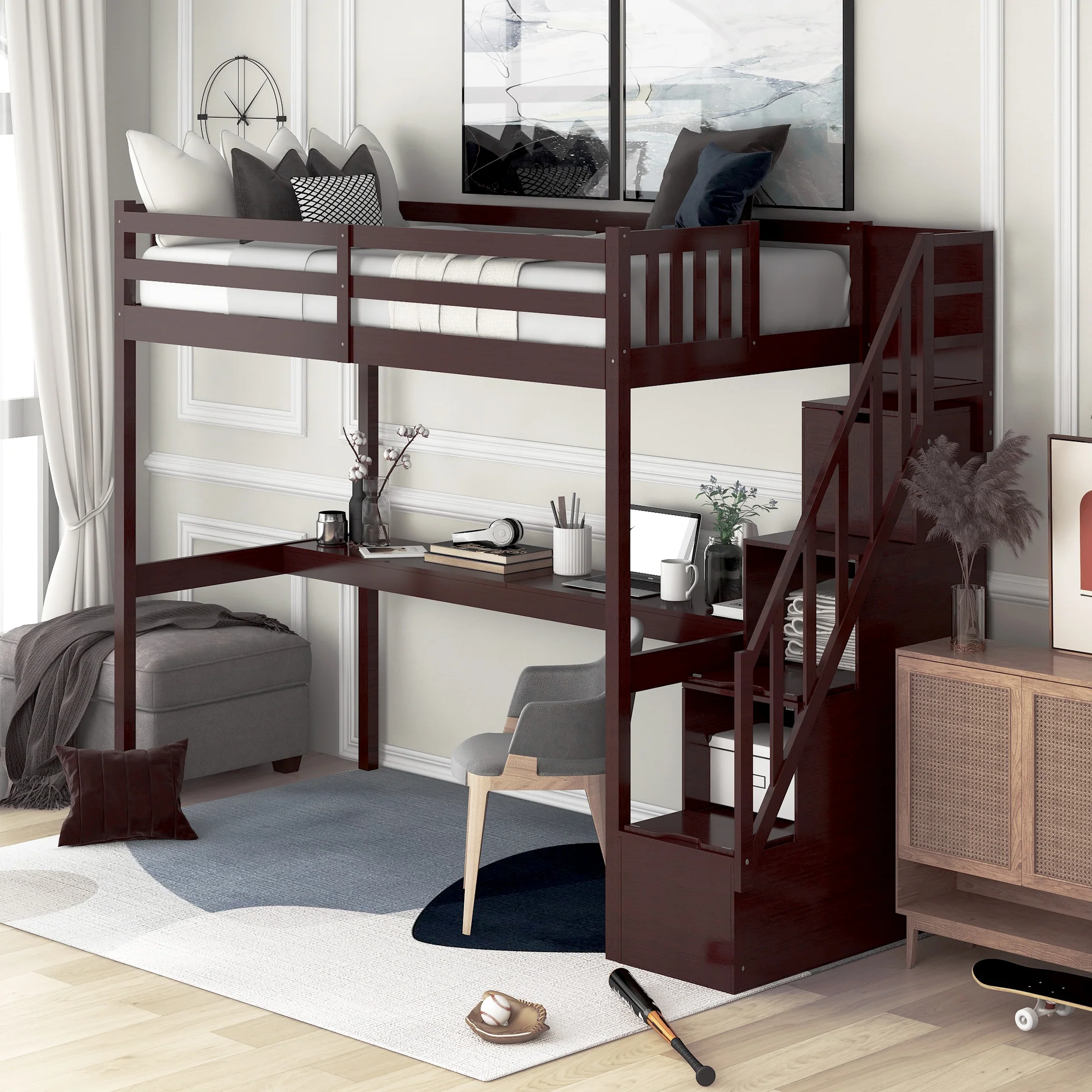 Ultra-high Loft: Ultra-high lofts are about a meter and a half tall. The space under the top bed is so large that you can have a room underneath it. You can place anything, like an extra bed.
Some suggestions to use the space below
Keep a desk for under bed, study and work area
Hang curtains and store anything you want to maintain a private space.
Have a Sofa where you can work on your laptop.
Place storage drawers or a dresser there
Creating a living cube
Make a small gym
Use it as a library
Use it as a pet area
Conclusion
Maximizing your room with an adult loft bed desk gives you the opportunity to be creative by having a WFH office, reading, and snack corner packed in the frames of a bed. A loft bed is a place to do things underneath your mattress instead of on it.
Whenever you decide to design your room, a loft bed with a desk setup can transform a room and make it more appealing. It gives the space we are looking for in a room. A loft bed desk is a must for an adult's livelihood. Let your room make the statement by having an adult loft bed.
FAQ
Can you put a desk under a loft Bed?
Yes, you can add a desk as per your liking and requirements.
How much weight does an adult loft bed hold?
Generally, loft weight capacity is around 200 to 250 pounds.
How can I make my loft bed more private?
The use of curtains and blinds on the log bed is suggested to create a more private look.
How thick of a mattress do I need for a loft Bed?
Safety regulations say at least 5 inches of mattress, but recommended mattresses are of 8 inch thick on the loft bed.