The exterior decor plays an important role in setting the tone and visual impression of the exterior home while providing security by stopping trespassers from entering the house and insulation from extreme weather. The front door should be sturdy to resist strong wind, heavy rain, snow and extreme heat. For all these features, you need to select the best possible front door material for your homes.
There are various types of door materials available to choose from. Whether you select wood, fibreglass, steel or aluminium, all these have pros and cons, so select the material judiciously. Even if you are replacing an old exterior door or constructing a new door for a new house, go for the types of door styles that upgrade the front way. Here we have shortlisted some of the best exterior front doors with their pros and cons.
Read more: 37 Creative Fence Ideas To Elevate The Outdoor Space
Things To Consider Before Selecting The Types Of External Doors
Many a times, plenty of options creates confusion because it gets difficult to choose the best material fulfilling most of the requirements. In such a case a thorough research on the available options considering important factors is vital to reach the conclusion.
Aesthetics

Durability of the material

Level of privacy ensured

Maintenance and repair frequency

Budget 

Purpose

The balance between style and performance

Configuration of the entrance
Read more : 20 Outdoor Privacy Screen Ideas For a Secluded Backyard
Front Door Material Types
There are a variety of front door types, but which is best for you depends on your choice, the size of the door, the configuration of the entrance, the level of exposure to heat and cold and many more factors. Let's look at some of the ideas.
Timber doors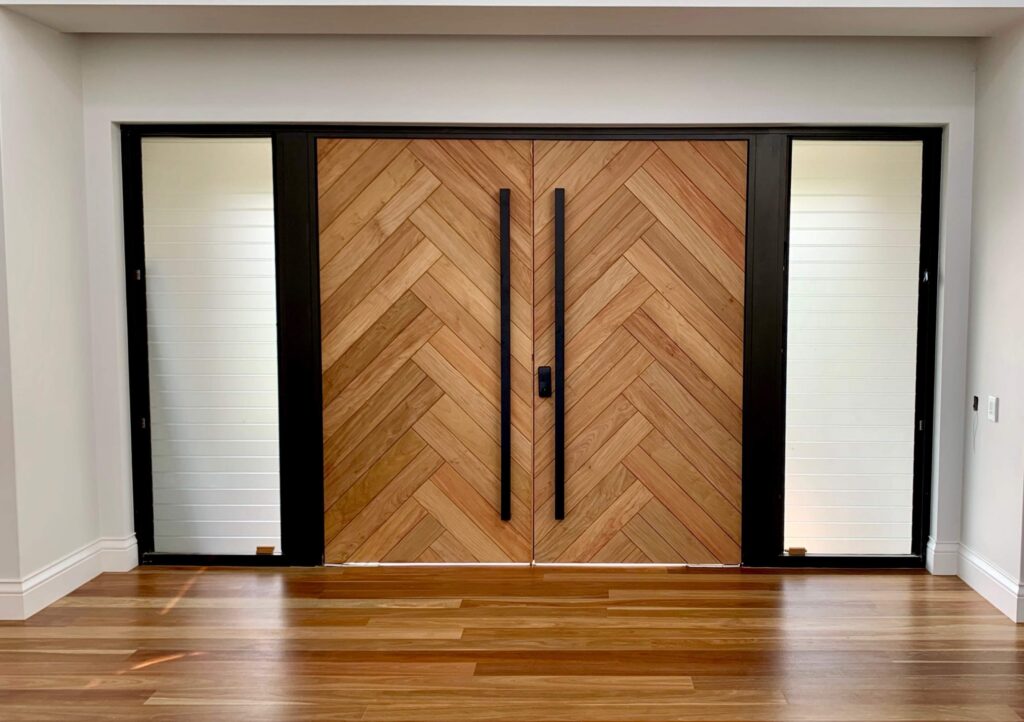 Timber front door material is a simple and conventional option for external house doors to suit different home styles. There is a variety of wood options that can be painted, stained or customised according to your preference. 
Pros
It looks great

It can be painted or stained

Can be customised according to the existing framework

Better soundproofing and insulation
Cons
It may lose its shine due to exposure to the climate 

High maintenance due to frequent wear and tear

Expensive to buy

It might contract and expand with the weather conditions
Aluminum doors
If you are looking for a durable and cost-effective option for doors outside, an aluminium front door material is the best option because of its low-maintenance feature due to its powder coating and designs. The sleek frame with transparent glass panes allows plenty of natural light to enter.
Pros
It is cost-effective

It is durable

It provides stability and strength

A variety of designs are available

It can withstand extreme weather conditions

No fear of rust

Easy maintenance 
Cons
Insulation is not as good as timber

Installation cost is high
Fibreglass doors
Fibreglass front door material will prove to be the best option if your entrance is exposed. With its unmatchable look and features, it is the best choice for your home. It is available in multiple designs that can be painted in any colour of your choice. It will set the tone of your home, matching with other decor.
Pros
It can withstand extreme weather conditions

Available in various designs and styles

Low maintenance

There's no fear of split or warp

Painting the fiberglass is easy
Cons
The look is not as attractive as timber

High external pressure may lead to a crack
Steel doors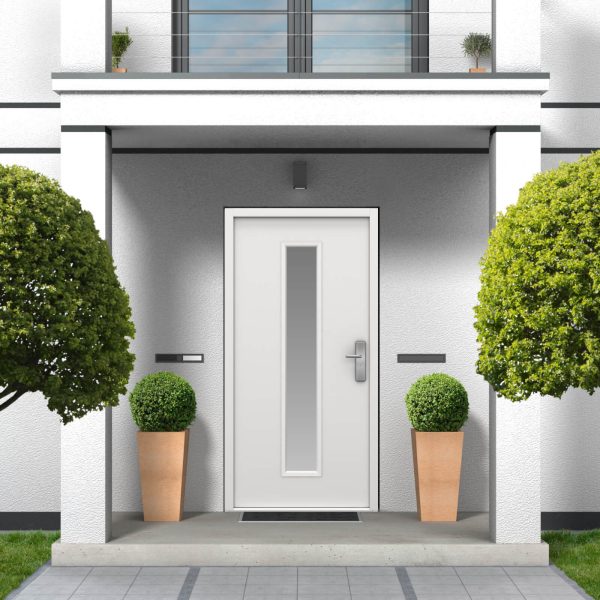 Steel front door material is one of the most robust door materials available to provide security from intruders. It can last longer than any other material.
Pros
It's energy-efficient 

Proper insulation from hot and cold climate

It can last long

Less likely to warp
Cons
Prone to dents

Prone to rust

High installation cost

Difficult to repair, which means it needs replacement if damaged
Glass doors
If you live in a warm climate, this external glass door can work because it allows natural light to enter the house and brighten up. However, this front door material not a viable option for cold weather.
Pros
Allows plenty of natural light inside the house 

Looks classy
Cons
It is less energy efficient as it will allow cold air to enter during the cold weather

It's less durable

Privacy is compromised because passersby can easily peep inside
Composite Doors
Composite types of door encompasses the best features of materials such as MDF and wood, which has style versatility.
Pros
Variety of design and style availability

Best suited for modern and conventional house style

Easy to paint according to your taste

Glass can be included 

Durable

Low-maintenance
Cons
Doesn't have a natural look like a timer

Expensive to install
Conclusion
There are a variety of door material types available to choose from, and each of them has a set of advantages and disadvantages. The best material for your home depends on your preference and the weather conditions of that area. Before deciding to buy the material, consider all the factors, including aesthetics, longevity, design, insulation, security and maintenance. For a better idea about the materials, visit the nearest store to get the exact feel of the material. All these measures will help you buy the best front door material for doors of your house.
FAQs
What type of door is suitable for Australian weather?
Fiberglass is the best option of front door material for Australian weather. Fibreglass brought revolution to the Australian door market with its features. It can bear the extreme weather conditions of Australia and can expand and contract without warping and splitting.
Is it better to have a steel door or fibreglass?
It depends on your location, the weather conditions and the preference. Fiberglass is best for extreme weather conditions, and its insulations feature. Steel is a better option if security is a concern for the rest of your stay. Steel is strong and provides security from forced entry.
What is the safest material for a front door?
Though all the front door material such as wood, aluminium and fibreglass are an excellent option. When it comes to heavy-duty materials, steel is the safest material. No intruder can seek entry into the house.
Is wood or fibreglass better for a front door?
Wood has better aesthetics than fibreglass but cannot provide security from intruders as it's not durable, whereas fibreglass is more secure and sturdy. A front door material should be beautiful, durable and safe.