Are you tired of your neighbours peeping through the fence and ruining your privacy? No worries! We will guide you through buying the best fences for your beautiful backyard, front yard or pool area. A home is where we tend to long for privacy while unwinding and spending time with loved ones, and the best possible way to ensure privacy and add aesthetics to the backyard is to add fences.
Fence ideas might not always sound exciting for an exterior landscape, but it's necessary for the backyard, front area and pool. Depending on the priority, you can choose the material and style. Simple fence ideas can also do wonders for your outdoor space by ensuring privacy, creating a space for socializing with family and friends over the weekend and creating space to grow climbing plants in the backyards.
Fencing is no longer limited to marking boundaries but focuses on landscape designs, making it a focal point of the outdoor and front space. There are multiple options of fence style and materials such as a modern fence, metal fence ideas, classic fencing ideas, stone fence ideas, wood and brick fence and many more. Whether you intend to keep away those peeping eyes and limit the natural light in the backyard or create a landscape in the front area or poolside, our creative ideas will help you.
To know more, read Top 31 Australian Garden Front Yard Landscaping Ideas
Things To Keep In Mind When Planning To Buy A Fence
Budget
Getting a new fence involves heavy investment if you want to create a beautiful backyard with the best fence designs.

Remember the exact amount you want to spend on the complete buying process, which involves procuring materials, manufacturing and installation cost and styling.

 If you will take the fencing project yourself, well and good. If you are still deciding whether to complete it on your own, hire an expert to help you.
Fence maintenance
Once the fence is installed, it's time to think about how to maintain it. 

The maintenance depends on material and style. Go for a vinyl fence if you want a low-maintenance material. 

Wood and metal fences are low-maintenance materials that can be kept clean by merely sweeping dust. 

If you reside in a seaside area, avoid using colorbond because it is prone to corrosion due to salt in the air. 

Keep a close watch on the noticeable damage for early repair.
Security
The motive to buy a fence varies from person to person. For some, it's a security reason; for others, it adds aesthetics to the outdoor space. 

If security is the prime motive to install a fence, go for an aluminum slat fence to block your neighbor's peeping. 

Spiked design or lattice-topped fences can also serve security purposes. 
Fencing Design Ideas
The types of fences installed in the backyard depend on your priorities. If your motive is to ensure privacy and security, choose a tough material fence, whereas, for beautification purposes, you have various designer fence ideas. Here are a few design ideas.
Opaque Fence Designs
Wooden fence – If privacy is your utmost concern, go for the most affordable option of wood fence- the cedarwood privacy fence.
Wood planks– You have options in wooden planks- vertical and horizontal. While going for vertical planks, keep the length of the fence panels slightly different to make them a focal point of the outdoor space. Horizontal planks are a pinch to the pocket but look amazing. Consider all the factors like purpose, space availability and budget before concluding.
Stripe fence- Arranging a fence in a chevron pattern is a DIY project that serves multiple purposes of adding visual interest to the backyard and maintaining privacy. Your neighbours will surely envy your beautiful patio.
Metal fence designs for homes – Wood fence with bordering metal posts adds a unique style to the fence, ensuring security and privacy.
Basketweave privacy fence- The basketweave fence is midway between the classic and contemporary styles. Its unique style will surely impress anyone who stops by.
Shiny plank fence- Glossy fence made from varied heights of planks looks great if green plants are grown nearby. It will be a true natural ambience for a relaxing moment.
Fence ideas with murals – Mural artwork for the boundary look beautiful, especially when painted in multiple dark colours. It spreads energy all around in the backyard.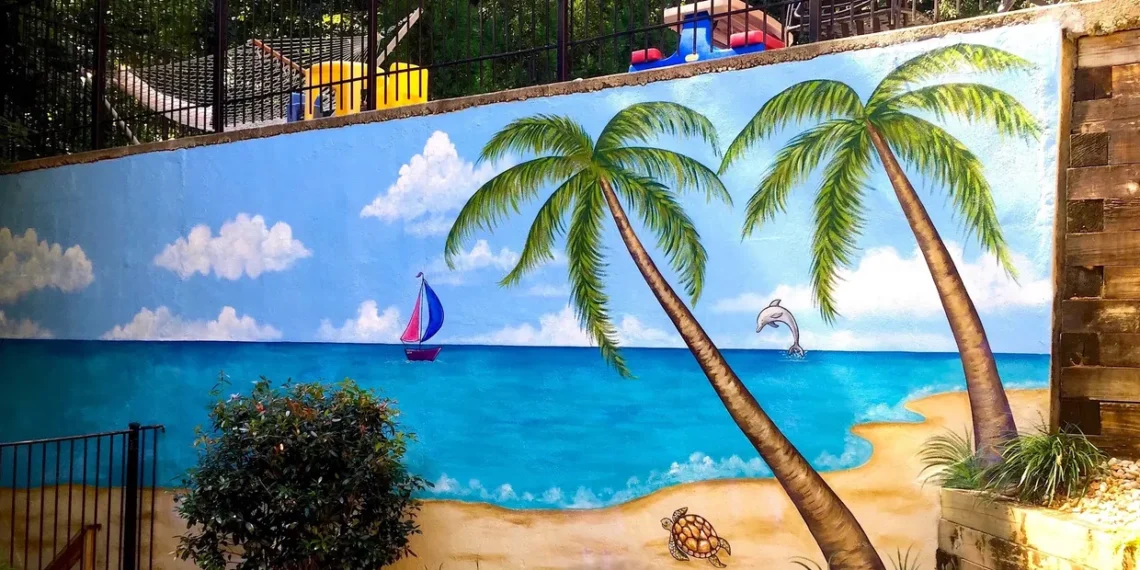 Black wood fence ideas – Black tone is always considered an elegant and classy colour that needs no introduction in interior or exterior decoration. If you have a garden in front of a fence, paint the fence black to highlight the beautiful plants. Black is a large heart colour that keeps a low profile and allows the green colour to take the lead and shine.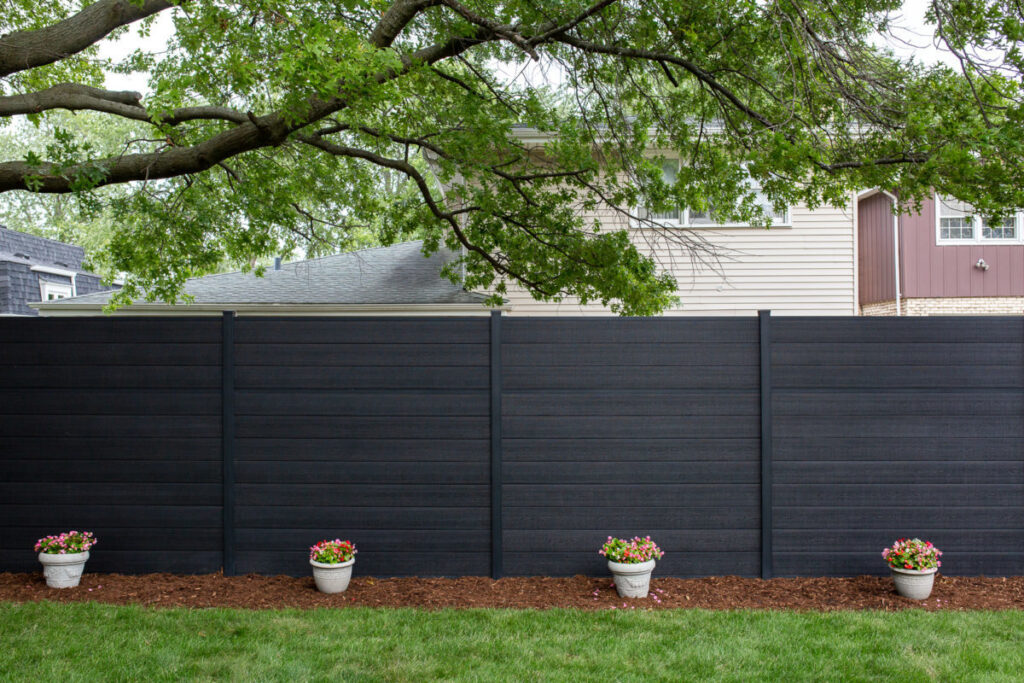 Colourful fence for living room look – If you want to create an outdoor living room look in the backyard, paint the fence with bright colours to transform the privacy fence ideas into modern fences.
Same colour for wooden fence and shutters – Try colouring the shutters and front yard fence the same colour for an amazing landscape. It makes the front yard a centre point.
Tropical touch with bamboo – Bamboo fencing is a great way to add a unique look to the backyard. It's one of the best choices because of its affordable price and longevity.
Vinyl fence ideas– It is the best choice if you are looking for a cheap and best option for your yard. It's affordable, low-maintenance and long-lasting. There are many options in vinyl fencing, such as simple vinyl, lattice vinyl and picket vinyl. Select the one that suits your requirement.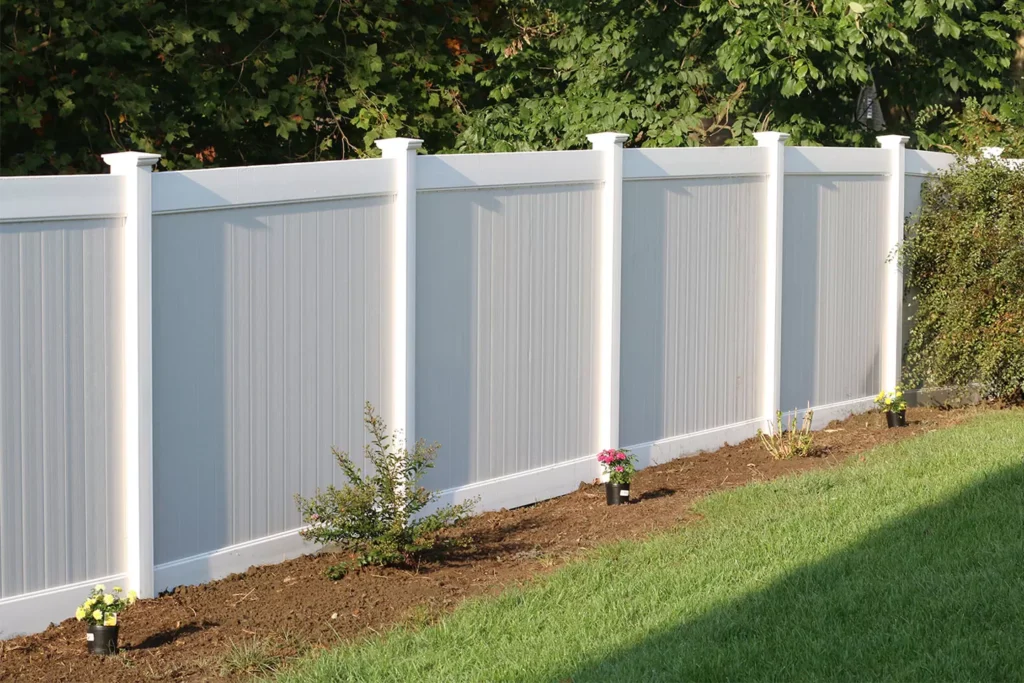 Stone fencing ideas – Stone is a frequently used material for fencing due to its durability and natural look. Though costly, low-maintenance feature draws the attention of many to select it.
Gabion fence ideas – The Gabion privacy fence is a cage-like structure made of metal that holds rocks. It is completely different from other privacy screen fences. Many passersby will have a look and take inspiration.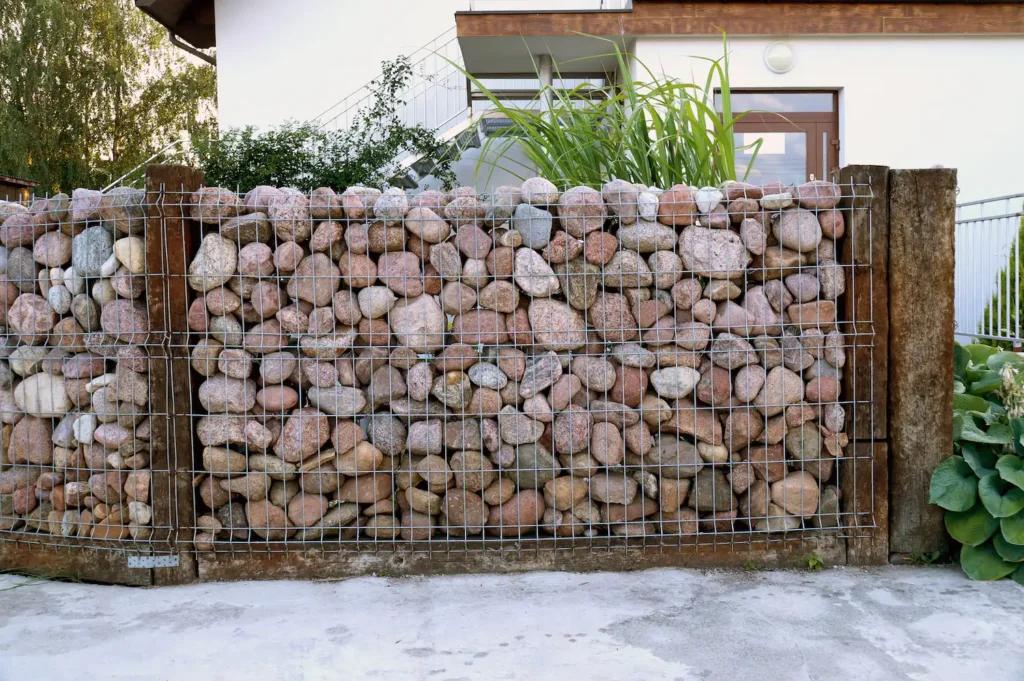 Privacy fence designs with recycled material – What could be more creative than making a fence with recycled materials? Keep an eye on unused metal, sheets or any material which could be used to display your creativity.

To know more, read 8 Things to Know Before Adding Bamboo Screening to Your Home
Modern Front Fence Ideas
Aluminium front fence panelling ideas
It is a great way to ensure security and add a cool look to the front space without much hassle. It is made of strong, lightweight hollow tubes that are easy to maintain. It's a DIY project.
Modular fence ideas for front yard
Modular fencing will serve both functionality and style. It's a DIY option that gives a professional look with minimal effort. The fence has panels, posts and caps; the only work you have to do is to dig holes to set the posts in concrete.
Picket fence in a craftsman style
The picket fence is usually visualised as a white upright fence; however, you can decide your design and display creativity. The picket fence is an upright wooden fence fixed between horizontal rails.
Vertical rail modern fence ideas
Vertical batten front fences are cool fences with a unique feature of being transparent when looked straight and opaque when viewed at an angle. Even if you have moderate DIY skills, make the vertical battens at home.
Privacy screen ideas for fences
Privacy screens secure your privacy while adding beauty elements to the front yard. These fences can be attached to existing structures and wood posts.
Precast concrete fence ideas
If you want a nice fence with stone look for your front yard at an affordable price and without involving masons, consider a precast concrete fence. Concrete is cast into various shapes of real-looking materials such as stone, wood or brick. The best thing is precast concrete is long-lasting and affordable. The only demerit is you need multiple hands to install the fence.
Horizontal slat front fence ideas
A horizontal wood slat is the best way to transform the conventional wood fence into a modern style fence. Always select a warp-resistant species for a perfectly shaped fence and apply water-resistant fence paint and sealer for minimum moisture absorption.
Wrought iron front yard fence ideas
Many have chosen a wrought iron fence for ages due to its graceful appearance that adds class and style to the space. While providing privacy and security, it transforms an ordinary-looking garden into a splendid space. It is a perfect balance between functionality and style.
Backyard Fence Ideas
Pallet fence
Pallet fencing is a beautiful, stylish and affordable way to secure the privacy and security of the property. If you have limited construction knowledge, but want to install fences, go for this DIY option, as it's damn easy to fix. Pallet fences are an ideal choice for many because of their advantages.
Side-by-side fence ideas
These fences can be made using materials like PVC, wood or metal. It consists of two parallel panels on either side of the border between the two properties. It's a clever way to separate similar homes, adding beauty to the outdoor area and retaining security. No other idea can match side-by-side ones.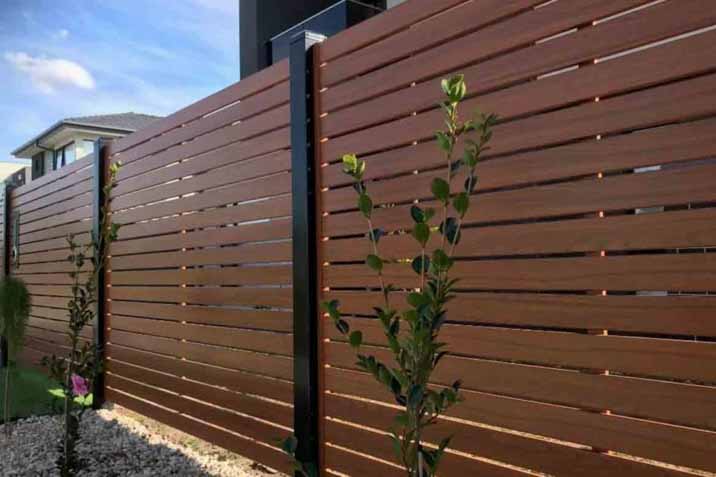 Herringbone backyard fence ideas
The herringbone privacy fence is a must-try idea for your yard because it adds aesthetics while securing privacy and safety. This fencing style is an arrangement of vinyl or redwood panels in a zig-zag pattern, ensuring additional privacy due to its unique design. The onlookers cannot see through the fence easily.
Decorative Fence Ideas
Rustic accent
Fences made with rot-resistant Brazilian wood add a rustic charm to the outdoor space. Low profile and open slots allow natural light to showcase the home rather than covering it all.
Double gate entryway
Exaggerate the entryway using a white picket fence with a black handle. Double gate helps in garden maintenance. For a grand entrance, plant some vining plants.
Geometric fence designs
Time to think outside of the box. Try a geometric-style fence for a contemporary feel. For a straight landscape, use horizontal wood panels held by  boards in square shape. To avoid unwanted creatures, fix wire mesh.
Create a focal point
If you have installed a picket fence, colour it with vibrant shades for a colourful garden. Place some beautiful planters and grow colourful flower plants for a natural look. This beautiful garden will become the centre of attraction of the outdoor space.
Dress up the fence
Display your creativity by painting the simple picket fence with different colours and adding some decorative pieces in contrast. Fix a painted metal framed star in the fence. You can change it according to the festival or season.
Fence with a window wood planter
Reinvent a window box planter to add colour, texture and visual interest to a privacy wood fence. The planter should match the wooden fence providing a beautiful and vibrant atmosphere.
Reinvent the old charm
Bring the old-world charm using mortared stone columns with wrought iron panels. To complete the old gold look, place clay pots with flower plants for visual appeal.
Fence with faux decor
Elevate the fence decor with some faux greenery and wall decor. Nail some antique items on the wall to add charm to the surroundings.
Chain link
Wire fencing may not appear to be a good option, but it increases safety and is affordable. There will be multiple reasons to go for this option that serves functionality and a bit of beauty. If you decorate your patio with eye-catching furniture and decor pieces, nobody will focus on the wire fences.
Tiled wall fence
A solid wall fence is a better option than other fence ideas if it comes to privacy and safety. It looks classy and stylish.
Tree fences
Get creative with landscaping. Instead of focusing on fence designs, go simple with fences and focus on shrubs and trees. Australia is known for its flora and fauna, so it's a great way to reconnect with nature.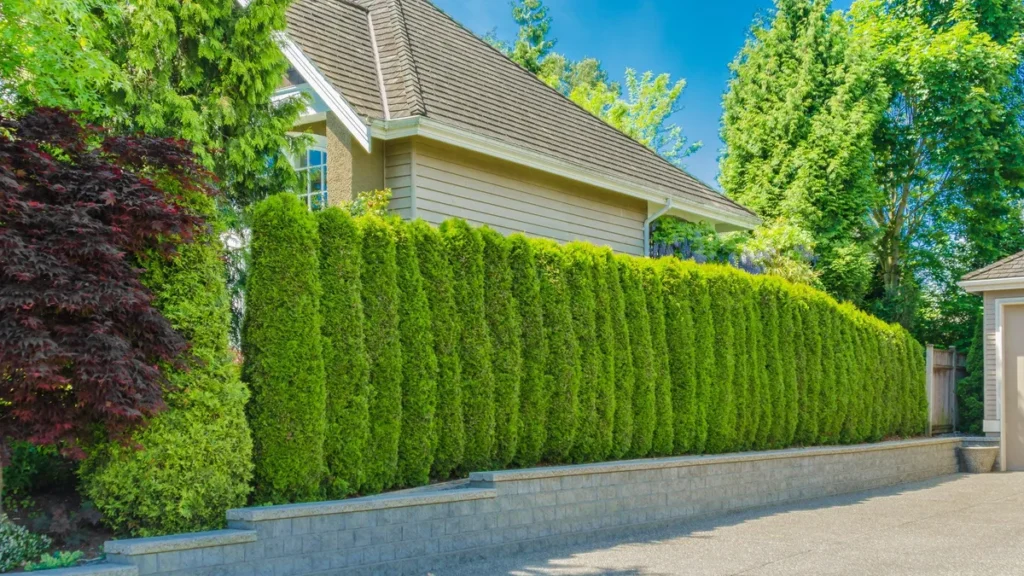 Final Thoughts
When it comes to fence ideas, there are numerous options for the
backyard and front yard or even for the poolside. Before concluding the
purchase, consider the weather, location, preference, priority (safety, privacy
or both) and budget. The best fence for you is the one that meets your needs
and fulfils the maximum criteria. Research the options thoroughly, compare
prices and see if they suit you.
FAQs
Are privacy fences a good idea?
Yes, privacy fence ideas for backyard are good thoughts to protect privacy and serve functionality. However, it would be best to consider a few things from an ecological perspective, such as installing it two inches off the ground to let creatures move freely between the properties. Fencing is a good idea for small properties; for big areas, use natural greenery ideas of growing trees to act as fences.
What is the cheapest fence option?
Wire mesh or chain link is probably the cheapest fence option. To secure the chain link, use metal or wooden posts. Make you secure the base to stop pets from digging their way in or out. Vinyl-coated chain link is another cheap and best option, but it'll cost a little more than wire mesh.
What type of fencing is best for a garden?
The best fence ideas depend on your preference, space and budget. If you intend to focus more on privacy and security, select durable material rather than concentrate on decor elements. If style and class are your priority, buy material that adds a statement while securing privacy and safety.