Painting your home has always been a quick, fun way of adding character to the space and refreshing the entire room. Regardless of which room you may be working in, a fresh coat of paint can effortlessly brighten things up for you. While you can always use single colors to paint your walls, what if you want something unconventional? What about then?
We are here to help you with exactly that. If you are a minimalist and a single color on all your walls is what you like, then hey, you do you. But if there is room for experimentation or even consideration to try something creative and new, we have what you might need. Here, we have compiled some of the best wall paint design ideas that could be perfect if you wish to draw inspiration for your painting makeover.
Top 16 Wall Paint Design Ideas
Geometry's Favorite Shape: Rectangles
While rectangles may seem a very boring shape, they can be creatively used in a plethora of ways. It is a rather new and modern element that can be used in your wall paint designs and is simple too. One of the ideal ways to use rectangles is by choosing a color palette, preferably one that matches or contrasts with your ongoing interior theme.
Then, using masking tape, you can create rectangles all over your wall and fill them with shades of the color you choose for the overall theme. This is an easy and efficient DIY wall design you can create yourself in your room. You can fill half of the wall with rectangles, the whole wall, or have superimposing rectangles too. Depending on the room size you're working on, you can mediate between larger and smaller rectangles and pick lighter or darker shades.
Soft And Subtle Ombre Wall Paint Design
Ombre wall paint designs are one of the most beautiful and soothing wall designs you could opt for. They are a treat to the eyes and come off rather softly than other colors and patterns.
There are several ways to go about with ombre accent walls; you can go for a vertical transition from darker to lighter top of the wall to the bottom or from bottom to up. Another way to add an ombre to your wall can be horizontal, getting darker or lighter from one side to the other. Most people prefer a similar color theme shade to create the ombre effect, but with such a subtle design, you can go for almost any color.
Vertical Lines and Stripes
Vertical stripes, just like how they are for clothes, give the illusion of things being taller than they are. Using these stripes in your room gives you the illusion that you have much higher ceilings.
You can opt for a two-tone stripe pattern, mostly two contrasting colors side by side, covering an entire wall. The thickness of these stripes can vary as well. Another option is to play within a color family and make use of 5-6 different shades of the same to create stripes. This will be softer, especially if you use pastel tones.
Cloud-Ombre Design
Consider this if the traditional ombre design needs to be more basic. The cloud ombre design is a more unblended and noticeable kind of ombre design; It is one of the best ways to incorporate even the darkest, most intimidating colors in your bedroom décor.
The best way to achieve the cloud-like effect is to ensure the lighter side is as light as possible. Another tip would be to try and use the same color in two different tones and blend those two to give the most natural cloud-like effect. This is one of the most unique and beautiful wall designs that completely change the look and feel of a room.
Multi-Dimensional Boxes
A 3D wall effect is always super creative and unique, and the options are truly endless when it comes to them. This is a very easy design to achieve and can be painted yourself. The size and colors can all be played around with, and their effects would be unique.
There are a few things to remember, though; make sure you are mapping out the design clearly, choosing the right colors that give the visual appeal and marking colors in each section right from the start. This will avoid all sorts of confusion and give you the best results.
Rustic Gingham Style Wall Paint Design
This style of wall paint is highly inspired by the infamous gingham design. From afar, the gingham design looks mostly like a bunch of squares painted on a wall, but it is much more. How much and in what way every line superimposes itself with the others is the main point of the complexity of this design.
Gingham design can be easily done by yourself, keeping a few things in mind. It would be best to ensure that all lines are meticulously measured and lead to completely identical overlapping. While it could seem complex initially, if you are careful with the shades you pick, keep the lines straight, and go with the utmost planning, you can quickly achieve this stunning accent wall.
Random Diagonal Lines
Randomly drawn diagonal lines are a more abstract and modern accent wall design to opt for. They can be easily DIY'ed and only require a little focus or attention. Their beauty lies in how abstract and uneven they are.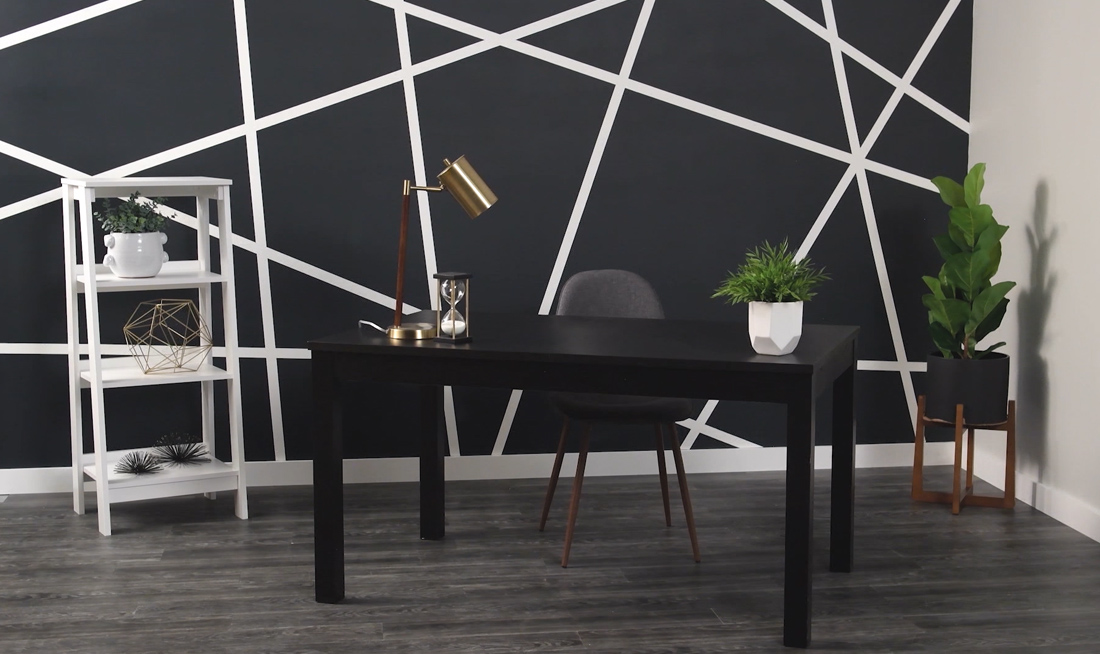 Using something as simple and easily available as masking tape, you can create the perfect diagonal lines all over your wall and paint over them. Later you can remove the masking tape to reveal the lines. The lines' thickness, color, and brightness are your call. You can go for very similar tones of color or even create a complete contrast.
Geometrically-Proportionate & Defined Lines
Speaking of lines, another way to use straight lines to create the design is using them more sequentially rather than abstract or confusing the lines in a defined limited space.
While this style is mostly used in bedrooms, it can be used in almost any part of your home. You can DIY this design or hire professionals to do the same, depending on what design it is that you choose.
Honeycomb Wall Paint Design
This wall paint design is a classic and highly visually appealing one too. Honeycomb patterns are used in various ways, from accessories to mirrors to adorn the wall, but did you know that incorporating this geometric design in your wall's paint can bring out the best of it?
You can go for a single color all over the wall and have the honeycomb pattern highlighted using a different color, or you can go for different shades all over the individual honeycombs, being ombre or monochromatic. Another way to go is using random hexagon shapes, randomly placed all over the wall, without any necessary sequence or consistency. It is a fresh and new design that could be the perfect subtle touch for your accent wall.
Horizontal Divisions
Creating a vertical division is one of the best illusion-creating paint techniques that give away the impression that the room is longer and bigger. Vertically divided accent walls can be painted using monochromatic or bright contrasting colors based on your personality.
You can choose the number of divisions you desire, the thickness each one would have, and also pick the perfect finish for them. While most people opt for 3-4 divisions, the call is yours. You can play with different kinds of textures and colors and create something unique and true for you.
Grunge Effect Wall
Grunge effect walls are another freehand wall paint design that is easy to execute and gives the most outstanding results. The process is rather simple; dilute your acrylic paint, paint your wall with the base of your wish, and then create whatever pattern, splashes, and blotches you like using the diluted paint. This gives a more grunge, unkempt effect, and a lot of people are here for it.
If you don't want the whole wall to be grunge-effect, you can opt for an ombre grunge look instead. In this, the upper or lower half of the wall is grunge effect, and the rest is just the same shade going progressively lighter to darker. This option is softer to the eyes and is one of a kind as well.
Hand Painted Flower Wall Paint Design
Calling all of our creative pros for this one. If you have a certain artistic flair and are savvy about painting yourself, what is better than adorning the walls of your home with your art? Your home can be your canvas, and you can unleash your creativity in any room.
Using a lighter base paint, you can match flowers on the wall with the rest of your décor theme. This brings the whole look together and connects every element in your room. Of course, if you aren't much of a painter, you can always hire someone and get the job done.
Contrastingly Colored Triangles On The Wall
Keeping the base color light and neutral, you can opt for triangles to create a simple design on your wall. You can abstractly place these triangles and create a fun and cool look. These designs fit best in more private rooms such as bedrooms, but if you stick with more neutral tones, you can always experiment with this one in other rooms too.
Drip Paint Wall Art
Are we the only ones that find paint drops dripping extremely satisfying? The drip paint design is simple and convenient since you don't have to worry about sudden splashes and messes. The mess is art here, and you will use something as simple as dripping paint to create something unique and beautiful.
There are a ton of options and customizations that you can make when it comes to this kind of wall art. For bigger rooms with higher ceilings, you can go for multiple colors, and for smaller rooms, you can pick single contrasting colors that match your room décor and create a beautiful drip on the chosen wall.
Diamond Patterns
Diamonds are another great geometrical shape that you can use for highlighting your accent wall. You can use a single color or play around with different shades. You can also choose a single side for all diamond patterns or create variations with those. You can create unique wall art if you wish to use them abstractly or consistently.
Watercolor Splash Wall Design
This one can be a bold statement, so if that is your personality, do not skip on this one. Watercolor effect wall paint is tricky but gives the most beautiful and creative turn to things. The best part is that you can create this wall design simply by diluting some acrylic paint and splashing it on the wall.
If you plan on using this effect in your room, keep the rest of the room as neutral and simple as possible. Alternatively, you can opt for darker, brighter colors, but if that is not your liking, you can pick several shades from the same family and do the same thing.
Conclusion
Wall paint designs come in so many options and variations that you can easily get confused about the best one. The colors, patterns, and designs can all seem overwhelming. The goal is to pick a wall paint design that brings out the best of the room.
The first and foremost concern is always to ensure that the wall matches the décor of your room but simultaneously gives you room the liberty to get along with any future décor changes. Not everyone gets their home repainted every couple of months hence is your picked design versatile enough to get along with décor changes? You can be mindful of the colors you pick if they complement your contemporary lighting and how they influence the whole energy of the room.
As much as we all want something memorable and unique for our homes, there is a constant battle to pick the most practical and relevant option. So be sure to have your priorities aligned and pick the perfect wall paint design for your home!
Read more: 25 Splendid Wall Paneling Ideas to Spruce Up The Look Of Your Home
FAQ's
How to paint a brick wall design?
Brick wall designs can be easily painted using a half-brick sponge. Stamping it will give out the impression of a brick wall. For paint, mix a few drops of raw umber liquid acrylic paint into the brick paint to create a slightly darker color. Apply this mixture with a single "brick" sponge over bricks to create a brick-like texture.
How to paint geometric wall designs?
Choose the Colors, Prep the Wall, Apply the Base Color, Mark the Pattern, Apply the Painter's Tape as per your pattern, Paint the Section, Let it Dry and Remove the Tapes to see the Results.
Can exterior paint be used for interior walls?
No, outdoor paints on indoor walls are often not recommended, even though they are more weather resistant and lasting. Outdoor paints are formulated using stronger chemicals that are not supposed to be released indoors and inhaled regularly.