W hile planning for home decor, multiple ideas strike our mind for different corners of the house, including the kitchen, bathroom, bedroom, living space or even outdoor area. Choices, rhymes, and reasons for decor vary from person to person on factors such as whether we are staying in rented accommodation or on our property. One such idea is wall panelling ideas.
Do we plan to add value to the property to fetch a higher selling price or have an eye on high rental income? There's no fixed rule to deciding the renovation. To make the entire decor process a cakewalk, determine the budget and time you can allot for the decor process. Half of your work is done!
You might have witnessed that in the past, wall panelling design ideas were confined to historic homes, usually made of wood that required skilled craftsmen to install it, making it a costly proposition. However, these days there is a paradigm shift in the trend. Numerous budget-friendly, minimalist and DIY options are available for wall panelling. There's no better way to add interest and statement to the room than to go for wall covering ideas, whether it's a classic or modern style, MDF(Medium Density Fibreboard) or wood. All will enhance the appearance of the room.
If you plan to refurbish your home without massive spending, panelling wall ideas are one of the best places to start. Whether you are an ardent fan of a simple house look, a traditional or a modern look, wall panelling ideas are a perfect way to lift the ambience to a desired level.
The trend for wall panelling has witnessed an upward movement, with many owners opting for DIY projects. You have landed on the right page if you want detailed information regarding wall panelling, its reasons and its advantages. Here we go.
What Is Wall Panelling?
Wall panelling is a way for the interior to install panels to the walls of the room to instantly elevate the look of the space, taking up the value of your property. The variety comprises innumerable designs and textures ranging from vertical straight boards to delicate woodwork. There's something for everyone.
Apart from the design angle, there are many practical reasons for wall panelling ideas. It adds a sea of warmth to the entire space so much that you feel like hugging it. If you have kids at home, panelling will protect the wall from wear and tear. Your kids can freely channelise their energy at home playing around.
Advantages Of Wall Panelling Ideas 
It converts the stone (dull) room into a cosy space.
It protects the walls.
Adds insulation.
Help prevent wear and tear that reduces the maintenance cost.
It conceals the imperfections of the not-so-perfect walls.
The Best Types Of Wall Panelling Ideas For Homes
Wall panelling is usually associated with the traditional interior, but it works well for contemporary homes by adding elements of the layer. Within a limited budget, you can make your home look expensive merely by using wall panelling that adds depth and interest to any room, be it a bedroom, bathroom, living room or hallway. For a more refined look, paint the panel with a dark hue, such as dark grey or black.
1. Elevate The Bathroom Look Using A Simple Wooden Wall Panel.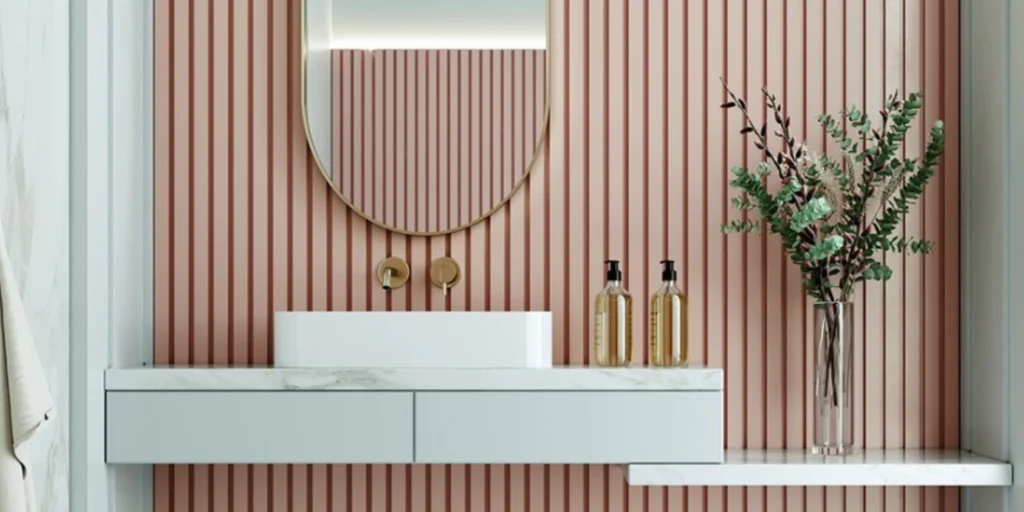 If your bathroom has marble or other stone embedded on the floor, break the monotony of the space using a wooden wall panel. It's not the actual wood but rather the wooden texture. Eliminate the deadened hard stone surface's reflection and let warmth embrace the luxurious bathroom. You may also do half-walls with a textured finish for a fresh look.
2. Introduce Wall Panel To Wardrobe For A Cosy Look.
You can create a luxury element for the bedroom storage wall with a modern open fireplace, which houses a real wood fire. The wardrobe appears as if it's a beautifully empanelled wall. You create a peaceful space to relax indoors in the chilly weather. Go for shade, which perfectly contrasts with other divisions and items clutched in the corners.
3. Waterproof Wall Panel In A Mix-And-Match Style For Bathroom
To create a comfortable space and eliminate the dull look, wallpapering the bathroom wall is better. If you are concerned about protecting the wall from moisture, apply polyvine's decorator's varnish over the wallpaper.
4. Extend A Stylish Look To The Classic Walls.
In an old construction house, wall panelling ideas to match the property's original style is a great way to put old wine in a new bottle. It's a method to bring character to an edgeless space.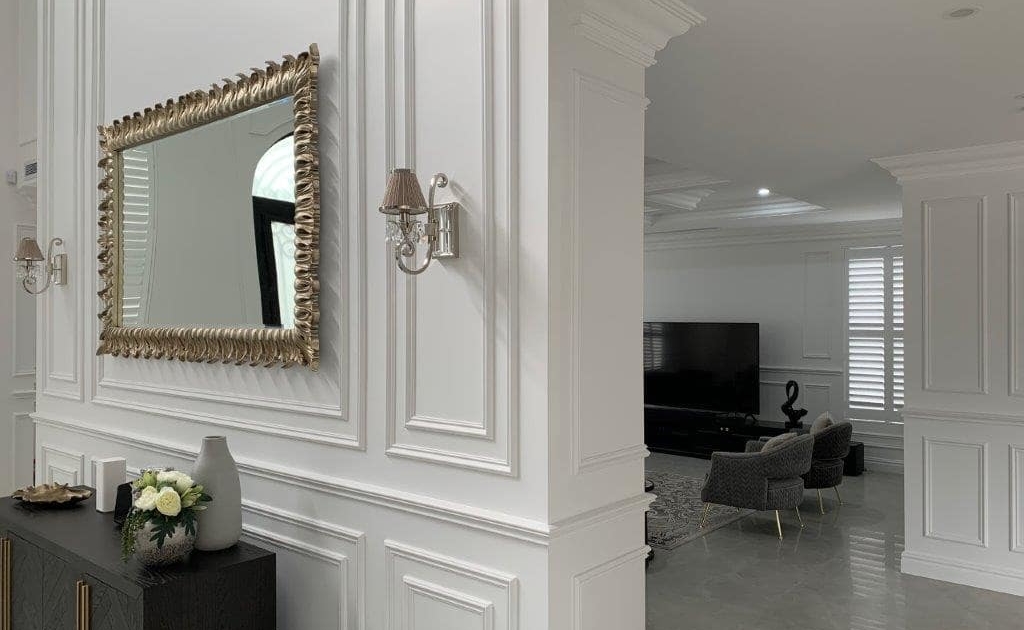 Paint the remaining walls and ceilings the same colour as the walls for a bold and elegant look. Place some bold statement furniture in a contrasting shade that stands out against the backdrop, making the statement pieces stylish.
5. Pragmatic Approach To Wall Panelling Ideas For High-Traffic Zone
The stair is a high-traffic area of the house, so a practical approach and a decorative effect should go hand in hand. To prevent plaster work from scratches, wall panelling ideas on the lower part of the wall is a clever decision.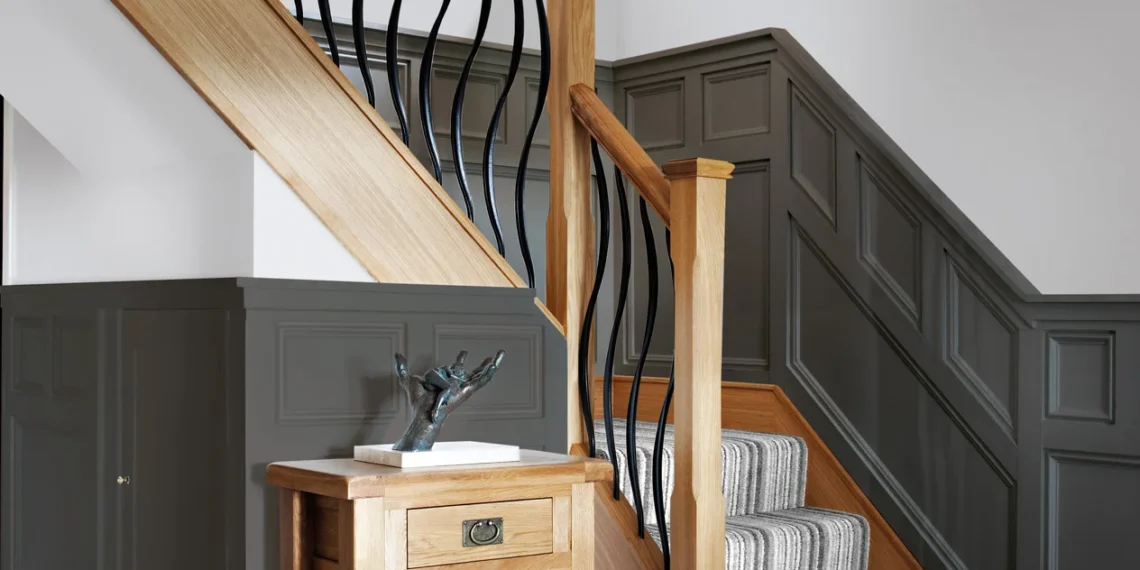 Finger marks and stains are unavoidable in that area, so go for a wipe-clean paint finish that can be removed easily. You can go either way; choose a colourful wall panel for the lower part of the wall and simple colour for the upper part or vice versa. Fix some lively striped stair runners for visual interest in the entire space.
6. Decorative Print On White Wall Panel
Extend a quirky twist to the plain white wall panel in vibrant colour. Use block stencils on bare wall areas to add an artistic element and create a decorative backdrop. It's more soothing to the eyes than a cluttered print all over. Select a practical paint finish for all the wall panels. Select a low lustre eggshell finish which is more long-lasting than emulsion and easy to clean.
7. Country Style In Muted Finish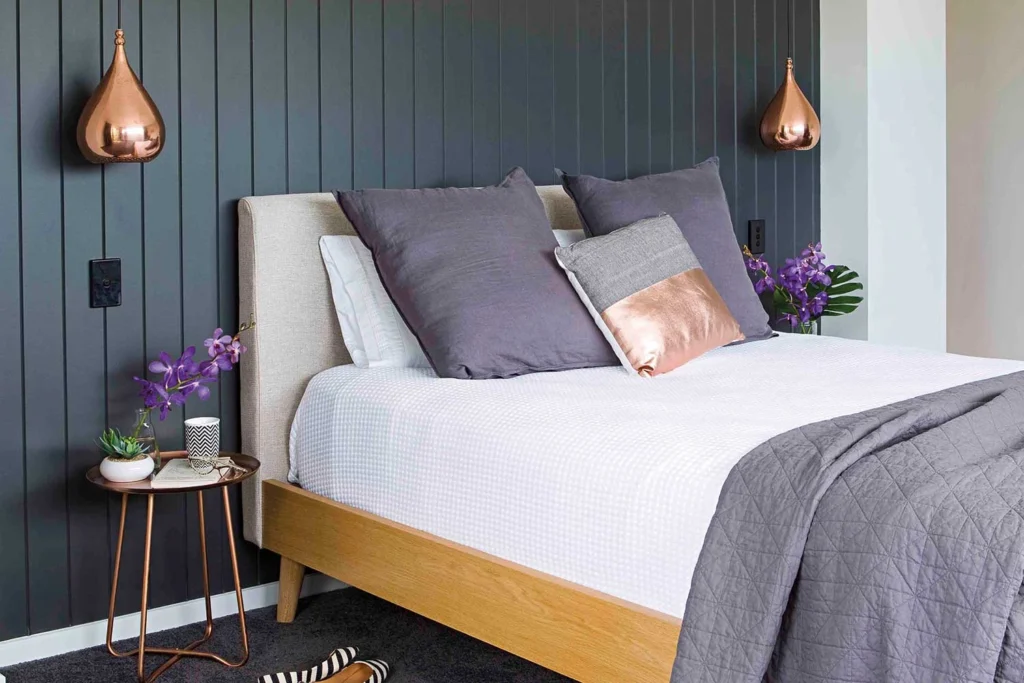 Opt for tongue and groove wall panelling ideas to create a country-style aura and a relaxed feel. If you love DIY, you merely require a framework as a fixing point with timber panels joining together using nails. Panelling doesn't only add a style but rather conceals the uneven wall surface and rough plasterwork. Conclude the panelling work by making a narrow shelf to showcase prized possessions.
8. Manage Wall Panelling In Compact Space.
For areas of the house with small spaces such as a bathroom, wall panelling gives an easy solution for plumbing and pipework problems. Wrong placement of plumbing work can hide with a panel that serves numerous purposes of concealing the pipe, enhancing the decorative element of the space and creating some extra shelves to store towels, toiletries, etc.
9. Create A Decorative Panel.
If your room misses the fireplace, create a modern look by treating the panel like a piece of art. To have a focal point in the space, fix a wooden frame that elevates the panels into artwork.
10. Create A Queen-Sized Panel Behind The Headboard.
To add more luxury to the stylish room, have some extra softness dimension by having a fabric panel behind the headboard. Sound insulation will ensure more privacy and peace in the space.
11. Wallpaper That Looks Like A Wall Panel
Isn't it a good idea to fix a wallpaper cleverly to extend the look of an authentic wall panel? It adds instant character. The look depends on how the shade has been used. The rustic wooden look suits more in a contemporary setting but also goes well with other locations.
12. Fluted Wall Panelling Ideas.
Fluted wall panelling designs are the recent trends to create texture and interest. It can be used as a partition wall for a modern dining hall, especially if the area lacks architectural detailing. Select wood with a sea of warmth for a minimalist decorating scheme to make the space appear more welcoming.
13. Fix Panels Horizontally For A Spacious Look.
The horizontal wall panelling ideas are suitable for small spaces such as a bathroom or a small size bedroom or living area, as horizontal wall panels make a room feel more expansive and extensive than its usual size.
Painting the wall panels with a pale shade will further highlight the room's appearance. While fixing the panel in mixture prone space, ensure to have a moisture-resistant material.
14. Wall Panelling To Create A Focal Point
Wall panelling is not only architecture; instead, it's an art. The panel made of wood make the room a dreamy space with absolute dazzle. Wooden panels accentuate the tone of the room. What a sight!
15. Floral Wall Panel To Create A Country Look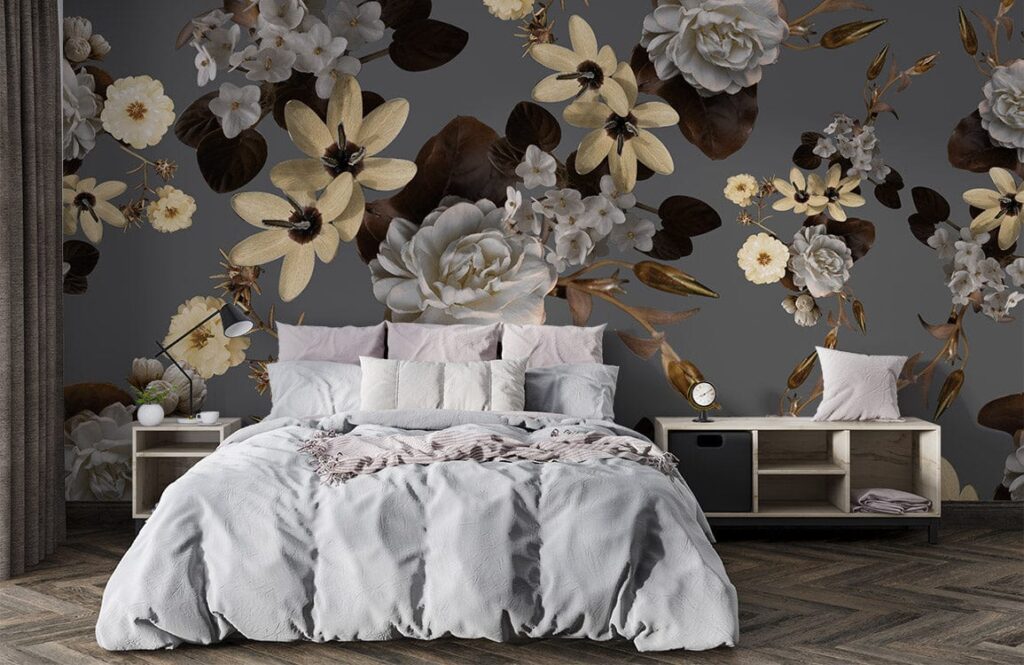 If you plan to decorate your heritage building with some rough walls here and there, wall panelling is the best idea to accentuate the look of the walls. Make sure you have a skilled hand to help you. If you wish to retain irregular walls, hanging wallpaper with a panel effect is an outstanding idea. Try a floral motif for extra detailing to have a chocolate box effect.
16. Play Around With The Wall Panel In The Bedroom.
There are several techniques to add character to your wall, and one such popular way is wall panelling ideas. Cover half or three-quarters of the wall and colour it contrastingly. Match colours with other room items, such as the colour of the headboard and curtains, to have a better view.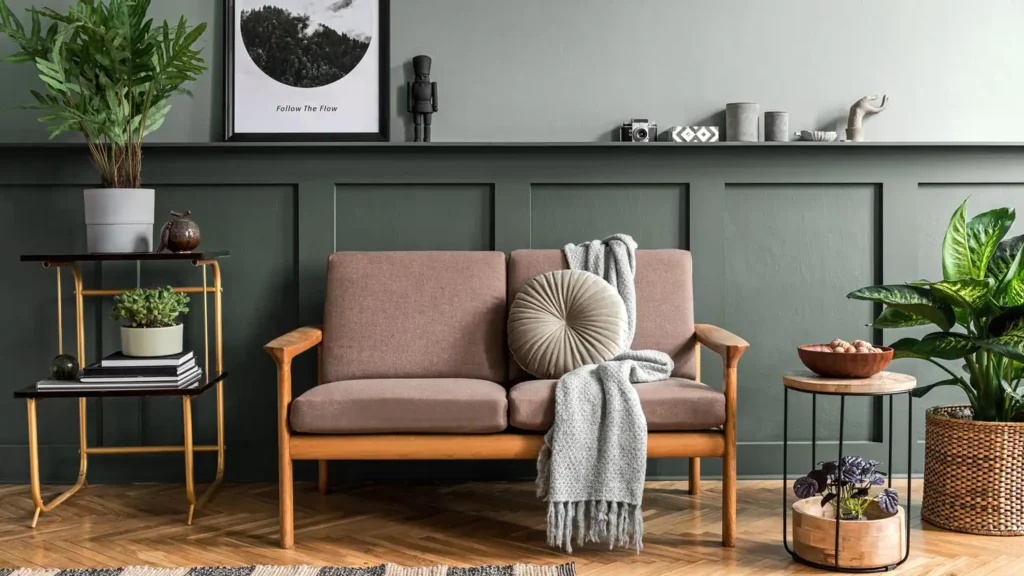 The bedroom is a private space where you would like to spend some relaxing time for which interesting visual is an essential and practical element.
17. Combine Textures For Warmth.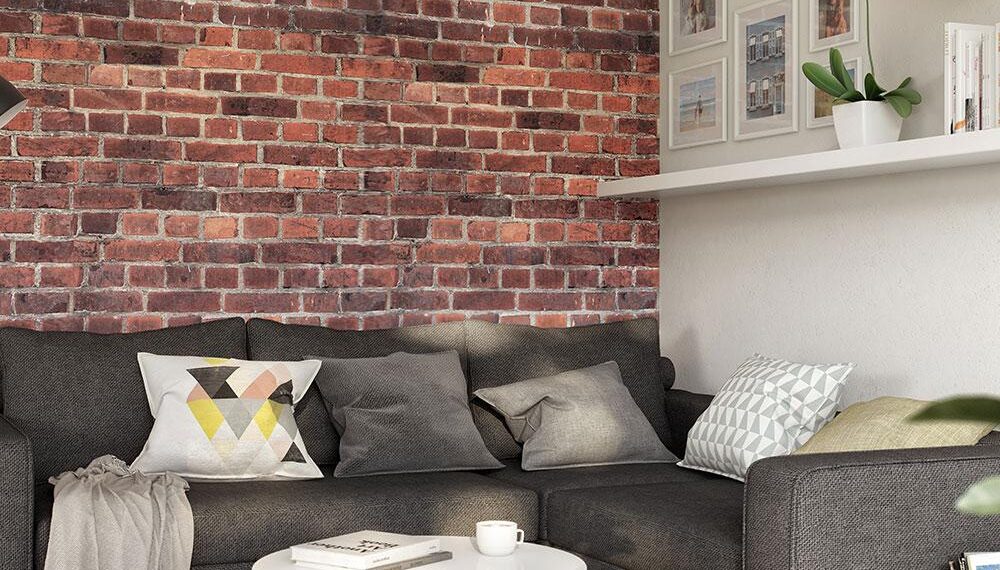 Following a fixed pattern for wall panelling can be skipped and replaced with a haphazard way and texture of varied widths and lengths with raw brick walls to create an industrial look. The bare brick wall with basic wooden panels extends a warm, cosy, soothing feeling that will push you to spend some time in the room.
18. Cover The Part Of The Ceiling With A Wall Panel For A Unique Ambience.
How about having a statement look for your bedroom? For a canopy-style feature, extending the rustic plank of wood from behind the bed to the ceiling in the same width displays creativity.
It suits best if the space lacks architectural work and a bed without a headboard. You may do it yourself if the plank is light, but consult a professional to safely attach the heavy wood panel to the ceiling above the bed.
19. Bold Black Wall Panel
Black is considered elegant and chic, opening up the space and making it look spacious, airy and inviting. All the shades won't suit the wall. Go for a charcoal black shade that looks more like grey with a clever effect on the entire space.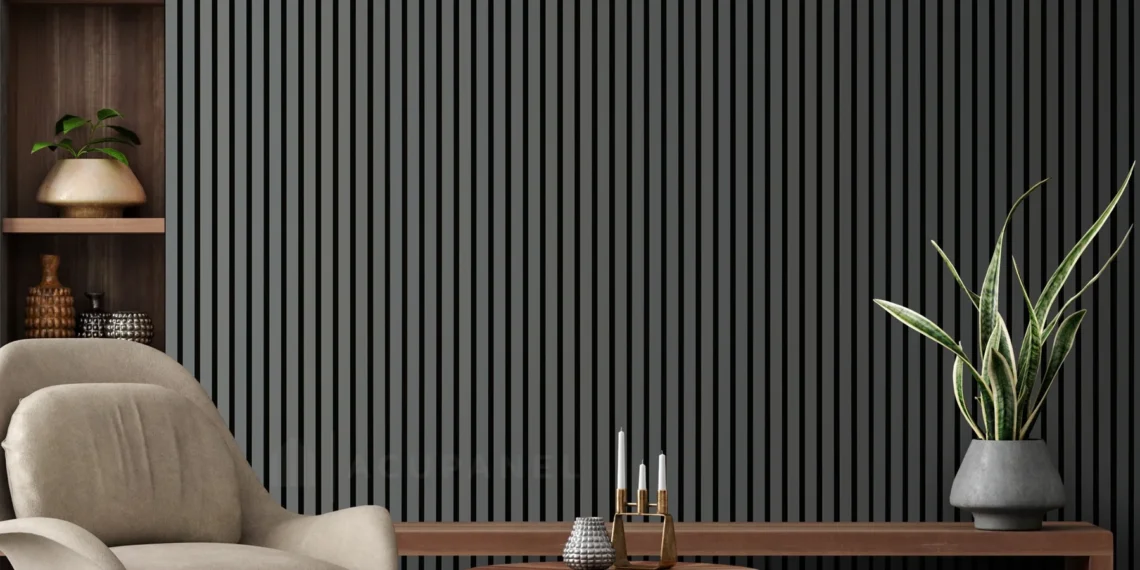 Black is versatile, allowing you to pair it with any other colour palette in any room. The wooden plank has layers of tones and textures, creating more depth that matches many design techniques.
20. Layering Up Panels On Panels
If you have already selected a bed with a wood panel headboard, don't worry. You still have the opportunity to install a wood panel on the wall behind the bed but in a contrasting shade.
If the bed headboard has a raw texture with no paint, fix a wall panel with a dark hue to complete the look. Opt for different patterns for both; horizontal for the headboard and vertical for the wall panel. You'll enjoy the rustic look of the room!
21. Dip The Room In The Same Colour All Over.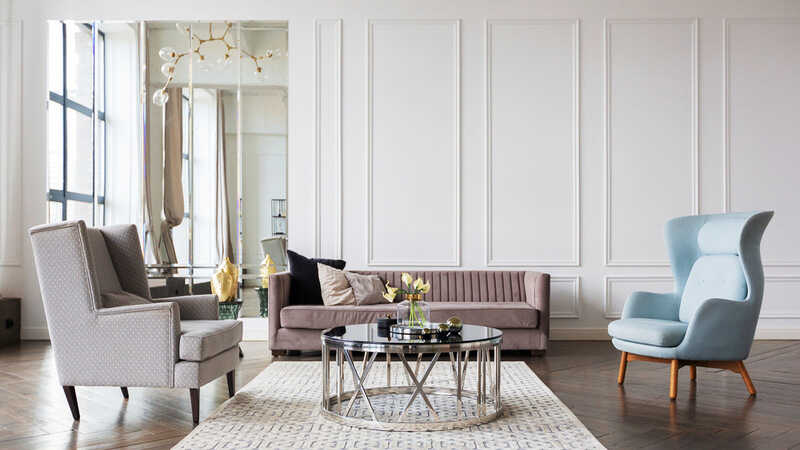 Do you want to apply contrast shade and texture? Try colouring the wall panel and the other walls with the same shade to have a unique and elegant look. Paint all the woodwork, from skirting to shutters, in the same colour. It'll give you a cosy atmosphere during the night.
22. Replace The Headboard With A Panel.
If you want to enhance the bed's look:
Skip a conventional wooden headboard and fix a panelled section up to the ceiling to make it a king-sized statement.
Select a dark charcoal grey for the panel for a hotel look and embrace the space with warmth.
Spend Sundays and holidays in the lap of coziness all around, extending a calming effect on your body and soul.
23. Create A Calm Dining Space.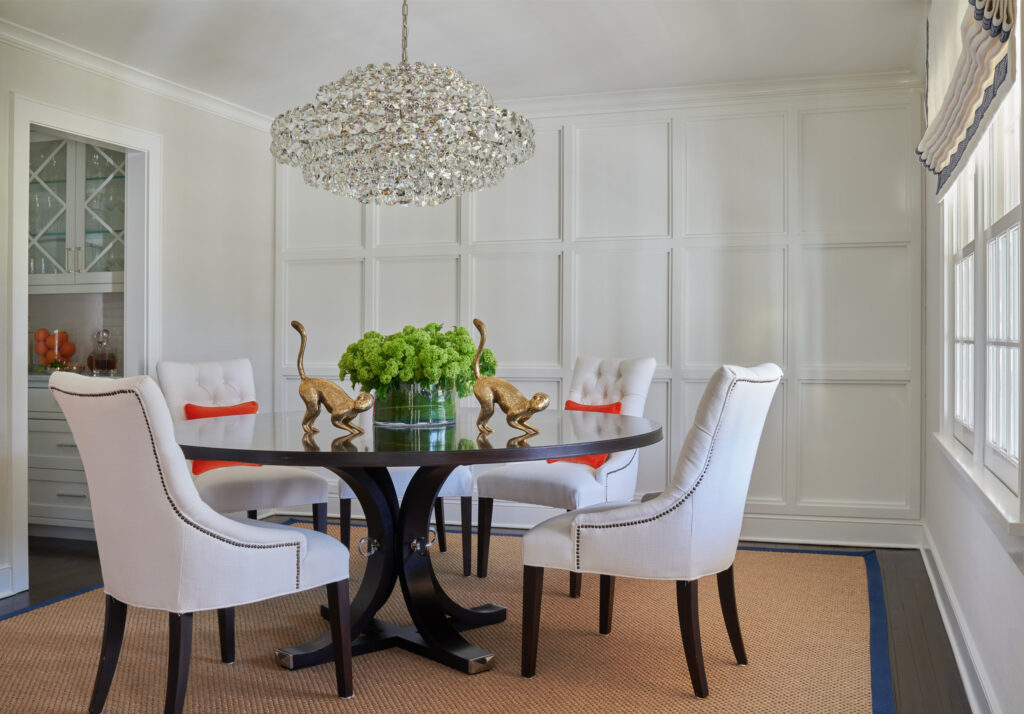 Painting the panel with pastel shade in light pink or peach gives a minimalist warmth to the entire space. You can use one shade up the neutral for the panel with dark colour for the walls to create a peaceful ambience. A Scandinavian dining table with dark-coloured legs looks terrific for a chic element.
24. Do It With Ceiling
So far, we have discussed installing panels in the bathroom, bedroom, kitchen, or even living space, but it's time to try VJ board for the ceiling. To give any room a subtle texture, select a wooden finish panel or paint the panel white or peach to add class and fashion. Though it looks good with high ceilings, you may also go for a lower roof. Always use a lightweight material for safety reasons as lightweight might fall over the period.
25. Create An Illusion Of A Bigger Space.
Wall panelling ideas add to the existing look and create an illusion of a bigger space. But it depends on what look you prefer and the room size. In any case, follow the thumb rule, the 'like goes with like' principle, which means more giant panels look good in large spaces and vice-versa.
Panel ideas have evolved from confined to old palatial homes with unique architecture to contemporary homes, from skilled craftsmen installing the panels to easy DIY ideas. There's an entirely different outlook to the decor these days, with many youngsters looking for cheap and best ideas with a luxurious look. Many want to change the appearance of the bathroom frequently.
FAQs
Is Wall Panelling A Good Idea?
Wall panelling is undoubtedly a good idea as it makes the room look fabulous and cleverly hides the walls' imperfections. It's a quick-fix solution to enhance the look with an ounce of warmth and statement. For the bathroom, the panel is a perfect substitute for tiles.