A front fence is like a movie trailer for your home. It is the first thing someone sees when they come for a visit, giving it the all-important job of creating the first impression. You can have a gorgeous mansion or a modest little hut for a home, but if you don't have an excellent front fence, you miss out on making full use of the whole property.
If the main house is the main subject of a painting, the rest of the plot can be considered the background, while the front fence acts as the frame. It can make the whole landscape stand out and bring the best out of everything. That's why you must go through the best fence ideas you can find and choose the one that will inevitably frame your home.
So, check out these eight awesome front fence ideas to inspire you to build the perfect front fence for your home. The right fence is necessary to bring the best out of your home.
Standard white picket fence
When people think of front fences, the first thing that goes through their minds is the standard white picket fence. The little white picket fence has been a hallmark of quiet country life for a long time and has persisted simply because it just fits right.
This type of fence is perfect for tiny houses with a neat garden in front. One of the best parts about this fence is that it goes well with the colour green, so it will mix well with your garden and bring a calm feel to your home.
Pair it with some greens
As mentioned above, a little white picket fence looks adorable, especially if the house is on the smaller side and you have a garden in the front yard. You can take advantage of this and add a lot of green to the fence and your front yard to make your front yard look genuinely magical. Regarding fence ideas, this simple setup is one of the most efficient ways to get the best look out of your fence by spending the least money.
All you need for this is some vines, a few creepers, and some cute hanging pots that you can attach to your fence, and you will end up with an attractive and refreshing front fence that will give your home a fresh feel.
Gothic black for a unique look
You've already seen the classic white picket fence. As popular as it is, there is no mistake in assuming it is too familiar like many other concepts of wall fencing
. But if you are looking for genuinely unique front-fence ideas, here is one option that will stand out. Like how these colours are often represented to stand on opposing sides, one of the least common colours you will see in a front fence is black.
This gothic-style front fence with a Japanese-style gate in black is stylish and unique, giving your home a mysterious feel. Unlike the standard picket fence, this privacy fence offers a degree of privacy you will appreciate if you don't want others looking into your front yard. As far as privacy fence ideas go, you won't go wrong with one.
The black colour will make your front fence stand out among your neighbours since it is unique. Even people driving by will remember that there is a house on this street with a mean-looking fence that they'll never forget.
Brick and wood combo
Not all front fence ideas are limited to wooden ones. One of the unique front fence ideas you will come across is one that perfectly blends the style of your house with your fence by using the same bricks used for your home. This fence combines said bricks with a wooden wall, perfectly mixing the two.
This style offers a complete thematic experience where you can say that your house and your front fence are part of the same package and are the only parts of the whole landscape theme you have going on.
The downside of this style is that you will have to paint the other every time you paint your house or fence, which is pretty expensive in the long run. But it is a small price if you want your landscape to look perfect.
A living front fence
You will only see this when you check out front fence ideas. Instead of building actual fences, you can use a hedge fence and a simple gate. This is perfect if you want a fresh look for your home and is very useful for cooling your front yard.
As you all know, more plants will always be better, and this fence takes advantage of that. This is an excellent option to ensure that your front yard stays cool in the summer and that the privacy of your yard is also well maintained. A proper hedge fence is difficult to bypass, so you would not have to worry about unscrupulous guests who dislike using the front gate like decent people.
Out of all the front fence ideas you will see here, this one is the most difficult to maintain since the fence is a living thing and will keep growing unless adequately maintained. Unless you want to spend hours trimming the hedges yourself every month, you might have to hire professionals, which will only make the setup more expensive in the long run. This is also impossible to set up in places where the climate does not allow it, meaning most sites in Australia.
Steady fence for a lifetime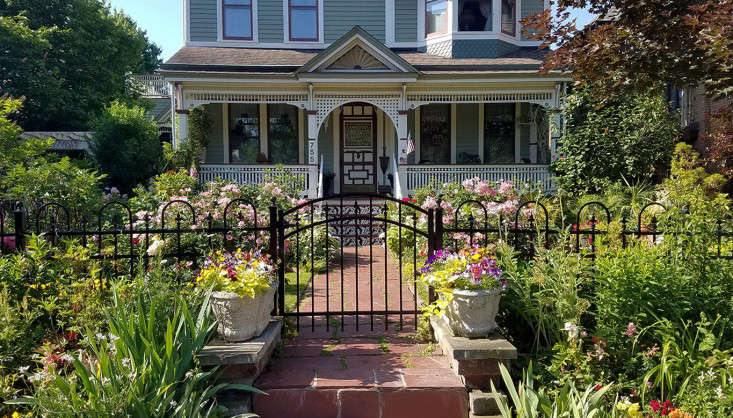 Just like there are front fence ideas that call for routine maintenance, there are fence ideas that will not need a touch from you for a few years at least. These wrought iron fences are steady, excellent, and will last a lifetime.
The low maintenance is unfortunately coupled with a high cost of setting up, as this is one of the more expensive front fences out there, and there was a time when wrought iron was uniquely used by the wealthiest of people in society. Take it the other way; the almost negligible maintenance cost also makes this an entry for cheap front fence ideas.
This style offers the absolute minimum privacy but will stay the same come rain or shine, making them the perfect front fence for people who prefer a stable landscape.
Mediterranean-style front fence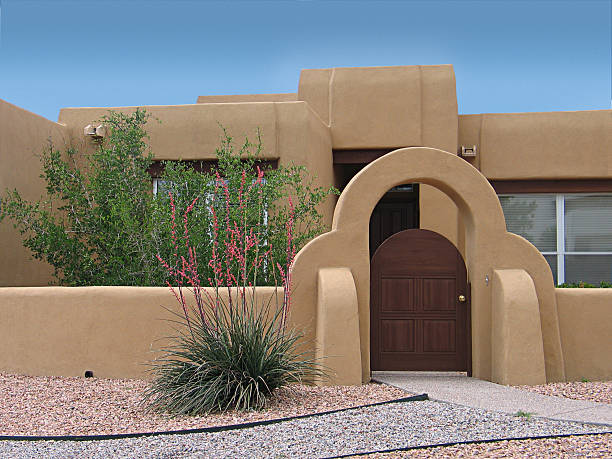 Mediterranean-style landscaping has always been well-received in Australia. The unique climate and the blazing Sun make this style perfect for our landscape. That's why front fences for Australian homes can never be completed without an ode to this style that has endured for centuries and travelled thousands of kilometres to get here.
A solid concrete wall with rounded edges and a small wooden gate makes this front fence look too cute. If you can match the right colour with your house, you will have an adorable landscape that will have all your guests swooning whenever they visit.
The most significant advantage of front fence ideas that use this style is that it can be paired with homes with a small yard, making it perfect for those who do not have the patience or skill to maintain an elaborate garden but still feel ashamed of not having one. This way, no one will have to see it.
Stone and metal combination
Some of the entries you have seen belong to modern front fences and classic ones that have stood the test of time. But nothing can stand as long as this classic combination of stone and metal.
Made from two materials that can withstand the toughest of abuses, front fences incorporating this style are perfect for our Australian weather, just as unforgiving as the numerous deadly critters out here. With our depleted ozone layer and the always blazing Sun, this front fence is the only one that can guarantee that it will remain the same no matter what.
Final Words About Front Fence Ideas…
This is it for the eight beautiful front fence ideas you can use for reference to build your own. Whether you want a classic or unique one, an easy-to-maintain one, or a stable, low-maintenance one, we hope these front fence ideas have helped you choose the perfect design for your front fence.