M ost of us prefer to have a bedroom that is comfortable, stylish and functional. Our bedroom should be clutter-free and a place to look forward to each day to spend some relaxing moments after a tiring day. If your bedroom is spacious, not much calculation is required while clutching items due to ample space. However, for a small bedroom, you must think judiciously and plan accurately with extra consideration and a functional approach.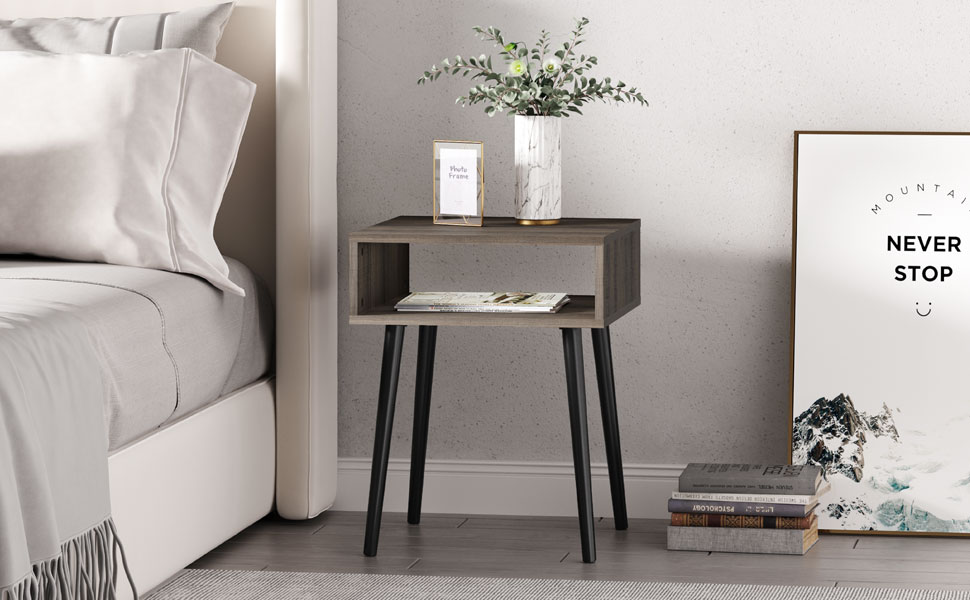 Nightstand, besides the bed, looks elegant and fashionable in a more extensive area. However, for compact space, placing a small and narrow bedside table is a helping hand and a practical solution to minimise the clutter in a storage bedside. Whether you prefer a little bedside table, a floating unit, or one with storage, all ensure a clean and tidy bedroom. Functionality and style both go hand in hand. Along with functionality, there are countless designs of various shapes and sizes of bedside tables to suit any space- big or small.
For a small space, selecting a bedside table is a real struggle. Most of the time, we are stuck with a common question of whether to go for two narrow bedside tables on either side or place a single piece. When the bed frame occupies too much space, we would like to put two bedside tables on either side or a single big table on one side. Position two tables as they look sorted, and the room looks complete and bold. I will guide you through if you are searching for the best designs for a narrow bedside table.
Types Of Narrow Bedside Table
1. Velvet Finish Narrow Bedside Table
A Neva or narrow bedside table ikea with a storage drawer and a portable USB charging port embedded in the soft grey or blue velvet fabric with a geometric pattern is a perfect choice for a dark-shade bed frame.
2. Dual Drawer Narrow Bedside Table
If you are searching for a valuable piece of furniture, Georgia's narrow bedside table is the one stop solution. Georgia double drawer bedside table with an organic front look is a noticeable visual with the flexibility to move in and around the places. You can keep some of your daily needs items inside.
3. Single Drawer Oak Bedside Table
A perfect piece for your small bedroom! There's no reason not to love Oak finish bedside tables with sleek legs. The warmth of the Oak finish is felt across the space. A single drawer provides space to hide clutter and a cozy space to flaunt some unique decor pieces.
4. Three Drawer Classic Design Bedside Table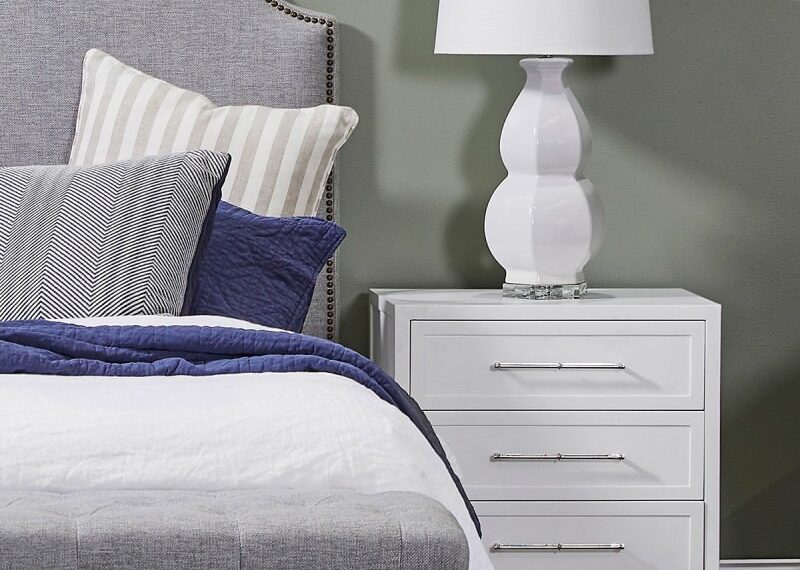 No one can pass by a three-drawer Merci bedside table without appreciating its striking beauty. The fantastic look displays class and functionality both. Multiple drawers give so much space to hide all the clutters of the room. What more do you need when you get all in one?
5. Single Lower Drawer Bedside Table
It comes with an injection of luxury and style in a perfectly compact size to fit a close bedroom. It's a quirky addition to the existing pieces, with its lightweight material and steel look extending a locker feel. You can play around with colour as it's available in both black and white.
6. Two-Drawer White Bedside Table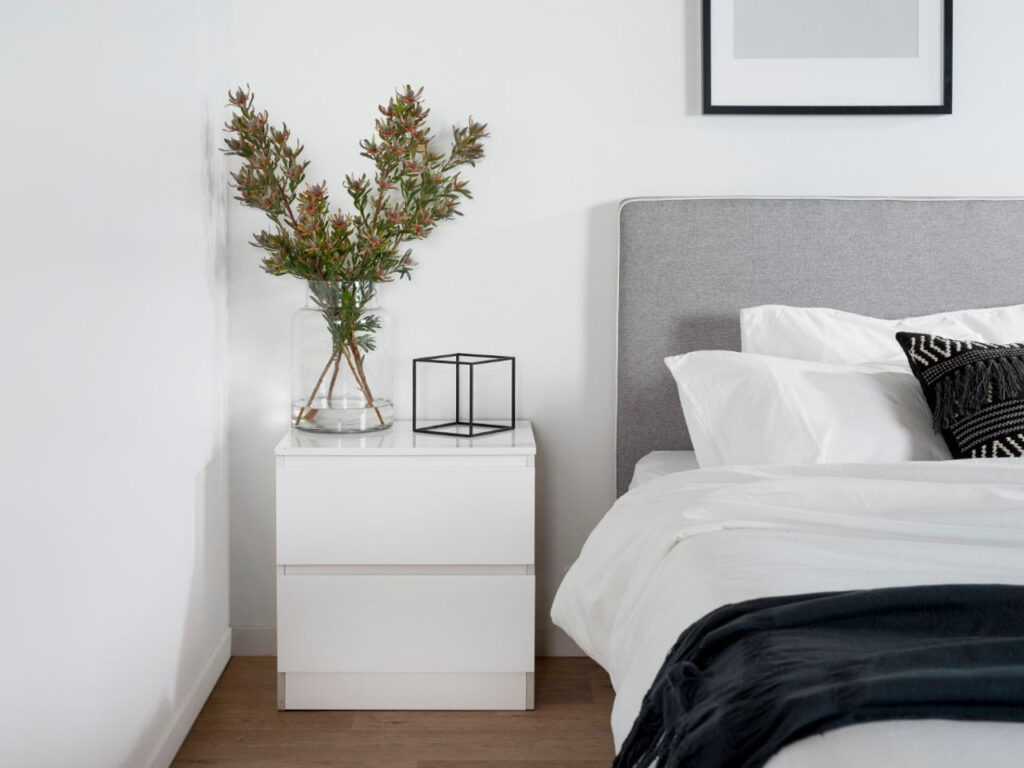 It's a timeless beauty that will never go outdated. A super white finish body with a glossy handle is an ideal choice for any decor idea, be it classic or contemporary. The storage drawers give ample space to keep up your hobby of collecting things.
7. Curved Edge Bedside Table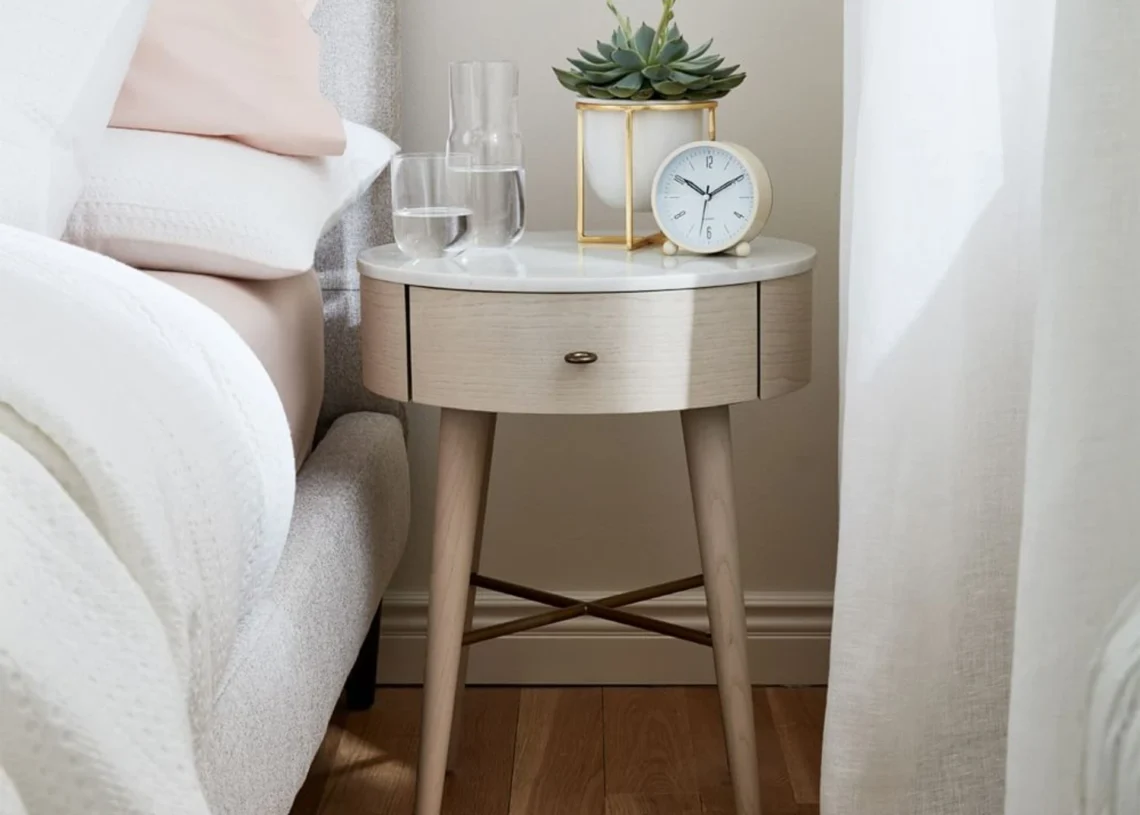 You will get obsessed with the Bella bedside table with curved edges, as it is easy to move here and there, adjusting in the small bedroom. Its round shape extends a minimal and sleek look with open space to place some favourite books for bedtime and a single drawer to store everyday items.
8. Wall Shelf
Though not a preferred choice for a side table, it's always good to go for outside-the-box options that may begin to trend. It's a practical choice for a small bedroom as it saves space and comes with a shelf with convenient storage. The wall shelf is not space-demanding but gives you everything.
9. Narrow Bedside Table – kmart
kmart bedside table options for narrow tables, which are accessible to pocket. Come out of the myth of "budget can't be beautiful". With timber textures and a sleek look, it is worth becoming the room's centrepiece.
10. Bedside Table With An Artistic Touch
What a bliss to have an artistic piece of furniture in the room! Your kids will love to have it in their room, or you will probably love it too. This woodgrain finish table has sleek iron legs and polished handles and is quite affordable. It's an ideal solution for small spaces because it has a perfect balance of little storage, some open space to place bedtime books and a flat top to flaunt some showpieces.
11. Roma Bone Inlay Bedside Table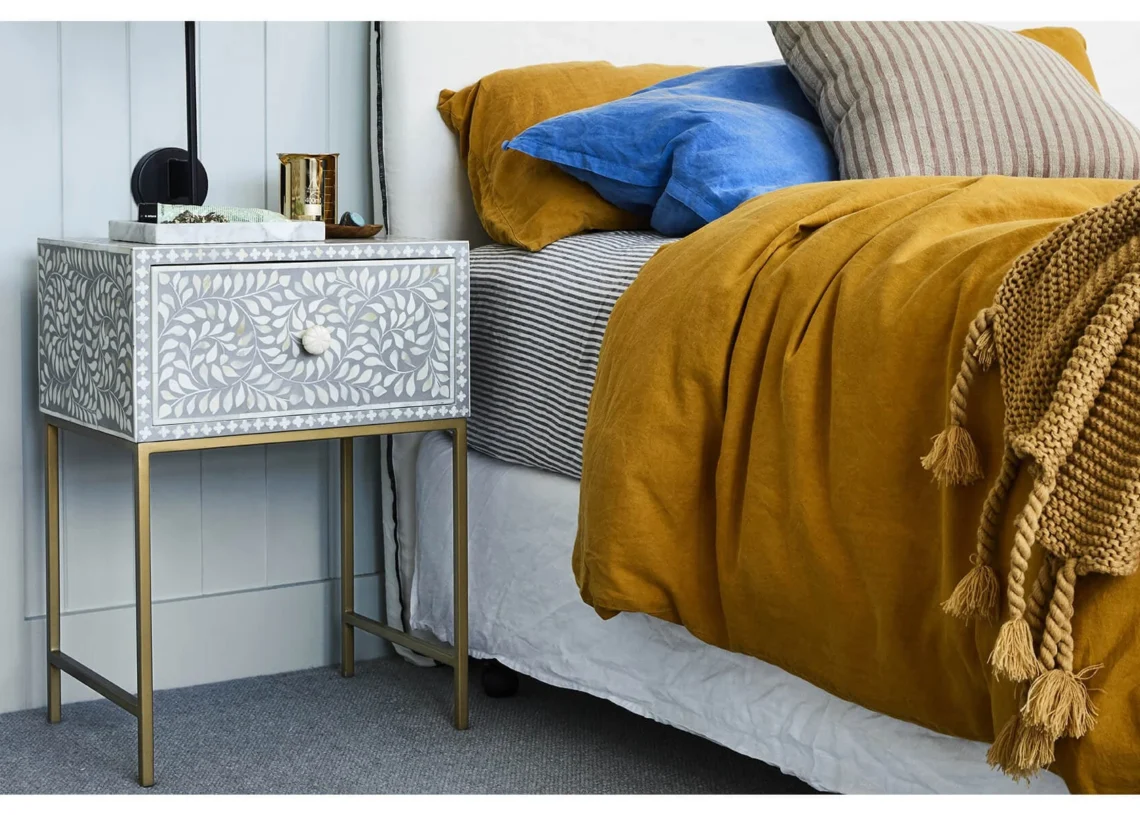 It's just an amazing piece, a visual treat to the eyes. It wins hearts because of its practicality and fascinating look. The golden legs and geometric designs perfectly reflect the piece's elegance and grandeur. It wins over other bedside table designs for small rooms.
12. Hexagon shape table
Think outside the box when searching for a bedside table for a small room. The gorgeous hexagon table will impress you with its great style and storage to dump the junk. Isn't it a show-stopper material?
13. Boho Chic Table
If you are looking for a table that allows air to breathe in and around it, a chic boho table from spoke is a stunning piece. Its lightweight material makes it handy to move in and around space.
14. Steel Finish Bedside Table
The look of a locker but a bedside table is a unique idea. Sage green shade with metal texture is a statement piece you may opt for. Who says conventional colours like black, blue and grey enliven the space? The pricked metal gives an edgy look, spacious drawers to meet your storage requirements.
15. A Small Wavy Narrow Bedside Table
A table with wavy storage is something unique. You may select a light shade to have a soothing visual effect. With a compact size, it's a perfect choice for a small bedroom.
16. Bedside Table Serving The Purpose Of A Small Bookshelf
Isn't it a multipurpose piece? A tall narrow bedside table with a small drawer and enough space to place some of your favourite books you plan to read. Piled-up books peeping will remind you to read them and replace them with another lot. It gives you an opportunity to deck up the space without adjusting to the style.
17. Rattan Bedside Table
The Rattan bedside table from Oliver has three shelves to store your bedtime items. The circular base raised to height adds to the size of your table.
18. Floating Bedside Table For A Clutter-Free Space
What is more suitable for a small room than a floating table? It serves all the practicality with its simple and minimalist design. It keeps the space under it clean and provides enough space to keep essentials on the top and a few items in the room below. A perfect balance of functionality and style!
The choice of bedside table depends on some practical factors like size of the room, if you want single or double table, whether you eye more on storage space than style and many other similar factors. Make a choice bearing all the aspects in a single frame which will help you conclude to the final decision easliy.