Above-ground pools are gradually becoming the best backyard features for homeowners. These pool spas range in level and price, from the most basic pool spa to more luxurious pool spa ideas.
Finding a good idea for above-ground pools can take hours of extensive research. Transforming your living space into a magnificent pool spa will give you the aesthetic and classy fixtures of your home.
Importance of effective landscaping to enhance the aesthetic appeal of swim spa areas
You will enjoy year-round relaxation, hydrotherapy benefits, and a significant aesthetic upgrade by having a swim spa in your backyard. An above-ground pool, a deck, a hot tub, and a bar that will give you.
A Better Mood: The warmth and buoyancy trigger the production of serotonin, which elevates your mood.
A Better sleep: Regular hydrotherapy sessions help regulate sleep patterns.
Reduction in anxiety and stress: The calm environment of the spa promotes mindfulness and relaxation.
Also Read: Zen Garden Ideas on a Budget
Various creative and functional landscaping ideas for above-ground swim spas
When designing your personal paradise, consider the following elements that can capture your hearts:
Use of LED lights– The soothing glow of underwater LED lights transforms your spa into a luminous lagoon.
Installing a privacy screen– A cleverly designed privacy screen or lush plants that offer solitude without compromising style.
Adding Water features– such as cascading waterfalls or bubbling fountains add visual interest and a soothing soundscape.
Elegant interior elements– such as lanterns or fireplaces, add a comfortable and inviting atmosphere.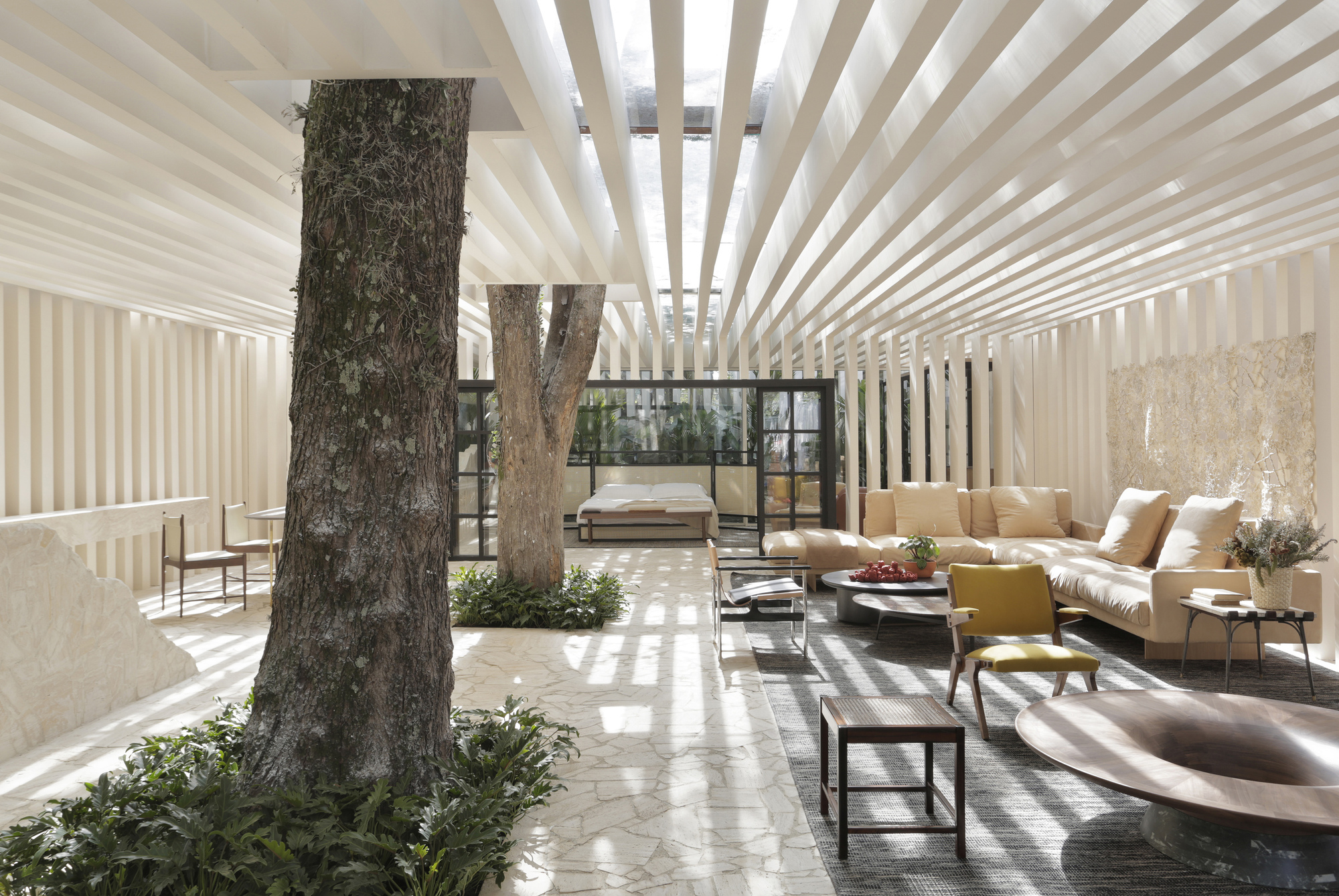 The harmonious landscape– of the spa which blends perfectly with the surroundings and creates a natural look.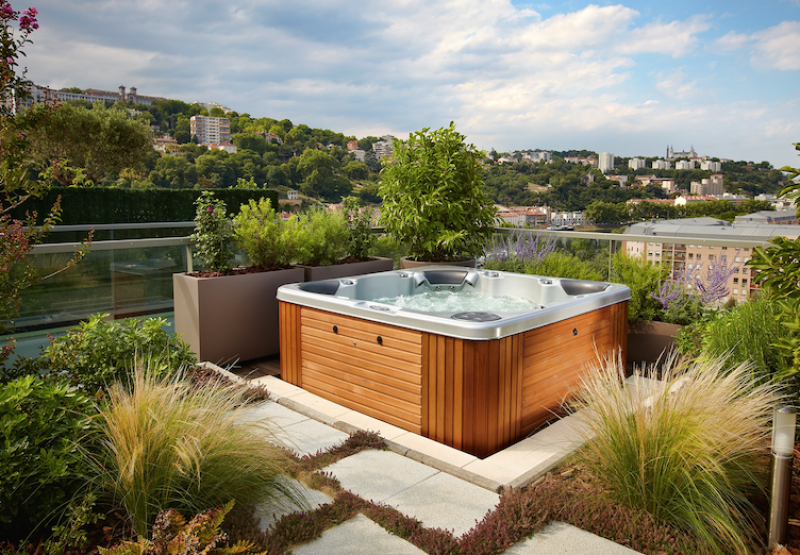 Integrating Natural Elements
As you can see the possible designs for indoor and outdoor spaces in your home, combining the natural elements can help your above-ground pool spa blend perfectly with your landscape.
Add greenery and natural elements– Plants are important in any landscape design around your above-ground pool spa.
Combine different leaves and flowers– create a lush and inviting atmosphere. When choosing plants, consider how they look wet or dry and how their leaves affect your pool's water quality.
Tall trees or bushes can provide shade and Privacy for pools on hot days if you want to avoid your pool being visible from the street.
Use of evergreen plants and flowers– Add some evergreens for year-round color to your home pool spa.
Creating Privacy and Seclusion
For Privacy and seclusion, consider installing a privacy fence to create a more intimate and inviting atmosphere in your Swimming Pool Spa.
Use of Bars and Grills- Bars and grills can partially cover the spa, while a taller fence can provide full protection for complete Privacy.
Adding vines and trellis climbs over the fence can further enhance the ambience.
Installation of a pergola- over your spa can provide shade, protection from the rain and Privacy and seclusion, allowing you to enjoy your spa even in bad weather. For the perfect above-ground pool experience, you can add different features to your pergola according to your preferences and imagination.
Install partitions, privacy screens or a canopy to shade the entire area.
You can also install a sloping roof to keep the rain away from your personal spa with all the Privacy and seclusion from your neighborhood.
Customize- The configuration options are limitless so that you can customize your pergola according to your needs and preferences.
Functional and Stylish Decking
Efficient use of space in your pool area by adding furniture, a stylish shade or an outdoor rug will lighten the whole space together. The brick detail on the floor is an eye-catching addition that brings color and texture to the pool's spa.
Use wood and bamboo on your deck
Use stone plates at your swimming pool spa
Try concrete slabs at your above-ground swim spa
Keep the view narrow of your whole home spa.
Using a Wrought concrete pathway to your deck
Adds a mid-century Furniture
Keep it simple by giving it a neutral look
Add some greenery to your deck
Various decking materials
Some of the popular decking materials for your above-ground swim spa are:
Concrete pool deck- Extreme durability is just one of the many qualities that make concrete an excellent choice for swimming pools. It can also be textured to keep it cool and prevent slipping.
Natural stone deck– Although natural stone is a beautiful choice, it gets hot on summer days
Paving deck– The installation of pavers is a labour-intensive process. The plates also heat up easily.
Tile deck– A tile used in a swimming pool, such as travertine, remains quite cool to the touch and is not as slippery when wet as glazed tiles.
Wooden deck– To avoid water and insect damage, use good quality outdoor wood such as cedar redwood.
Multi-level decks for seating, lounging, and easy access to the swim spa
A multi-tiered deck is exactly what it sounds like a deck with several floors of varying heights, usually connected by stairs or a ramp. Some of the best multi-level deck designs are:
Two-level decking– The decks are high enough to overlook both the large pool and the woods beyond the yard.
Multi-level deck with spiral stairs– The deck has several levels connected by thin walkways and spectacular spiral staircases.
Three-level deck with Patio– This three-tiered deck has steps leading down to several more steps on either side and even down to the patio, the garage, or the other area.
Multi-level decks with a balcony– The deck is actually the porch that overlooks the pool and patio below. The stairs lead down to the sunbathing and swimming area. Due to the great length of this sheltered terrace, it is very easy to divide it into different parts.
Incorporating non-slip surfaces and proper drainage systems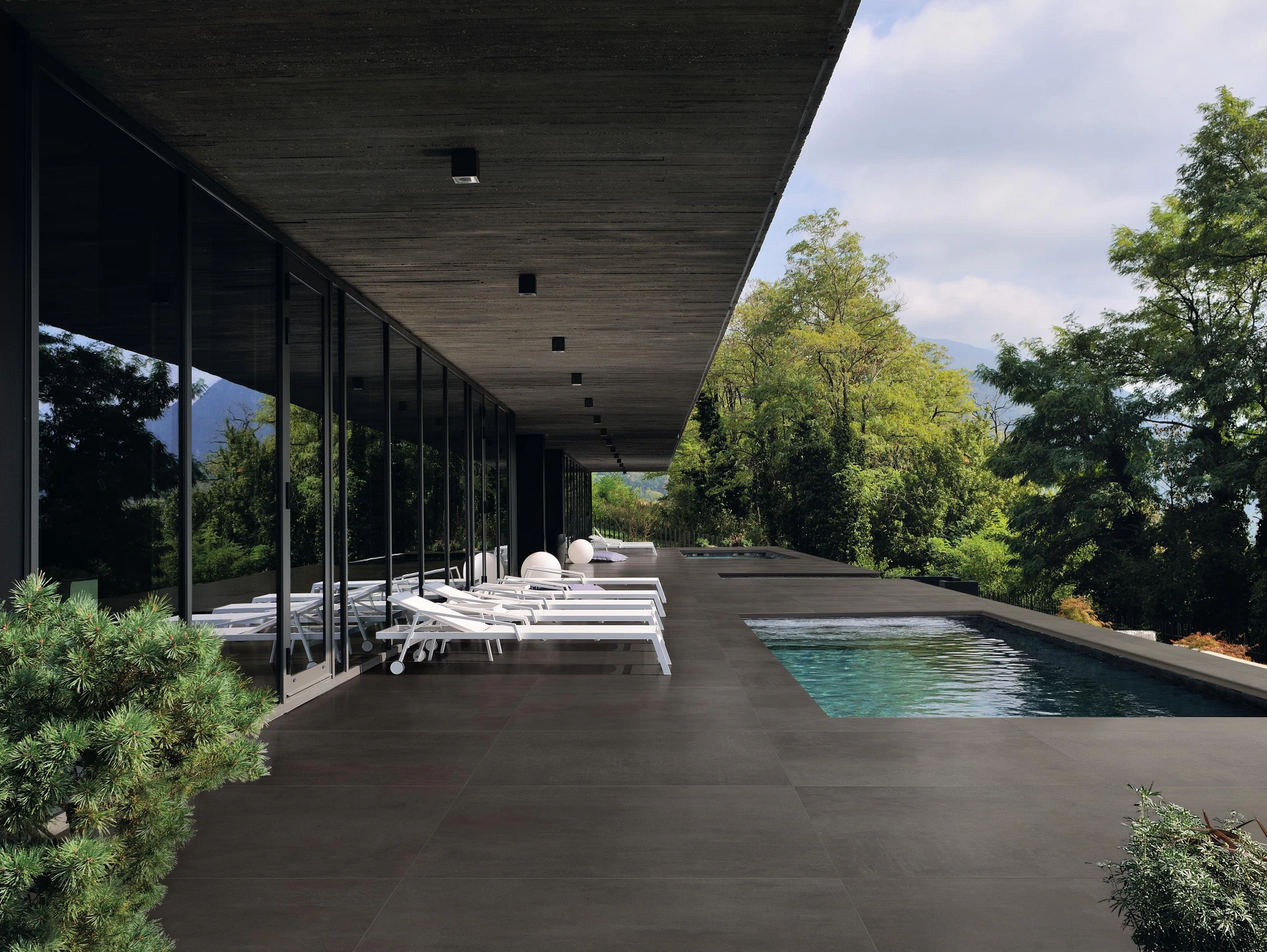 Proper drainage is very important to maintain your home's foundation. You want to keep as much moisture out of your home as possible, especially when you are a proud owner of a swimming spa. There are four common drainage systems, and it is important to choose the right one for your swim spa.
Subsurface Drainage
Surface Drainage
Slope Drainage
Downpour and Gutter drainage
Apart from the proper drainage, it is very important to have a non-slippery surface at your swim spa by using the following:
Textured wood, stone and brick that are non-slippery.
A non-slip solution treatment to the pool and surrounding areas.
Rubber pool mats
Ambient lighting and atmosphere
The role of lighting is essential to balance the pool and landscape. Lighting provides an opportunity to enhance and create the perfect atmosphere for entertaining and relaxing.
By just using and arranging LED and fibre optic lights at the pool and the landscaping, you can enhance the looks of your swim spa.
Functional Landscaping Elements
Landscaping to your swim spa should be simple and per your imagination and style.
Use of storage benches or cabinets for towels, pool accessories and maintenance tools
Use of Pergola or shaded area
Incorporating bar or outdoor kitchen adjacent to the swim spa for convenience and entertainment.
Surrounding one side of the swim spa with green plants and trees
Building a rock wall on one side of the pool
Incorporating Water Features
You can add different styles of water features to your swim spa, such as:
Scupper swim spa
Bubble swim spa
Spill-over swim spa
Waterfalls swim spa
Fountain swim spa
Deck Jets swim spa
Low-maintenance landscaping
A swim spa is a big investment in your garden, so you want to ensure it looks as good as the rest of your garden landscape. Good above-ground swim spa landscaping ideas should integrate the water tank into your garden so that it is an integral part of your home. You would like these low-maintenance landscaping ideas:
Multi-level Decking at your swim spa.
Plenty of greenery around your above-ground swim spa.
Adding Sun shades to swim spa areas.
A landscaping swim spa with stones and rocks.
Conclusion
Creating the perfect landscape around your spa or hot tub can be a little bit difficult, but if you get it right, relaxing in your space after a stressful day can be even better. The right environment with comfortable decor, soothing colors and even pleasant smells can make your home spa experience more pleasant and relaxing.
FAQ
What is the best landscape for an above-ground pool?
Surrounding your above-ground pool with stone, rocks and gravel tiles is the best landscape.
What is the cheapest way to landscape around an above-ground pool?
A poured concrete floor with lots of green plants and shrubs is the most cost-effective way to landscape your above-ground pool.
What looks good around an above-ground pool?
A multi-level deck looks most elegant around your above-ground pool.
What are the disadvantages of above-ground pools?
The average lifespan of Above-ground pools is 20 to 25 years, whereas In-ground pools last for 50 years and more.
What is the cheapest rock to put around an above-ground pool?
Pea gravel is the cheapest type of landscaping rock that can be used in different ways in your above-ground pool area.
What is the cheapest way to keep an above-ground pool clean?
Clean it with baking soda, which is the least expensive and increases your above-pool alkalinity.