Bathrooms don't have large, unobstructed windows that let in lots of natural light, so the right bathroom lighting for your space, especially above your bathroom mirrors, can make a huge difference.
Sufficient lighting helps you create a luxurious spa-like environment to start and end your day. However, finding a balance between dark, low light and high light.
Importance of Proper lighting in the bathroom over the mirror
When designing a bathroom, proper lighting is one thing that must be considered. In the bathroom, it is important to have natural light, ambient light, accent light and task light to create a bright space that calms and relaxes.
Surround– Artificial light replaces natural light, as it usually comes from surface ceiling lighting or above the bathroom mirrors.Build up a pleasing and attractive bathroom by blending diverse lighting.
Also Read: 22 Trending Modern Bathroom Ideas For Refreshing Look!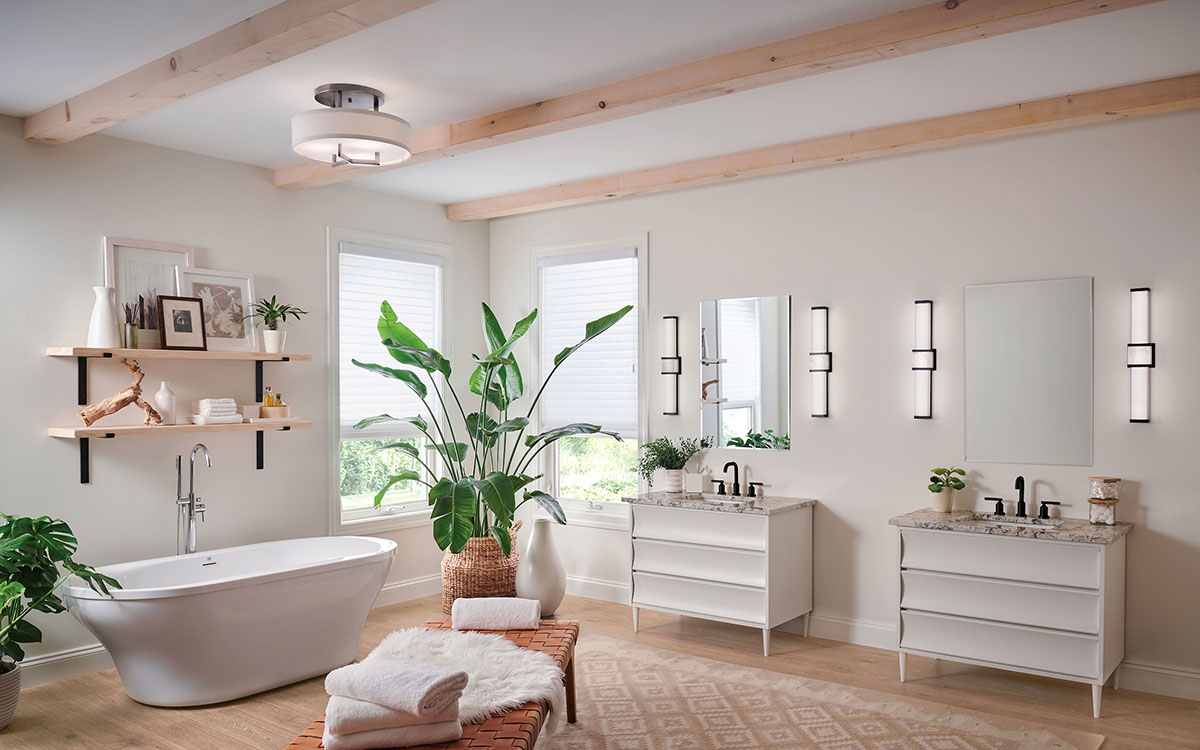 Power Saver– Use of LED lights brings down your electricity bills as they use less power.
Installing energy-efficient lighting, such as LED lighting, in your bathroom is one of the most cost-effective ways to increase the value of your home.
Bathroom lighting ideas over mirror
Some of the best suggestions for your bathroom lighting ideas over mirrors are:
Classic Vanity Lights– High-quality bathroom lighting should balance both a good ambient for visual comfort and adequate task lighting for hair care, makeup and shaving in the vanity mirror. The most prominent and very easy-to-install and maintain lights are:
Globe vanity with two lights.
Open glass vanity with two lights.
Classic Vanity with three lights
Geometric bar vanity light
Crystal vanity with four lights
Modern LED Strip Lights- The Ribbon waterproof Strip Light is the perfect solution for your bathroom. The waterproof LED Ribbon is fully covered with a durable waterproof silicone that can be cut to the inch and reattached to any light fixture. The back has a mounting tape for the best long-term installation solution for your bathroom lighting.
Stylish Wall Sconces
Ultra-modern and luxurious wall lights to light up your bathroom.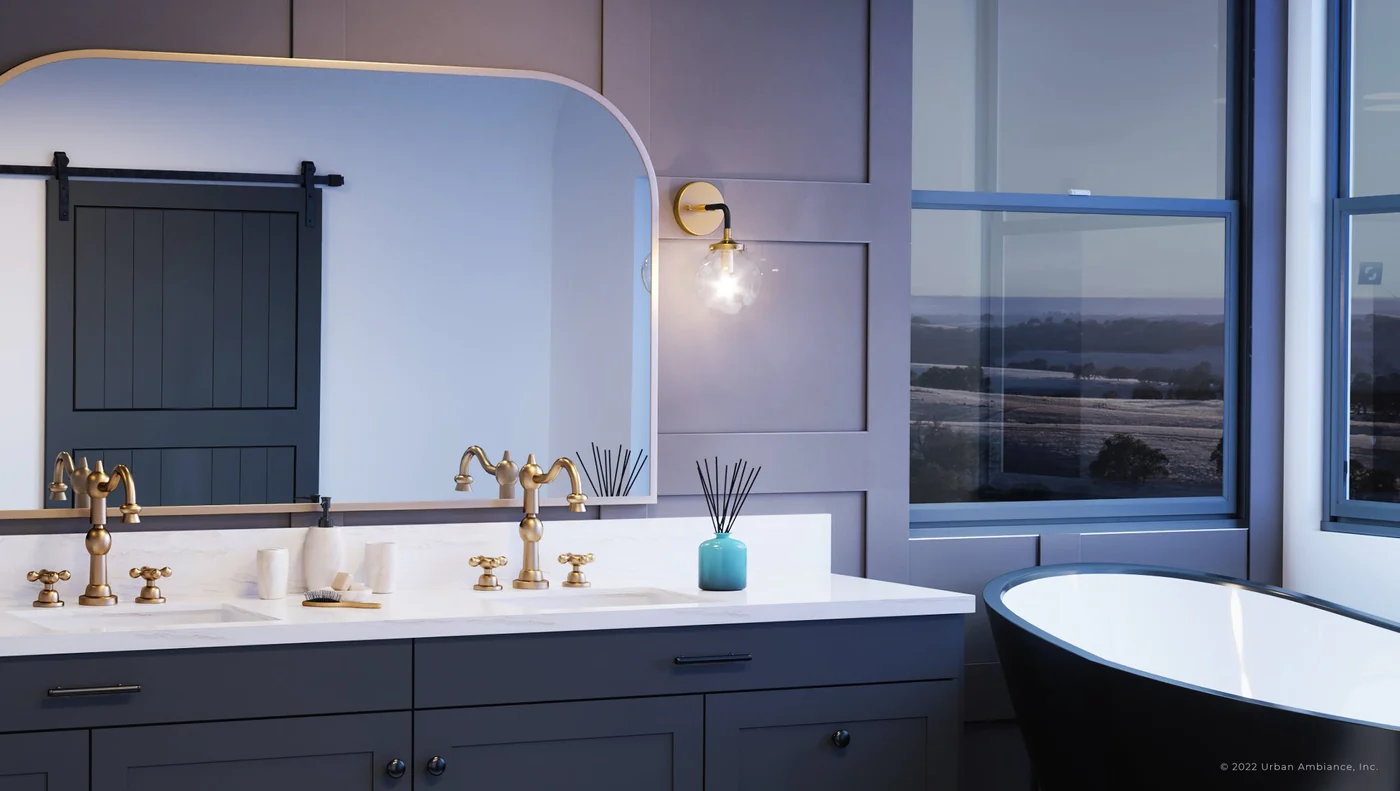 Five-light sconce– Bring mid-century modern to your bathroom with the 5-Light Wall Lamp. This piece features five attractive opal glass globe shades held together by an elegant brushed chrome metal frame. It is ideal for use on both sides of a bathroom mirror.
Tube sconce– The classic cylindrical tube design works best when placed on either side of the mirror. This elegant and minimalist design can be used in both modern and temporary bathrooms.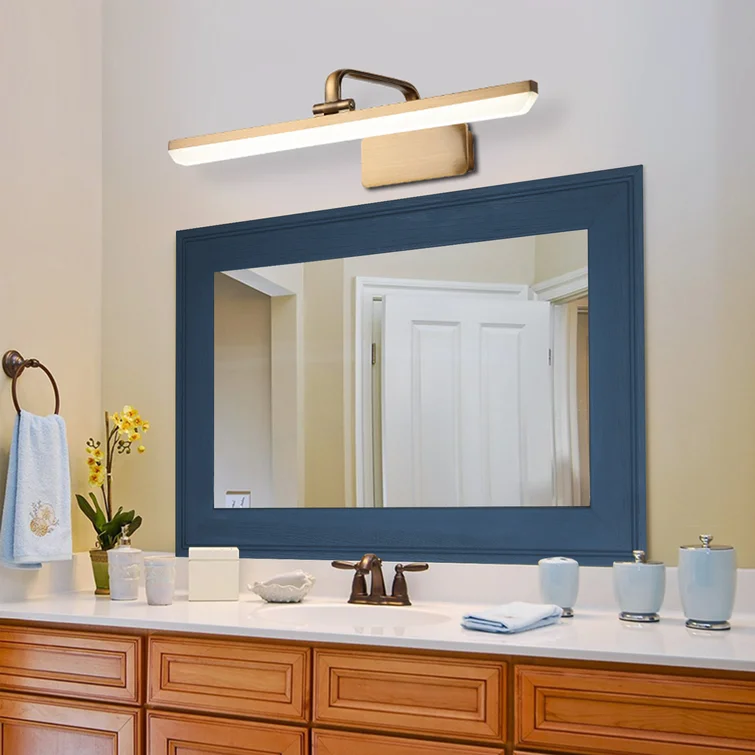 Rustic sconce– Bring rustic charm to your bathroom, which has a brushed bronze solid filament shade and looks best when used with Filament bulbs.
Traditional sconce– Add great glamor to your bathroom with the traditional style lamps. It has a streamlined look with a frosted glass shade in a warm brass finish for diffused lighting.
Modern sconce– Bring a contemporary feel to your modern bathroom with the curved rectangular silhouette of energy-efficient LED lights and finish with brushed chrome.
Apart from these above-mentioned wall sconces, there are lots of varieties available in the market from which you can easily opt for as per your imagination and style.
Recessed Lighting Solutions
Depending on your needs, you can choose different bathroom recessed lighting types. Here are some basic recessed Lighting Solutions:
General– If you want to light the entire bathroom, general lighting allows you to see every corner of the bathroom. To achieve this, these lamps must be placed above the mirrors at a distance of 4 meters from each other.
Accent– If you want to highlight something special in the bathroom, such as mirrors, architectural features or wall art, accent lighting allows you to direct the light beam in that particular direction.
Work– If you want something to light up your Vanity or shower, then install these working lights that allow regulated light flow in a certain area.
Pendant Lights for a Statement
Pendant lights are ceiling bathroom lights that can be hung from the bathroom ceiling with a wire, chain or metal rod. Big, bold, oversized studs set the tone. These lights can be one pendant light or many pendant lights.
Pendant lights take up little space and simplify surfaces. Pendant lights are available in a variety of styles, colors and shapes. They offer a flexible approach to bathroom design, taking into account space and requirements, which gives you a style statement.
Backlit Mirrors
All our back-lit mirrors have dual white LED lighting on the back of the mirror edges for an excellent diffused glow. Switch between warm and cool lighting at any time to match your mood or decor.
Smart Lighting Systems
Update your bathroom with smart bathroom lights. Smart bathroom lights improve your indoor lighting by offering more customization and control.Build up a pleasing and attractive appeal. Use remote control lights, voice command or an app to turn on and off your bathroom lights.
Adjustable Track Lighting
Track lighting, consisting of lamps on a continuous track installed in the ceiling, is a practical and aesthetically pleasing way to light your bathroom. Modern track lights are sold in all styles, including track lights where individual lights hang from the track at different heights. This option allows you to customize and adjust lighting in your bathroom according to your aesthetic taste and personal needs.
Industrial Cage Lights
Cage lights are the perfect solution for a little less bright light. Retro-style cage lights exude industrial style and complement other vintage pendants and wall lights perfectly. Despite being caged, their style and functional potential are anything but locked down.
The industrial Cage lights fit into many interiors and add an eye-catching element to modern and traditional bath spaces. You can also find a selection of cage lights, with chest lights being a popular choice.
Also Read: Effective Ways To Plan The Bathroom Renovations
Conclusion
Make your small bathroom look bigger with a large mirror. Install light-reflecting lamps on and above the mirror. The elegant design of the lamps contributes to the modern style of the bathroom. Generating a relaxing spa with bathroom wall lights installed above the mirrors gives you a soft, well lighted appearance. The right light arrangement to your bathroom makes your compact space a more open and comfortable feel.
FAQ
What lights are best for over a vanity mirror?
Face-up lighting, an integrated mirror light or clear, bright sconces on either side of the mirror at the same level as your face.
What kind of light do you use for a bathroom mirror?
Install a mirror-leading light in the bathroom above the mirrors by hanging up the lights or using LED lights on the mirror or any sconces on both sides of the mirror to avoid shadows.
What is the best lighting in front of a mirror?
Go for vertical, linear lights that evenly illuminate the face.
How many lights should be above a vanity mirror?
Any lights between two to four in number can be installed above the vanity mirror.