If you want to add magic to your garden with uniqueness and difference then go for succulents. These plants come in so many different colors, shapes and sizes that they can be used in incredible ways.
Succulents can survive in any climatic conditions and can go without water for long periods. With vibrant greens, stunning purples and blues succulents, you can decorate and design your garden in small spaces.
The Challenge of Creating a Succulent Gardens
Some challenges faced while creating succulent gardens.
Natural Light: Flourishing Succulents Gardens requires lots of natural sunlight. If they don't get enough light, they can become leggy and weak.
Watering: Overwatering is one of the most common mistakes made when growing succulents. They are drought-tolerant plants and do not need frequent watering.
Too cold temperature: Succulents struggle to grow in very cold conditions.
Pests: Regular pest control is required for your succulent.
The Opportunities of Creating Succulent Gardens
Creating Succulents Gardens in your limited space gives you the aesthetic appeal that you are looking for:
Undemanding– A very easy and undemanding plant that grows in any climatic conditions, even in dry areas.
Germinate wherever– Most succulents thrive and germinate in any living space, whether indoors or outdoors.
Diversity– Succulents come in diverse colors, textures, shapes and sizes
Health benefits– Aloe vera and agave succulent plants have been cultivated and used for years for their many other applications. Aloe vera can be used in skin products and healthy drinks.
Agave has been used as a natural sweetener and also used as an antiseptic for wounds.
Various Creative and Space-saving Succulent Garden Ideas
If you have confined space, then create a succulent garden that is easy to grow and manageable. Some of the Creative succulent ideas are:
Also Read: 22 Inspirational DIY Vertical Garden Ideas : A Detailed Guide
Choosing the Right Succulents
Choosing the Right succulent plants for your home is very important to create a garden:
Lighted area– Think about the amount of light in your room and what environment you have. Some succulents do better in areas that receive direct sunlight, while others prefer shade or partial shade.
Best suited– Do your research on the needs of different types of succulents to make sure they are suitable for your home environment.
Budget- Remember your budget and how much you're willing to pay for a new plant. Prices for succulents can vary greatly depending on the type and size.
Container Gardening
Growing a succulent container garden is an easy and very rewarding experience.
Any container– Succulent can be grown in any container made up of plastic, metal, concrete, glass, clay etc. The only thing needed is whatever container you are opting for, which has proper drainage holes in the bottom.
Soil– Ready-to-use potting mixes are available, or you can make it by yourself by mixing equal portions of soil, sand, and perlite.
Plants– Easy-to-grow succulents are Aloe, Jade, zebra cactus, and sempervivum tectorum.
Vertical Succulent Gardens
If you want to add color or interest to the walls of your home, a succulent wall garden may be just what you need and can be created by yourself.
Also Read: 16 Unique DIY Vertical Garden Ideas
Chop and Coat a plastic inside your box.
With the help of glue, attach the plastic.
Spread the soil to the top layer of the box with soil.
Choose your succulent plants such as Graptoveria, Kalanchoe, Tomentosa, Pachyphytum, Sedum Hybrid and more as per your liking.
Cut the roots of each succulent and plant the succulents in the shaded box.
Hang your succulent wall garden and adore
Miniature Succulent Landscapes
Small planted succulents with decorative arrangements in various pots and baskets – new and old – unique, made to order, with contents of your choice and imagination. You can combine them as per your imaginative themes such as:
Fairy landscape
Rock Landscape
Zen landscape
Succulent Terrariums
You can transform a simple collection of succulents into an elegant floral display for your home.
There's something exciting and beautiful about a stand-alone landscape in a glass container. If put together and cared for properly, these little ecosystems will thrive for years, making your home interiors as beautiful as you can be.
Succulent Garden Decor and Accessories
Add some of these decor and accessories to your succulent gardens that will give you the aesthetic appearance:
Add Lantern and candles at your succulent garden
Place a Rug in your home succulent garden
Installation of a large window toward your view of the succulent garden
Use different candles to light up the atmosphere
Place a Mirror or painting at your succulent garden
Using decorative elements like pebbles, driftwood, and decorative stones
Creating a succulent-themed garden with art, figurines and sculpture
Also Read: Zen Garden Ideas on a Budget 
Using repurposed items like old boots, teacups, and wooden crates for unique planters
Collect some items to use for recycled planters. Juice or milk cartons are perfect, or you can use empty food containers. Using old boots, teacups or wooden crates for your succulent garden is a great choice.
Use recyclable painted containers, hang them, or place them in your home.
Use recyclable tyres to plant your succulents
Using rain boots for planting your succulent
Used tea cups can be planted with different types of succulents
Wooden crates full of succulent plants are a great choice for your home garden.
Succulent Garden Care and Maintenance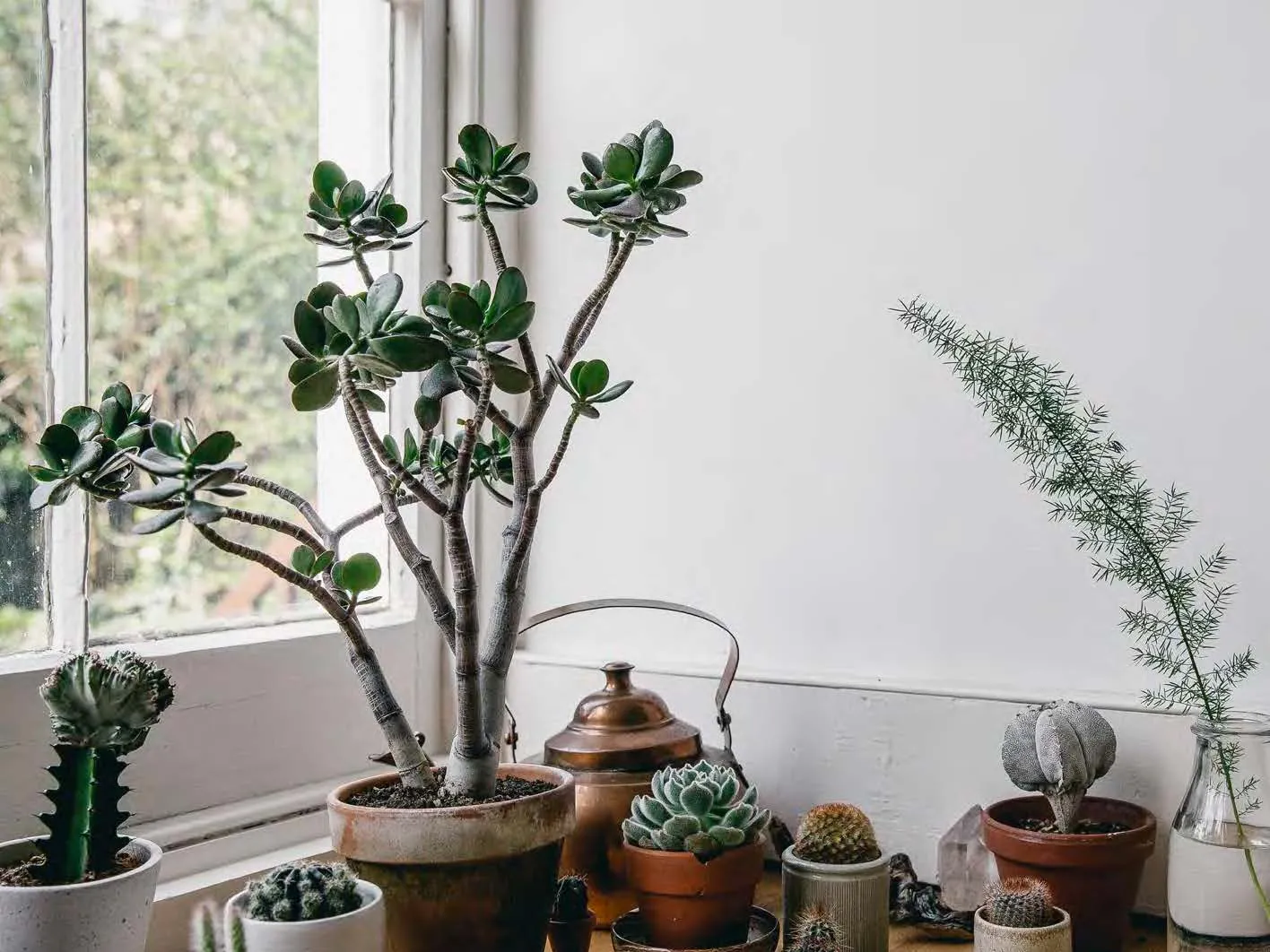 Succulents are the perfect houseplant, which requires minimal care and upkeep to make them alive and flourishing.
Enough light with proper soil is really good for succulent
Rotate the succulent pots and containers on a frequent basis.
Don't overwater the succulents.
Always use containers with drainage holes.
Keep the succulents clean by cutting and wiping
Use fertilizer and occasionally pest control for your succulent plants.
Conclusion
Succulent Gardens can be grown indoors, making them a versatile option for small spaces, especially terraces, balconies, and interiors.
Succulents are not only practical, but they are also incredibly beautiful and add a dynamic and eye-catching element to your garden design.
FAQ
What succulents to group together?
Succulent of different colors, shapes and sizes that complement each other can be grouped together.
Can succulents live in regular potting soil?
Yes, cacti can survive in any regular soil.
What succulents can you not plant together?
Planting a summer grower like Graptosedum California Sunset and a winter grower like Jade together is not a good idea.
Should succulents be in soil or rocks?
Succulent should be planted on the soil and rocks, pebbles can be used as landscaping.