As an essential element of every home, the bathrooms should be clean, organized and relaxing. After all, we all need to wind down the day's worries with a nice bath or shower. Now, if you think that since the size of your bathroom is small, you can't have both, then you've got it all wrong.
From modern and minimalist to functional and efficient, we have researched thousands of small bathroom styles so you don't have to. Keep reading ahead to find out the style that fits your small bathroom the best.
Add Functionality With Storage Ledge
Adding a storage ledge beside the shower/bath will not only add efficiency to the bathroom, but also make it look quite organized and clean. A built-in shelf with matching tiles will do just the trick without much hassle or taking up much space. It is one of the best small bathroom ideas that will transform the space from boring to chic with minimum effort.
Also Read: Effective Ways To Plan The Bathroom Renovations
Custom Build Your Bath
Getting your bathtub and shower customized will be one of the best decisions for you if you want a bathroom that accommodates you according to your needs. You can get the bath built in whatever shape that suits your preference and the bathroom size. Along with that, you can get any type of shower you like installed over the bath to save space and optimize the area according to your needs.
Also Read: 21 Inspirational Shower Ideas For Small Bathroom
P-Shaped Tub For More Shower Space
P-shaped baths offer a lot of shower space as compared to regular showers, which is why they are perfect if you want ample space in the shower. These types of bathrooms are also great for accommodating children as they are safer due to less corners and more shower space for them to move around.
Make It The Centre Of Attraction
Placing your bathtub in the center of the bathroom is an excellent idea for a unique look. You can ditch the traditional corner bathtubs and get a freestanding bath and shower combination installed to spice up the look of your bathroom. Incorporating a shower in the same area will add functionality to the space, giving you a multipurpose area that you can use however you like.
Overhead Showers For The Win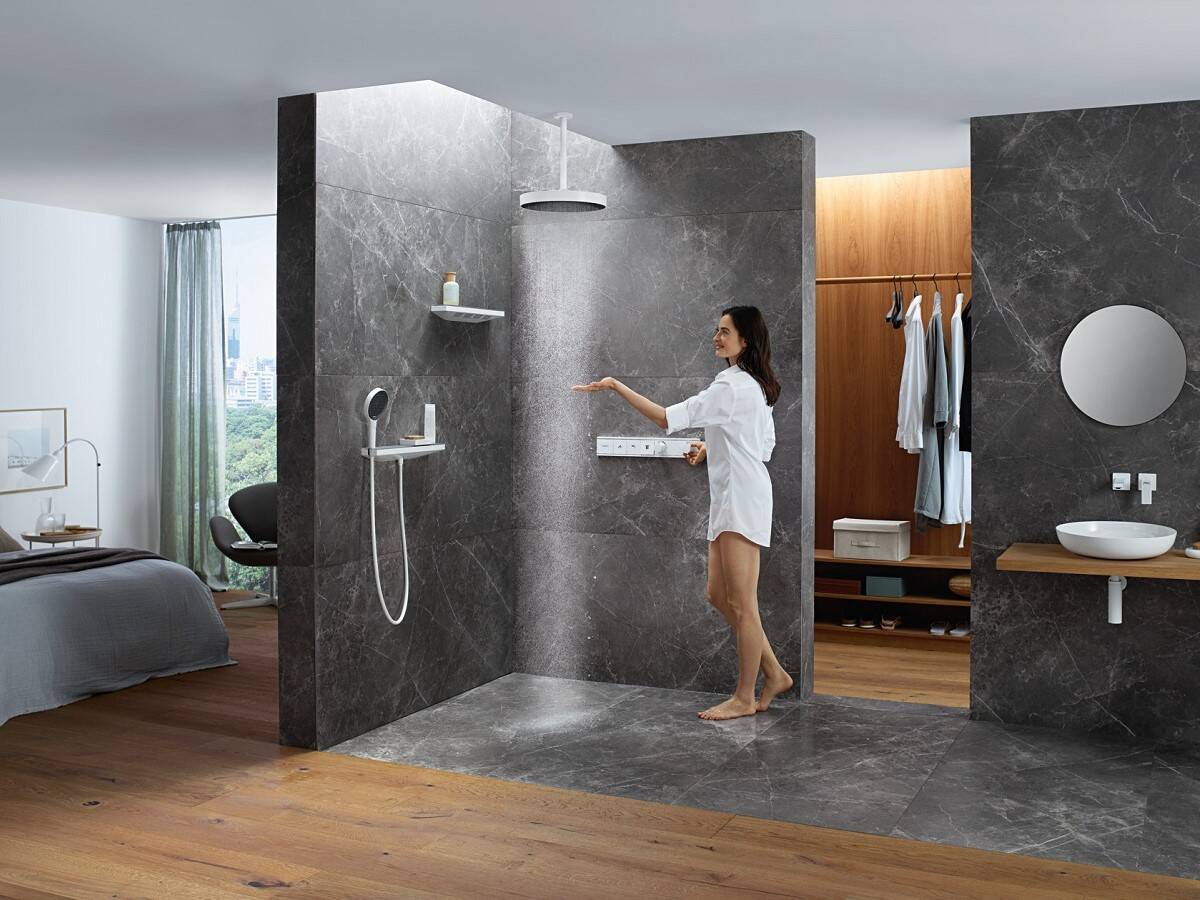 Customizing your shower will add elegance and efficiency to the place. You can easily transform the look of your small bathroom by installing an overhead shower or a handheld shower, depending upon your needs and preferences. Doing this will also make the place look quite luxurious while occupying minimum space.
Use A Monochromatic Theme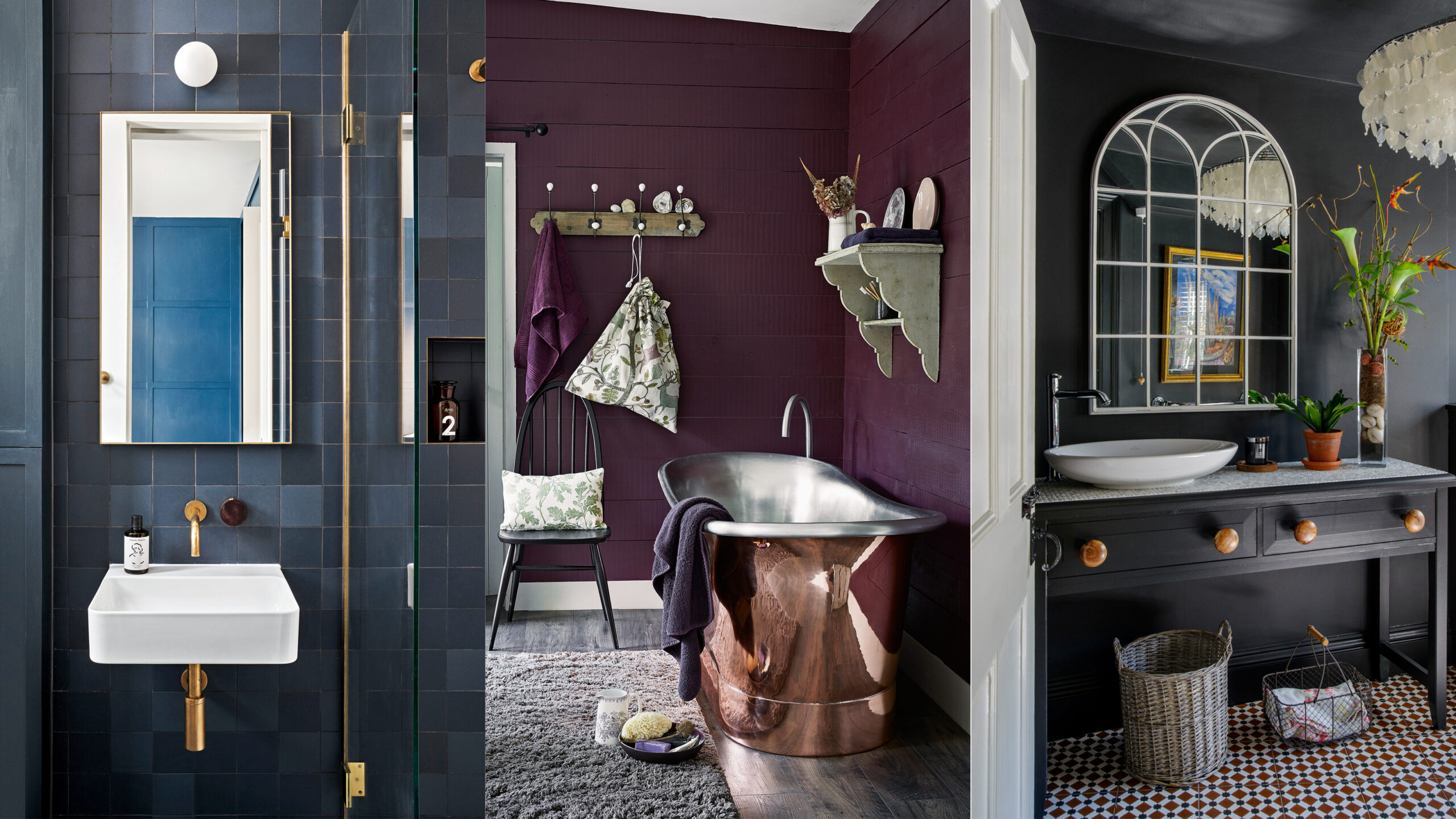 Monochromatic themes make any place look more prominent and get more light, especially in places with light colors. Hence, if you want to make your small bathroom look brighter and bigger, then this is one of the best ideas for you. Use accessories, furniture, and tiles in the same color with different tones to add some personality and style to the space while making it look larger.
Shower Screens For Privacy
Shower screens are pretty essential to put around your bathtub to keep the bathroom dry and clean at all times. There are multiple types of shower screens that you can use for this purpose, like glass, sheets, curtains, and more.
Small Bathroom Accessories and Storage Solutions
Minimal Design: Using a minimalist theme to set up a small bathroom will really help you out in designing it in a clean and organized way. Using space-saving furniture and leaving out more open areas will also make the bathroom seem bigger than it is.
Install Wire Baskets:  Wire baskets look dainty but can hold a lot of stuff. They are a great addition to small bathrooms as they provide extra storage space for towels, bottles, and more. These baskets can also be easily accommodated in small spaces, hence they are perfect for such settings.
Corner Cabinets/Cupboards: Using the corners of a small bathroom to its full potential is very important. Getting corner cabinets or cupboards is a great way to utilize the corner space while increasing space for storage.
Install Floating Shelves: Installing floating shelves in the bathroom is a great idea to improve functionality and storage space. You can get them installed in the corners, beside the bath, or in any empty area, as they can be easily accommodated and do not take up much space.
Bathroom Trays For The Win: Bathroom trays are a great decorative yet functional addition to the bathroom as they can be used to place your stuff while also giving the place a very chic and sophisticated appearance.
Big Mirrors: As contradictory as it may sound, placing a big mirror in a small bathroom will give the illusion of the place being more significant than it actually is. Mirrors reflect a lot of light and, hence, make any small space look larger.
Read More: 22 Trending Modern Bathroom Ideas For Refreshing Look!
Conclusion
Bathrooms should be comfortable and functional, irrespective of their size. Whether you have a big bathroom or a small one, it must be organized, decorated, and clean. The above mentioned small bathroom shower over bath ideas are to give you choices on how you can design your small bathroom without feeling left out on things like decor and accessories.
Remember, home decor is a creative and fun process, and you should enjoy it as much as you can. Have fun redecorating your bathroom.
Frequently Asked Questions
How can I make room for a bath and a shower in a tiny bathroom?
Small bathroom layouts can be streamlined to fit more in by using space-saving shower stalls, small baths, sliding doors, invisible shower screens, and many more different methods as mentioned above in this article.
Which size shower is the smallest one can have?
Showers as small as 30 inches by 30 inches are permitted by the International Residential Code, which governs homes, duplexes, and townhouses. From there, the dimensions gradually increase, typically reaching 36 by 60 inches.
What kind of material makes the greatest bathroom storage?
An open wall is transformed into storage for towels, washcloths, and shower materials by a metal and glass bathroom shelf unit. Trays and baskets are used to organize little goods. Near the bath, extra towels are conveniently located.