Many of us wish to have a beautiful small garden in our backyard for a soothing and eye-catching environment. Looking at the blossoming flowers, ripe fruits, and vegetables is a visual delight. To grow all these in the backyard, the best way to start is opting for a raised garden bed ideas, which has gained popularity in the last few years because of multiple factors, including hassle-free tilling, better control over the soil, and quick and easy harvesting.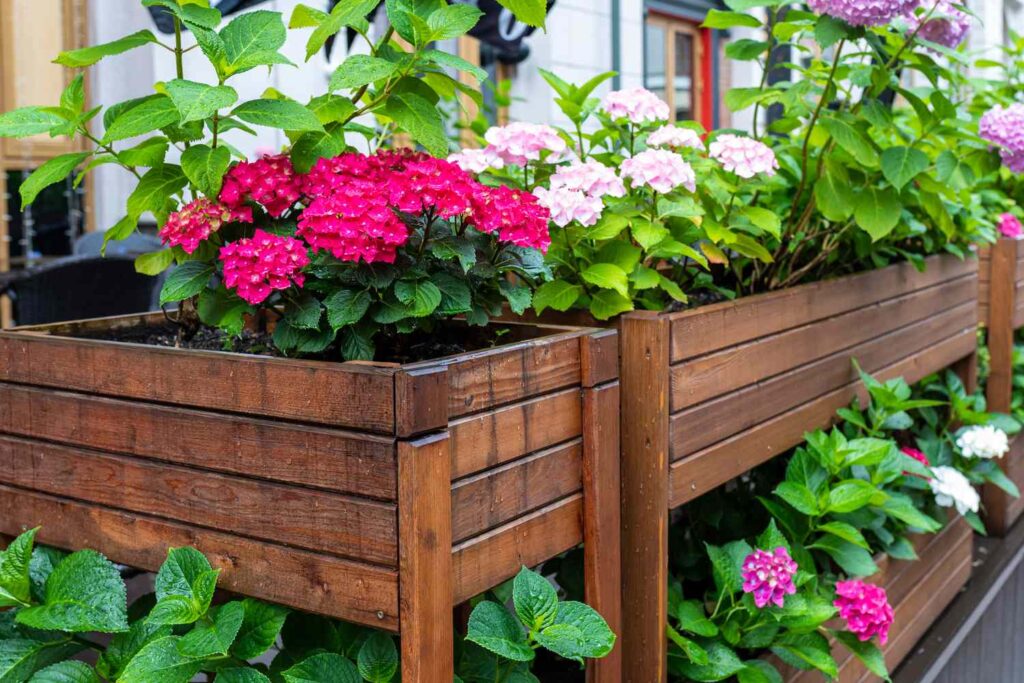 Raised garden beds can be kept simple, or you can showcase your creativity using a variety of options such as brick, stones, recycled materials, corrugated metals and many more, depending on your requirement, budget and the aesthetic element you wish to add.
What Is A Raised Garden Bed? 
Raised garden bed ideas are a method of gardening to grow plants in the soil above the ground in an enclosed space made of a variety of materials such as wood, stones, metals or some recycled materials available at home. It's easy to build as compared to the traditional method.
Read more: 25 Beautiful Australian Garden Trees Ideas To Add Charm
Advantages Of Raised Garden Bed Ideas
Better drainage

Perfect for sandy soil and soil with heavy clay

They warm up faster, making it ideal for cold-weather areas

Quick and easy harvesting

Easy to fence to keep it safe from visitors

Suitable for people with back pain because you don't have to bend much to water them

Better aesthetics

It can be made permanent or temporary

Few weeds and pests

Can be moved to different place based on the need

Minimal soil erosion

Better space to grow
Read more: Best 15 Types Of Trees For Beautiful Homes And Gardens!
Raised Garden Bed Ideas 
After understanding the pros of having raised garden bed ideas, it's time to have a look at various options and see which one is best for your garden.
Corrugated metal garden beds in a wooden frame
This is a preferred material for metal raised garden beds in Australia because it gives a perfect contrast between metal and wood. It also gives you a platform to showcase your creativity by colouring the wood frame in any shade to reflect your fantastic taste. Let your neighbours be in awe of your backyard.
Raised garden bed ideas with concrete geometric shapes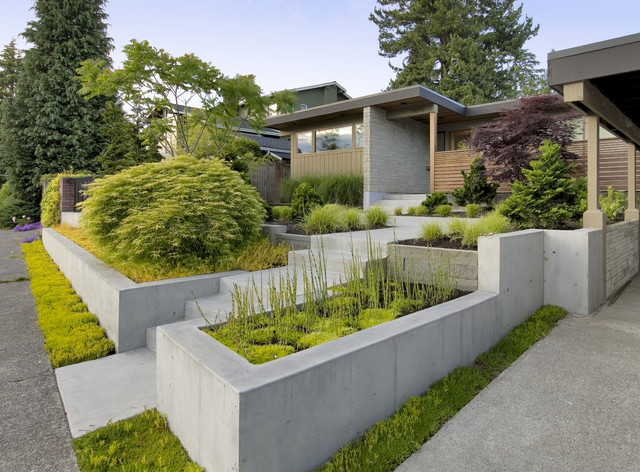 When building raised garden beds, concrete is a good choice as it's available in various shapes and can also be made by mixing cement, and the mold will help you get the desired shape. 
Wooden garden bed ideas
A wooden raised garden bed is a simple design idea for a natural ambience in the backyard. You would love to sit and watch it to relax your mind and soul away from the chaotic daily routine. Make sure you select cedar for the raised garden because it is free from rots.
Layered garden bed ideas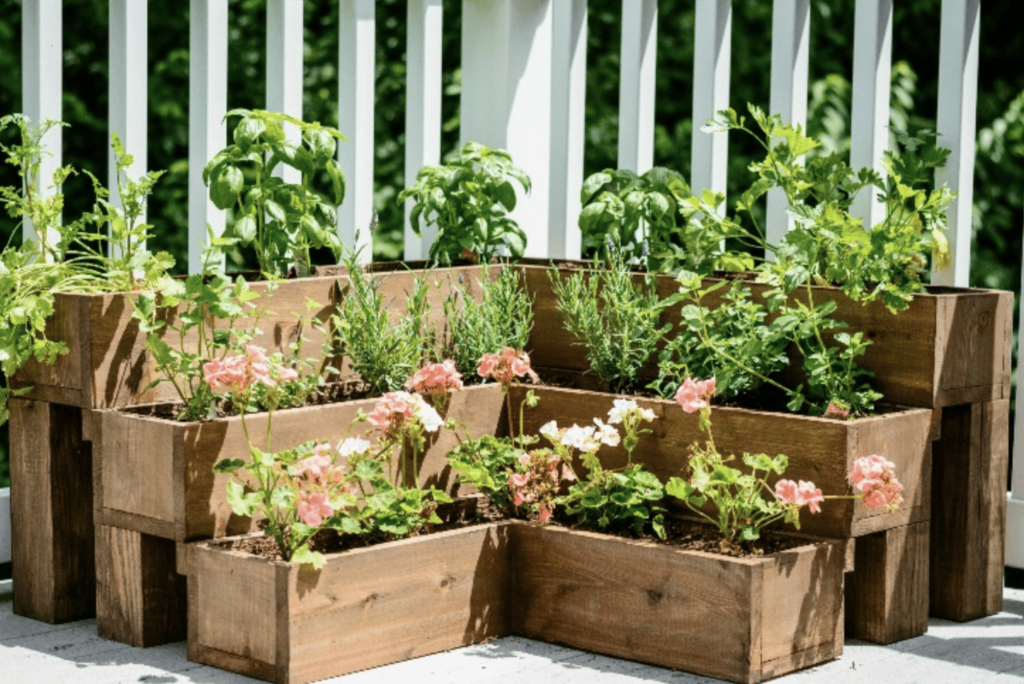 Another unique way to create a raised garden is to layer them on top of each other, extending a beautiful dimension to the garden to add a curb appeal. This design is ideal for growing beans, cucumbers and tomatoes.
Raised herb garden bed in table style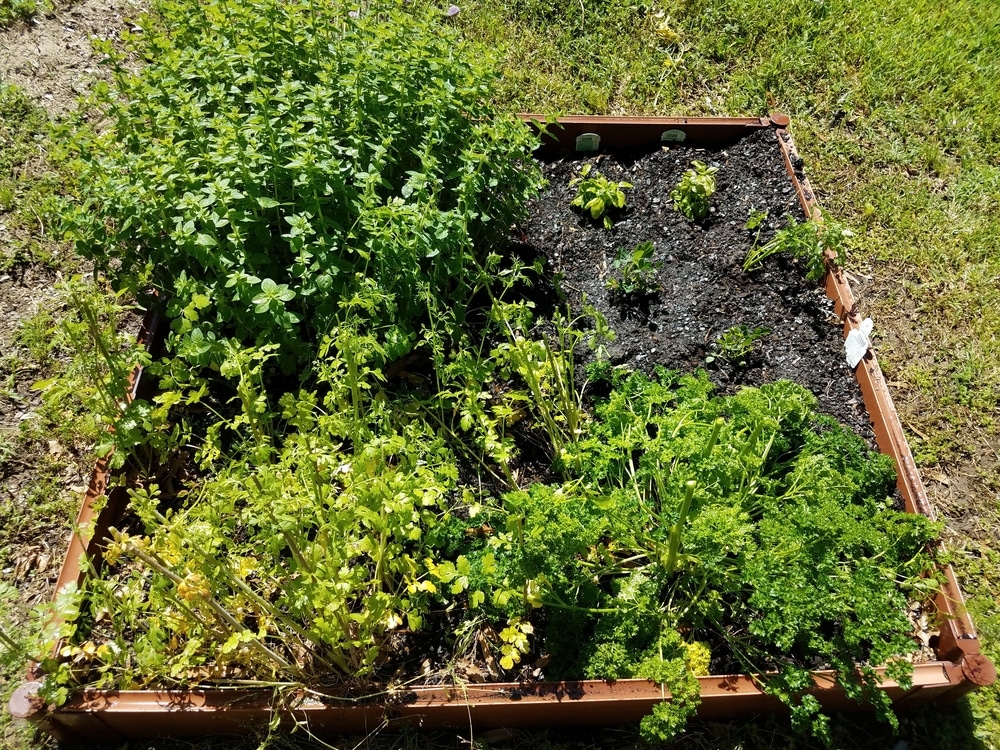 Isn't it a fantastic idea to use the old table legs or, rather, the old table to create a raised garden bed? This is a popular idea to grow herbs and salads like romaine, radicchio and lettuce. Enjoy the homegrown salad!
Brick garden bed designs
Creating a raised garden using old or new bricks is an excellent idea because you can apply your creativity to the bricks with bold and beautiful hues. If you have some spare brick left while building the home, use it to build a remarkable garden bed in your backyard. Another option is to buy used bricks sold in the market. If you are in an area with moisture, use brick which can sustain moisture.
One of the vital points to consider is the height of the bed. If you plan for a short raised garden bed using three to four bricks, you don't need to secure them with adhesive. However, for tall raised garden beds, you need to secure them to avoid any mishaps. 
Raised garden bed ideas with recycled pallets
It is cheap and the best material to make the garden bed as it's cheap and durable. Many movers and packers company stack pallets on the roadside for trash. You can easily bring them home, dismantle and try various new styles and shapes to give them a contemporary look. 
Raised garden bed ideas using old furniture
Have you ever considered using the old dresser to build a raised flower bed? There's no other way to use the old dresser, which is destined to be dumped sooner. You can use drawers to grow lush green small plants. Consider the weather condition of your area because most of the indoor pieces of furniture can't withstand the outdoor weather. Repurpose the old dresser if the weather permits.
Timber raised garden beds
Timber is best suited to build a raised garden because timber is made to be used in outdoors, and for this reason, it's used for edging the garden. There's another way to add visual appeal to the garden if there's a fence. It's to build timber raised garden near the fence. It will look amazing.
Build raised garden with supportive cages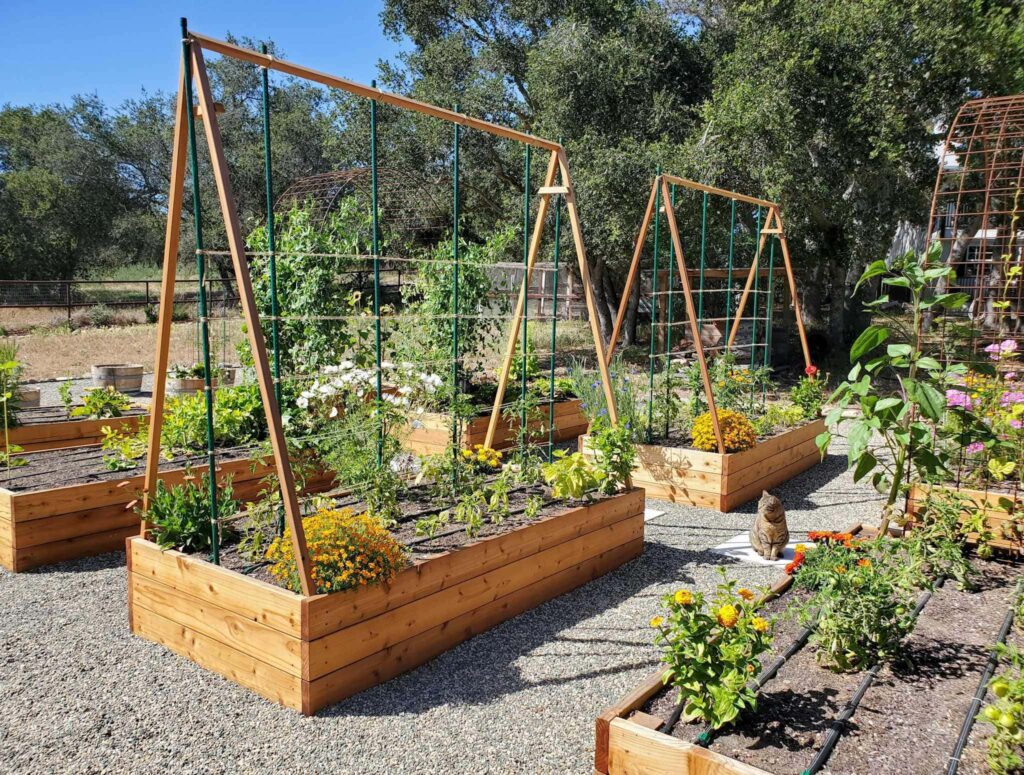 It's an intelligent solution for lower garden beds to protect from pests and animals and to help plants grow off the ground better.
Creativity with an old wheelbarrow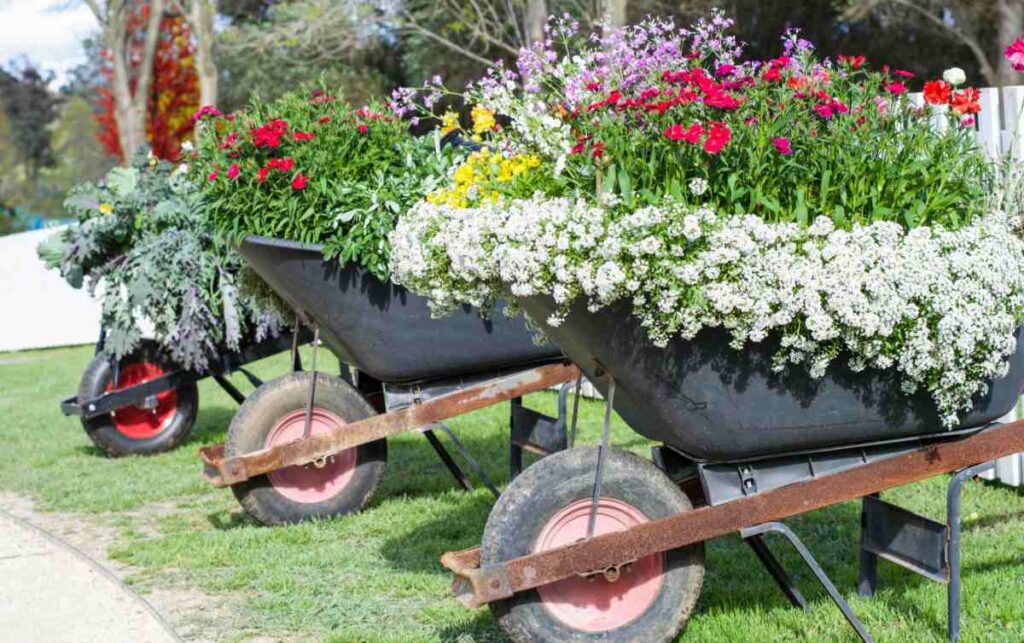 Add instant appeal to your garden with colourful and fragrant flowers. To add extra flair, paint the wheelbarrow with some dark shade to match the surrounding.
Raised garden bed ideas with an old tyre
Use your old tyre in a unique and functional garden. Though you can grow any herbs or veggies, try not to grow these things. Instead, plant inedible flowers.
Rustic garden beds
To embrace a chic rustic garden bed, there's no need to polish the wood to elevate the look. Raw wood with visible metal braces alone can create a beautiful look in the backyard. 
Add a pop of red colour to raised garden bed ideas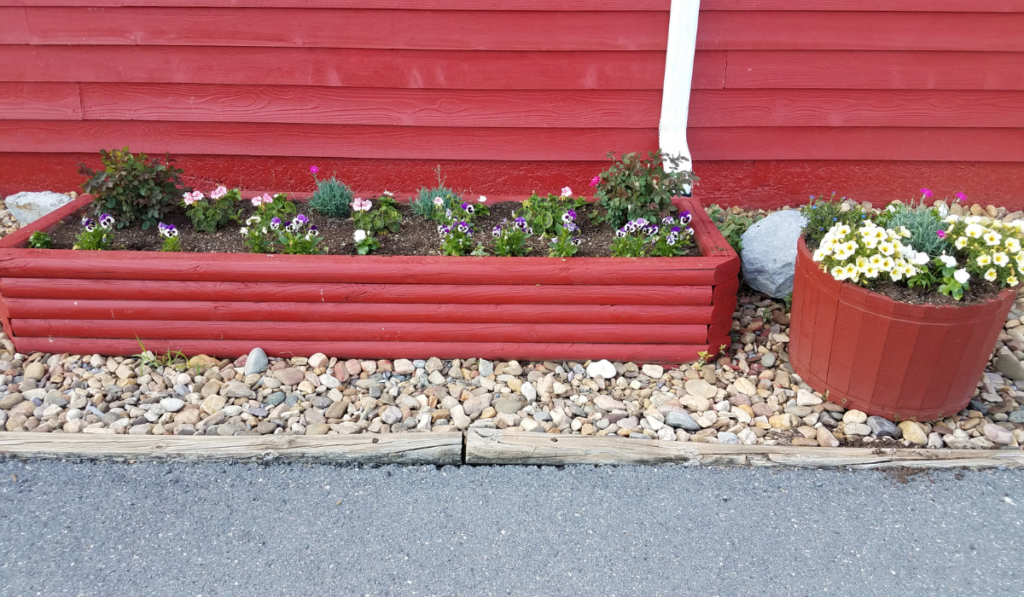 Irrespective of the size of the outdoor garden, you can smoothly inject a statement element in the outdoor garden with red plant troughs to grow everything from spinach to lettuce. 
Embrace symmetrical look
Place pairs of uniform-looking garden beds to create a sense of balance in the garden. Place them either next to each other or opposite for consistent placement. 
Raised garden bed ideas with large plastic tubs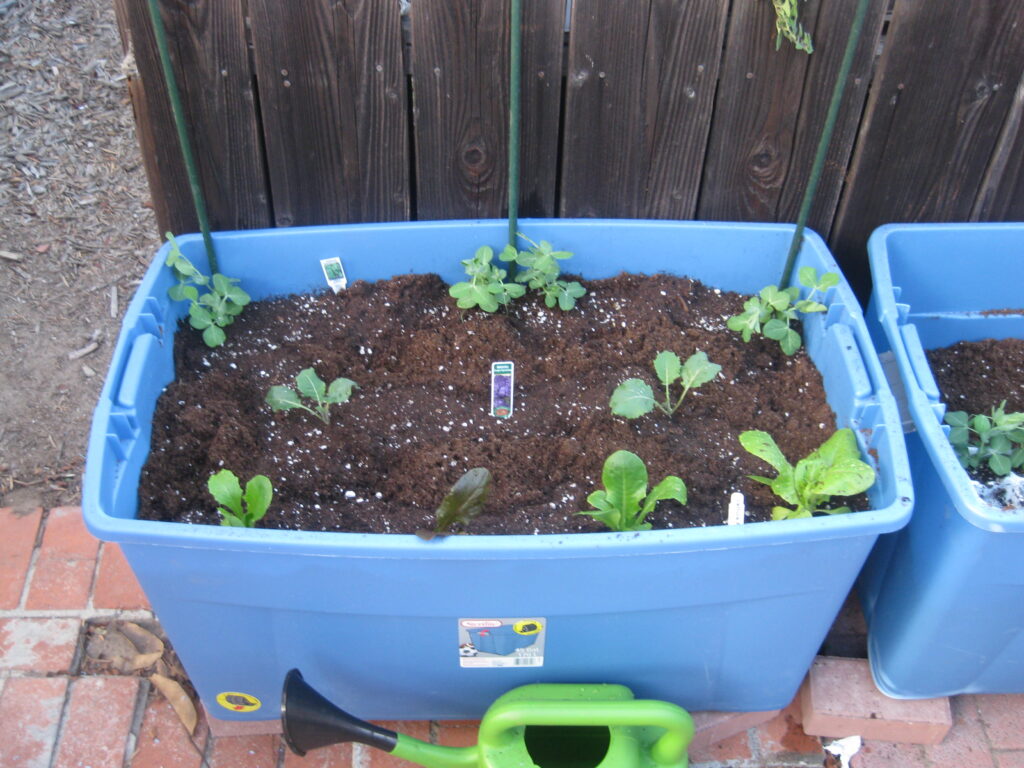 It is an easy way to set up a raised garden using plastic tubs, which are easy to handle. You can grow a variety of plants and veggies. Keep the tub at waist height by placing it on timber frames, which you can make from recycled material or get it from production nurseries that may no longer need it.  
Stone raised garden bed ideas with a layer of wire mesh
This design has double-layer wire mesh with large stones filled in it, which is used as a fence and walls to add aesthetics and prevent soil erosion. A raised garden bed in this design looks awesome.
Raised garden beds with grow bags to grow plants
Over the recent years, grow bags raised garden beds have become trending because of their easy mobility and maintenance. It's simple to use and less expensive-Just fill the bag with compost and grow veggies and flowers of your choice.
Raised garden bed ideas with milk crates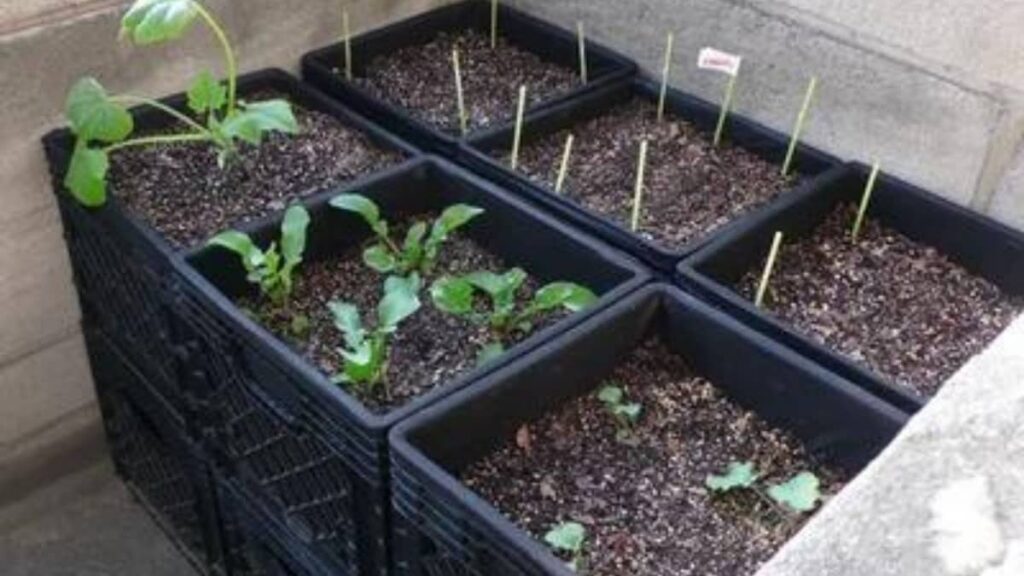 Isn't it a good idea to create a small raised garden on your balcony using upcycle milk crates? Please don't bother about the size of the balcony-only keep crates with landscape fabric to stop soil from falling out of it.
Important Points To Consider When Building A Raised Garden Bed
Building a raised garden is a DIY work to fulfil your wish to grow veggies and flowers that requires simple tools and patience. 
Identify the perfect spot
 Select a place with enough sunlight, level ground and a place away from the rest of the garden. 
Select the right material
Choose a material of rot-resistant wood and avoid railroad ties as much as possible because they leak toxins into the soil.
Exact bed size and layout
Make the bed less than 4 feet wide to conveniently reach the centre, and the depth should be 12-14 inches.
Time to build the raised bed
It's time to build the raised garden bed now. Build it with stone, wood or any material suitable for your garden, considering other factors.
Secure the bottom of the bed
Use newspaper or corrugated cardboard to grass growing up through the raised bed.
Fill the garden bed with soil
Now, fill the raised bed with 1 part topsoil, 1 part composted material and 1 part sand. If you want, bag soil is also a better option. 
Grow your favourite veggies and flowers
Finally, it's time to grow your veggies and flowers to spread colours all around for a visual treat.
Several Ways To Water The Raised Garden Beds
Hand watering

Automatic irrigation
Conclusion
When looking for the best raised garden bed ideas, it's vital to consider several factors such as the size of the garden, types of material used, weather conditions of the area, soil texture and many more. All these efforts will help you create a beautiful garden to serve a dual purpose of scenic view and functionality.
FAQs
How deep should raised garden beds be?
Vegetable beds should be between 12-18 inches deep. It should not be very deep. Bed could be elevated more and filled with porous material if there's a drainage issue or plants prefer dry soil.
Should raised beds have drainage?
Having drainage in a raised garden bed is very important because it prevents overwatering and underwatering both for your plants. It will also prevent water waterborne diseases like root rot. 
Can I use an old bookshelf for a raised garden bed?
Yes, an old bookshelf can surely be used to build a raised garden bed. No matter what is the size of the bookshelf, place planters accordingly with some fresh and colourful flowers to fill the surroundings with colours.
What is the best compost for raised garden beds?
Organic compost is the best compost for raised garden beds, especially the ones made at home over the period.