Bamboo is a great material for fencing and can be used in a plethora of ways. From installing a bamboo trellis to adding lights to the fence, there are numerous ways in which you can style it. This versatile and natural material will not only make your place look great but will also give you privacy and protection from any prying eyes in the neighborhood.
Apart from that, the wide range of benefits of installing bamboo fences put a strong argument against the other materials. It is sustainable, eco-friendly, low-maintenance, and much more. Let us dive into this article further to learn more about bamboo as a fencing material.
Also, Read 27 Beautiful Garden Fence Ideas To Add Curb Appeal To Your Garden
Best Types Of Bamboo For Fencing
There are a plethora of options available out there when it comes to different types of bamboo to be used as fencing. To help you choose one that suits the structure of your home as well as your tastes and preferences, we have brought to you some of the best types of bamboo for fencing:
Guadua Bamboo
This type of bamboo is amazing to be used as a privacy fence as it is one of the strongest bamboo out there and is durable and dense. These qualities make Guadua bamboo perfect for people who want a strong and sturdy fence. This bamboo is also very versatile and can be used for many different purposes; hence, you can use it in different parts of your home.
Black Bamboo Garden Screening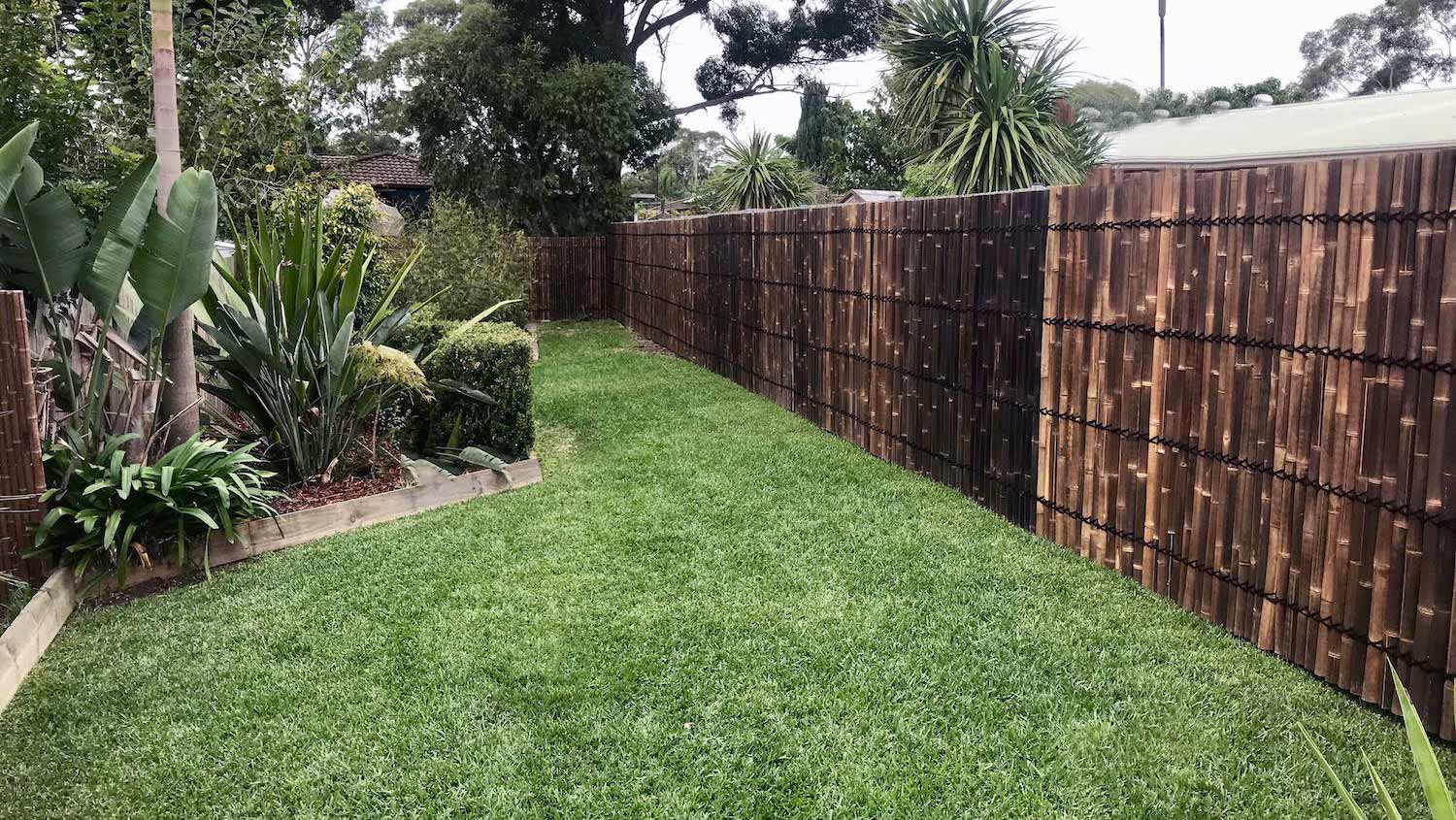 This is one of the best outdoor bamboos for privacy fences as it provides a dense wall-like structure when installed correctly. Black bamboo also acts as a noise-protective barrier and keeps your place secured and private while giving your garden an airy and natural look.
Yellow Groove Bamboo
Yellow groove bamboo is perfect for privacy screens in the yard or a bamboo screen for the balcony as it is dense and thick in nature. If you want a privacy hedge in any part of your house, like the backyard, the garden, or the balcony, then this is the best type of bamboo for you.
Japanese Bamboo Fence
Japanese cane bamboo is modified to make it a tight and protective structure perfect to be used as privacy screens and fences. This type of bamboo is known for its durability and structure and is formed by weaving them together in a way that provides maximum privacy anywhere they're installed.
Fernleaf Bamboo
Fernleaf bamboo is one of the most beautiful and eye-catching types of bamboo because of its slender canes and delicate foliage. These bamboos are perfect to be used as ornamental fences in your garden, balcony, or even inside your house. Fernleaf bamboo fences are great for providing shade and privacy to an area without covering the entirety of it.
Dwarf Bamboo
Dwarf bamboo grows amazingly in a garden or yard, making it one of the best types to create a fence. This type of bamboo is great for creating a privacy screen or windbreak. These bamboo fences will look great in any part of your house landscape as they are versatile, attractive, and quite functional.
Benefits Of Bamboo Fencing
Bamboo fencing has been gaining a lot of popularity in the house decor industry, and for valid reasons. The numerous environmental and cost-efficient benefits that bamboo fences have are too hard to ignore. To give you a better idea of what we are talking about, here are some of the undeniable benefits of bamboo fencing:
Strong & Long-Lasting: Bamboo privacy fences are great for your garden or yard as they not only provide a natural look and feel to it but also last quite a long time compared to other makeshift fences. Bamboo is a sturdy and stiff material that will make your place look a lot more neat and organized.
Environment Friendly: Out of the numerous options you have, bamboo is one of the most environmentally friendly ones. Bamboo is natural, doesn't need much water to grow, is renewable, and has many more environmental benefits. Hence, if you want an eco-friendly option, this is just the right fence material.
Versatile: Bamboo is a very versatile material when it comes to fencing, as it can be used in different parts of the house, including the balcony, garden, backyard, and more. Apart from that, it is available in so many sizes and types that it gives you the option to choose the one that suits your home best.
Low Maintenance Costs: The maintenance costs of bamboo are much less than the other materials used for fencing as it doesn't need a lot to grow or stay strong. You can spray your bamboo with a sealant to make it waterproof or weave it together tightly to create a strong structure. Afterward, you can wash it lightly with a hose to clean it occasionally, and you're done.
Sustainable: Bamboo is a sustainable option for fencing as they don't harm the environment or your garden soil. It can be repurposed in so many ways that makes it one of the best fencing materials ever. Hence, if you want a privacy fence with all these benefits, then bamboo will definitely be the right choice for you.
Design & Style Options For Bamboo Fence Panels
The number of designs and styling options for bamboo fences is thousands and maybe even more, which can make it confusing to choose one according to your needs and taste. To help you with that process, we have made a list of some of the best designs and styles of bamboo fence panels so that you can make the choice easily.
Make A Privacy Screen
Making a tall privacy screen the size of a wall will be a great idea for people who want a wall-like structure to have privacy but not an actual wall. A bamboo privacy wall is great for people with little kids or pets so that they can be carefree about letting them play freely in the backyard or garden.
Bamboo And Ropes For A Rustic Look
If you have a rustic-style home, then this is a great styling idea for a bamboo fence for your home. You can use jute ropes to attach the bamboo canes tightly together and make a fence that fits your garden area, and you will have your very own customized fence.
Make A Traditional Fence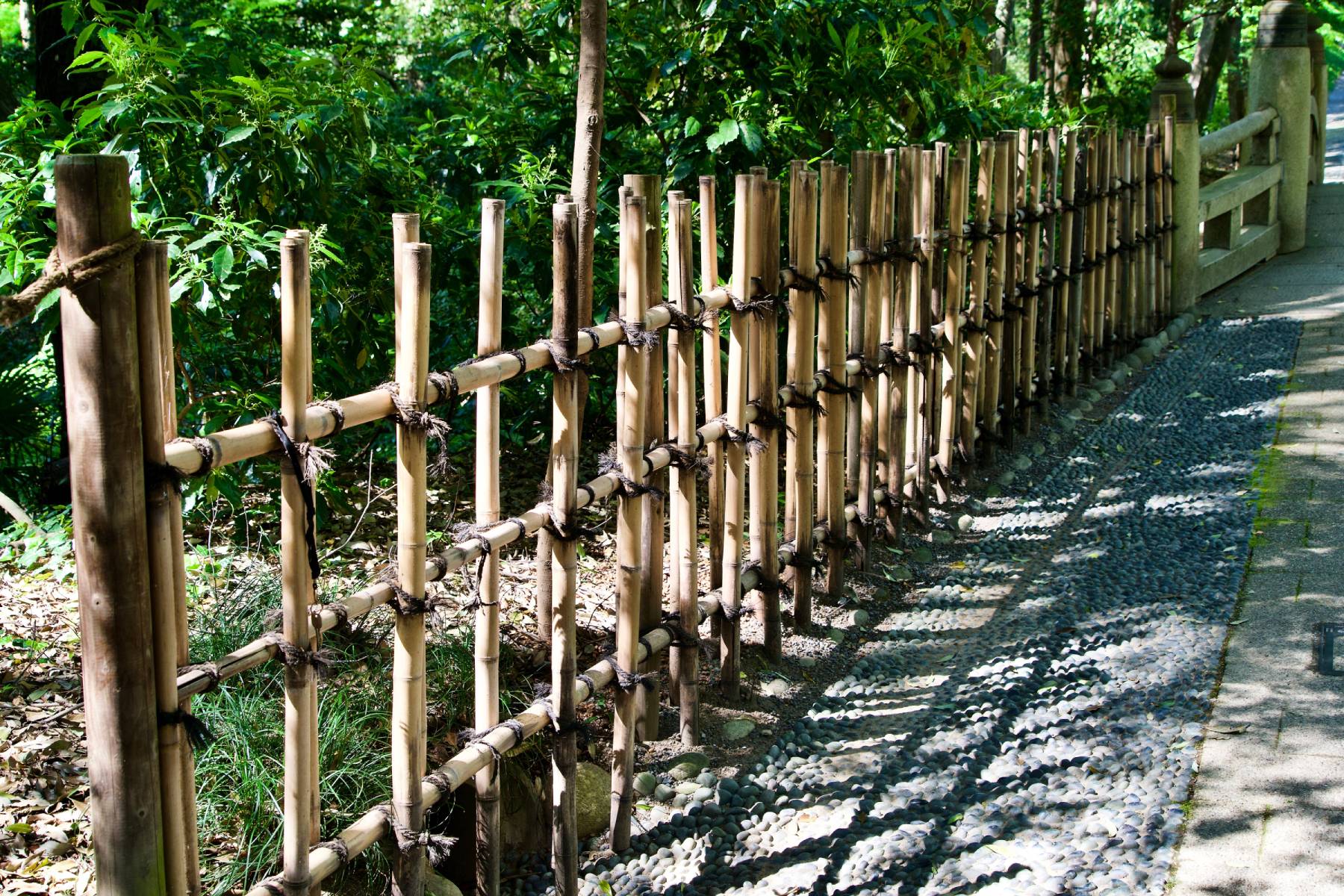 A traditional woven bamboo fence is classic and timeless. If you want to add a boundary to your yard or garden, then this is the best design of bamboo fence for your home. This is also one of the most cost-effective designs as it doesn't require any extra stuff for its construction or installation, as its beauty lies in its simplicity.
Make An Accent Fence With Bamboo And Stones
This is a very creative and fun idea that is perfect to add a pop of color and personality to your backyard. You can choose from a plethora of different materials to incorporate with a simple bamboo fence to make it an accent privacy screen.
Hanging Planters For Decor And Efficiency
You can hang some small planters with colorful flowers on the fence to make them blend into the garden and have a harmonized look. Apart from that, you can also plant herbs in these small hanging planters and have them as a different section in your garden. The possibilities to use this idea for your bamboo fence are endless!
Light Up The Place With String Lights
Use dainty string lights, preferably in golden color, and it will give the illusion of fireflies in your backyard or garden. This idea is perfect to make your yard look like it came straight out of a fairytale.
Maintenance Tips For Bamboo Fences
Even the most low-maintenance structures require some or the other kind of upkeep and care, and so is the case for bamboo fences. Here are some simple and easy maintenance tips for bamboo fences that will come in handy when you install one:
Keep It Clean: You can clean your bamboo fence lightly with a brush or damp cloth to make sure that no mold growth occurs and it stays clean and healthy.
Regular Inspections: Make sure that you keep a check on your bamboo fence for any damage signs like mold so you can address it as soon as it occurs. Hence, regular inspections are very important.
Sealant Application: Applying a good quality sealant on your bamboo fence is a great way to increase its durability. You can spray a good coating of a sealant on your bamboo, and it's good to go.
Pruning: For people who have installed a running bamboo fence, it is important that you keep its growth in check, or it will be a severe issue. Running bamboo can get out of hand pretty quickly. Hence, it is crucial to keep trimming and pruning it regularly.
Pest Control: Bamboo is a naturally pest-resistant fencing material. However, it is still a good idea to keep checking for any pests to make sure that if there is any infestation, it gets rectified as early as possible.
Conclusion
Bamboo fencing is a very durable and robust option for most houses as they are environment-friendly, stronger than normal wood, and usually pest-resistant. Apart from that, bamboo has a plethora of other benefits, as you read earlier. Hence, it is one of the best materials you can use for privacy screening in your backyard or any open area around your house to add a layer of security that also looks great in a natural setting.
Whether you want a traditional bamboo fence, a rustic screen, an accent bamboo panel fence, or any other style, there is bamboo for every design and style, giving you a lot of options to choose from. So, you can find a style that suits your home and your style the most. We hope all of your queries and concerns about bamboo fences were addressed here. Have fun decorating your backyard!
Frequently Asked Questions
Is a bamboo fence a good idea?
Bamboo is an excellent material for fencing as it is natural, sturdy, and durable. If you want a privacy screen or fence that protects your yard while still adding to its natural beauty, then a bamboo fence covering is the best for you.
How long does bamboo last in a fence?
Natural bamboo garden fences usually last up to two years, and treated bamboo may last you anywhere between 4 to 5 years.
How do you protect bamboo from rain?
Bamboo is naturally water resistant and can deal with a bit of rain on its own every once in a while. However, if you want to give your bamboo fence extra protection, then you can give it a good sealant or stain coating.
Is bamboo fencing cheaper than wood?
Yes, bamboo is a significantly cheaper material to be used for fencing the yard as compared to other wood types. This is because bamboo can be grown in large quantities, unlike other materials used for fencing.