Doors are the opening in the wall that allows in and out movement. Your front door is the entrance to your residence that gives the first glance to your pleasing interiors. The Glass front doors are a popular style that brightens your access by providing natural light and air to cross over from exterior to interior and vice versa.
Of all the doors, the front door is the most visible element that you and your guests experience, and adding Glass to it gives a swanky and stylish peek at your home environment.
If you want to enhance your home appeal, then possessing a front glass door for your entryway is the most alluring and functional artefact that you can easily place. The most classy and elegant-looking design for your passageway is installing a Glass front door.
Also Read Front Door Ideas For Different Types Of Homes 
Types of Glass Front Doors
When it comes to choosing the glass front doors, there are lots of shapes, designs, and sizes for your home. Go and choose the best glass front door that is easily available:
Raindrops Glass Front Doors– Rain pouring downwards on the glass panel fixed to your front entrance door gives you the aesthetic and classy fixtures to your home.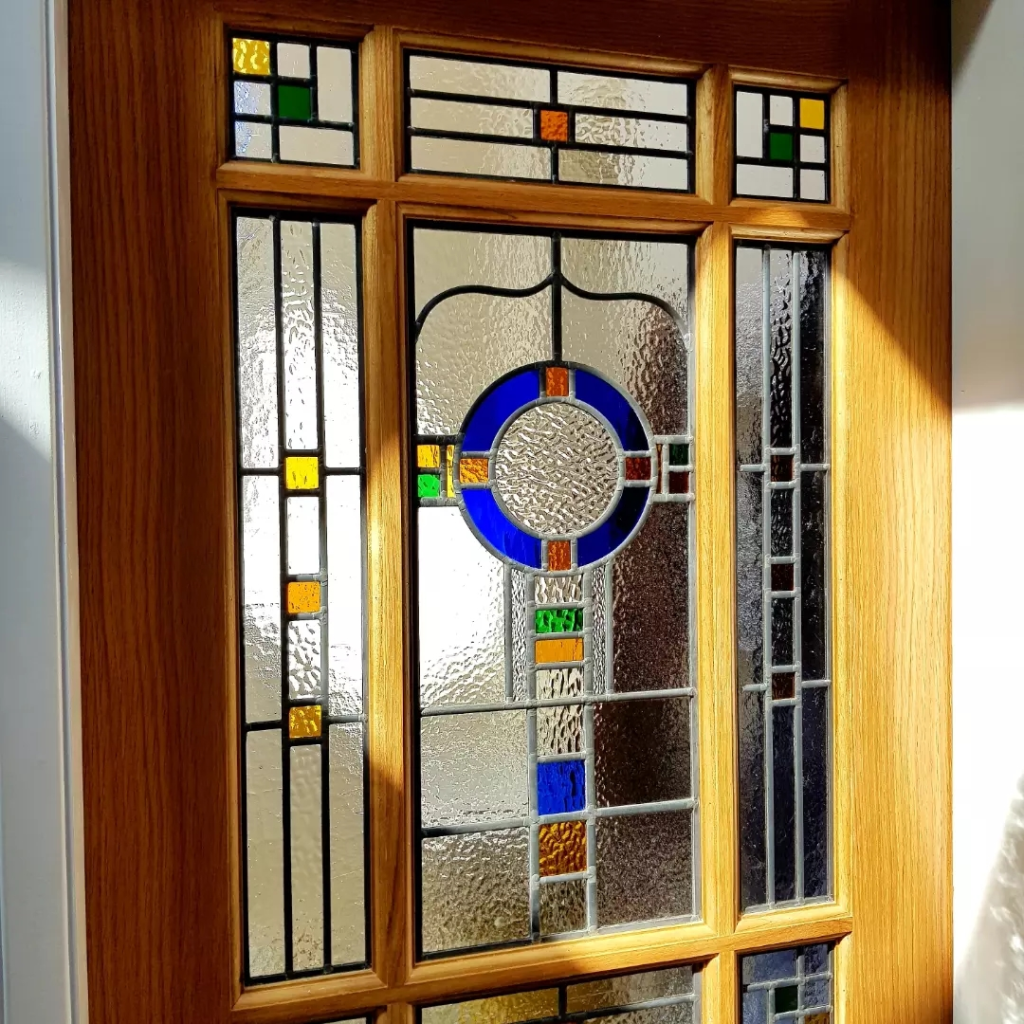 Smudge Glass Front Doors– Stained or coloured Glass that gives a perfect painting description to your main entrance. Going for a smudged Glass front door is having a decorative picture installed on your way in.
Frosted Glass Front Doors>- A glass is turned Opaque through sandblasting or acid etching, bringing a non-transparent effect. Having a frosted Glass front door gives you the utmost privacy that you are looking for.
Clear Glass Front Doors– A clear Glass front door opens to your surroundings, giving a modern and unique appearance.
Oval Glass Front Doors– Solid wood front with large oval Glass window gives a gorgeous and artistic appearance to your place.
Rectangle Glass Front Doors– A door fitted with rectangle cut glasses gives you a contemporary edge to your home interiors.
Arched Glass Front Doors– are truly versatile, and their curves complement the horizontal and vertical designs of your living room.
Ornate Glass Front Doors– A decorated ornamented glass fixed to your front entrance door gives you a fancy finish to your home.
Sidelights Glass Front Doors– A single door with sidelights and a glass window at the foremost part of your house gives you the eye to look directly up to your street.
Glass Front with Double Doors– A double front door with all Glass matching your exterior design and paint.
Single Doors with Glass– A single-door entrance with Glass sealed to it makes your home ultra-modern and fashionable.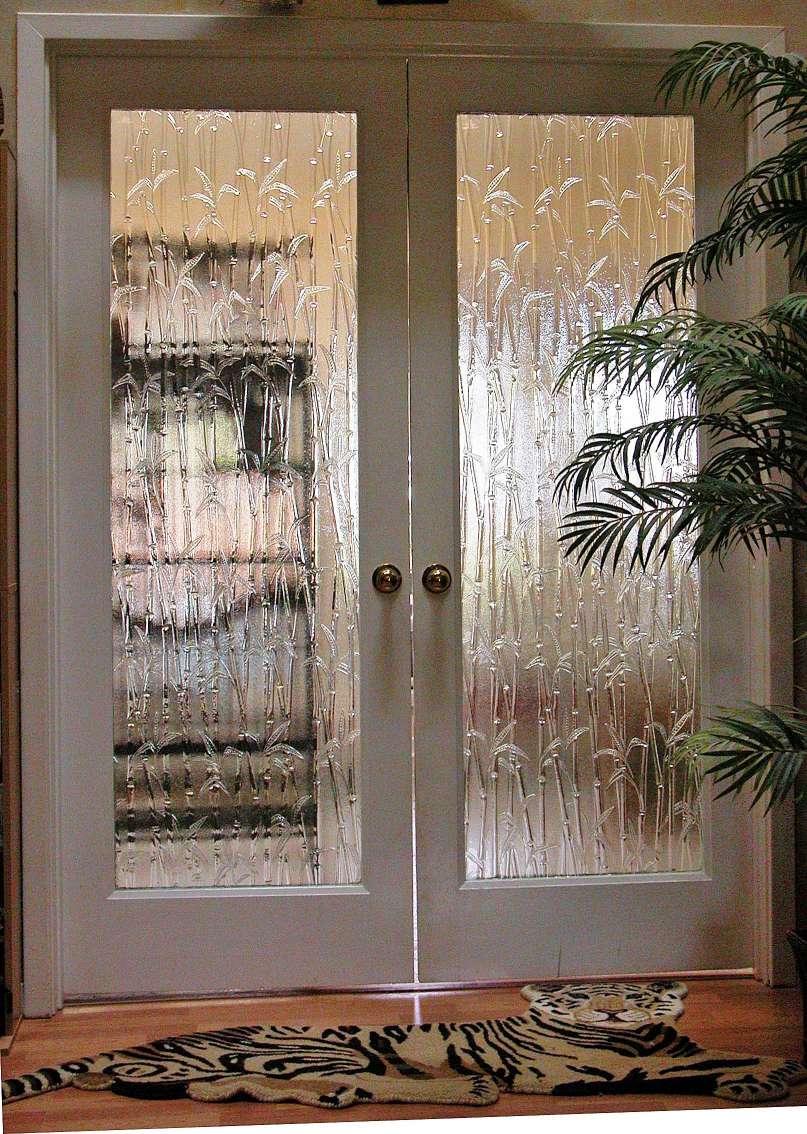 Taffeta Glass Front Doors– A textured glass with 4 mm thickness gives privacy. With their swirling patterns, the most attractive are fantastic for your residence obscuration.
Sliding Glass Front Doors– Sliding glass front doors are a great alternative for bringing beautiful decor to your doorway—an uninterrupted view of your home environment.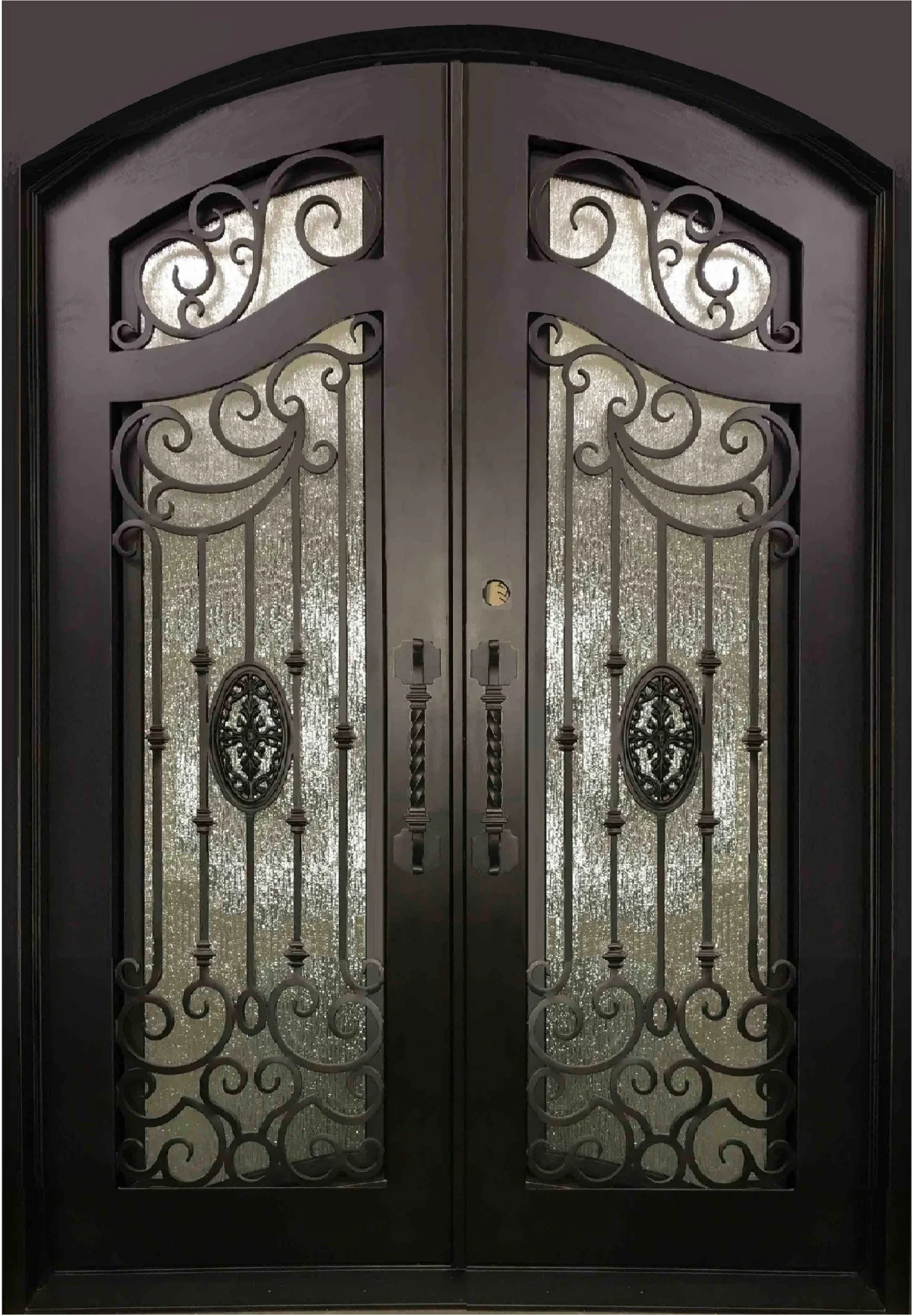 Wrought Iron Glass Front Doors– A door made up of wood glass. Wrought Iron is used to give protection to the Glass. Comes in lots of variations and designs, perfect for those looking for more safety in your entry door.
Various styles and designs
If you are looking for a classy look, go for the glass front door style and design that complements your home decor by deciding on the following:
Contemporary Glass engraved front doors
Style Statement with security with the use of frost glass
Installing sliding front doors
Timeless classic hardwood front door with sealed Glass
Fancy colourful Glass front door
Fibreglass front door with Glass
Front glass door with minimal framing
Metal glass door
Popular trends in Glass front door designs
To provide an overview and appearance of more space, the most popular trends in glass front doors are:
PVC Glass Front Doors
Metal Glass Front Doors
Fibreglass Front Doors
Colourful Glass Front Doors
Double Door Glass
Glass door with minimal wooden or metal frames
Sliding Front Doors
Wrought Iron Glass Front Doors
Advantages of Glass Front Doors
A Glass front door opens up your home by giving a bright and airy atmosphere. It has a number of advantages:
Allows natural light to enter your residence.
Monitoring the movement of coming and going people.
It provides a clear view of your outside
Very easy to maintain
Reduces energy costs
Increases the usefulness and value of your home
Adds a classy appearance to your place
Privacy and Security Features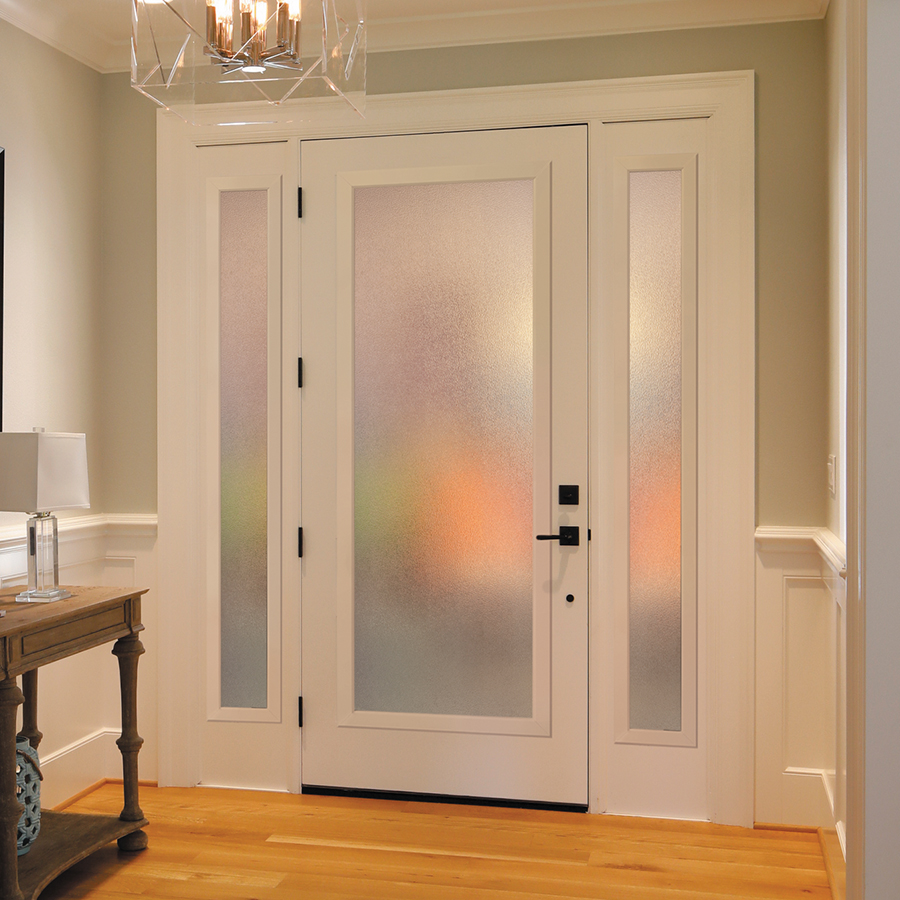 Add privacy to your front glass door by having
Applying privacy film to your clean glass door
Choose the frosted Glass for the front door
Use the tinted Glass on the front door
Apply textured Glass to the entrance door.
Using curtains or blinds at front glass doors
Just paint the Glass.
Always remember that your front door is the first line of defence against break-ins. To improve the safety features of the Glass front door, you should:
Upgrade your door lock
Use a multi-point locking system.
Having a Deadbolt lock installed.
Upgrade the home security system.
Install a light at the entrance.
Use of toughened Glass
Glass Front Doors in Different Architectural Styles
An architectural style front glass door makes your home notable and identifiable and sets you apart from your neighbourhood. The most prominent architectural front glass door styles are: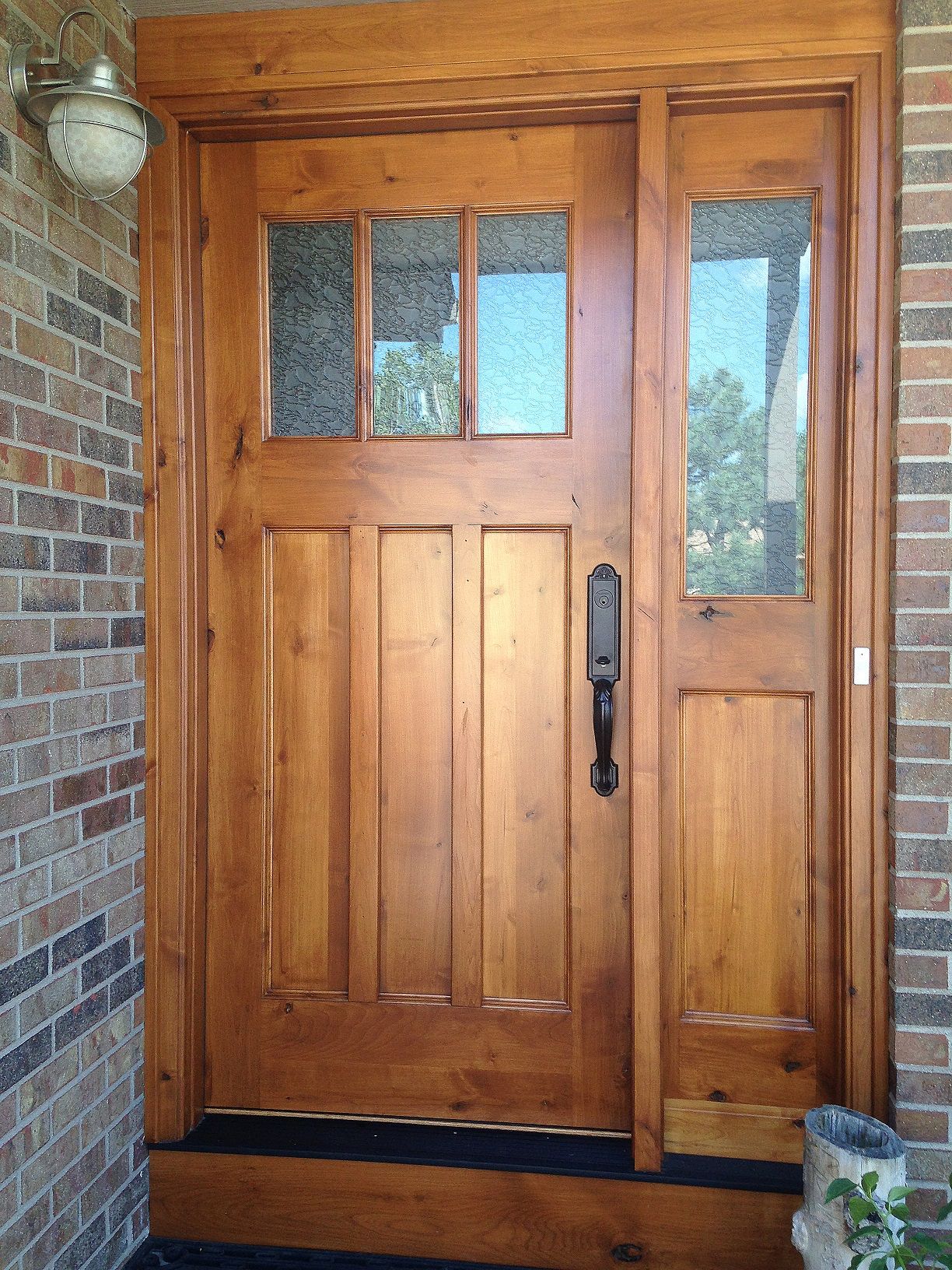 Craftsman– A front door made up of wood and glass windows. A panel of clean Glass or Stained Glass is sealed on the upper part or the lower part of the wooden door. It gives a timeless elegance to your home.
Rustic– The Rustic front glass door adds appeal and is a unique feature to your home decor. A natural door finish with a glass window gives you the aesthetic and classy fixtures to your front entrance door.
Modern– A modern door with glass windows provides perfect warmth and is a great choice for homeowners who are looking for other options, such as fibreglass, steel, or wrought iron fixed with different types of Glass. If you are looking to enlarge your home entrance, then go for modern solid glass doors that make a stylish statement.
Tips for integrating Glass Front Doors into specific architectural design
Glass door design must have an architectural element to your property. The only way to bring the outside inside is through the Glass front door.
Oversized window front door with equal grille style
Sliding glass panel with minimal wooden, steel, aluminium or fibreglass frames
Sidelights Glass Front Doors
Use of circle or oval-shaped Glass on your front door
Single door with three glass windows
Double white door with Glass and matching white sides.
All the Glass mentioned above front doors can be installed quickly to have whatever architectural design- Modern, Rustic, and Craftsman style to your entryway.
Maintaining and Cleaning Glass Front Doors
Cleaning and Maintaining the glass front doors is as easy as eating a pie. Follow these simple steps:
Dust and remove dirt from the front doors
Spray glass cleaning solution on the Front Glass
Scrub the Glass with a sponge
Use a squeegee on the front Glass to wipe out the liquid from the Glass.
Clean top to bottom of the front door
To clean the hardware on your glass door and maintain it by polish
Lubricate the locks from time to time.
Inspecting and repairing the front glass door regularly for any signs of damage, tearing, and scratches is to be undertaken to avoid any permanent replacement.
DIY installation vs. Professional installation
Having the front glass door installed by yourself or by a professional Installer depends totally upon your homework experience and judgement.
Installing a front glass door by yourself can be a monotonous job as an error on your part can lead you to a sticking door, whereas a professional Installer will be able to hang your front glass door with safety and efficiency the first time around.
Lack of practical knowledge in architecture, wall material and its implications on door thickness can give you trouble while hanging the front doors, whereas you can save all these troubles, time and energy by having a professional do it.
You will require certain materials such as hinges, handles, door knobs, linings, frames, locks and screws in the correct shape and sizes to hang your front glass door by yourself, whereas a professional will have all the necessary tools to hang your front glass door, saving you the hassle of collecting down the material.
Pros and Cons of DIY Installation
You have the experience and expertise in housing structures to take the DIY installation of a front glass door at your home.
Pros
It saves the cost as you don't pay the labour costs.
It gives you the time flexibility to create and install your own Glass front door.
Selecting appropriate materials that are right for hanging your front glass door.
Cons
There is no warranty on the installation of the front glass door.
Safety and security can be compromised
Installation material can mismatch while hanging the front glass door.
Go For a DIY project of installing your home entrance door if you have the confidence and right knowledge to do it; otherwise, it is wise to take the help of a professional Installer.
Customisation and Personalisation
Your front glass door can be customised and personalised as per your creative power and fancifulness. Whatever you have imagined can be a reality.
Choosing– Now you can select and choose from any wood, metal, glass size, texture glass, sticking panels and profiles. The virtual options are endless. It is totally up to your imagination to choose from.
Inspiration– What is inspiring you to have the front glass door? The same Inspiration can be installed at your home entrance as per your creativity and personal experience.
Conclusion
Any appearance can be achieved by installing a Glass front door that gives your home a modern, contemporary look. Glass is a popular choice that brightens your and your guests' experience.
FAQ
Are the glass front doors more expensive?
Yes, glass front doors are more expensive in comparison to solid doors. The cost depends on the size, design and quality of Glass you opt for
What kind of Glass do you use for a front door?
Always use tempered Glass for the front door that is tough, durable and resistant to forceful smashing.
Can the Glass in the front door be replaced?
The front Glass on the entrance door can be replaced by yourself in a very easy way.
Is it cheaper to replace the Glass in the door or the whole door?
It is always cheaper to replace the Glass in the door rather than replace the whole door. Any broken glass could be easily installed by simple techniques.
How much should you spend on a front door?
It is totally up to your budget price that you want to spend on your front glass door. Anything between $450 to $1700 is good to go with.