The front door of your home plays a huge role in the overall exterior appearance of the house and that is why it is very important to choose one that suits your house style as well as your taste. Your search for the perfect front door design for your home ends here as here you will get all the inspiration you need to find the right type of front door to suit your house.  Read ahead to throw the hassle out of this fun and creative process.
Traditional Panel Front Doors
Traditional panel doors are a very durable option since they are often composed of good-quality wood. These doors can also be made with metals or glass so you can choose the material according to your taste and preferences. A traditional wooden door will cost you anywhere between $30 to $260 in Australia.
Craftsman Front Doors
If you want to give a traditional vibe to your place without making it look basic, this is the style for you. Craftsman doors are usually made of wood and have glass windows on top that add an edge to their looks. These doors are elegant and eye catchy, making them perfect for modern classic homes.
Farmhouse Front Doors
More than just barn doors, the farmhouse style is straightforward, pristine, and polished. To finish the look of your farmhouse home, add a front door made of raw wood pieces and utilize neutral colors with a splash of color. White and black are timeless neutral colors for doors, but if you want something more intriguing, try a dark slate blue, a rich green, or gray for a different appearance.
Modern Front Doors
Modern doors are all about sleek lines, polished and minimalistic designs. They can be made of different materials like wood, steel, aluminium etc. You can use bold colors like navy blue, maroon to make a statement as well as neutrals like white, black and brown to accentuate the architecture of the home more.
French Main Doors
Despite the controversy over safety, French doors can very well be put in the front of the house as they can fit so many different aesthetics of houses. How you use French front doors depends mainly on your needs and preferences. French doors are just as safe and secure as normal doors because they have high-quality locking systems as well. Hence, you won't have to worry about safety with these doors but be careful with the installation.
Victorian Front Doors
Victorian front doors are frequently paneled, sometimes colored or sanded to look higher-end, and according to the size of the house, richly adorned. These doors are very extravagant and give a very lavish finish to your home. Traditional houses are the best locations for this type of door.
Arched Front Doors
Arched doors come in a variety of styles including true arch, gothic arch, and more so, you can choose the design that suits your house structure the best. These doors are great for people who want to go for something different when it comes to the looks of their home.
Dutch Front Door Ideas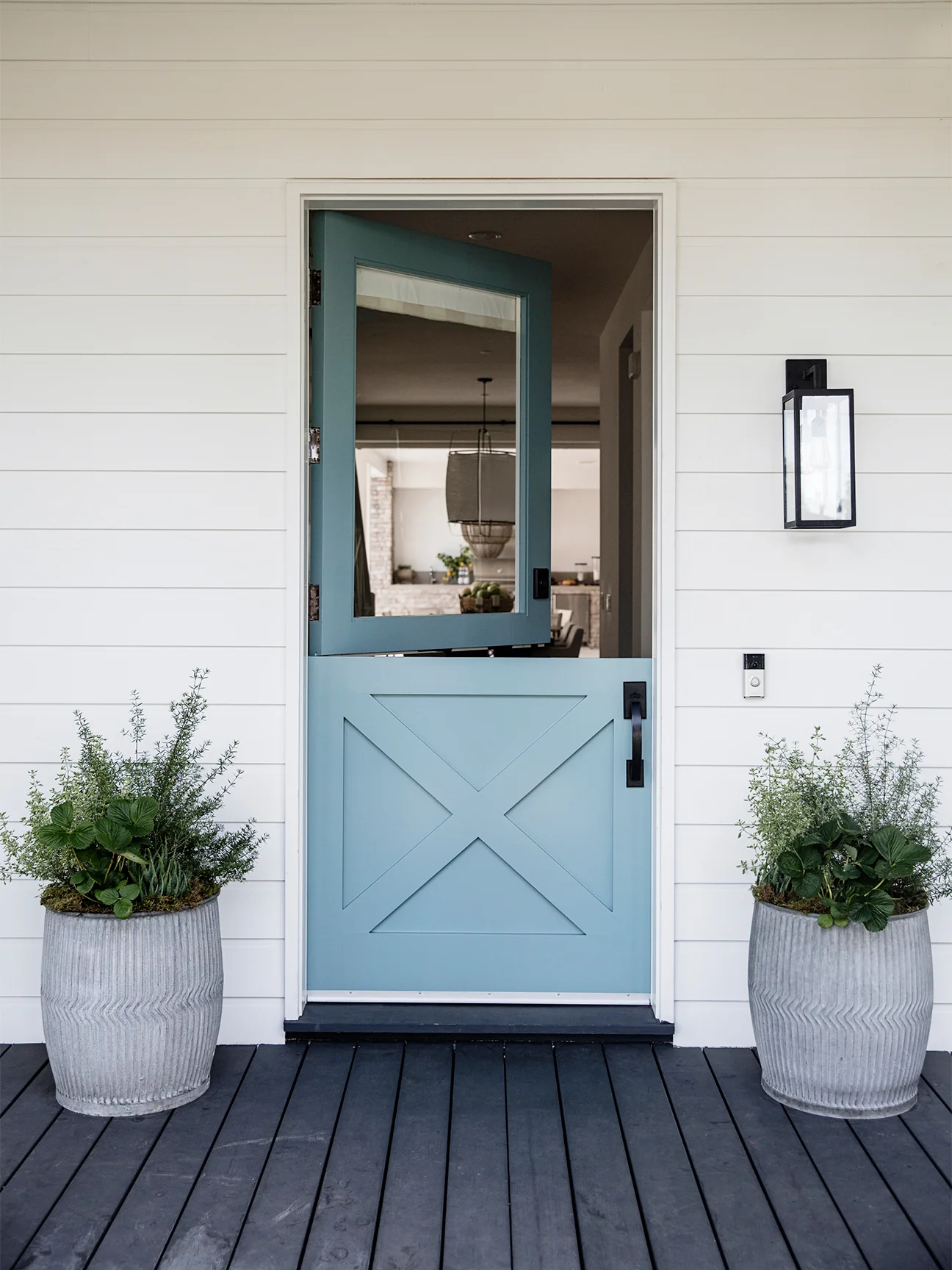 A door split in half horizontally, allowing the top half to open while the bottom half remains closed, is referred to as a Dutch door. You can turn it into a normal door by simply tightening the bolt that holds the two halves together. These doors are an efficient option that lets the sunlight and breeze into the house.
Bi-Fold Doors
With a bi-fold door, you can create flexible living spaces that are well-lit by natural light and appropriate year-round. It increases the value of the house, can add room, and comes in a variety of designs. This type of door is also quite safe and secure so, you don't have to worry about that factor either.
Carved Doors For An Artistic Look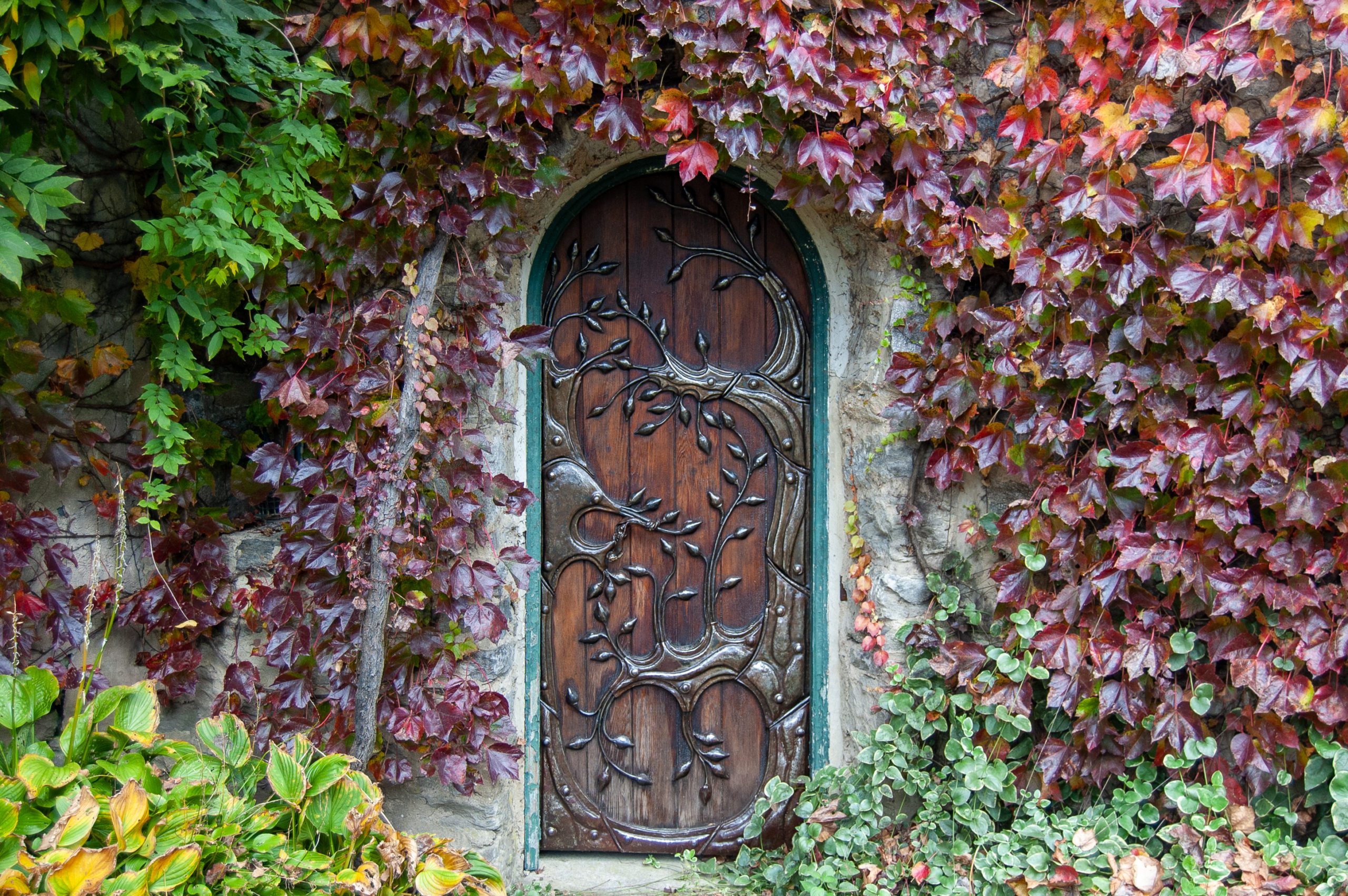 Carved front doors will give your place a very unique and lavish look because of their design and grandeur. These doors are hand-carved which makes them a little more expensive than the other ones. Hence, it might not be the best choice for everyone. But if you have the budget to get a statement piece that is not too loud for the main entrance door, then this is the best choice for you.
Different Types Of Front Door Materials
You can choose the best front door material for your home depending on its style and your taste and preferences. Here are the most popular front door materials that you can choose from:
Wooden Front Doors: Front doors made of wood are thought to be just as secure as other kinds of doors. Solid oak is a highly preferred option for an outside hardwood door as it adds a touch of elegance and class to your property while looking stunning with its natural rings perfectly suited for beautiful refinishing.
Iron Front Doors: Iron is one of the best materials for front doors in terms of providing safety and durability as it is a very strong and sturdy material. Front doors made of iron will keep you protected from potential threats like buglars and will also withstand extreme weather conditions.
Fiberglass Front Doors: A front door made of fiberglass will be strong, durable and will also look great throughout it's lifespan. The cost of these doors can vary from brand to brand and also depending upon the dimensions of your house front.
Steel Front Doors: This is another strong material for front doors which also looks elegant and polished. A steel front door is great for modern homes as it gives the perfect clean and sleek look to the house while also protecting it just like the other strong doors.
Aluminium Front Doors: Doors made of aluminum have a huge amount of intrinsic strength because it is a premium metal. Front doors made of aluminum are also recognized for their durability, making them a safe and sturdy front door option. An aluminum door can cost you anywhere between $150 to $450.
Also Read The Front Door Material: 6 Best Designs With Its Pros And Cons
Conclusion
The front door is one of those elements of your house that can make or break its appearance from the outside. Along with that, it is also a part that ensures your safety hence, you must pay close attention to all the different types of front door materials and designs available out there and choose one for your home carefully.
The front door designs mentioned above are to make the choice easier for you but if they don't suit your style then feel free to look for more options as there are plenty available. Remember, this is a fun and creative process along with being a long task, so don't forget to have fun while choosing the entry door for your home.
We hope all your queries and concerns related to front door styles and materials were addressed here.
Frequently Asked Questions
What is the best low-maintenance front door?
People frequently choose fiberglass doors because they don't require too much upkeep and won't crack or dent as time passes. In addition to looking like wood, fiberglass doors can also be manufactured to be humidity-resistant.
What type of front door is the cheapest?
Steel is the most preferred material for front door construction since it is affordable, sturdy, and reliable. Despite being inexpensive, it is well-insulated and waterproof which makes it one of the safest front door options as well.
How much does a front door cost in Australia?
In Australia, the price of a new front door might vary based on different factors. For ordinary front doors, the total price for setting up can range from $120 to $1,500.
What is the most secure door style?
Modern steel doors are one of the best choices if you want maximum security as it cannot be broken down easily. Combined with the modern security locks, the safety factor of a steel door increases even further.