Nowadays, owning a pool is a popular add-on many Australian households are opting for. It is not about getting cool off in the scorching hot summer. It's more of an aesthetic experience, a must if there is a backyard, to relax and spend the summer with the family.
The process of backyard pool landscaping involves creating an inviting ambience by creating building materials and several other design elements; all of this effort should complement the home's architecture and your yard's natural environment.
In Australian households, the possibilities of pool landscaping are never-ending. Some homeowners go for the greenery with plants, sand, gravel, rocks, and waterfalls to enhance their yard and pool's view. On the other hand, a number of Aussies opt for the pergola, poolside Alfresco zones to provide them shade and protection.
The planning 
Planning a landscaping view on your own can be overwhelming and confusing. Before buying stuff, you must have a clear view of what you want to see; it is a basic pool area to chill and have fun, or it should be a proper outdoor living space with barbeque, dining tables, etc. You can look online for inspiration to create a pool landscape; once you have your dream poolside view, start planning with the stuff you will use and the budget you are willing to spend.
Poolside Greenery and Plant Selection
Native Australian Plants– Australia has a wide range of plants that work great for landscaping and are also good for the native environment, like the kangaroo paw, bottlebrush, Banksia, Everlasting Daisy, Grevillea, etc.. Using native plants will also give you a benefit of not putting extra care to it.
Drought Resistant-  There aren't many drought cases in Australia, yet you must know the climatic conditions in your region. If it's slightly droughtful, go for plants that need less water, which can thrive in hot and dry conditions, keeping the view of your pool area alive regardless of the weather. Here are some examples of plants to go for: Agave, Blue Fescue, lavender, Succulents, Westringia, etc.
Create an Oasis-  Creating an oasis will give off a similar vibe you'd get on a beach, a water body with a nice view, and plants to lay under their shade. Well, if not precisely, you can create a replica of that in your backyard with beautiful plants such as Palm, Birds of Paradise, ferns, winter daphne, etc. Besides these, you can also plant some bamboo around as a fence.
Pool Surfacing Options
Natural Stone Pavers- Natural stone tiles are the most popular choice for a pool at home as they give off the organic touch to the pool and handle the climatic conditions in Australia well enough to last long. Some of the examples you should go for are sandstone, bluestone, travertine, etc.
Here are 75 Stone Pool Ideas You'll Love 
Timber Decking- It gives a rustic finish and adds a natural, cozy touch to the pool. Some Australian hardwood materials you can opt for timber decking are spotted Gum, Blackbutt, or Merbau. These materials can withstand insect infestation or decay in the long run, making them much more durable than any other material. The other benefit is the non-abrasive surface, which is helpful for kids and pets who stumble around too often.
Using slip-resistant materials- If you have elders and kids in your home, you should prefer slip-resistant materials to prevent falls- especially when wet. There are various materials available, such as textured paver timbers with grooves on them, or you can go for tiles specially made for pool areas. Also, make sure to prioritise beauty along with safety.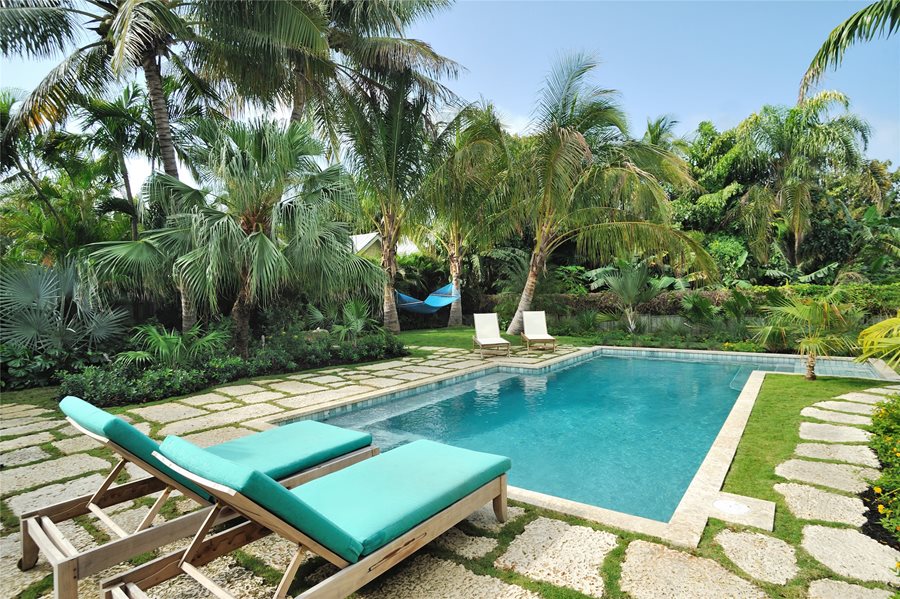 Seating and Shade by the Pool
It's way too common to face sunburn and tan while enjoying the warm sun. Having a spot in your pool area is necessary to relax in the shade.
Umbrellas and Gazebos- these are the best options to go for if you don't have enough space in your backyard. Also, umbrellas are pocket-friendly options. You can always replace them to achieve a new look, and Gazebos add a statement style by the side of your pool. Go for one that complements the theme of your house.
Poolside Lounges and Benches: Seating arrangements are a must if you have enough space left by the side of your pool. Go for weather and water-resistant Lounges so they can last longer without making you worry about maintenance. Try to get hidden storage benches to help store extra pool accessories such as tubes, pool toys and equipment when not in use.
Know more about these Top 11 Backyard Deck Ideas On A Budget 
Features of Water and Lights
The difference between having a pool and an affordable oasis is the effort and creativity you are willing to put in. Incorporating the lighting and the right features can make the outcome 10 fold better.
Waterfalls and Fountains
These are the most common natural-looking stuff you should consider; they can give a natural look to your artificially made water body. Integrate a natural stone waterfall; this will make your pool worth glaring at, and the sound of it will lighten up the whole atmosphere.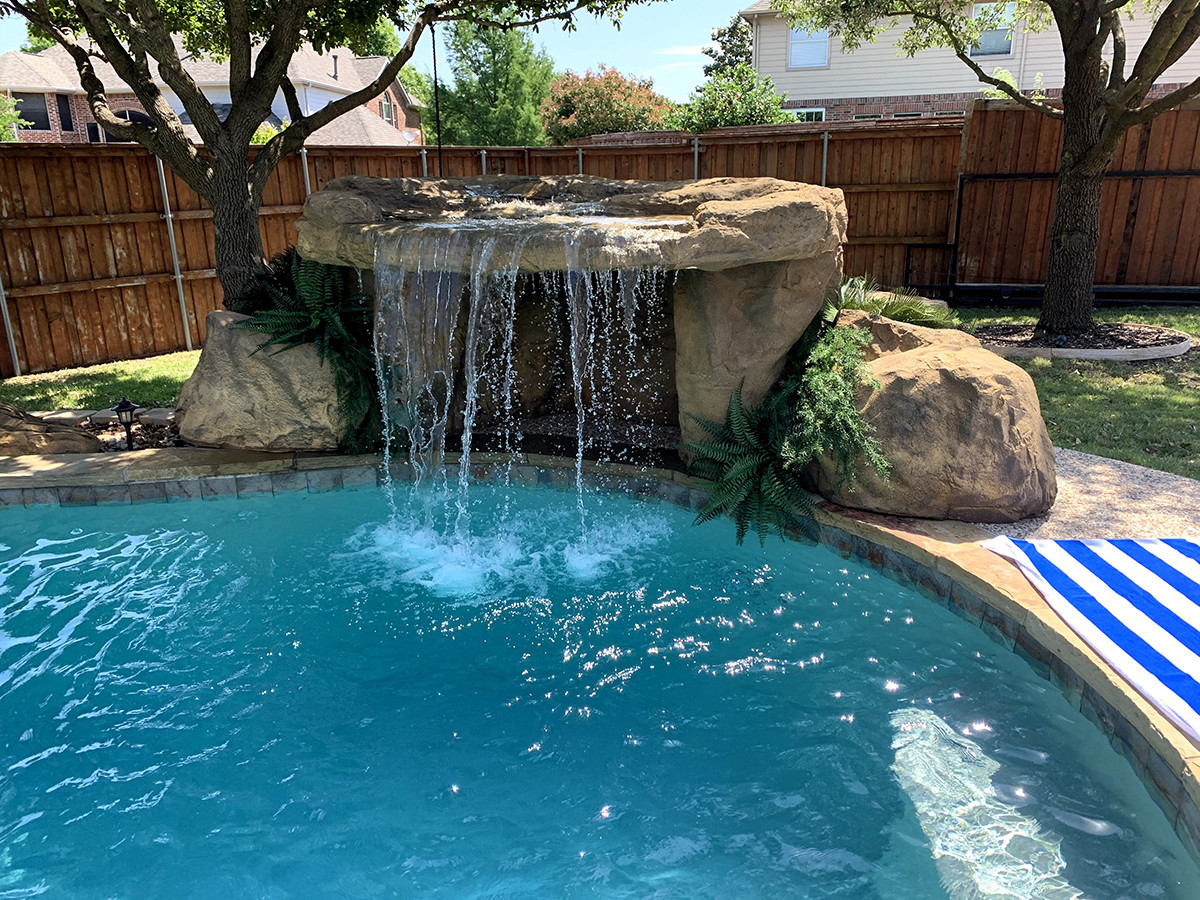 Pool Lightning
If you have to choose between a basic, boring-looking pool or a classy pool, go for the classy one. Install underwater LED lights to make your pool look appealing in the dark. The other kind of light option is lantern-style lights, which again look just as good. Besides the type of light, the placement of light matters. Install lights to brighten up every part of your pool equally, making swimming in the dark more inviting.
Poolside Entertainment
Creating an outdoor living space includes much more than just a swimming pool. Enhance the poolside entertainment by creating fun spots, play areas, kitchens, etc., to make it a hotspot for gatherings and fun.
Outdoor Kitchens and BBQ Areas
The love for barbeque is what everyone has in common. Incorporating an outdoor kitchen or BBQ area by your pool is a great way to have a relaxing outdoor space with the amenities of a home. While planning an outdoor kitchen or BBQ area, make sure to make it both functional for the cook and convenient for the guest and family lounging at the pool.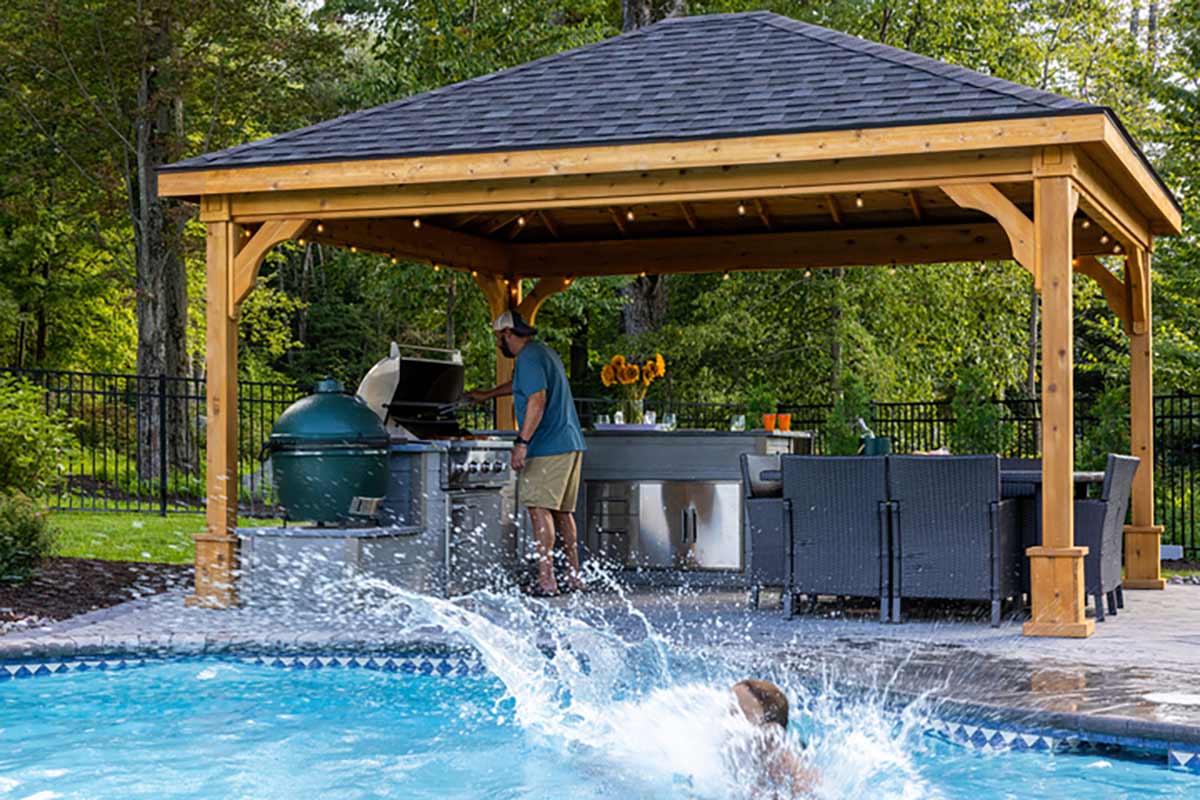 Poolside Bars:
A poolside bar for a party animal is the ultimate fun spot for weekend parties. Add bar stools with stylish decking, stock it up with your favourite beverages and enjoy your weekend swimming and sipping your favourite beverage.
Sports and Gaming Areas
Add a sports section to your swimming pool. When it comes to the area surrounding the pool, you can either set up a miniature golf course or some space for lawn games. When done right, pool entertainment areas can give adults and kids lots of activities.
Pool Fencing and Gates
Australian natives love outdoor activities thanks to its sunny weather, which is also the reason why pools are pretty common in Australia. Having a pool in the backyard is alright until you have kids and pets roaming around exposed to it.
They are at risk of falling into it and drowning or facing severe injuries if there is no water in the pool. For safety reasons, you must install gates and fences around your pool or a pool cover if you don't have enough space to let go of fencing and gates.
Landscaping Around Pool Fences
Blend the pool fences with the garden so it doesn't look weird and ruin the relaxing atmosphere of the backyard. Here are some ideas to inspire you.
Natural Screening- The best way to blend a metal or glass fence is to add a layer of natural elements such as climbers like twiners, scramblers, bougainvillaea, etc.
Timber Fencing- These fences look natural, but you can camouflage them by pairing them with native plants like bottlebrush or kangaroo paw.
Glass Fencing- Provides a modern look and doesn't obstruct the view to the pool, unlike any other fence. You shouldn't try to hide or blend them with nature. Glass fences are meant to be installed in a modern-looking yard with less in touch with nature. These fences can be paired with sleek furniture and architectural plants like cordylines.
Also Read Creative Ideas For Bamboo Fences 
Gates and Security
Gates are a crucial part of pool security as they serve the entrance to your pool area, ensuring no kids or pets are playing around the pool.
Here are some features you should consider while opting for a door.
Self-Closing Mechanisms: Always opt for self-closing pool gates, as your kids won't be able to open them mechanically in your absence. Also, they are more convenient to use than the manual ones. However, they can wear out over time, so find one that lasts longer.
Locks- Make sure to lock the gates, as toddlers and young kids can be curious enough to find themselves in dangerous situations.
Looks Matter- A functional gate doesn't have to be boring and ugly, it can be safe and have charm simultaneously. A sleek metallic gate would complement a modern small pool.
The Importance of Regular Inspections and Maintenance for Pool Safety and Longevity
Regular maintenance and inspection are a must for a long-lasting pool structure.
Tips for Maintaining Your Backyard Pool
Keep it clean: Muddy water with dirt and other stuff floating around in the water isn't the most inviting thing for everyone to jump in. Get a pool skimmer or automated pool cleaner to keep the debris out of the pool. Also, make sure that the landscape around the pool stays neat so no leaves or dirt accidentally end up inside.
Chemical Balance: You don't need a science degree, but you must often balance the chemicals in the water. This prevents algae from growing, which could be harmful when someone jumps in for a nice swim.
Landscaping Ideas: Go for plants that don't shed too much. If the plants shed too much, your pool will always be dirty. Keeping every leaf out of the pool area is not under your control. Plants like succulents or native Australian shrubs are good options. The other option is to use gravel and stones instead of plants. These props would create cheap yet stylish alternatives for decorative paths.
Also read Above-ground Swim Spa Landscaping Ideas.
Reasons Why Pool Inspection are Crucial
Safety First: Keep inspecting your pool once in a while to ensure there are no damaged fences or gates and that safety measures meet Australian safety standards. Frequent inspections would make identifying any issues in its earlier stage easy, avoiding future accidents.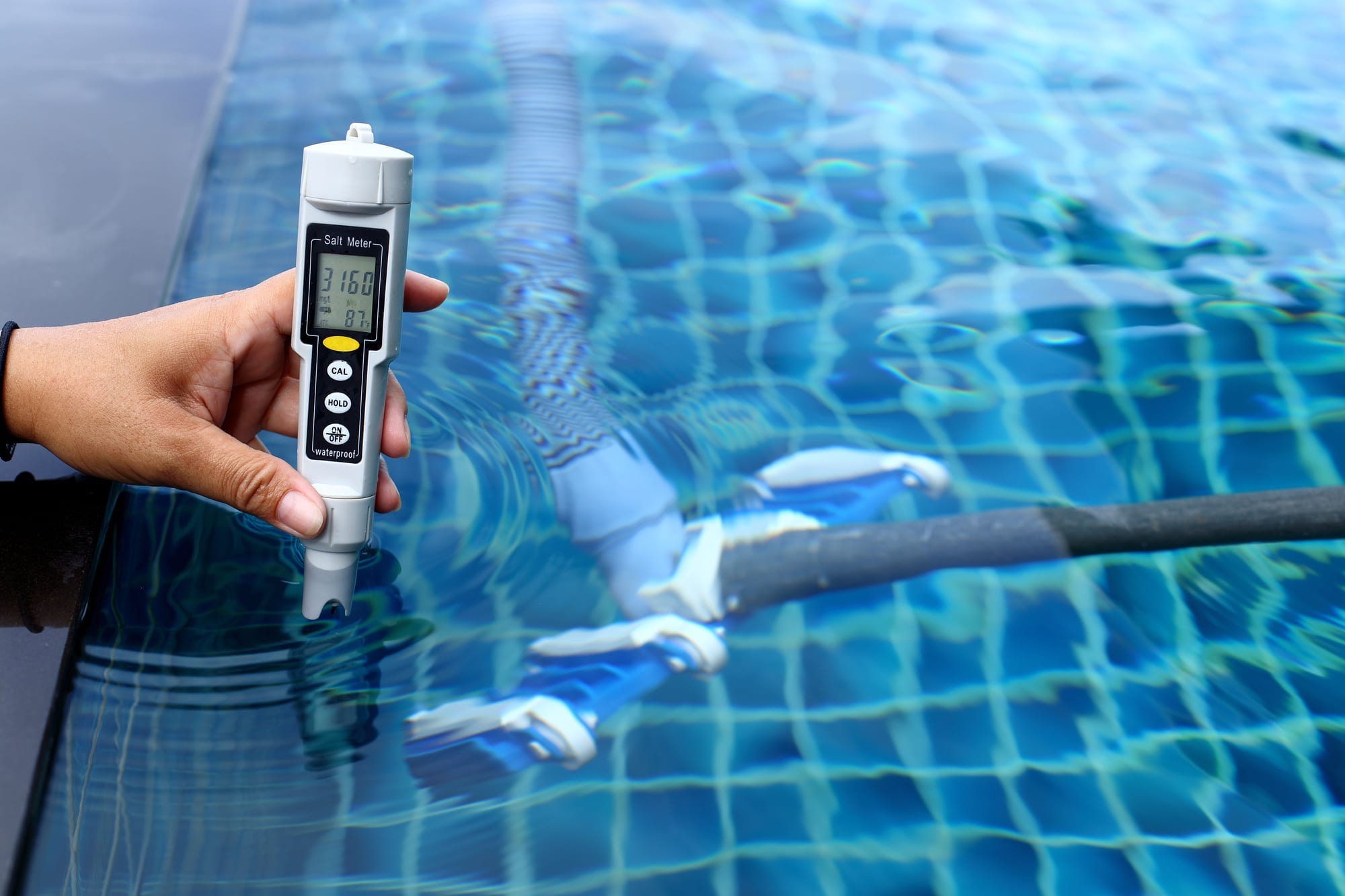 Equipment Functionality: Inspect all the equipment, such as filters, heaters and pumps, to see if they work fine. Keeping an eye on such stuff will keep the water clean and extend the lifespan of the equipment.
Structural Integrity: Inspecting the structure will make it easy to find and fix the leaks and cracks, if there are any. Fixing such small problems will save much money in the long run.
Conclusion
Australian backyard pool landscaping ideas requires attention to local climate, care requirements, and your style. Creating a balance between functionality and aesthetics is the trick to do the job effortlessly. The size of your yard doesn't matter if you use the right landscaping ideas.
FAQs
How do you landscape privacy around a pool?
Here are some tips to have privacy around a pool
Plant Tall Shrubs: Plants like Bamboo, Murrayas, and Lilli Pillis grow tall and offer natural screening that'll help you avoid nosy neighbours.
Vertical Gardens: This will not only add something pretty to look at, but it can also provide the function of privacy.
Fancy Screens: Laser cut screen gives off a modern look to the surrounding area. Install laser-cut screens to have privacy with aesthetics.
Trellises with Climbing Vines: Trellises aren't only a way to add privacy, but they blend in with nature well enough and make your yard look naturally beautiful.
What do you need for a fence?
A pool fence is essential, especially if there are pets and kids around. It's important to ensure they don't find their way into the pool while playing or wandering in the yard. Here are some security guidelines you should look out for.
Height: A pool fence should be at least 1200mm high.
Gaps: Even the smallest cracks can be an entry point for a child. Ensure that there aren't any gaps under 100mm.
Climbing concerns: Kids will find a way to climb anything. Keep this in mind when choosing the type of fence you use. It's got to be one that doesn't have any foot or hand holds.
Latch: The gate must self-close and self-latch. A latch being more than 1,500 mm above ground level should do the trick.
Material: You can choose from various materials like aluminium, steel, glass, and more, but ensure it's sturdy and complies with Australian standards.
Is it possible to put an invisible fence around a pool?
Yes, invisible or "hidden" fences can be placed around pools. These fences are usually electric and designed to keep pets away from the pool area. Although not recommended as the main safety barrier for children, they're a great addition to regular fencing to ensure pet safety.
Which rock is the cheapest option when putting them around an above-ground pool?
When thinking of landscaping ideas and trying not to break the bank, rocks can be a cost-effective and attractive option. Here are some cheap options:
Pea Gravel: these small little guys give off a smooth, rounded look. Not only is it affordable, but it gives a cute beachy feel.
Crushed Granite: available in many colours, crushed granite is super durable and gives modern vibes.
River Rock: slightly more expensive, but they make up for what they lack in price with natural beauty.
What Can You Add to a Pool?
There's no limit to what you can add to your pool. Here are some ideas:
Waterfalls: A gently cascading waterfall will make your pool look like an oasis; use stone for a natural look or metal for something modern.
LED lighting: For those night swims, give the water a conductive light show and transform the mood of your entire backyard.
Spa and hot tub: If you can't decide between getting a pool or a hot tub, why not get both? Merging them will give you a place to relax while also getting cool.
Slide: Make your summer even better with this addition. Simple yet fun for everyone.
Deck jets and fountains: By adding these two features, you'll bring sophistication to your backyard. Deck jets shoot streams of water into the pool while fountains let you watch and listen.
Beach entry: Feel like you're at the beach with this entrance. It has a sloping beach-like entry that'll mimic the ocean inside your backyard.
Cabanas and houses: With entertainment area ideas or cabana designs in Australia, why not build one by your pool? These structures offer shade. It's a place to relax and even entertain guests.