Choosing every little part of the decor for your whole house can be a hassle sometimes; hence, we have brought some of the best blinds for sliding door ideas to help you. Sliding doors are great for appearance and functionality, which makes them a very popular addition in most houses around the world.
Since the placement of curtains on a sliding door doesn't affect your ability to open and close them, they can be a useful window treatment option for sliding glass doors. Additionally, blinds make it simple to regulate the amount of privacy and light in a space.
Vertical Blinds for Sliding Doors
You will be able to adjust the majority of sliding door blinds. Vertical blinds, on the other hand, can be the solution if you're looking for something that slides smoothly next to your doors. Vertical blinds can also provide privacy. You can use it to block out others' views of the inside without sacrificing any sunlight. In addition, you may close the blinds completely to block all interior views.
Also Read: 14 Entryway With The Glass Front Doors: Ideas You'll Love
Horizontal Blinds for Sliding Doors
You can have two horizontal blinds put over the glass sliding doors' two panes. Horizontal blinds have slats that let you guide light rather than just block it out. When the blinds are fully closed, 90–95% of the light is blocked out, effectively darkening the room. Additionally, you can adjust the slats' direction to get the ideal balance between light screening and privacy.
Panel Track Blinds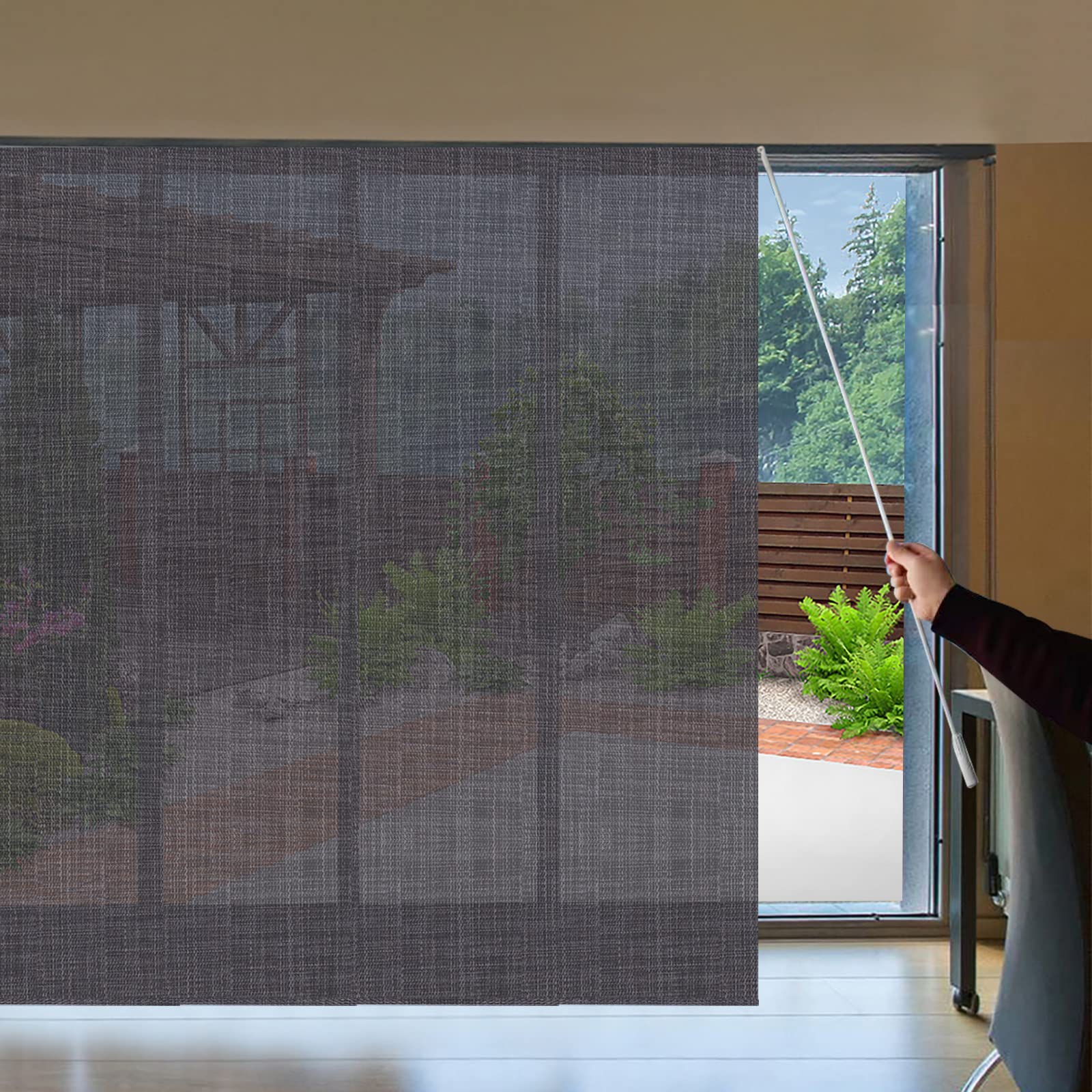 For large windows and sliding glass doors, panel track blinds are the best option. Large fabric panels that are mounted to the wall or ceiling glide back and forth on a track for effortless control. Panel Tracks blend design and utility to create the ideal look, making them the ideal unique solution for your sliding doors. They come in a variety of materials, including bamboo, jute, woven grasses, and classic roller shade fabrics, in addition to robust solar shades.
Enclosed Blinds For Sliding Doors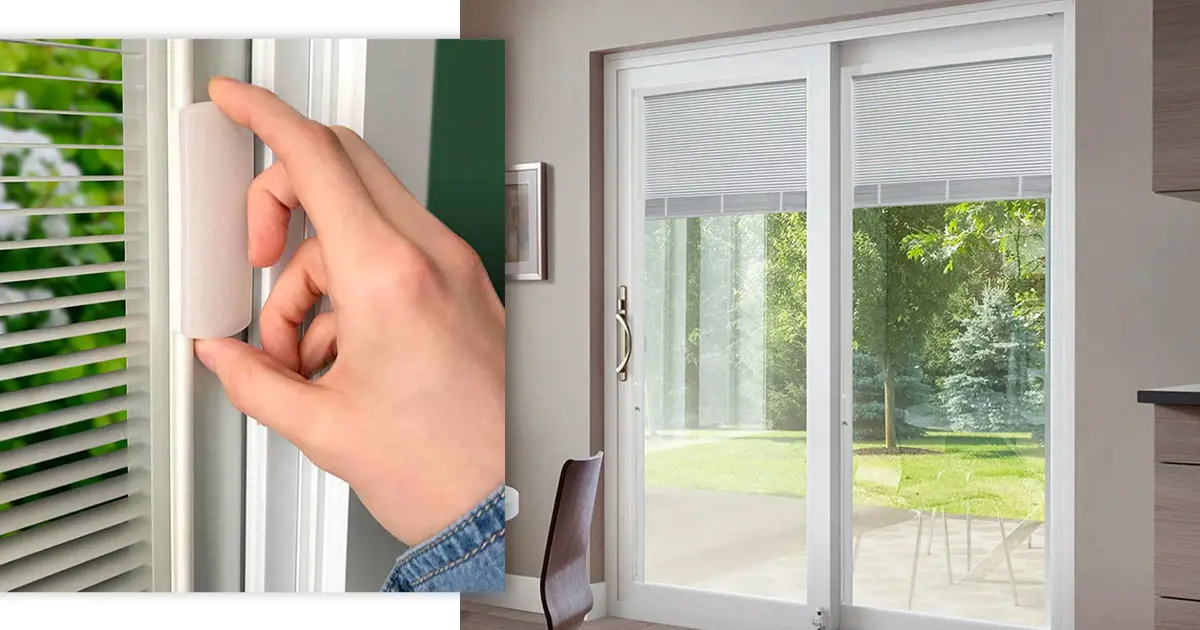 Enclosed blinds are like Venetian blinds sealed between two panes of glass. They do not raise, lower, or tilt using cords or dangling rods. Enclosed blinds are among the best types of blinds for sliding doors because they remain securely nestled between the glass, whereas free hanging blinds are more prone to breakage.
Sliding Panel Curtains
Installing sliding panel curtains on sliding doors is a great idea to have maximum functionality and choice of privacy whenever you want. Sliding panel curtains are great for wide doors opening up to bigger spaces.
Bamboo or Woven Wood Shades
This is one of the best blinds for sliding doors as it is environment friendly and gives a warm and welcoming vibe. You can install bamboo or woven wood shades and sliding glass doors for a modern rustic look.
Cellular Shades For Sliding Doors
A vertical cellular shade is the most energy-efficient option for a sliding glass door. Cellular shades are perfect for people who want insulation, a range of colours and textures, and energy efficiency. Cellular shades can last five to seven years, or even longer, based on many criteria like material quality and ongoing maintenance.
Roller Shades For Sliding Doors
One excellent option for covering sliding doors is to use roller shades. These shades are ideal for persons who enjoy diversity and prefer to occasionally change the look of their space because they come in hundreds of fabrics and styles.
Maintenance Tips For Blinds For Sliding Doors
Maintaining your blinds on the sliding doors regularly can ensure that they operate as intended and keep dirt and grime from building up on it. Another important reason to do proper upkeep of sliding door blinds is to keep them looking good as new throughout their lifespan. Here are some simple and easy maintenance tips for sliding door blinds:
Also Read: 6 Expert Tips For Cleaning And Maintaining Panel Glide Blinds
Regular Vacuum Cleaning: It is important that you keep the blinds clean and fresh and one way to do so is regular vacuuming. This will ensure that there is not dust buildup in your blinds and they're fresh. Doing this will also help you clean the blinds easily at the time of washing as they will have less dirt accumulated.
Dusting Off The Frames: The dirt and dust on the frames can get transferred to the blinds so it is important that you keep those clean too. Any kind of debris collected on the sliding doors will also get the drapes dirty.
Gentle Washing To Avoid Damage: Use a warm, soapy water solution to remove dirt. Gently clean any spots on the blinds with some extra soap solution to avoid damaging the material and keep the colors fresh and vibrant.
Avoid Dry Cleaning: Dry cleaning can often do more harm than good to the blinds on sliding doors so it's important that you refrain from that. A gentle wash and dry process of cleaning is more that enough to keep your blinds fresh and sanitary without ruining them.
The Final Takeaway
Choosing the right type of curtains is very important to ensure the good functioning and appearance of the sliding doors. Hence, it is crucial to pay attention to details when choosing the material, design, colours, and patterns/prints of the curtains. The above mentioned blinds for sliding door ideas are some of the best ones out there. You have options from eco-friendly materials to high-tech curtains so that you can choose one according to your taste and preferences.
Frequently Asked Questions
Which blinds are better, horizontal or vertical?
For this reason, vertical blinds use less energy than horizontal blinds. Because horizontal blinds open and close by moving up and down, they work well with smaller windows. Because they can be opened side to side as well as up and down, vertical blinds are ideal for patios, sliding doors, and large windows.
How do I make windows not see through from outside?
If you're prepared to replace the window, you can buy frosted glass, a particular window pane with a bumpy snowflake-like design that lets in light but prevents you from seeing through it. Alternatively, you can get stick-on window film, which will make the glass opaque.
Can blinds be installed inside sliding doors?
It is possible to install blinds within sliding doors. As there isn't any external material to deal with, sliding glass doors with internal blinds allow you to add a valance or curtains if you'd like.
Are roller blinds good for sliding doors?
For sliding doors, roller blinds can be a great solution because they are practical, adaptable, and come in a variety of styles and colours. Additionally, these blinds can be perfect for covering numerous doors or big areas, especially in high-traffic areas.