A portable platform that can carry the load used in storing, assembling, piling up, and transporting goods is known as Pallets. A Pallet is one of the most common and vital logistic equipment that provides easy movement to stack up the goods.
Pallet Furniture is made up by using recyclable materials made up from wood. Furniture made up of pallets can be a bed, shelve, table, bench, chair, desk or more. If you are looking for long-lasting, strong and quality stuff, then be the proud possessor of Pallet Furniture.
Growing Popularity of Sustainable and DIY Furniture.
The demand for Wooden pallet furniture has been extremely popular as people try bringing eco-friendliness as much as possible into their daily lives.
Pallet Furniture is a natural stuff
It saves the environment.
Used Pallets are inexpensive, and furniture made up of Pallets is for a minimum budget price.
It is easy to install, design and assemble the Pallet Furniture by yourself with the help of nails and hammers.
DIY steps:
Locating the right pallet wood: Choose a Pallet that has no marks or spills on its wood. You can collect these Pallets from any nearby distribution centres, construction sites or warehouses.
Splitting the pallet: Dismantling the collected Pallets into the Furniture design you are going to build up without breaking down the wood is the most important step in making pallet furniture. Tools required to do so
Bi-Metal Blade
Hammer
Nail punch or screw nails
Safety glasses
Gloves
Dust mask
Putting together the pallet: Get rid of the rough edges through sandpaper
Finishing your Pallet Furniture: Depending upon which Furniture design you are looking to close on, give the final finish to your Pallet Furniture by painting, oiling, waxing, or weatherproofing with a decking sealer
Benefits of Pallet Furniture
Wooden Pallets have great features being used in making various kinds of furniture, which give us some extra benefits:
Pallet Furniture is a cost-effective option
They are strong and Durable
Easy to Assemble
Pallet Furniture is stylish and comfortable
Wooden Pallet Furniture is low-maintenance
Pallet Furniture is Reusable and Recyclable
Indoor Pallet Furniture Ideas
Woods Pallets have been around for years, and reusing them as indoor furniture has become well-liked and received by people across Australia.
Pallet Coffee Tables: The coffee table is made up of industrial pallets made up of solid wood. The use of repurposed wood Pallets from simple coffee tables to more complex and modular coffee tables is the rage and trendsetter to your interiors.
DIY pallet Coffee Tables
Start with two pallets, one for the tabletop and the other for a magazine shelf.
Step 1: Obtain Pallets.
Step 2– Removing boards from top
Step 3– Place boards side by side on frames.
Step 4: Cut the excess frame.
Step 5: Screw the boards.
Step 6: Cut the legs and screw them into the bottom pallet.
Step 7– Sand it with sandpaper.
You can easily place the newspaper, magazines, remote, and mobile inside the table. The choice of design for the coffee table made of Pallets is totally yours; paint and customise it according to your imagination.
Side Tables: Interior Side Tables help to Keep your personal items within arm's reach. A Pallet side table provides the perfect decor for your living room and bedroom or any of your rooms. You can place them anywhere you like, with your sitting positioning or sleeping alignment. Go for some pallet side tables:
End Tables
Bedside Tables
Tutorial Side Tables
All these Pallet side table designs can be easily installed with the simple help of nailing down the Pallets piece with a small top and base shelf. Having them in your home provides a warmth and rustic appeal.
Pallet Bookshelves
Organised rooms with Pallet Bookshelves are the newest trend. They are drafted and painted to fit into any of your rooms. They are very easy to make:
Start tearing your Pallets apart in two
Nail the bottom piece
Make the side pieces to it
Nail the front board piece to the side and bottom pieces.
And you have made a Pallet Bookshelf. You can easily place and design your Pallets book Shelves as per your creative power and fancifulness.
Storage Units
Using Pallets to store your belongings is an excellent way to keep them safe, as it provides an extra layer of protection. If you are planning to put your books, clothing, antique memento or anything inside a cardboard box, then place the cardboard on a Pallet rather than putting it directly onto the floor. A good airflow is maintained in the storage unit.
Using a Pallet box as a storage unit instead of a metal or solid wood box is suitable for the home design. These units are easy to make and install and are a very low-cost, effective option.
Also Read 13 Perfect Storage Furniture Options For Clutter-Free Space!
Pallet Bed Frames
If you are thinking of anything new to scale up your bedroom decor, then opt for a bed made up of Pallets frames. They are very durable. It is very simple to make a Pallet Bed
Get two sets of Pallets
Sand the Pallets
Paint the primer to the pallet surface
Join the two pallets together
Add legs or wheels on the corner of Pallets
Place a mattress and sleep over your Pallet frame bed.
If you don't want to build it up, lots of pallet Bed frame options are available in the market; you have to choose from the collection of elegant-looking styles. Even customisation is an option for those looking to personalise the Pallets Bed Frames.
Pallet Shoe Rack
To keep your shoes in order, have a place to store the shoes in your rack made up of recyclable wooden Pallets. Hang your Pallet shoe rack on the wall as it is very lightweight. Some of the accessible pallet shoe rack designs that can easily made by yourself or can be bought from the market are:
Industrial-style Pallets, shoe rack
Wheeled Pallets, shoe rack
Seal Pallets, shoe rack
Layered Pallets, shoe rack
Shoe cabinet made of Pallets
Wall Mount pallet shoe rack
Source or DIY these pallet shoe racks to knick-knack your shoe placement.
Pallet Night Stand
A Pallet nightstand is a small table or cabinet that is placed by the bed or anywhere an arm reaches to access a light lamp.
Simple and affordable Pallet Night Stand are built from wood scrap that is widely used in your bedroom, living room or study.
A perfect look for your home environment is having lots of Pallets Night stands laid down in your interiors.
Know more about 18 Stylish Awe-Inspiring Narrow Bedside Table Designs!
Outdoor Pallets Furniture Ideas
If you are looking to enhance your garden or backyard, utilise the wood shipping Pallets that are used in warehouses, factories, and logistics companies. Most of these Pallets are discarded by them, and you can find them at a very low price. Make them functional and charming Furniture items for your outdoors.
Outdoor furniture made of Pallets is designed for you or DIY for you to keep outside. The best thing is that it is weather resistant and stands firm in any weather conditions.
Benefits of having Outdoor Pallets Furniture
Breathe off: If you just want to relax and spend some time alone, ease yourself into your garden with the right kind of pallet furniture. Unwind yourself, get some fresh air and enjoy nature with your family and friends.
Electrifying: Work from home becomes exciting and electrifying by using your outdoor pallet Furniture instead of sitting all day long in a room at your workstation.
Party: You can hold a gathering and party with your friends and relatives in your garden with Pallet Furniture in place.
Family Space: We spend most of our time in a room, but with the help of an outdoor garden with a Pallet seating arrangement, we spend quality time with our family.
Outdoor pallet furniture Styles and designs
Pallet garden benches and seating
Pallet planters and vertical gardens
Pallet outdoor dining tables
Pallet Pool Loungers
Pallet Gazebo
Pallet privacy screen
Pallet Fire seating 
Plan different options and finishes to get the desired look and tone to your outdoor pallet Furniture, from a bench to a fire seating area to your garden and swimming pool area.
Pallet Furniture for Kids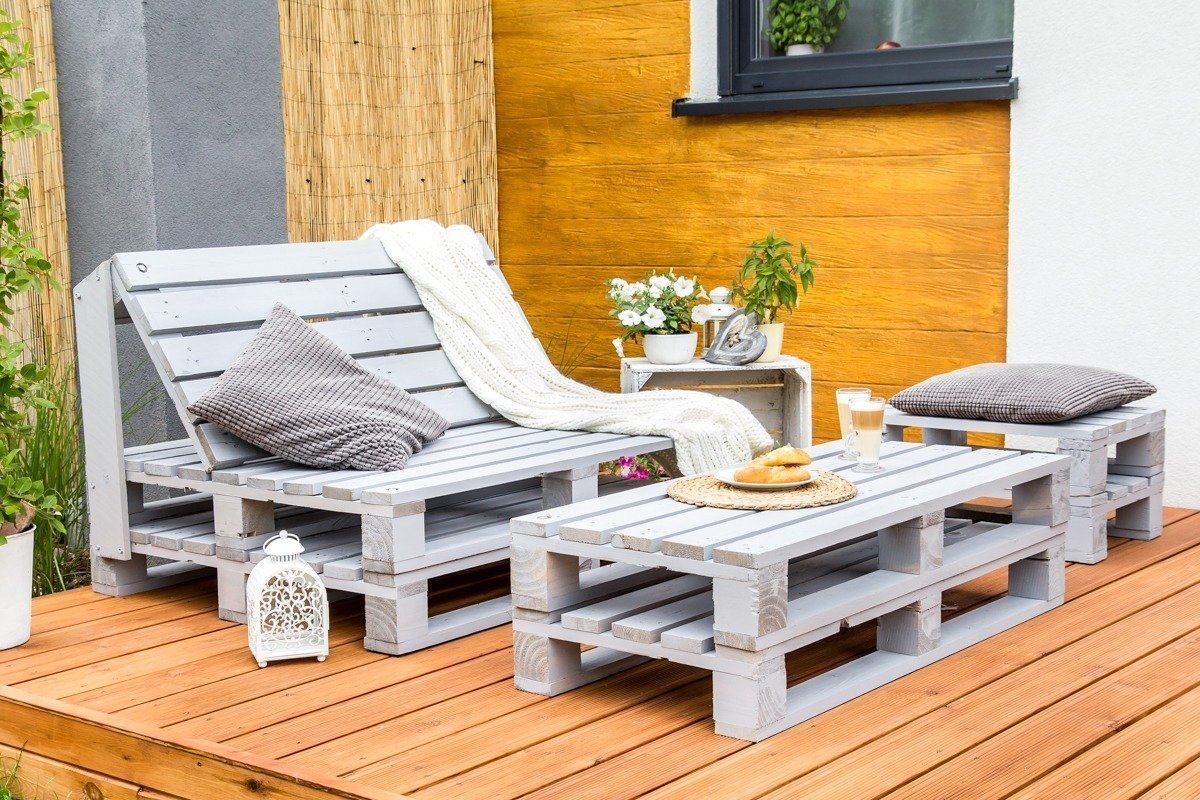 Recycling old Pallets and giving them a new life by using them in the furniture for your kids is an increasingly popular trend. Reusing Pallets in kid's furniture is currently a craze in the upcycling movement. You can upgrade your kid's room or area into an exciting and colourful zone with a bit of imagination and hard work.
DIY Kids furniture made of Pallets is becoming popular, and since it is cost-effective, you can design and make some kid's furniture such as:
Pallet playhouse
Pallet tree house
Pallet bunk bed
Toy storage unit
If you don't want to do it yourself, pallet kids furniture is accessible and conveniently obtainable in the offline and online marketplace.
Pallet Furniture for Home office
Your home office is assigned space for running your business, your remote workspace and you deserve more than a metal desk and chair stacked in the corner. A pallet home office that shines back is the place where you will put extra effort into achieving your goals.
Pallet Furniture for your home office gives you a private space with ample seating arrangement.
Work-from-home pallet Furniture complements your other rooms.
Pallet office furniture is comfortable, and you can sit comfortably for long periods.
Paint the wall a colour that you love and go down with the comforts of Pallets home office furniture.
Give yourself a view by making your home office near a window and rustic appeal with the sandpaper finish of pallet office furniture.
Organise your Pallet Shelves vertically and horizontally to use minimal space.
Design your home office with the latest pattern of pallet furniture. Styles:
Pallet desk with chair
Pallet finish workstation
Pallet Shelves
Pallet storage unit
Ergonomic consideration for home office pallet Furniture
Ergonomic Furniture is designed to support the human body. Before going ahead with the idea of installing a home office pallet Furniture, do consider the Ergonomics. Your work-from-home pallet Furniture must have the following:
A natural flow: The natural flow of the human body needs to be unrestricted
S posturing: It should support the S posturing of our spine and make sure it isn't forcing our spine into a C shape.
Adjustable: Should be adjustable according to the shape and weights of varying people
Stress: Reduces stress in joints and muscles
Treat your Pallet Furniture by simple techniques:
Clean the pallets
Break down the Pallets
Sandpaper Finishing to your Pallet
Cut and shape the Pallets in accordance with your furniture
Finishing the pallet Furniture by:
Vanishing the Pallets
Waxing the Pallets
Polishing the Pallets
Essential Tools and Materials required for making pallet furniture
Starting your Pallet Furniture project, Apart from your imagination, you need to have the essential tools that are required to complete your Pallet Furniture:
Hammer
Jigsaw
Tape measure
 Screw and nails
Screwdriver
Drilling machine
Sander
Safety glasses
Safety gloves
Elbow grease
Conclusion
Any kind of furniture you need, whether outdoors or indoors, you can have a rustic appeal to your home environment by using recyclable pallets. If you want a cost-effective option and don't want to waste your money on furniture, then the most economical and eco-friendly course of action is to decide on the Pallet Furniture.
FAQ
Is pallet furniture a good idea?
Pallet Furniture is an excellent idea as it is recommended to use recyclable materials made up of wood, which are durable.
What are the disadvantages of pallet furniture?
Its roughness and Reusable nature bring weariness and weakness to the furniture. It can't be cleaned easily and is vulnerable to moist areas.
What Pallets should you not use?
You should never use Pallets that have been treated by Methyl Bromide, which is highly toxic. These Pallets can be easily identified, as they have an MB stamped to them.
Should I use screws and nails for Pallets?
Yes, you can use screws and nails in making Pallet Furniture.