Empty walls are like a canvas that we all feel tempted to fill up somehow. Be it a fresh coat of paint or a new piece of art we had bought impulsively, adding something fresh is always exciting. Adding an accent wall is an excellent way to bring attention to a corner, brighten up your space, or even hide those little imperfections that may seem to bother you. Not everyone has a huge budget to spend, so that is where wall paneling comes into the picture.
Paneling, especially wood panelling walls, is an exceptionally unique way to revamp your space, even on a budget. There are tons of different wood paneling walls, and truly something there for everyone. You can choose from various styles and types of wood that would reflect your personality in some way or another. From bedrooms to living rooms to even halls, there is something to spruce up every corner of your home. We have gathered some of the best and oh-so-beautiful wood paneling ideas to inspire you!
Why Get Wood Panelling Walls In Your House?
It would be best to ask yourself this question, or you might have already done so and are looking for more reasons to add up. Wall paneling is not only an element of decor and interior; it also brings many benefits and advantages. Some people opt for wooden panels for aesthetic purposes, while others consider them a comfort-improving investment. Regardless of what you might think should be your reason for thinking of certain wood paneling ideas, we have a few more that will surely influence you further.
The first reason had been seen coming from a mile away; style and aesthetics. Wood paneling is an addition that adds so much to your ongoing style and aesthetic in the room without changing anything major from the core. If you are someone that likes a little drama in your room or even if you are a modern minimalist, adding the right kind of panels can immensely uplift your space.
Covering up imperfections comes next. Way before panels were used as the beautiful statement walls of your room, they were considered to be the quick fix and patch up to fix imperfections, paint chips, dents, cracks, or uneven walls. They were a budget-friendly DIY solution that soon became an element of style. Wood panels can turn out to be so beautiful that they completely take attention off other flaws.
Next in line come insulation and soundproofing. Any form or kind of extra layer that you add to your walls will somehow influence the rate of insulation and sound control in the room. Opting for thicker material panels with good quality durable wood creates an insulating and soundproofing effect. These are great options, especially for bedroom and theater rooms, since we want such benefits.
Years and years of durability. All the different kinds of wood panelling walls are often made very strong and lasting. Wood is known to last long and requires far less maintenance than many other wall panels. You would hardly need to replace them and can cherish them for years and years without worry.
Wood panelling walls are open to all kinds of customizations, and who does not like to have something unique go up on their wall? No matter what type of design that you choose, you can always get some kind of personal element added to it to be able to reflect your personality more. You can go as far as you wish, from custom-carved wood paneling ideas to complimenting wainscoting.
Wood paneling, especially the kind that costs you a fortune and has tons of customizations, always adds to your home's value and pays back nicely while selling. Like all other customized decor elements around the house, wall paneling is also one such thing that adds up a lot when one plans to sell their home. If you have gone for more expensive and detailed wall paneling in and out of your home, it surely adds to the value and curbs appeal later.
 Wood Paneling Walls Ideas And Types
One of the best things about wood paneling has got to be how versatile and customizable it can be in nature. No matter how big or small your space or budget is, you can always find something and make it fit your vision. There are several different options to choose from, and here are some of them;
Raised Panel Wainscoting
Wainscoting generally comes with the option of using real wood or synthetic materials that do end up giving the effect of wood. It is a much classier and more modern look for your walls, which refines them and gives a similar design to moldings. While wainscoting is a design traditionally installed on the lower half of the wall, many people try and experiment with it.
Shiplap Wood Panelling Walls
Shiplap panels are presumed to be one of the most cult favorite designs when it comes to wood paneling ideas for several reasons. To begin with, they are minimalistic, modern, and chic looking. Followed by that, they are extremely easy to maintain and clean. These overlapping horizontal boards give a very easygoing feel and effect. Because of the simplicity of the design, you can go for several different colors in this design too.
Board And Batten Paneling
These panels are a premium and luxurious option because of factors like the material used and the possibility of hiring professionals. This design is often preferred in real wood or plywood, costing you more than synthetic wood. It also comes with some major maintenance cues essential to prolong its life. But how exquisite it looks at the end makes it all worth it, trust us!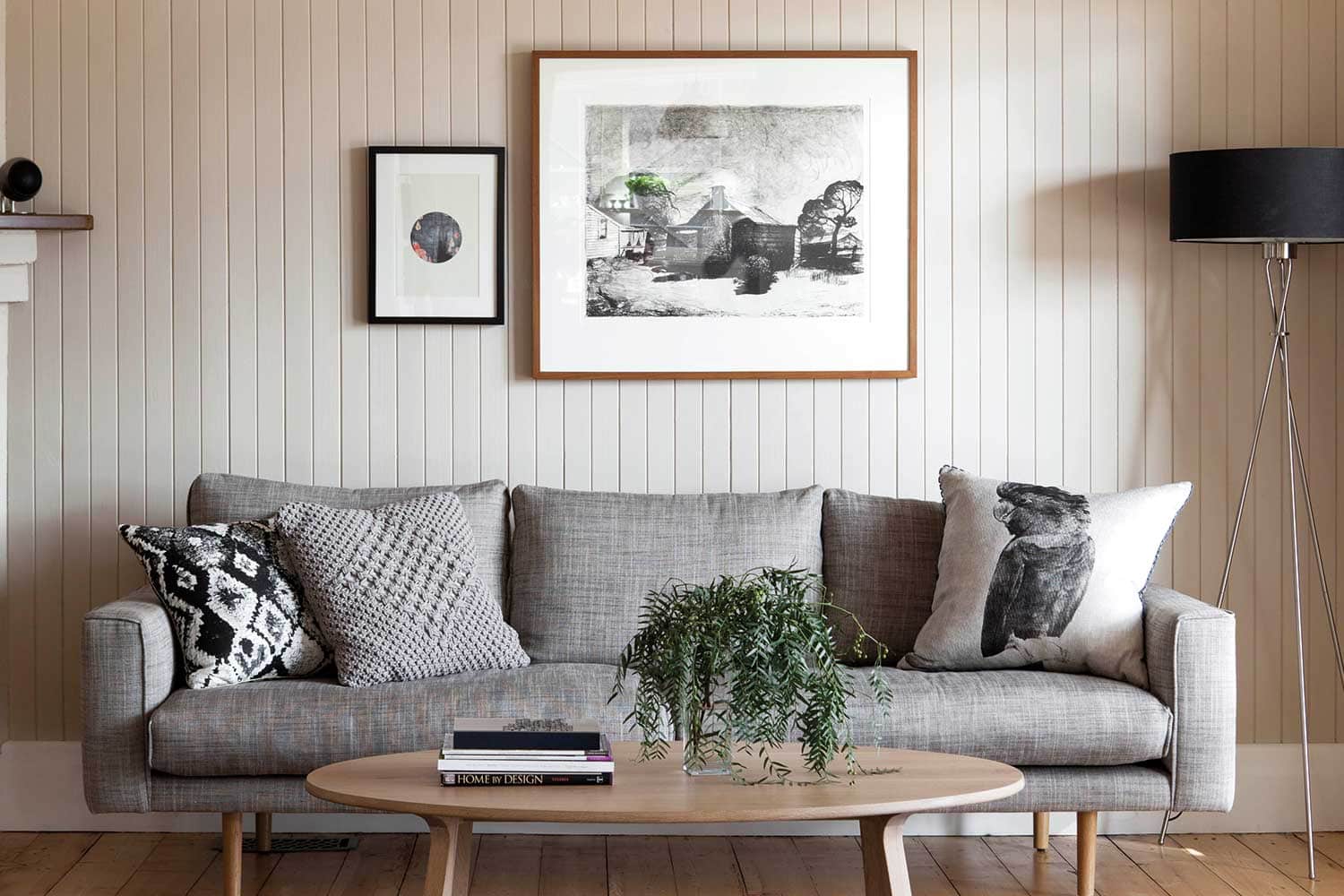 Tongue and Groove Paneling
Tongue and groove panels are the OG old-school and contemporary wood paneling that you might've spotted at least once in someone's house. It is similar to shiplap panels but is far more affordable and rugged. They look seamless, refine your space, and can be done in many different kinds of materials too.
Flat Panel Wainscoting
Flat panels are perfect if you want something raised, beautiful, sophisticated, and toned down. This panel type is more minimalistic and perfect for formal and professional spaces like offices and living rooms. Aesthetic as they are, they refine your space and make it feel posh and clean effortlessly.
Reclaimed & Recycled Wall Paneling
These wood panelling walls are unique and open to creativity. Made with recycled wood, this one is surely an eye-catcher. It has multiple shades of brown and adds much character to a room. Reclaimed wood panels are an eco-friendly alternative that can be easily recreated even on a tight budget.
PVC Paneling
PVC panels are a classic choice that would last for years and years and still look equally as pretty. These panels are water resistant, durable, and relatively strong as well. PVC panels are easy to install, have ample options, and are budget-friendly.
Hard Wood Paneling
These panels are for wood lovers that want to see it in its true form. Choosing from options such as oak, walnut, maple, and cherry wood and keeping them in their real element bring out the space's natural beauty. It can be the perfect earthy addition to your room that quintessentially elevates the aura of the space.
Plywood Paneling
These panels are a toned-down, affordable alternative to hardwood panels. They are very easily available and come in many textures and colors. Plywood panels are very easy to work with compared to actual hardwood. You can play around with them and create patterns and designs or use them straight up as they are.
3D Wood Wall Paneling
These wood wall paneling ideas have been very popular recently because of how modern and unique they look. Because of the unique carvings made in these panels, visually stunning effects are created that make them seem multi-dimensional. These are perfect for an accent wall, the overall interior, or a main bedroom.
Conclusion
Decorating your home is always a very exciting and fun thing to do. Everything from the walls to the floor to the furniture tells much about the people living there. Things like wall paneling can be considered something extra to add to a room, but if you consider it closely, it allows you to change a lot without changing as much.
Wood panelling walls can be added to that simple boring wall and turn it into something that will catch the eye of everyone entering that room. They can add comfort and value to your home, all while still keeping things looking beautiful and aesthetic.
Read more: 25 Splendid Wall Panelling Ideas to Spruce Up The Look Of Your Home
FAQs
What's the difference between wainscoting and paneling?
Wainscoting is a popular design for being done only on the bottom half or three-quarters of a wall, while paneling can be placed from floor to ceiling or on the ceiling itself.
Should paneling be lighter or darker than walls?
There are no predetermined rules when it comes to wood paneling ideas. Depending on the room in question, the color of your walls, how big or small the room is, and how much natural light the room receives, you can choose the color of your panels.
What is the difference between cladding and paneling?
Wall cladding aims mainly to make a wall look like another kind of material and give it effects like brick or timber, while wall paneling is done using the actual solid wood in its true form. This makes wood panels costlier and more effort-demanding.
Is wood cladding high maintenance?
No, wood cladding is not considered high maintenance.
What are the three common types of wood paneling?
Raised panel wainscoting, shiplap panels, and plywood panels are popular types of wood paneling.