Panelling the walls of your home is a great way to enhance their beauty and functionality, as there is more to wall panelling than just appearance. It is not only a great way, other than painting, to transform the look of your home, but it also serves as home decor so you don't have to do extra chores.
If you are looking for a guide to help you with all the details about wall panelling including the installation steps, pros, cons, styles, and more, then you have landed at the right place. This guide will not only tell you how to panel a wall but will have everything you need to know about wall panelling. So, without further ado, let's dive into creative and functional home decor and maintenance.
Here are the Top 16 Wall Paint Design Ideas Perfect To Inspire You!
Process Of Panelling A Wall
Supplies Needed For Wall Panelling
Paint Suitable For MDF
Accurately Cut MDF
An Accurate Measuring Tape
Paint Rollers
Pencils & Paint Brushes
Glue & Sealants
Fillers
5 Steps To Panel A Wall
Measure The Space Accurately: Getting the measurements of the place right is one of the most critical steps, as it will decide how the whole area will come together. You need to take accurate measurements of the wall with a trustable measuring tape to know what amount of materials it will require to panel the wall according to your chosen style.
Cut, Clean, & Smoothen: After taking proper measurements, it is time to cut the panels accordingly and clean the surface that you are gonna attach them to. Get rid of any residual paint or wallpaper to make sure that the panels are attached securely and don't give a shabby look. In order to prepare your walls for an excellent finishing, sand them down.
Attach The Panels: When attaching the panels, it is important that you install your base first to ensure a finished look. Then comes the top and the bottom panels. After you have installed these three panels, you can fill in the space with the other panels one at a time to complete panelling the wall. We advise you to make sure that each panel is tightly secured to the wall before moving on to installing the next one.
Fill & Prime: To ensure a smooth finish and neat look, it is a very crucial step to fill and prime the wall after the installation of panels. The filling is only required in spots that look empty and weird, so make sure that you check for any gaps properly after attaching the panels to the wall. You can give the wall surface an attractive finish by priming it after filling. It will make your wall look good as new, even with time.
Time To Paint: The last step is to paint your wall in a color that looks good with the panels and makes them look even more beautiful. If you have attached the panels with glue, ensure that it has completely dried before going in with the paint to ensure a neat and clean finished look.
Popular Materials Used For Panelling Walls
Wooden Wall Panels
Natural wood panelling is luxurious and elegant and adds a warm and welcoming feel to the place, which is why it is a prevalent choice when it comes to wall panels. Apart from their beauty, wood panels also benefit the environment because wood is biodegradable.
Wall panels made of natural wood are a fantastic option for soundproofing a space which is why they are popular when it comes to improving the acoustics of an area, for example, home cinemas and theatres.
Brick
Brick is one of the most popular and traditionally used materials for wall panelling for a long time. It is versatile in nature as you can get them made in any shape or color that goes well with your home. Brick wall panelling can be a little more expensive than the other materials used for wall panels. However, this is a good investment if you want something to enhance the safety of your home as well as something which is durable. White stone, antique, rustic, rosebud, and grey wood are among the several types of bricks.
Concrete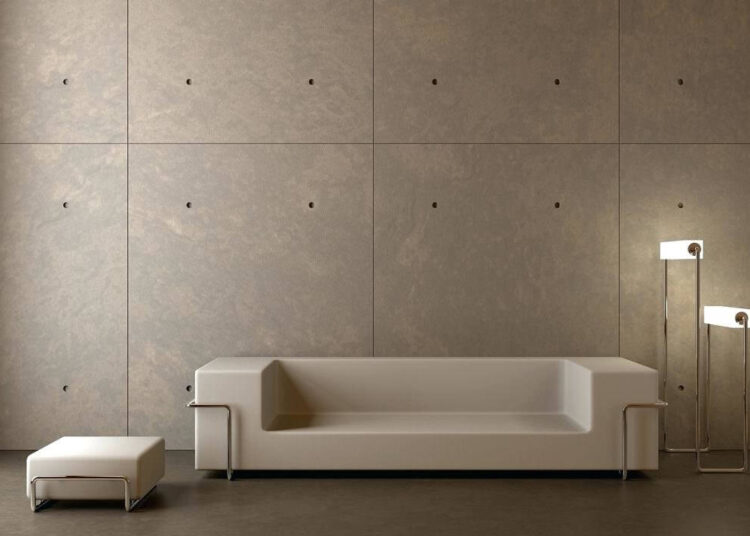 There are multiple house styles where concrete will be the perfect material to panel the walls. It can be used in a modern rustic house for a rugged look and to add texture to the place.
Another way of using concrete to panel the walls is by using its brushed form. Brushed concrete is smooth and partly shiny, which makes it one of the best choices for homes that are modern and minimalistic. Brushed concrete panels will make the space look edgy yet elegant because of its subtle shine and polish.
Plywood
This is one of the most inexpensive yet beautiful materials for wood panels, as they are simple to use and versatile in nature. You can coat your plywood panels in any type of finish to make them fit the aesthetic of your home. Even though plywood can be used for paneling walls of any part of the house, it is mainly used in the kitchen and other dry areas because water can destroy its look and longevity.
Marble
Marble is one of the most popular and stylish materials when it comes to using it to panel the walls. It gives a lovely shine to the room, making it perfect for accent walls, as it is also available in very artistic designs and styles.
However, as beautiful as it looks, marble is a material that is quite difficult to deal with because of its weight and difficulty in its installation.
Top 4 Styles Of Wall Panelling
It is essential that you choose the right style of wall panels that suits the architecture and style of your home as well as caters to your personal taste. You need to select wall panels that will enhance the beauty of your home and are functional as well. Hence, to help you with this task we have listed the top four wall panelling styles for you.
The Classic Board & Batten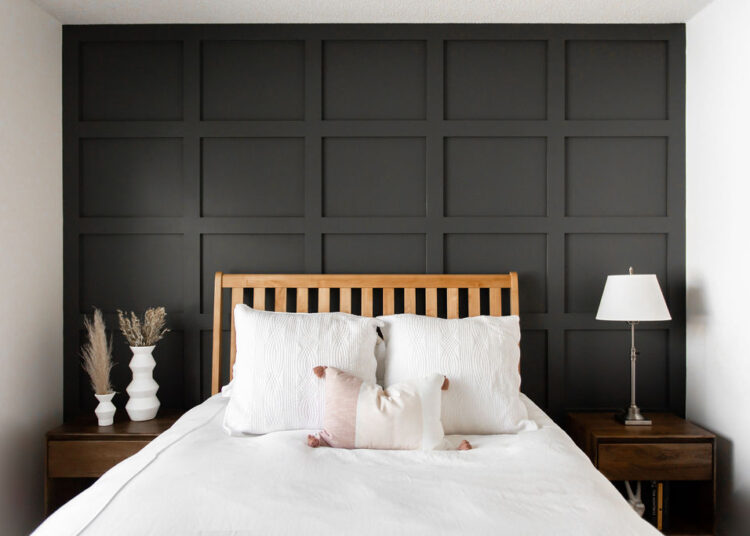 Board & Batten style is a great option for classic looks for the home while also being functional by serving various purposes including wainscoting, hiding crooked walls, and more. In this method of wall panelling, you install wide boards vertically that go from the top to the bottom of the wall.
This is a very traditional method of wainscoting and gives an exquisite and timeless appearance which is the preference of many homeowners. The combination of the broad vertical boards and the narrow batons fastened over the spaces between the boards give your home an appealing three-dimensional texture.
Beadboard For A Vintage Look
Beadboard is wood panelling that has little crests and vertical gaps between each plank. It is a steep series of thin wood planks installed on a wall. This is another classic design of wall panelling that has been popular among the home decor and maintenance community.
This style of wall panelling is widely used in bathrooms and hallways. Beadboards are also one of the most durable wall panels hence their popularity.
Add Drama With Raised Panels
Raised panels give the space a polished, elegant, yet dramatic touch by giving it an extravagant appearance. They have a rectangle or square shape and highlight the dimensions of the whole space. The visual appeal of any place with vintage and formal architecture will get enhanced tremendously if raised panels are used there.
This type of wall panelling is usually used in formal places like workplaces, libraries, and more as they give a refined yet bold appearance to the site, adding to the architectural beauty. They provide a vintage or classic appearance to spaces and hence work best in areas with complex architecture because of their simple yet bold look and vibe.
Shiplap Wall Panelling For A Cozy Space
This is a trendy style of wall panels these days, mainly because of their tight structure and stylish horizontal appearance. Shiplap panels are easy to install, which is another reason for their growing popularity. What distinguishes this style of wall panelling from the other ones is the horizontal placement of panels.
It was discovered quite a long time ago but is still gaining popularity and hence, is an excellent choice for modern homes. Other home styles where a shiplap wall panelling will look good are rustic, contemporary, and traditional.
Conclusion
Wall panelling is one of the most popular home decor processes that enhances the appearance of your home to a great extent. There are thousands of designs, materials, and styles of wall panels that you can choose from.
Different materials have different perks of their own for example, wood is environment friendly, concrete is durable and lasts long, brick is famous for its longevity and rustic appearance, concrete is versatile and can be altered to fit houses of any aesthetic, and many more.
We hope all your queries about how to panel a wall and other related concerns got addressed here. Remember, remodeling your home is supposed to be a fun and creative process, so don't think that the designs mentioned above are the rule. You can take as much creative liberty as you want to make your house look how you want it to.
Frequently Asked Questions
Is it cheaper to use drywall or paneling?
The price of any type of wall panelling usually depends on the quality of the material used. It is optional that only the costlier material can be good. However, it is the matter in most cases. Usually, wall paneling is more expensive than drywall when you compare the costs of the two materials.
Also Read Drywall vs wall paneling: Which is better?
What is the cheapest material for wall panelling?
Purchasing an MDF wall panel kit is the most cost-effective option to panel the walls of your house. This smart product streamlines and simplifies the procedure.
Is it a good idea to panel a wall?
The use of panelling in the hallway can be a fantastic approach to address this issue, especially halfway up the wall where most of the scuffs are present. In addition to shielding the walls, panelling can be painted with a more durable finish, like an eggshell or satin, which will hold up better and be simpler to clean.