While planning for bedroom furniture, there are innumerable thoughts popping into our minds. If you have the luxury of staying in a big house, you don't have to worry much about adjusting pieces of furniture. However, if you live in a small apartment or studio flat and wish to have an extra bed for your unexpected guests or for your personal use, you will have to thoroughly research the various options available for sofa beds or bunk beds, which is probably the best possible way to create additional sleeping space to spend leisure time with your family and be the best host-hostess with the right sleeping arrangements for occasional guests.
 A bunk bed is the right choice if you have more family members and there's an everyday requirement for sleeping space. But, if you have guests coming over occasionally, sofa beds are the better option as a  versatile furniture that allows you to invite your near and dear ones for an overnight stay for fun-filled memories and also for your fun time with family. But it should be comfortable, stylish and easy to use. 
The days are gone when there was a shortage of comfortable sofa beds, and guests had to visit a physiotherapist after spending one night on the bed. Now, you have a variety of stylish, functional and comfortable space-saving furniture to create additional sleeping space in the bedroom or living room that adds to the decor element and serves the practicality simultaneously. While selecting a sofa bed, you must have patience, an eye for detailing and determination to choose the best. 
Undoubtedly, the options for sofa beds are limited as compared with the normal sofa; however, there are several benefits associated with it which you realize over the period. Whether you want a bed for unexpected guests or to enjoy leisure moments with your family members, here's our guide to the most stylish, comfortable and functional sofa bed in various designs.
Things To Consider While Buying Sofa Beds
Comfort
Comfort is a prime factor in deciding what to buy and how much to spend. It depends entirely on usage; if you expect many guests around the year, especially adults, ensure you buy comfortable sofa beds for sleeping. You should buy it from the store as it will allow you to test the mechanism. Product designers advise that to avoid discomfort, always look for multiple layers for support and comfy experience.
Function
Functionality is another essential consideration when choosing sofa beds. No matter how stylish a bed is, comfort decides the success or failure of your choice, so go for a piece keeping in mind the practicality.
Style
Sofa beds are available in various styles and designs with pros and cons. Before you finally buy a bed, list all the advantages and disadvantages to minimize the risk of wrong buying. Without compromising on functionality, decide the style. 
Click-Clack style is the simplest form of sofa bed where the back of the seat folds back to create a flatbed. Though it doesn't have an arm, it's convenient to use.

The stacked style doesn't require an extra folding mechanism to keep the weight low. Rather, the seat cushion unfolds itself to become the mattress. There's one disadvantage: the seat is hard and uncomfortable for seating. 

Conventional fold-out style have a frame and a mattress underneath the seat cushion. You will have to lift and pull it out to make it a bed. The disadvantage is it's very heavy and expensive too. 
Size
For small rooms, it's worth investing in a sofa bed with ample storage to store bedding and duvet for guests. It serves the dual purpose of storage furniture and a bed. The sizes range from single to king. Make sure you measure the fully extended size for easy bed adjustment. Leave 60m of space between the end and side of the bed for some breathing space for guests.
Advantages
It is a practical and affordable option when compared to buying a bed and a sofa separately.

It's very comfortable

Spacious to accommodate more than one guest.

Best way to spend time with family and friends

Light weight than the conventional sofa.
Disadvantages
Doesn't provide the comfort of a bed and is meant for occasional use.

It is usually meant for one person. You can get the right fit for multiple people if you invest a good amount.
Different Options Of Sofa Beds 
1. Aero Single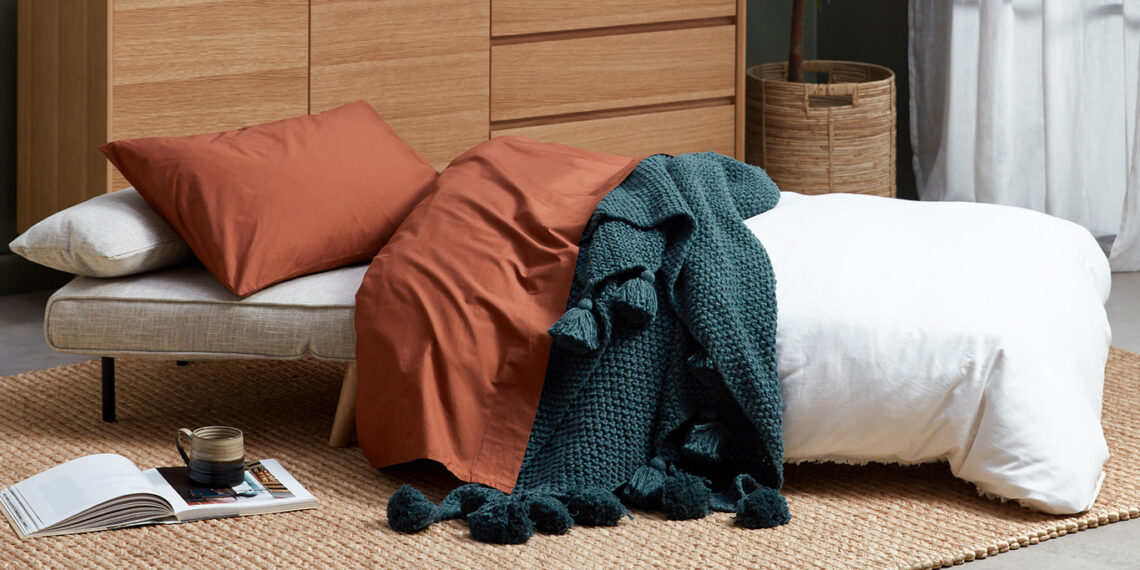 It is an affordable sofa bed, so you should choose this option. A few options from Temple and Webster push you to think broadly. It looks damn stylish with a slim profile fulfilling multiple requirements. You don't need to buy a queen or a king bed because an aero single sofa bed will be a second place for a guest to sleep outside your larger bed.
2. Lana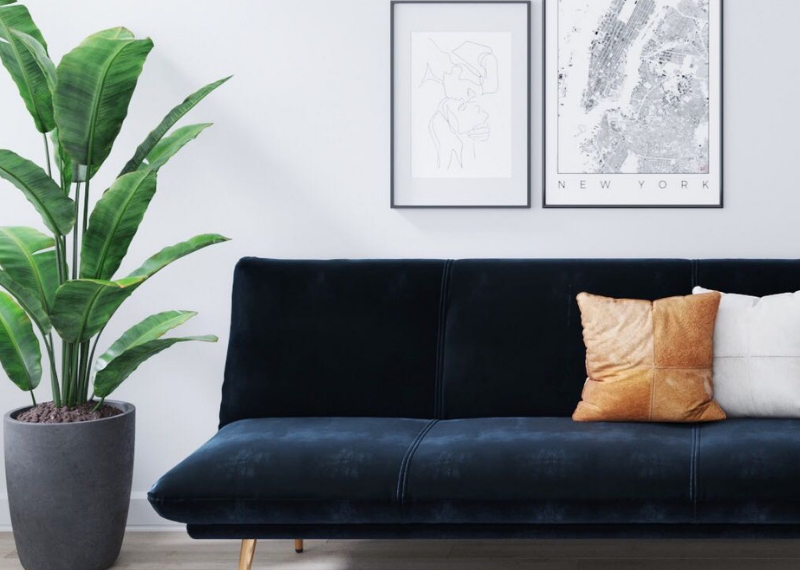 If you love the velvet vibe, Lana is the best possible option for you. It defines luxury and style with its divine upholstery. You will appreciate the Lana sofa bed. It is available in different attractive colors.
3. Friheten
It is one of the best sofa beds considering its price and comfort. Taking feedback from Guests can give you an idea of what good sleep is when you sleep on a Friheten sofa bed.
4. Pumice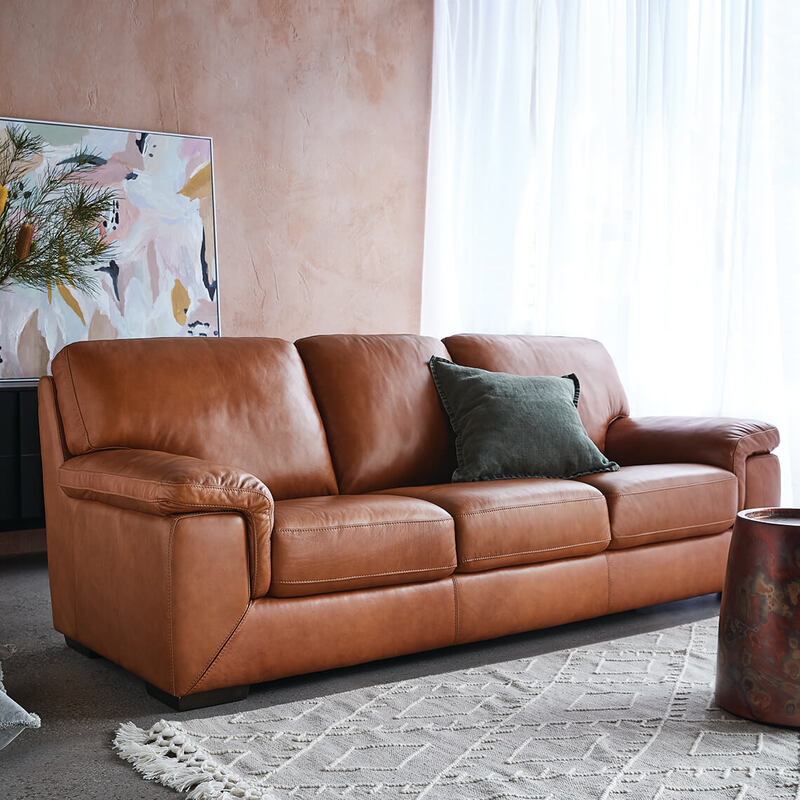 This bed has an old-school mid-century vibe. Though some metal is fixed in this bed, the look and feel are glamorous. It comes with a complete comfort and support system package and looks amazingly fashionable when folded up.
5. Koala
Koala sofa bed has countless positive reviews about its comfort. The purchase is hassle-free and risk-free with these beds because you can use them for 120 days and return them if you don't like them. What more does a customer aspire for while making a purchase? This option gives confidence to the buyer of high quality. It's a fold-out bed with no spring and required tools, making it a fuss-free piece you will love to have.
6. Ashley
Ashley sofa bed from Coco Republic is a beautiful piece of furniture you would love to keep in the living room as a sofa for everyday use. It has got Hampton's inspired look. It is easily folded out, ensuring your guests a good night's sleep.
7. Pascala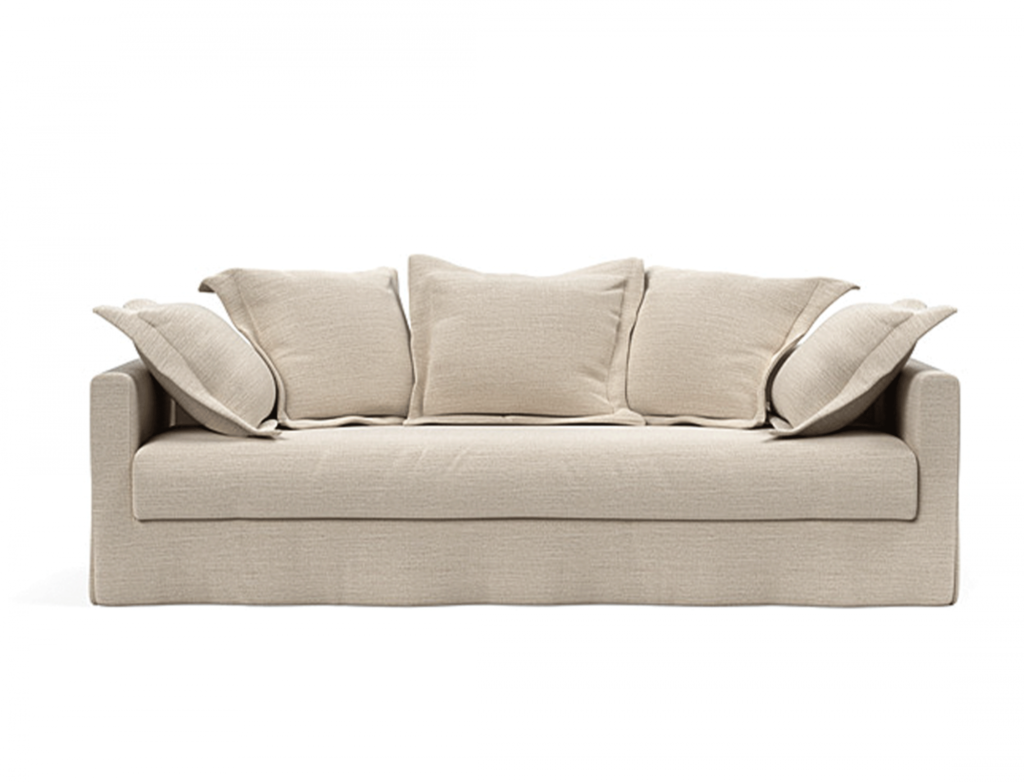 Pascala sofa beds are super comfy, making you feel like you are floating on the cloud with their luxury. There are multiple colour options available.
8. Cassius Hodor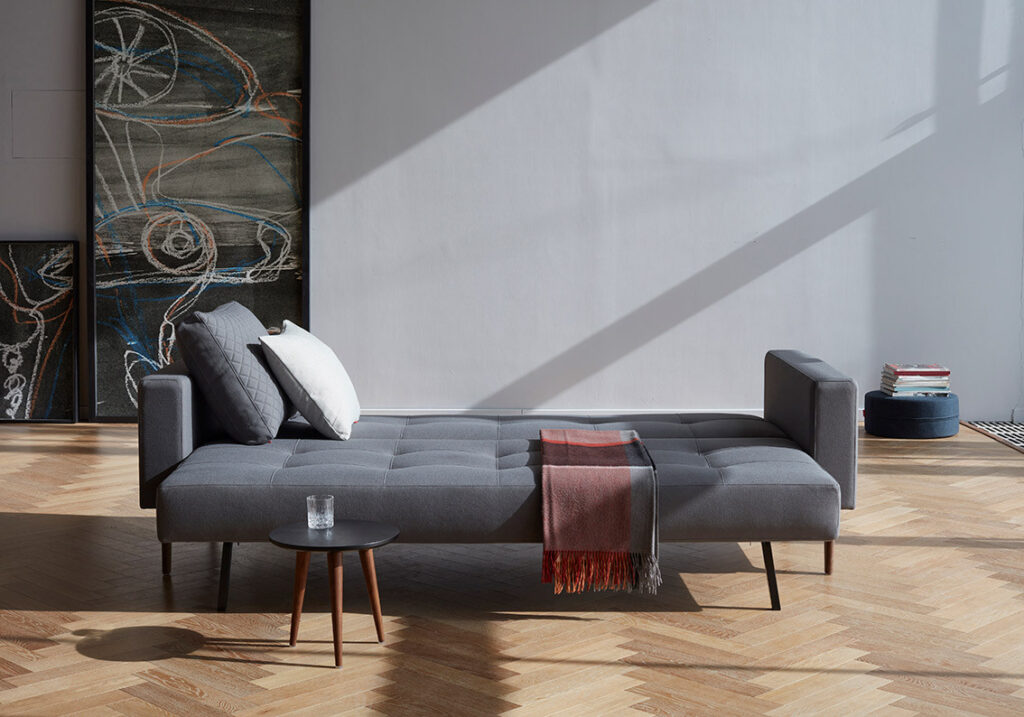 The choice of mid-century lovers who prefer sophistication. It comes with a tufted button and looks sleek. It has a strong visual impact, no matter where you place it. You can choose your favourite colour to add a personal touch.
9. Gronlid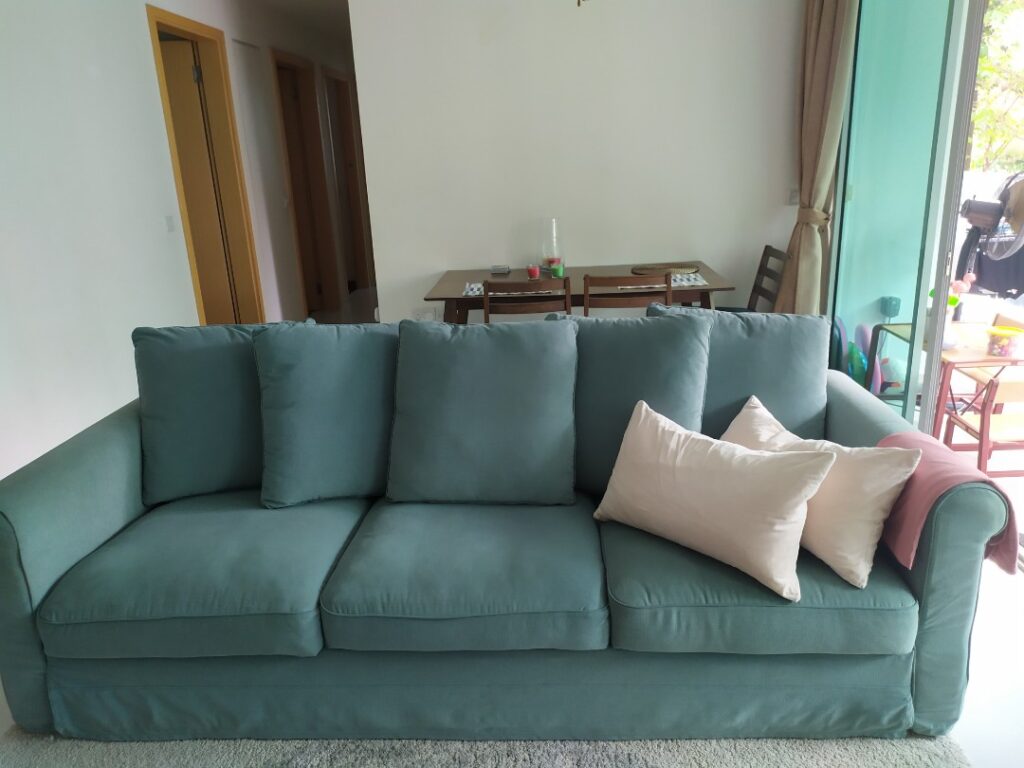 Gronlid sofa beds from Ikea offer a complete package of comfort (with plush cushions) and style. The curved armrest adds a visual element. The price is quite affordable.
10. Momba Fabric
It's a power-packed piece with function, style, soft fabric and cozy cushion for extreme comfort. The neutral colour allows you to place cushions of your favourite choice.
11. Palermo
Palermo sofa beds from Brosa extend functionality with their spacious fold-out mattress and the comfort you would love. Slipcovers in three colours let you wash the cover once guests leave.
12. Stunner from Koala
It is a comfortable bed with its soft fabric and sleek appearance. Though it looks good wherever it is placed, it will look perfect in a contemporary space. It serves the dual purpose of practicality and style as it has storage underneath for a clutter-free room.
13. Melinda fabric
It is perfect for a small space where a bulky sofa has no adjustment scope. It comes in a blue fabric and brown leather strap. The easy use is worth praise for this piece as it allows you to convert the daily use sofa to a sleeping bed within no time. So, it's time to relax even when unexpected guests arrive.
14. Plast upholstered
Plast upholstered sofa beds from Temple and Webster have a timeless shape and profile, and a tufted button adds visual interest and comfort. It has a high-density foam cushion for extreme comfort for your guests.
15. Alecto ottoman
It is an affordable and functional item loved for its versatility as a sofa, bed or footstool.
16. Madeline
The best choice for a small room. Its innerspring mattress, and thick cushions come with complete comfort and cosiness. Create your own style statement with light grey, aqua, stone, denim, charcoal or yellow.
17. Delta modular
Delta modular sofa beds from king living is comfortable and stylish too. In terms of configuration, you get countless options because delta modular adapts in countless settings.
18. Nathan velvet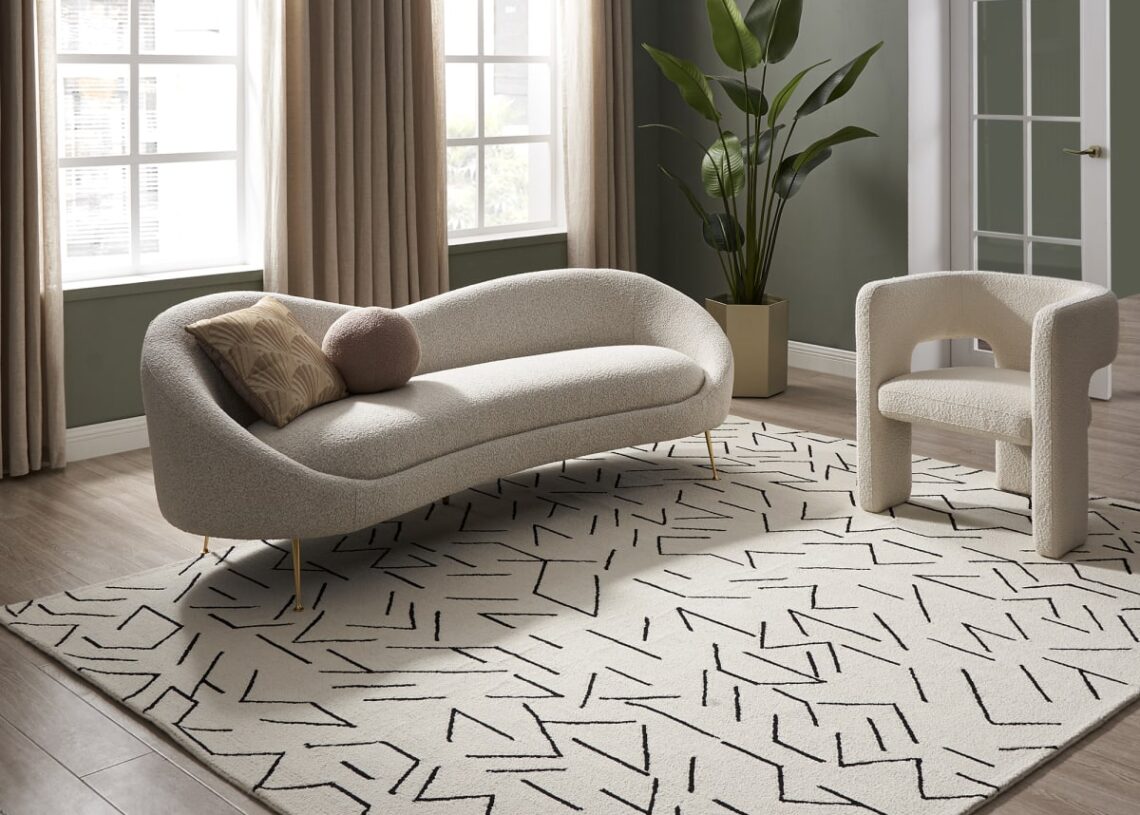 Nathan velvet sofa bed from Castlery delivers the mid-century moment. It has an elegant look you would love to flaunt in the living room. Comfort is unmatchable, and so is style. There's not a single thing to love less.
Multipurpose Sofa Beds For Small Spaces
Apart from the lists mentioned above, there are a few other options for any space in your home. 
Happy 2-seat
As the name suggests, it keeps you happy with its versatility as a recliner, chaise lounge or bed. It is spacious enough to give you comfort. It is easy to fold and unfold because there are no legs, hidden straps or spring. You have many color options, such as yellow, copper and forest green.
Divano 2-seat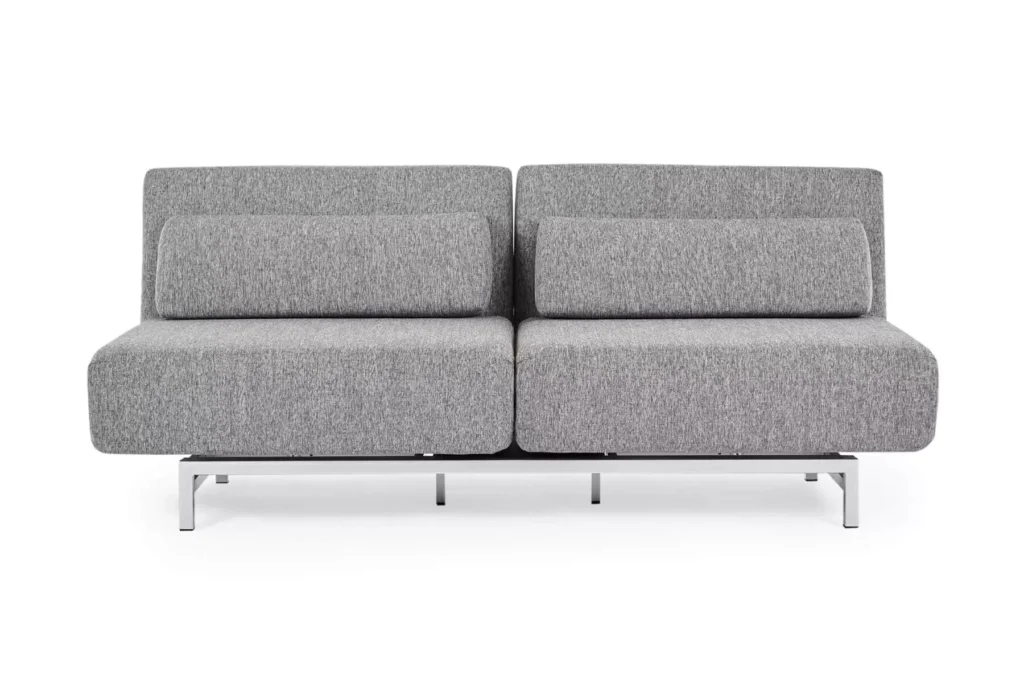 Another versatile item that can be used as a sofa, recliner, set of swivel chairs, king-sized bed, or even two single beds. Its comfortable polyester fabric and high-density foam mattress extend an amazing feel and look to your home. A removable cover helps you keep it clean after every use.
Cove Chaise
A comfortable design that is perfect for stretching out with a modern coastal look. 
Alexis 3-seat
This stylish sofa bed has a classic look with its low profile, oak legs, clean lines and tufting detail. It's easy, click-clack design helps transform a sofa into a bed within no time. 
FAQs
Is It Healthy To Sleep On A Sofa Bed?
It depends on how frequently you or your guests sleep on the sofa beds. Even the best ones are slightly firm than normal sofas because some seating comfort is compromised for easy convertible features. If you have a bigger space, have a separate sofa for everyday seating, keeping aside a sofa bed for occasional usage. However, if there are space constraints and you wish to have a comfortable sofa bed for daily seating, invest a little more than usual and get a comfortable item without compromising comfort. 
How Do I Make My Sofa Feel Like A Bed?
If you are stuck because of the wrong sofa buying and want to add seating comfort, change the cushions with down-filled foam ones. If the sofa lacks support, cut a foam wrap board and add it under the cushion for a quick solution. You can also buy some large and fluffy quality pillows for comfortable seating. 
Is There An Alternative To A Sofa Bed?
Yes, there is an alternative to sofa beds: day beds, bunk beds, loft beds, trundle beds, sleeper sectionals, chaises, armchairs with ottomans and oversized recliners. All these serve the purpose of sleeping space as well as for storage. 
Does Sofa Bed Have A Mattress?
Not all sofa beds come with a mattress. Some have have mattresses within their frame, or you can use the back and seating area of the sofa as a mattress. If you want a separate sofa bed mattress, thoroughly research the products and measure the exact dimension of the sofa bed to buy the exact size mattress.