T he bedroom is probably the most important and personal space in the house where you tend to spend some relaxing and comfortable time after a tiring day. We often look for a cozy corner to unwind and curl up in a bed after a long day, so it's important to thoughtfully decorate every bedroom furniture, be it a bed, bedside tables, storage pieces, dressers, nightstands, or an accent chair.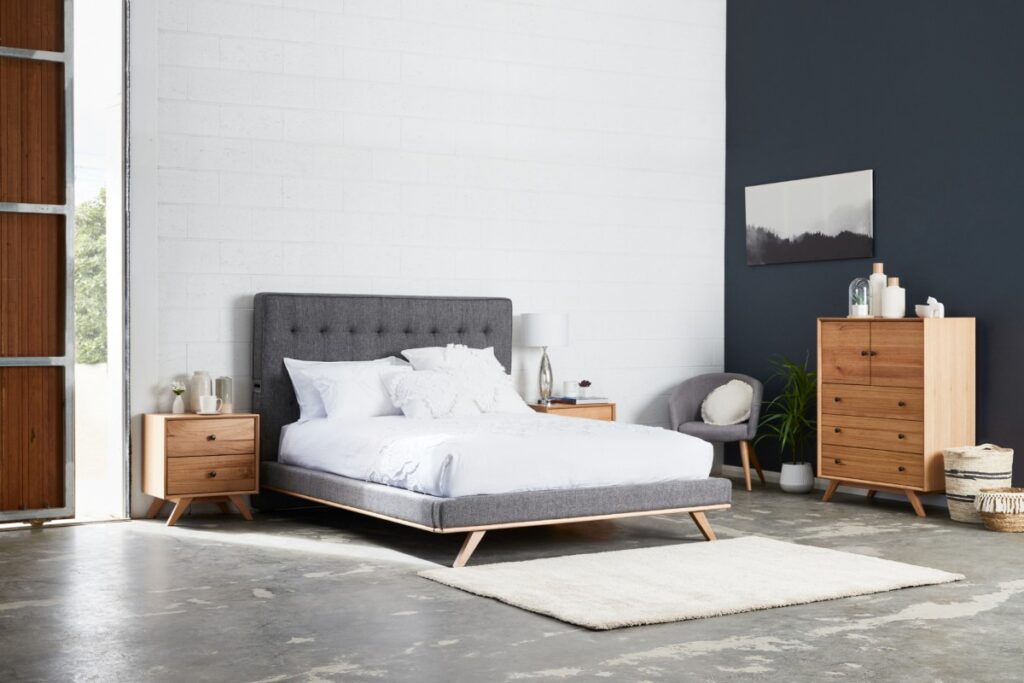 Bedroom furniture creates a functional space for sound sleep and adds aesthetic elements. Every piece of furniture in your private space reflects your taste and personality, so whether you prefer a minimalist neutral aesthetic or a colorful tone, there's no escape from in-depth research. The furniture should be selected considering the practical aspect and other decor and design of the room.
You don't have to make considerable changes for great results; rather, simply replacing the headboard, placing some statement floor lamps and bedside tables can enhance the space's decor without overwhelming it. You have landed on the right page if you are looking for different bedroom furniture ideas for your rooms. Here we go.
Factors To Consider While Selecting The Bedroom Furniture:
Availability of space – Buy products considering the size of the room. Wrong furniture will make the area overwhelming.
Other decor design – This is a vital thing you should never ignore. Whatever furniture you place in the room should complement other interior designs.
Comfort level – Furniture should be comfortable for you to unwind and relax, be it a bed, mattress or rocking chair.
Quality of furniture– The furniture should be sturdy and long-lasting to make it worth spending.
Storage requirement – Go for furniture that provides ample storage to keep your clothes and other necessary items. Consider the storage requirement along with the available space before buying any bedroom furniture.
Budget – Once you are done with all the factors, it's time for one of the most important considerations: budget for buying bedroom furniture. Consider the total disposable amount in hand and also your requirement.
Essential Bedroom Furniture
Bed
The bed is the focal point of the room if selected properly. Consider the available space and style that complements the design patterns of other items. A variety of beds come with in-built drawers, headboards, storage space and shelves that provide respite to keep the room clutter free, especially for small rooms. Some of the types of bed options are:
Sofa beds – Sofa beds are used worldwide because of their multifunctional features of a sofa and a bed. These beds are usually considered as guest beds and are preferred for small rooms or studio apartments.
Trundle/Truckle beds – This bed comes as a pair with the second bed stored under the fixed bed. These beds are gaining popularity around the world because they provide dual sleeping spaces in a single piece of furniture.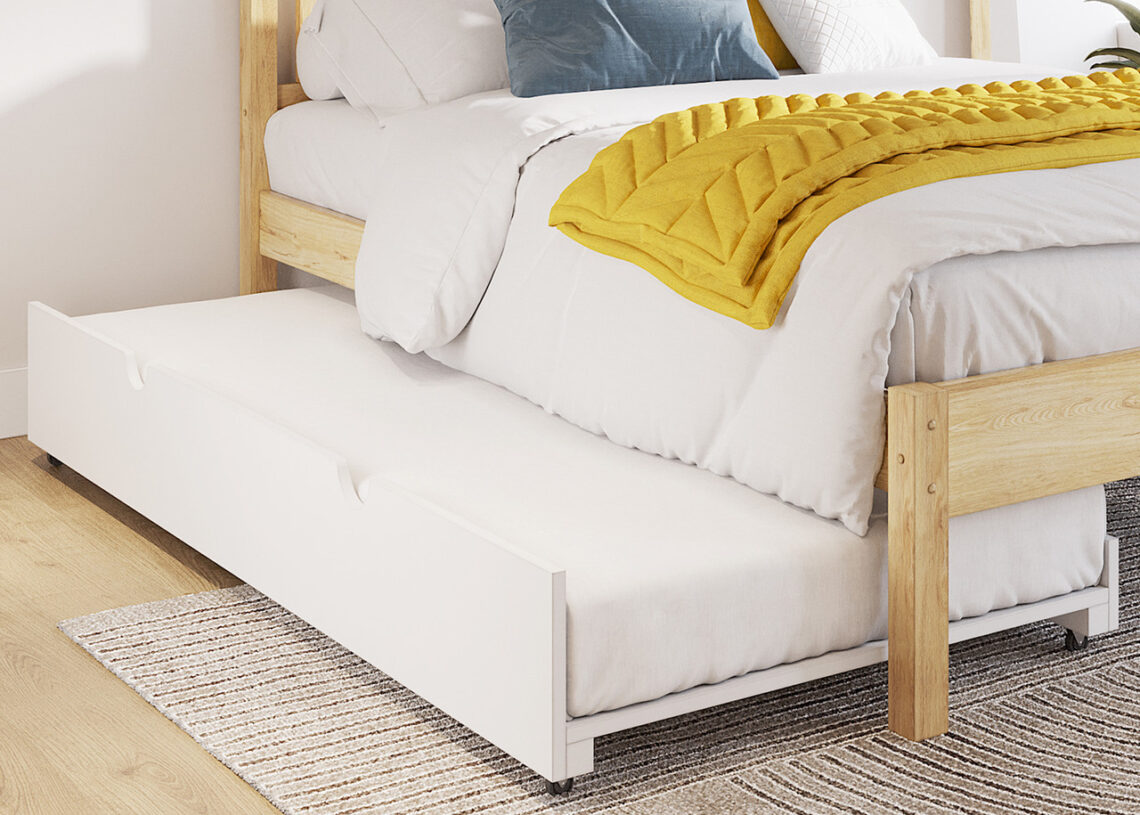 Bunk beds – Bunk beds are an arrangement of two beds, one above the other, as a single piece of bedroom  furniture to save floor space in a small space. The top and the bottom beds are connected via wooden beams. It comes in numerous sizes and styles.
Canopy beds– It is a historic style bed with four pillars at each corner of the bed to carry the fabric shades and panels. Canopy beds convert a simple room into a luxurious one that goes well with both a modern and classic style.

Ottoman /Storage beds – These beds are sturdy and functional, providing enough space to store stuff like bed covers, seasonal clothes, duvets, shoes etc., underneath the bed without occupying extra space. Ottoman beds have easy lifting mechanisms. It is available in various sizes, styles, quality and prices.
Loft beds – Loft beds resemble bunk beds but have a single frame on the top, creating more space underneath to convert the space into a small living room or kids' play area. Loft bed is a practical solution to save space.

Murphy/Pull-down/wall beds – Murphy beds are the perfect choice for studio apartments. It comes with a hinge on one end to fold it against the wall. If you want to maximize the available space in a small area, go for it.
Bedframe
Buying the right bed frame is important for the durability of your mattress and comfort while sleeping. A perfect bed frame gives proper support to the mattress, not letting it sink in to ensure breathability. You should consider functionality, size, quality, height, storage and durability. To name a few types, here we go.
Standard bed frame – This bed frame is low to the ground and comes with a headboard and footboard.
Plain/Simple bed frame – It is a basic bed frame with legs to hold the support beams.
Metal bed frame – Metal bed frame is very simple and sturdy bedroom furniture that comes in various designs. It can hold more weight comfortably. A few come with a headboard, while others don't.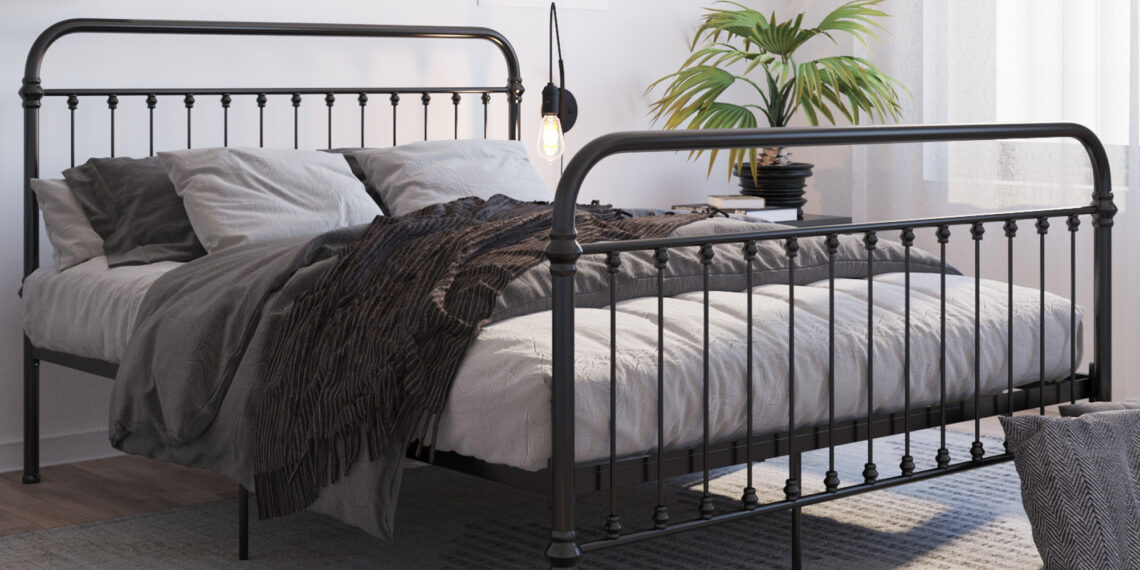 Wooden bed frame – It is sturdy, made of heavy wood, and easy to install. Box spring is not needed with a metal.
Brass bed frame – If you want to enhance the decor quotient in the room with some antique items, a brass bed frame is a good choice. It comes in silver and golden yellow colors, silver ones being low-priced.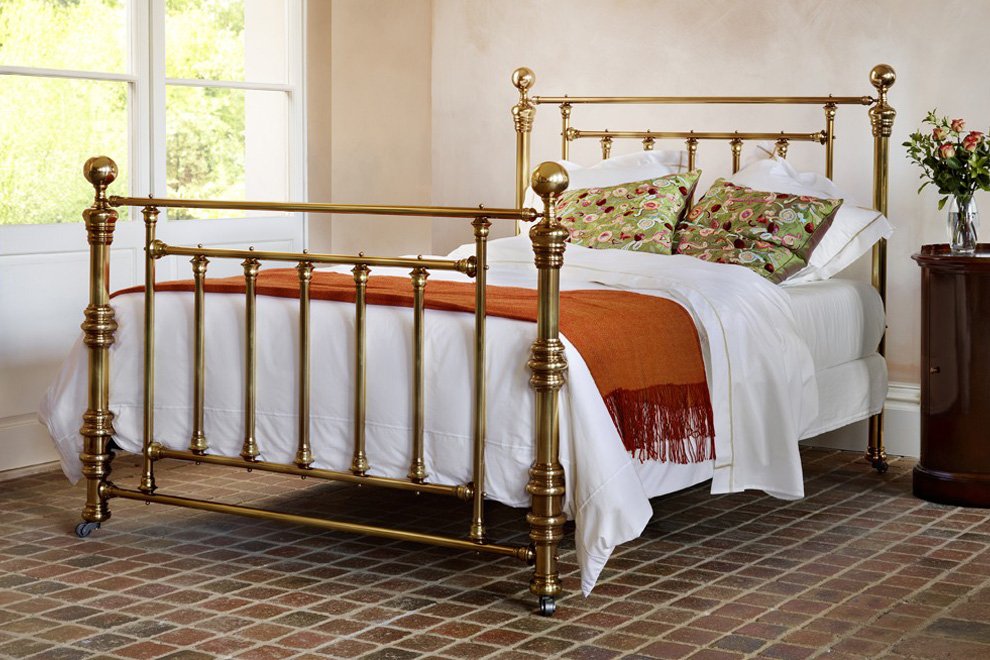 Platform bed frame – These bed frames are lower to the ground, with a thick and sturdy base to hold the mattress up. Usually, these frames don't need box springs.
Sleigh bed frame – This bedroom furniture resembles a sleigh with a curved footboard and headboard made of wood. These frames were used during the early 19th century. If you want a conventional bed, a sleigh is the best choice.
Mattress
Many of you would agree that buying a mattress is a complex task because the quality of the mattress affects your sleep and consequently affects your health. With numerous options to choose from, you are overwhelmed with choices. It's worth spending on a quality mattress because you spend approximately a third of your life on a bed. We have discussed a few mattresses to help you select the right one.
Innerspring mattress – It has three layers with a spring coil in the middle layer surrounded by support layers – a topper and a foam base.
Foam mattress – Memory foam mattresses are available in three varieties- traditional, open cell and gel memory foam. All three types adjust to the shape of your body. If you feel warm during sleep, go for open-cell or gel memory foam because conventional memory foam traps heat.
The hybrid mattress- It is one of the best mattresses, with a foam layer at the top and a packet spring in the middle. It is preferred due to its durability and airflow that keep the mattress cool.
Bedside Table
The bedside table is an essential bedroom furniture, usually utilized to keep some daily stuff like mobile phones, a book to read during the night, a small lamp or other items. The bedside table should be selected considering space availability and usage. Let's see a few types.
Narrow velvet – Classy and elegant choice for a modern room.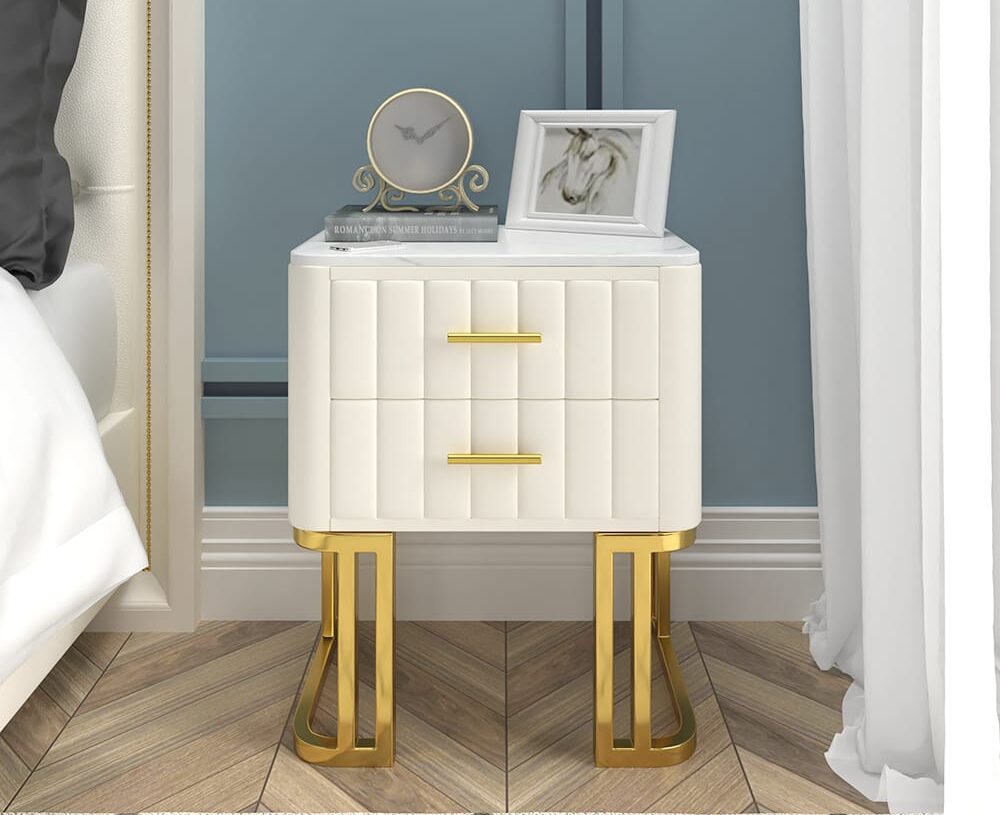 Dual drawer – It comes with two drawers to wind up small clutter from the room.
Triple drawer – It comes with enough space to store unnecessary stuff in the room for a neat and clean room.
Curved edge – It has a sleek and minimalist look that can easily move in and around the limited space. You can place some show pieces on the top.
Wall hanging – To save floor space and keep the room tidy, hanging bedside table cum shelf adds a statement to the room without hassle.
Steel frame – This table looks like an edgy mini locker. It's time to escape the conventional bedside table designs and go for box ideas.
Headboard
While renovating your house completely or partially, replacing the headboard can have a distinct impact on the room. Many beds come with a headboard, while sometimes you have to buy it separately. Now, the crucial decision is which headboard to buy. Let's have a look at the options of headboards you can choose from.
Wooden headboard – These are the traditional materials for a classic style bedroom. The wooden headboard can be easily painted or combined with other materials to create a distinct design making it versatile. It often comes with a sleigh bed.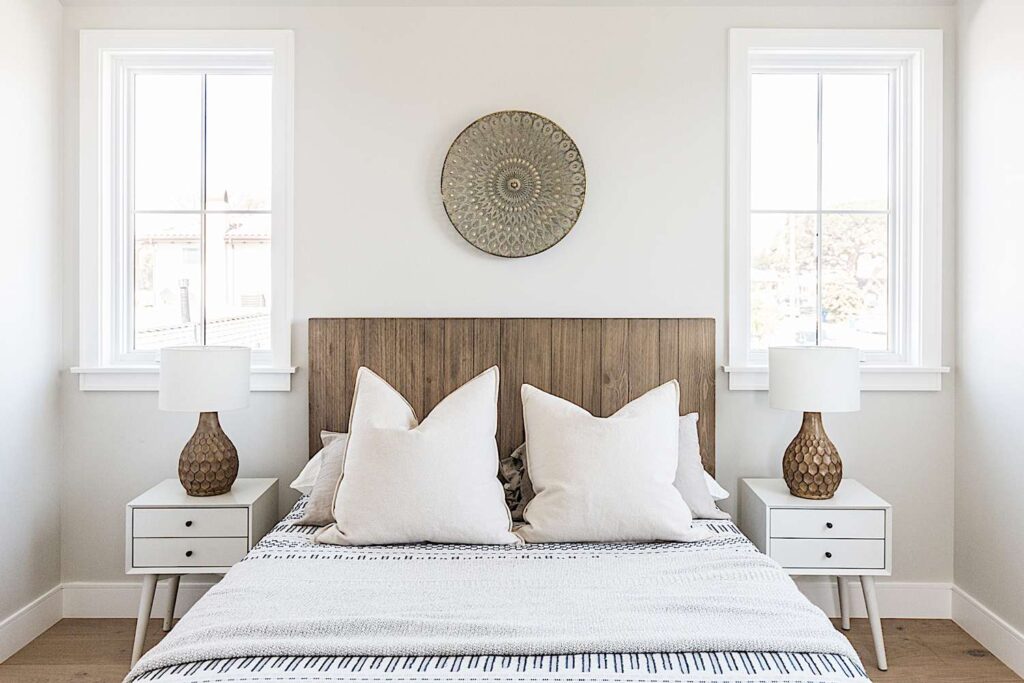 Metal headboards – These bedroom furniture are usually made of iron but can also be made of aluminum, brass, copper and brushed steel. It is preferred due to its durability. To avoid rust, you need to keep it clean. You can paint the headboard to match it with other decor designs. However, it looks good in its natural state.
Upholstered headboard – These headboards are covered with fabric, adding an element of statement to create a focal point in the room. It comes in a padded form, providing comfort to lean against and relax.
Natural headboard – These natural fiber headboards use woven organic material like rattan or wicker to create the design.
Leather headboard – There are several types of leather headboards made from cowhides, crocodile skin, alligators, or ostrich. The leather quality is divided into full gain, split leather, corrected grain and aniline leather. You can also opt for faux leather because it's easy to clean and maintain and is prone to stains. For vegans and vegetarians, it's a better option.
Dresser
Dressers are an important piece of the bedroom furniture to store clothes and other stuff for a neat and clean room. There are numerous options to choose from, such as rustic, industrial, contemporary, coastal, painted, and mid-century. Select a dresser that serves your purpose of storage and matches the interior of your room.
Accent chair
Accent chairs are indispensable piece of bedroom furniture that accentuate the look of the room with their style element. Placed in the corner of the room serves the dual purpose of comfortable seating and adding charm to the space. You have multiple varieties of accent chairs (material and style) options. A few options are :
Barrel chair
Rattan chair
Lawson chair
Wingback chair
Club chair
Slipper chair
Hamptons Provincial Armchairs
Coastal Bohemian Armchairs
Contemporary Luxe Armchairs
Scandinavian Mid-Century Armchairs
Urban Industrial Armchairs
Vanity
While choosing a vanity for your bedroom, consider the size of the room, storage requirement and the design that matches other designs in the room. The range of vanity goes from modern, minimalist, and rustic to a vintage style. Select a piece that suits your tastes and serves the practicality of storing cosmetic products.
FAQs
How To Make Sofa Beds More Comfortable?
Suppose you have an old sofa bed and you are in a dual mind, whether to replace the old one with a new sofa bed or get a few things of utmost priority for the bed. There's an emotional connection with old items, so you want to retain them in a usable condition. The easy way is to add a mattress topper, get a new mattress, fill in the gaps with pillows, keep the mattress clean or use a duvet.
What Furniture Makes A Bedroom Look Bigger?
Planning for decor and adding bedroom furniture for a small room is quite challenging; even a small clutter makes it appear overwhelming and virtually downsizes the space. You can try out a few things to make it bigger. Use clever storage by placing a bedside table with drawers to maximize the storage, clutch a low bed for an illusion of a bigger space, shift the television to some other room, use pastel colors because dark colors make the room look small, and use a large mirror to create an illusion of a bigger space.
How Many Pieces Of Furniture Should Be In A Small Bedroom?
It would be best if you placed all the important pieces of bedroom furniture with proper planning. Get the bed centered under the large window, have only one bedside table with drawers to store some daily stuff, or avoid it if there's a shelf attached to the bed; Symmetry is crucial while planning furniture for a small bedroom. Utilize all the possible space in the room, but do not make it claustrophobic.
How Do You Make A Small Bedroom Look Classy?
To break the myth that a large space looks classy, there are basic changes you have to make to make the small room look classy. Paint the room with a neutral tone, get a bed with a luxurious headboard, place a big-size mirror on the wall to create an illusion of a large space and hang curtains of full length from ceiling to floor. These small changes will change the appearance of your small room.