We are often in a dilemma while buying bedroom furniture, especially a bed, which becomes the focal point of the space, if selected properly. Various designs, sizes, materials and colour ideas pop up in our minds working to aggravate the confusion. If the bedroom is spacious, you don't have to bother much as any size of the bed would fit in; however, for a small bedroom, you have to map the market to list various beds. You can seek help from a professional for a perfect buy.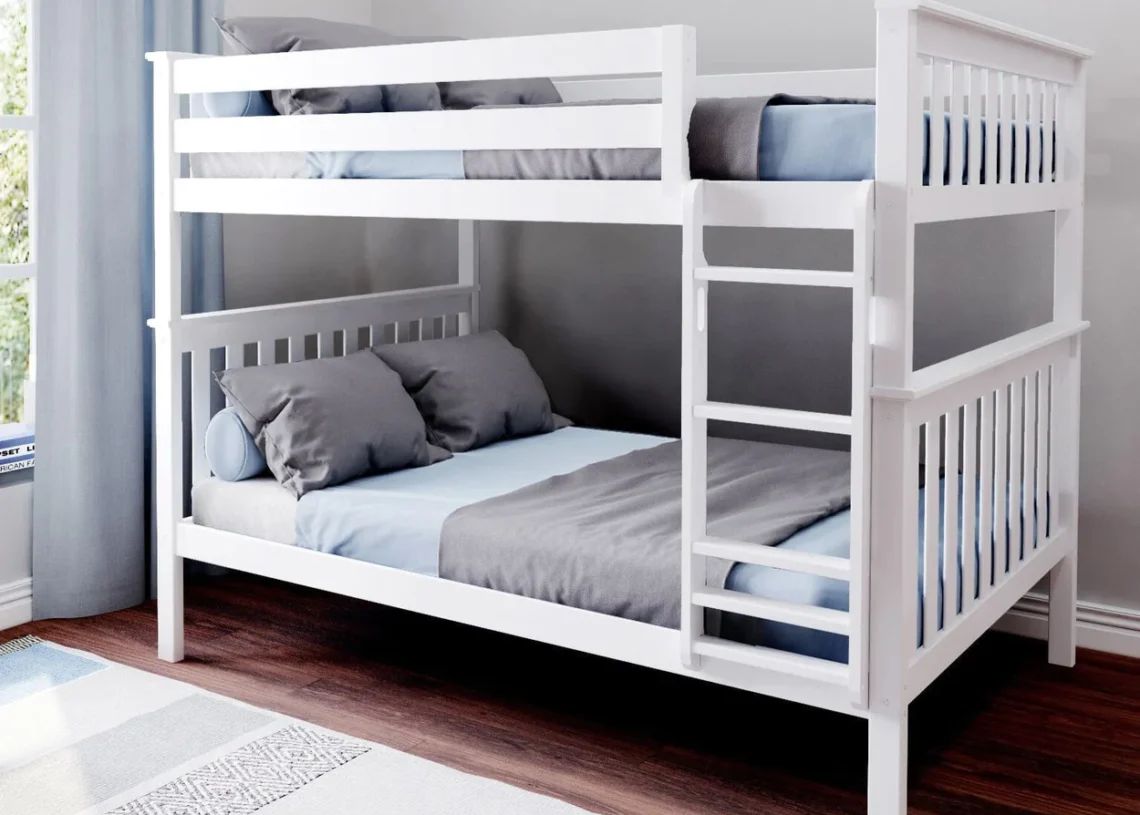 The bunk bed is usually a smart option to maximize the limited space available, especially for a family with more children and limited space. It's a great way to create a vertical sleeping space for kids with a fun-filled set-up. A bunk bed can transform your kid's room into a playground, creating additional space to keep books and clothes.There are built-in bunk beds used as guest beds for friends and families. Many of you would agree that you fondly remember functional and utility-based beds as a child because not much emphasis was placed on different themes or color combinations.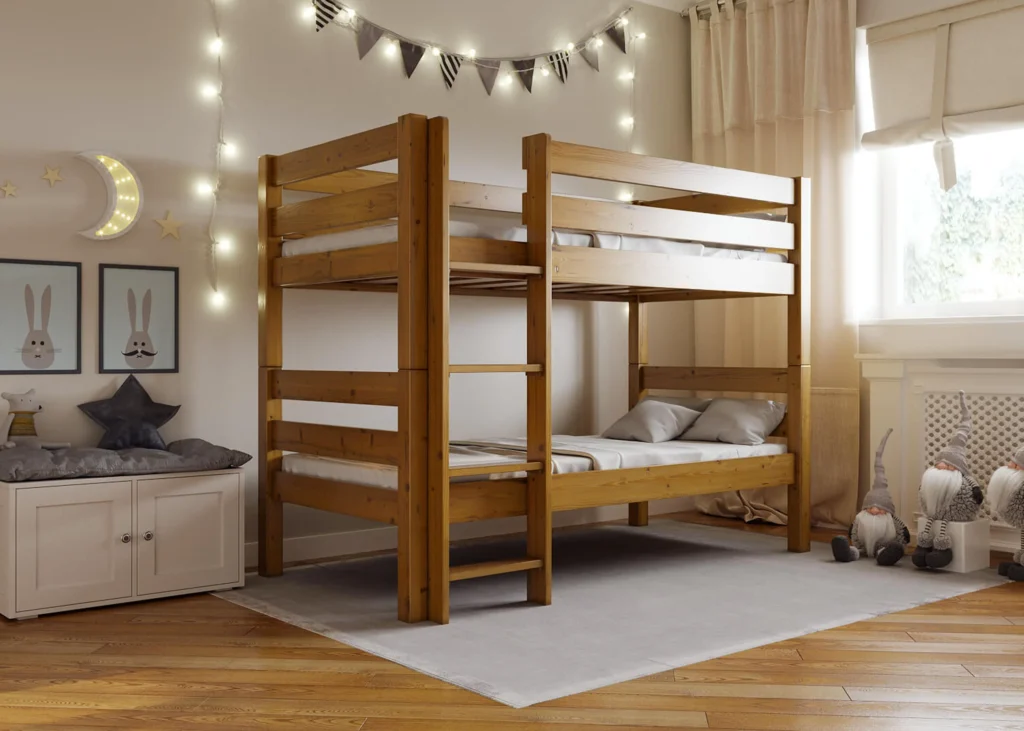 With the changing trend and more exposure to new designs, you, as a parent, have multiple options to add some drama with bold colors and architectural feats- a perfect blend of form and function. When beds are placed merely with an intent to save space, it's more a utility-based set-up, but a dedicated bunk room set-up meant to accommodate multiple people evokes the feeling of summer camp.
There are multiple options to confuse you while selecting a bunk bed. Don't worry! You have landed on the right page. We'll discuss the several options and their pros and cons in the following paragraphs. Keep reading.
Things To Consider Before Buying A Bunk Bed For The Bedroom
Make The most of the free space in the room
If there's even a small unutilised space with a scope of having a small bunk bed for kids, have a customized bed.
Make a detailed Plan while designing the kid's room
Remember that once kids outgrow the bed, it becomes redundant, and you have to replace it. Have a bed that grows with your child for longer use.
Keep minimal things
It's not always necessary to paint your kid's bed with bright colors. Rather, keeping a minimalist tone will be relaxing and soothing for kids to play, learn, unlearn, and sleep well.
Consider storage
While planning for the room, remember to consider storage space that can serve the flow and function of the room, meeting all the basic needs.
Keep safety on top priority
Amidst all the functionality and flow, don't ignore the safety of your kids. Have a sturdy bunk bed with built-in steps, railing and safe lighting, so there's no fear of falling out of the bed.,/p>
Measure the ceiling height
The idea of maximum space utilization is a clever thought; however, before finally deciding to buy a bunk bed, measure the ceiling height accurately. An ideal top bed must have space between the mattress and the ceiling. It ensures the child can comfortably sit without banging their head into the ceiling.
Bunk Bed Ideas For Small Bedroom
Low height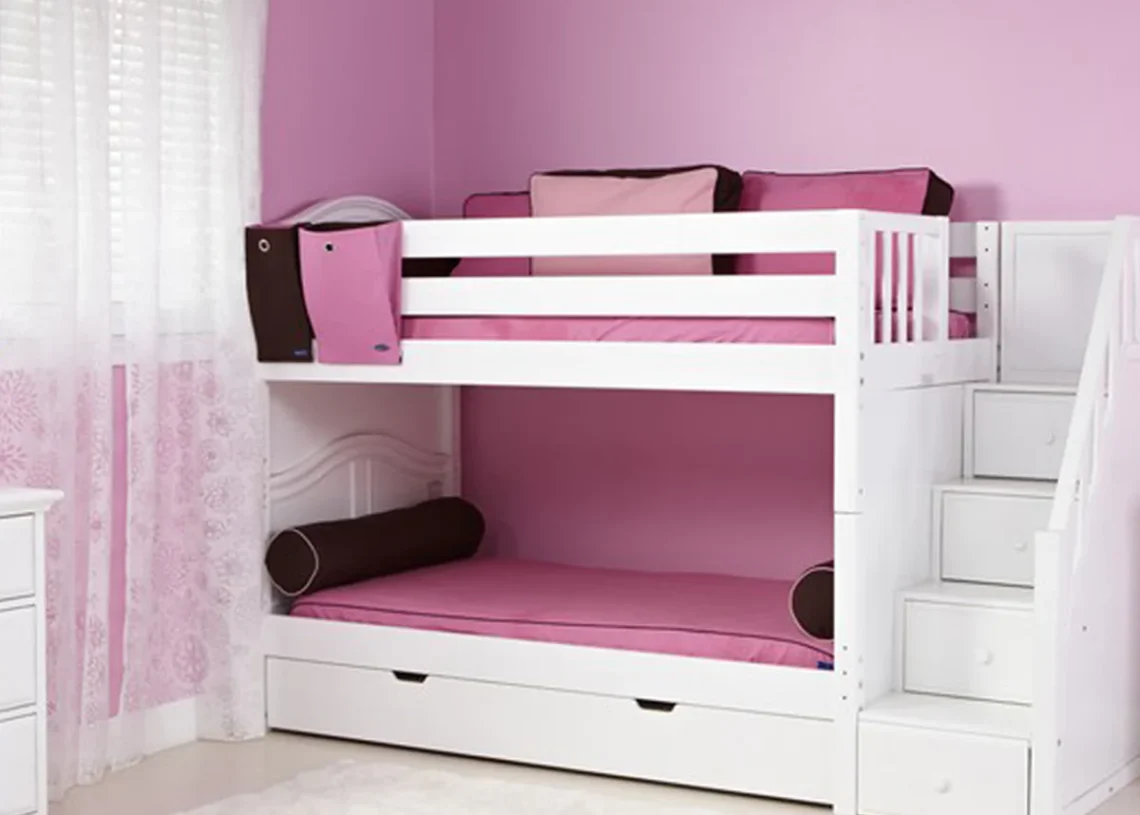 Younger kids usually use low bunk beds in small apartments or studio flats. Transform the boring bedroom into a lively space by attaching a mini ladder to the footboard.
The arched bed
The arched style is loved for its unique curved structure, which elevates the look of the already impressive display to new heights.
Bed to Study and sleep
A perfect choice for older kids who need a separate study area to finish their homework and casually read their favorite books. Make a study corner underneath the bed.
Skip the lower bunk
Having only the top bunk is unique in its way. Place an ottoman chair underneath the bed to maximize the available space.
The storage-centric bed
Its dual bed, small built-in bookshelves, and cool staircase make it a perfect choice. The open alcove allows your child to make their customized bed below.
Open one
The L-shaped bunk bed is preferred by claustrophobic kids who prefer to sleep in an open bed. These beds also have ample drawers to store extra linen and other stuff.
Center staircase
Usually seen in a built-in bunk bed, it looks amazing. The center staircase adds some fun elements to the sleeping area. Let your kids store fond memories with their siblings to cherish forever.
Bunk bed with a Copper bedrail
A copper bed rail gives the room an industrial look. This idea is mostly incorporated in built-in bunk beds as these beds give more scope to fix these rails.
Bunk bed with a dramatic punch
If your kids are fine with bold, color the complete bed with charcoal gray or matte black. For a monochrome effect, paint the background the same color as other areas.
Multifunctional
A multifunctional bed serves the functionality and adds a unique element to the space, especially when you stay in a studio apartment. These beds create ample space for adults and teens with free space to have a small living area to socialize, away from the sleeping zone.
Adult-friendly
These beds can accommodate crowds. It has a comfortable staircase with a metal railing for easy climbing for elderly adults. Beds are spacious enough for couples or buddies who love relaxing time together. The metal rod on the top bed keeps them safe.
Create an office space
If there's a space constraint and you wish to have a small office space within the room, create a compact workstation underneath the bed or next to the bed.
Themed Bunk Bed
Gaming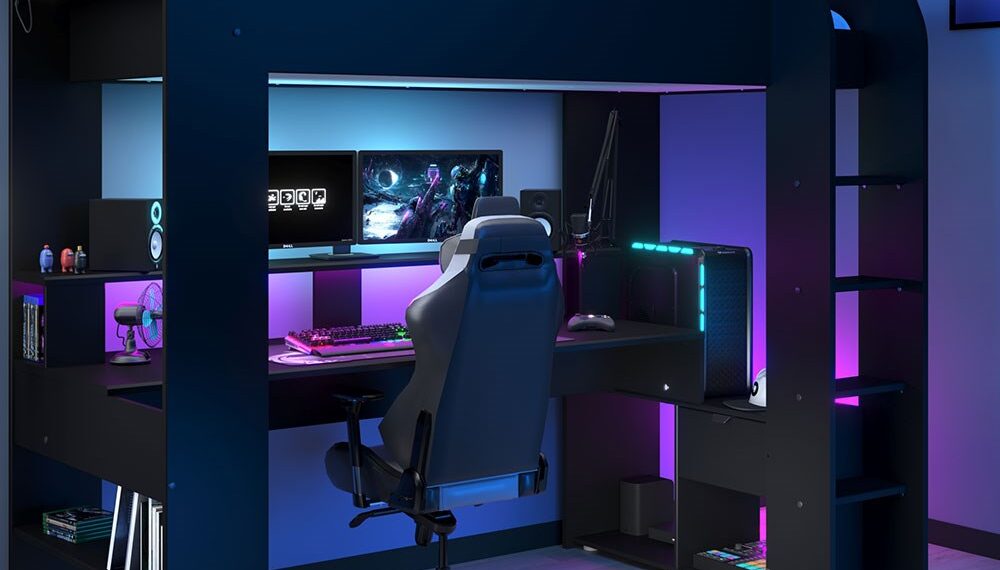 If your kid is fond of playing games casually, have a small gaming room set up beneath the bed. I am sure your child will love this idea. Place a gaming chair, a small gaming desk and a gaming computer.
Treehouse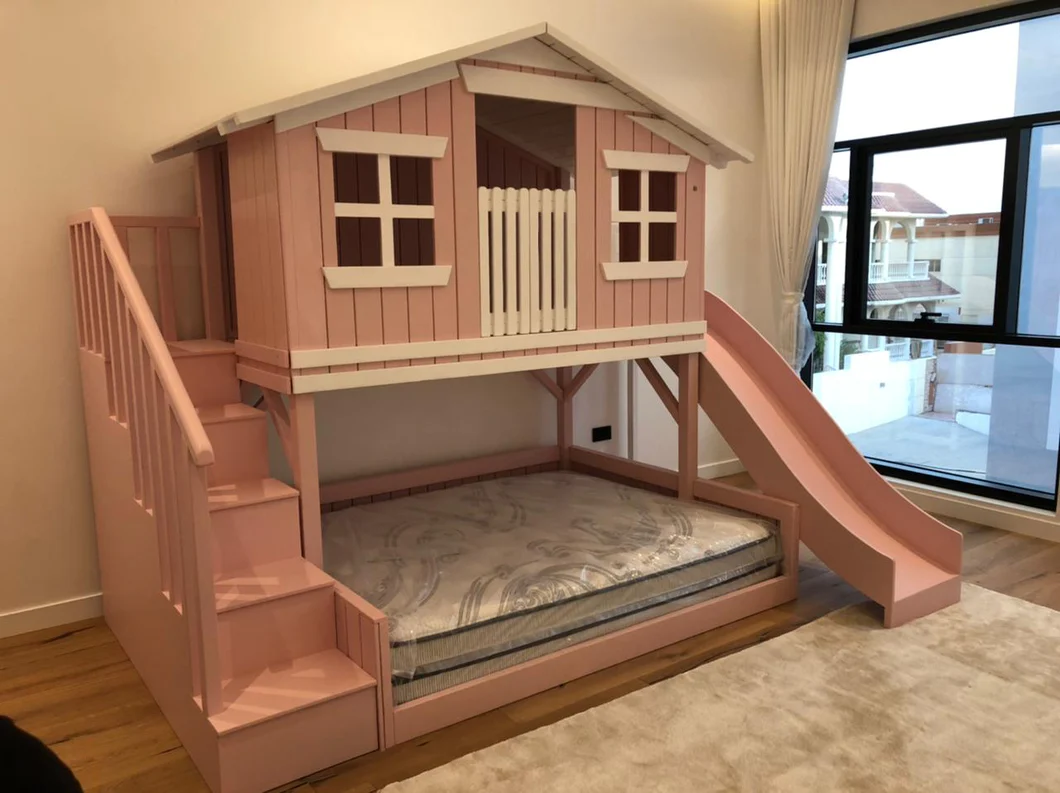 A tree house bunk bed will convert the simple room into a magical space surely loved by kids. Add some themed creatures for nature hideouts for little ones.
Zeep style
Meant for toddlers to virtually drive a jeep during the daytime and sleep at night.
Dark and moody
Create a dark and moody theme in the room, incorporating white and black tones. Paint the bed black and complement the dark tone with white bedding. Your child will surely love it.
Boho look
To add a boho element to the room, have a patterned rug, hung small chandelier and rattan side table. The white cottage bunk bed will spark your elegant choice.
Nautical theme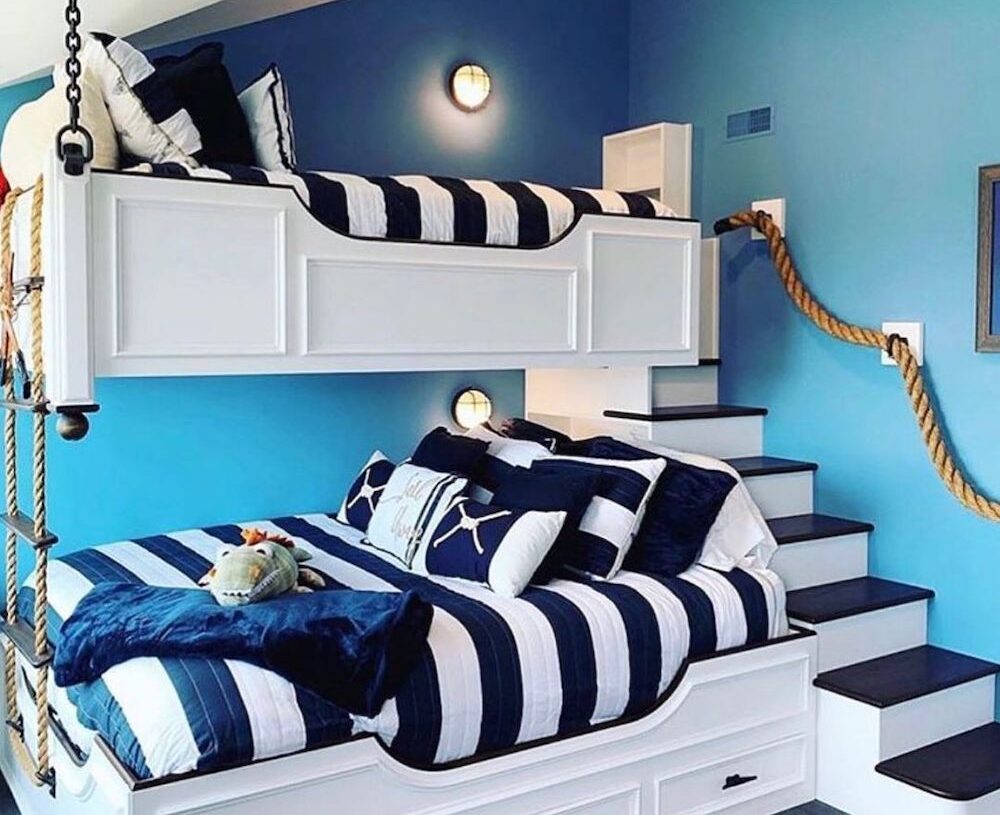 Design a nautical-look bunk bed for your little ones to have cool moments.
Beach look
Though it has the same shape and size as other beds, painting it with lake blue or sky blue will change its appearance to a beach look. Kids love to enjoy their sleeping time at a virtual beach.
Modern Mid-century
It is a wooden bunk bed, a timeless bed loved by growing kids. Whether you wish to have a trendy or classic one, this bunk bed serves both purposes. The wooden touch will add elegance to the room.
Colonial
Take your child in the classic time with a colonial-themed bunk bed styled with plaid bedding, a wide dresser and a classic rug to complete the look. Let your kids live some moment in a classic era.
Safari bunk bed
It is mostly preferred by animal-loving kids who virtually want to go on a jungle safari. What a sight! The lofted bunk beds have enough space to store toys as well.
Castle loft
Castle bed is often liked by girls who want to be in a dreamy world of royalty, feeling like a princess. And why not? Your girl is the princess of your family. Style the underneath of the bed with some light-tone accessories of her choice.
Trendy Farmhouse loft bunk bed
It is a perfect combination of natural texture and added accent. Please make a small study area for your kids to play and learn through activities in their comfort zone.
Loft bed with treehouse style
Having a treehouse loft bunk is fun for kids as it gives them a fun-filled hideout. You can decorate the bed with artificial plants for a fresh and natural environment.
Different Color Palette Bunk Bed
Yellow
The yellow bunk bed is ideal for your daughter's room. Add some pops of color matching the yellow bed for a magical feel. Have a rainbow duvet and some accessories to complete the beautiful look of the space.
Play with colors
Don't limit yourself to a few colors; try multiple colors to extend a sophisticated look. Infuse an element of brightness, filling the space with positivity.
Minimalist
Transform the versatile earthy-toned bunk bed with pastel tones such as cream, beige or tan.
Pink
Add some dimension to the bed using pastel colors in different shades. Place some built-in white furniture for a fairy tale look. Your little angel will undoubtedly love this idea.
Bright white
White is always liked for its soothing and elegant features. White reflects light and brightens the space without many makeovers. Hang crip white curtain, statement lighting and white and black bedding to add dimension to the all-white room.
White, blue and red
A perfect combination of a bright and light room ambience. In an all-white room, having blue, white and red textiles works as magic to elevate the beautiful room to the next level.
Natural look
Painting your kid's bed doesn't always look good. Try a natural texture. To complement the look of a wood bunk bed, hang some industrial black or other dark shade sconces and textured bedding.
Pros And Cons Of Having A Bunk Bed
Pros
The bed can be separated – Once your kids outgrow the bunk bed, separate it according to your requirement.
Perfect for sleepovers – These days, sleepovers are an integral part of a kid's life. Allow them to gather a fun-filled night with their besties with ghost stories and other activities.
Gives private space – Often, teens wish to have some private space within the shared room. With the clever use of a curtain, you can create an out-of-the-world space for your child.
Creates play space – Bunk beds use vertical space to create a play area for your little ones.
Teaches your child about sharing – Sharing is caring is implemented with bunk beds where kids share the room with their siblings and guests.
Storage – Amidst all the practical use, storage is essential to the house because you need space to hide your clutters.
Cons
Concern over height – As a parent, you tend to worry about your kid's safety. You often think, is your child safe sleeping at a height or what if they fall or hurt themselves? I also worried for my little one, but over time, I became fearless. I am sure you will also get used to it considering all the safety measures you have taken.
Claustrophobic – It's not a choice for claustrophobic. Kids usually fear being in a triple bunk bed, especially when they sleep in the middle.
Access to the top bunk – We recommend that a child over and above four should climb the stairs for safety reasons.
FAQs
What Is The Minimum Room Height For A Bunk Bed?
The standard ceiling height is 8′ to 9′ tall. The general rule is there should be a 33 to 36 inches gap between the ceiling and the mattress to give your child enough space to sit comfortably and not bang their head on the ceiling. You can have a bunk bed if your ceiling height exceeds the range. There are options in various styles, but you will have to customize it.
What's The Weight Limit For The Top Bunk?
The weight limit is quite subjective and depends on the material used. A metal frame bunk bed will hold more weight than other materials. Other factors are also important such as, whether it's for one or two kids and if you intend to use it for adults in case of more gatherings. Twin bunks for kids have a weight limit of 150 to 220 pounds per bed, whereas adult bunks can have 250 to 800 pounds. Stay within the prescribed weight range to avoid mishaps.
Can A Top Bunk Bed Fall?
There's a minimal chance that the top bunk bed will fall. To avoid mishaps, assemble the top bunk perfectly and follow weight capacity guidelines. Place the bunk bed against the wall for optimum sturdiness. It's always better to be safe than sorry.
Are Bunk Beds A Good Idea For Adults?
Though, bunk beds are considered for a kid's bedroom. However, it's good for adults as well. Usually, adult bunk beds are seen in custom-built bunk beds.
Conclusion
Bunk beds are the best possible option to save space and, at the same time, create additional space for multiple people. Researching and enlisting your requirements will help you buy the best fit for the available space. Pay attention to the storage space; it will keep the room clutter-free, creating ample space for kids to play around and explore.