If you live in a small apartment with limited space and wish to maximise the vertical space, small room loft bed ideas for low ceiling will work wonders. There are a variety of interesting and unique loft bed designs for low ceilings, so there is no need to compromise on style while prioritising functionality. Let's explore some loft bed ideas to smartly install a loft bed to maximise the space.
Read more: Loft Bed Desks for Adults
Low-Profile Loft Beds
These beds are a perfect solution for low-ceiling rooms designed to sit comfortably lower to the ground without feeling overwhelmed in a small space. A few low-profile loft beds are mentioned in the following paragraphs.
Read more: Find The Best Loft Bed With Desk For Your Home
Customised Low-Height Loft Beds
These beds have a lower height in comparison to conventional loft beds and have a raised sleeping platform for a fun-filled sleeping experience for your kids without occupying too much vertical space.
Platform Style Loft Beds
The platform loft bed is an elevated bed, unlike the traditional beds, to create additional storage space underneath. You can use the space as per your requirements and preferences. This bed has many designs with in-built drawers, coffee tables or nightstands. 
Space-Saving Storage Solutions
With limited floor space and unlimited use, the idea that strikes the mind is some space-saving clubbed with storage solution. Some of them are discussed below.
Integrated Shelving Units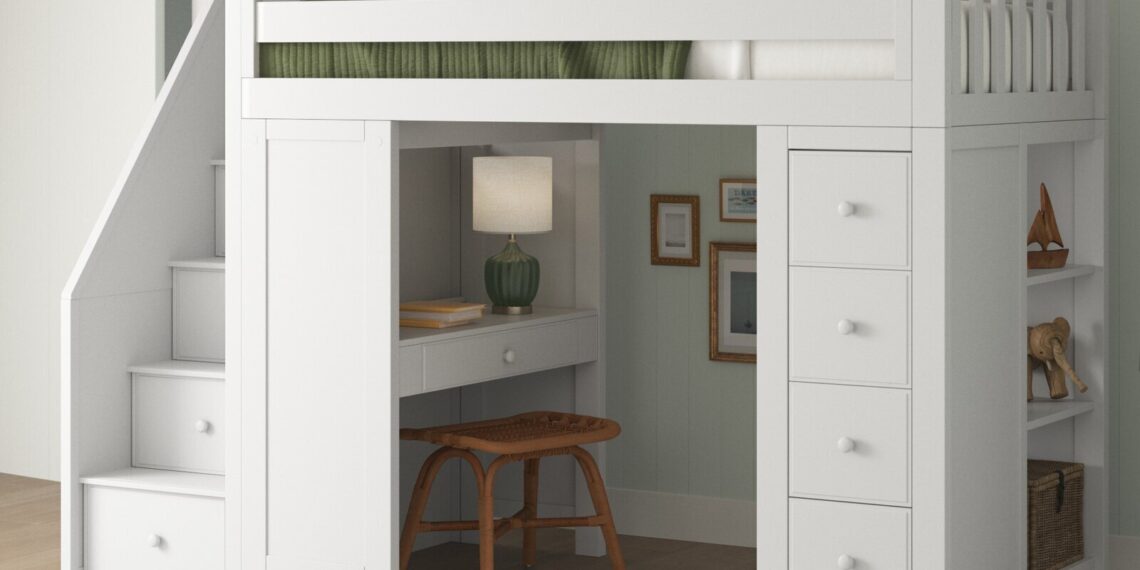 If you have a small room with no built-in storage space, get creative with a customisable shelving unit installed on either side of the loft bed on the stairs. 
Under-Bed Storage Drawers
There are multiple options in under-bed storage, such as drawers underneath stairs, foldable desks or reading corners. 
Clever Designs For Small Room Loft Bed Ideas For Low Ceiling
Low ceilings can be cleverly used with smart loft bed ideas to maximise the limited vertical space. Gone are the days when low ceilings or small rooms were a hurdle when  planning for stylish solutions.
Slanted Loft Beds
Slanted or sloped loft beds are either installed to create a unique charm to the bedrooms as a preferred option or due to the shape of the ceiling where normal platform loft beds are difficult to place. Slanted beds are usually preferred to create an island or a shipping experience.
Heavy loft bed with a sleek desk
Loft beds win the hearts of many due to their versatility and compactness, especially if made with white metal. All you have to do is to take the bed a little higher and fix a working desk and chair for a beautiful workstation.
Multi-Functional Loft Bed Designs
Loft bed designs have many uses making it a preferable choice for many. Loft beds can be used for sleeping as well as to create study space, a small office area, a compact seating area, or a kid's play area.
Combining Study Spaces
If you have a narrow room with a high ceiling, creating an additional study space for kids gets easier. It can be built by installing a desk extending to both ends of the bed or having a small desk.
Loft Beds with Seating Areas
Isn't it interesting to sit and chit-chat underneath the bed? There's not much you need to do. Get a pair of chairs placed below the bed and a small trendy table to rest your legs.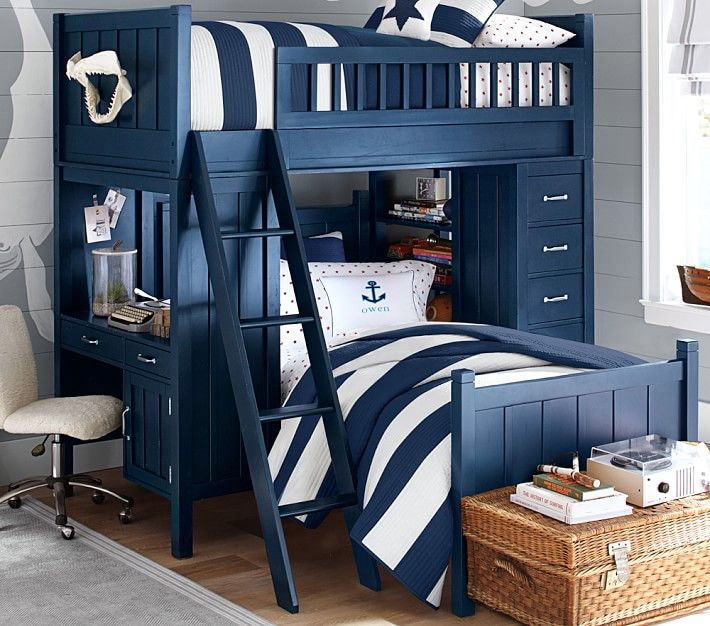 Why always follow the traditional colour concept? Go bold and try a navy blue bed colour to add personality to your room.
Floating bed 
Wall-mounted ladders for loft beds are a clever way to save floor space that can be used for others to keep essential pieces of furniture.
Make use of attic space 
The attic is the perfect solution if you are looking for a sleeping space in a small room without occupying any floor space. Use the attic area to create a comfortable bedroom, leaving floor space for other uses.
Loft beds with farmhouse look
The farmhouse idea elevates the charm of the bedroom, especially when barn wood is used. Your kids will enjoy the farmhouse vibes while being at home.
Glass windows for beautiful landscaping
When using attic space to create a bedroom, you might feel suffocated due to lack of air circulation and sunlight. Having a glass door and windows can easily resolve the issue.
Low loft bed idea
Keep the loft bed low to a height of 4.2 feet, leaving ample headroom. This is a clever idea if you have a toddler to ensure they don't get hurt if they suddenly wake in the middle of the night.
Add warmth with wood
Wood warms up the space with its amazing features. Deck up the railing and the staircase with wood, extending a vintage style. 
Transform the ceiling into an eye-catching spot
Display spellbound art on the ceiling apart from the walls with lettering designs of your character or your name. It's an awe-inspiring way to enhance the look of the room, making it your kid's favourite place.
Conclusion
Whether you have a low-ceiling room with limited space vertically or horizontally, your choice should not be affected. There are numerous small room loft bed ideas for low ceiling are available to create a visually appealing aura for kids and adults to sleep peacefully. Apart from the functionality of sleeping, extra study zones or seating areas can be created in style.
FAQs
What is the minimum required ceiling height for a loft bed?
The minimum ceiling height of the loft bed should be 2.2m to meet all the safety requirements. This also ensures enough gap between the mattress and the ceiling for comfort.
Can you put a loft bed in a small room?
Yes, loft beds can be placed in any room, big or small. A variety of loft beds are available in customisable options to fit into your rooms.  
What are the disadvantages of a low ceiling?
Some of the disadvantages of a low ceiling are as follows:
There is limited air circulation, which might result in discomfort, especially for claustrophobics.

It limits the inflow of natural light in the room.

Many fancy lighting fixtures are difficult to hang.
Do loft beds make a room look bigger?
Loft beds can make the room look bigger. All you need to do is strategically place the bed, opt for an open closet rather than a closed one, fix open shelves, embrace the charming bedroom with dark colours, use glasses instead of doors and walls, etc.