Decorating the home's exterior involves multiple things, such as types of types of furniture, fabric, curtains, rugs and, most importantly, lighting. Outdoor lighting is available in various designs and colours to brighten the outdoor space. Modern outdoor wall lighting ideas give you endless opportunities to decorate the exterior of your house with a variety of light designs, be it traditional light, modern or minimal.
Read more: Bathroom lighting Ideas Over Mirror
If you are looking for some inspiring outdoor lighting ideas to create a beautiful patio or front entrance with lighting fixtures, here are some tips to help you go for the best possible outdoor lighting fixture.
What Are Outdoor Wall Lights Called?
Outdoor lights are also known as "Landscape lighting", as these lights enhance the landscape feature of a home's exterior. Usually, these lights are used in gardens, trees, pathways or walkways.
Importance Of Outdoor Lighting
There are multiple reasons to fix lighting in the outdoor area. Some of the importance are discussed in the following lines:
They occupy minimal space

They work well in small and big, both spaces

It is suitable for residential and commercial; both space

Various types and sizes of lights are available, such as straight, curved and cone

It is a perfect solution for outdoor spaces without ceiling structure

It adds character and depth to the outdoor space

It accentuates the landscape 
Modern Outdoor Wall Lighting Ideas
Minimalist And Sleek Designs
LED Wall Sconces
Outdoor sconces are a great way to enhance the doorway and create a myth of floating light. There are a variety of sconces available in geometric design or conventional vintage look lamp design. It will serve the functionality by brightening the front or backyard area and also focus on the architectural detail of the house.
Flush Mount Fixtures
These lights are wall-mounted lights best suited for small spaces to maximise the amount of light. It is available in various styles, shapes and sizes, so you can surely get one to suit your home. Style it the way you want- as a traditional outdoor wall lantern or outdoor LED wall lights.
Spike lights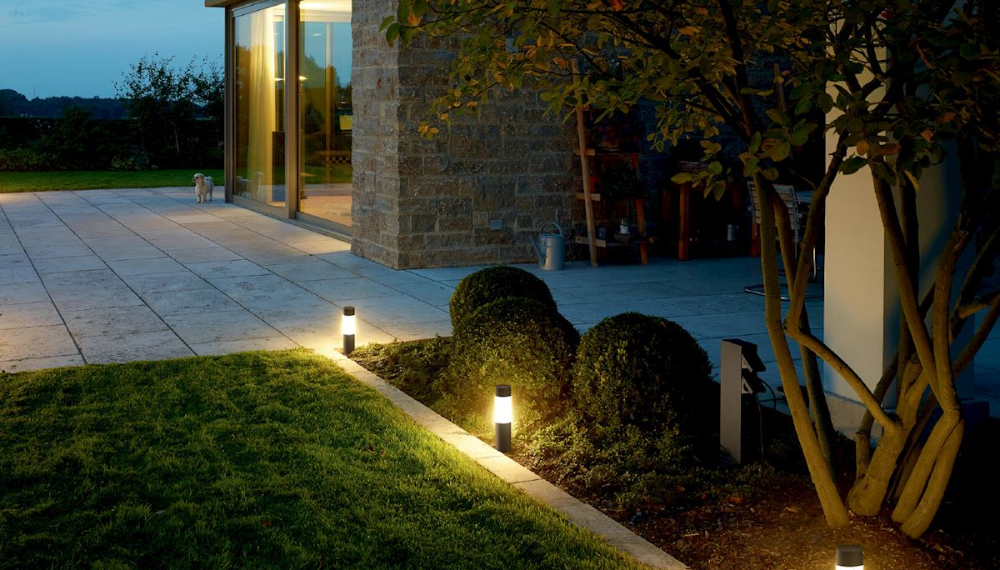 It is the best way to light up pathways and gardens, adding personality to the garden.
Recessed Wall Lights
These lights are used to highlight specific artwork and create impressive shadows and soothing lighting in the rooms. It also enhances the visual appeal of the room with a cheerful ambience all over.
Cylinder Wall Sconces
Cylinder sconces add extra light to the home's exterior, spreading crisp lighting to the space. It's an energy-efficient solution to brighten the living area, dining area or bedroom. 
Bollard Lights
This lighting can be used in the outdoor areas, especially the pathways and garden. It's available in many shapes and sizes to serve the purpose. 
Artistic And Decorative Outdoor Wall Lights
Scandinavian-Inspired Lanterns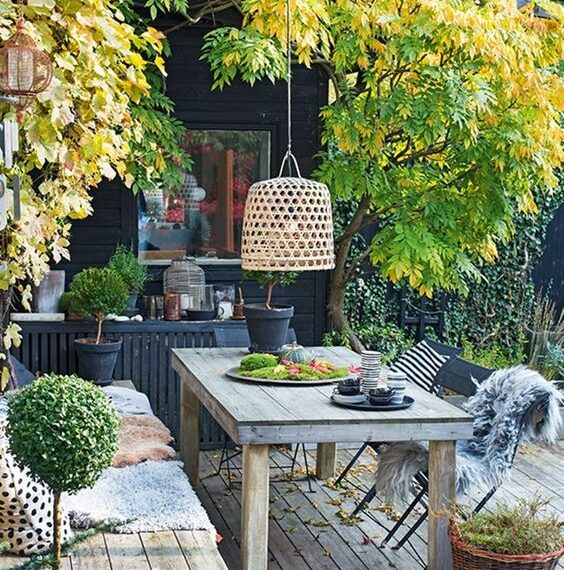 It has become a favourite lighting solution for many homeowners and decorators due to its simplicity and aesthetic. It is a functional way to implement a minimalist approach to the decor element. Scandinavian lights are made of glass, metal or wood.
Geometric Wall Lights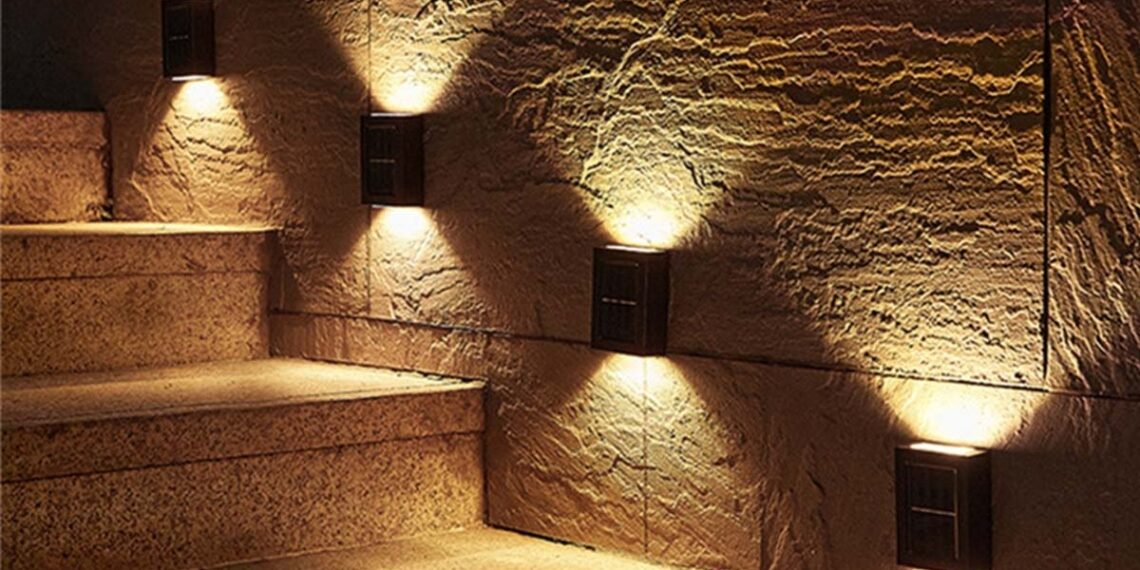 These lights allow you to display your creative ideas while adding a unique modern appeal to the wall. Depending on the size of the wall, you can opt for suitable shapes such as square, rectangle or sphere.
Standing lights
It is a beautiful addition to the Alfresco space with an option of a table lamp and floor lamp. It provides a soothing ambience for relaxing time on the home's exterior. There are various designs available, such as Nilo, trister and club floor lamps.
Pendant lights
It is an innovative lighting solution for patios and backyards. It is available in various designs and styles to complement any home style- contemporary and modern. The best feature is that it can be adjusted to any height, adding charm and character to the space.
Up and Down Lighting
This lighting is another excellent way to focus on features. As the name suggests, it can shine up or down. Up helps highlight the artistic feature of the wall above the lighting, and down highlights the feature below the light. 
Bulkhead lights
Bulkhead light extends an industrial charm to the home's exterior. It has a cage-like design that protects the light from unwanted harsh elements. It is best suited for coastal regions because it resists harsh weather and water.
Smart Outdoor Lighting Solutions
Wi-Fi Controlled Fixtures
It's a modern and intelligent lighting feature that gives an ease to control lighting anytime and anywhere. The features such as music playing, colour changing and changing the brightness of light using commands make it a preferred choice.
Motion-Activated Wall Lights
This is an energy-saving lighting solution based on sensor technology in which the sensor detects the movement in the nearby area and manages the light. It is widely used in residential and commercial places to keep check on burglars and thieves by switching on lights when they approach the main door or backyard.  
Nature-Inspired Outdoor Wall Lighting
Tree Shadow Projection Lights
Spotlighting is a great way to highlight the landscape. Kindly ensure not to focus on one area, leaving other areas dark. For this, it's better to use LED cube wall lights, especially downward, if you want to highlight garden beds. 
Conclusion
Modern outdoor wall lighting ideas are the best way to transform your simple home into a modern, eye-catching place with a visual appeal that can't go unnoticed. There are multiple lighting solutions available from rustic, vintage, modern and conventional. Select the one based on your preference and the functionality.
 

FAQs
What to look for in outdoor wall lights?
There are many things to consider for outdoor wall light, such as functionality (the intended use of lights), location of the garden, source of power (electrical or solar) and longevity of the lights. All these factors will help you go for the best-featured lights.
What are the different types of wall lights?
The different types of lights are wall lantern, flush-mount lights, LED lights, bollard lights, cylinder sconces lights, spike lights, up-and-down lighting and many more. 
Is LED better for outdoor lighting?
Yes, LED lighting is suitable for outdoor areas as it's energy-efficient, eco-friendly, can be used for landscaping by creating a dramatic effect and is durable.