Christmas means celebrations, family, and so much good food. No wonder it is the best and most joyful time of the year. It's when the whole family comes together, follows old traditions, makes some new ones, and creates the best memories ever.
Elf on the Shelf is one such holiday tradition that has grown in popularity recently. The elf on the shelf ideas are straightforward: an elf is placed in a different spot around the house each day leading up to Christmas, with the idea being that the Elf will keep an eye on the children and report back to Santa Claus on their behavior.
The Elf on the Shelf story has been passed down through generations of families. Carol Aebersold and Chanda Bell wrote the original Elf on the Shelf book in 2005, which tells the story of a magical elf who visits children in the weeks leading up to Christmas. The book also includes a small elf doll that parents can place throughout the day in different areas of the house.
The tradition has grown in popularity recently, with many families adding it to their yearly festivities. Some parents go to great lengths to set up elaborate scenes for their elf on the shelf ideas, with the Elf being seen doing activities such as baking cookies or playing games with other toys. The goal is always to create a festive and magical atmosphere in the home during the holiday season.
One of the most noteworthy aspects of such elf on the shelf ideas is that they allow parents to encourage good behavior in their children. The idea is that because the Elf is always watching, children will be more likely to behave well to avoid being placed on Santa's naughty list. Parents can also use the Elf on the Shelf to reward positive behavior, with the Elf leaving small gifts or treats for outstanding children.
Elf On The Shelf Ideas
Parents and children enjoy the magic and excitement of finding their Elf in a new location every morning during the holiday season. Here are some fun and creative elf on the shelf ideas if you're looking for new ideas to keep your Elf on the Shelf adventures exciting and engaging this year.
The Christmas Elf Arrival: Start the season by having your elf arrive in style. This elf on the shelf ideas for arrival include having your Elf deliver a letter from Santa or create a North Pole welcome station with miniature candy canes and a hot cocoa station.
Elves In A Candy Cane Jail: If your child has been particularly disobeying, your Elf can "arrest" all the candy canes in the house and place them in a candy cane jail. The only way out must be for your child to do a good deed to release the candy.
Elf Snow Angels: Sprinkle flour or sugar on a table or kitchen countertop, then position the Elf in a snow angel pose. Add tiny footprints to make it look like they have walked through the flour/sugar. Your child will be delighted to see their Elf's playful side.
Elf Movie Night: Do elves watch movies? Of course, they do! Have your Elf set up a mini movie theatre in the house with popcorn and treats for the other toys. Consider showing a holiday classic like "The Polar Express" or "Elf" to them.
Elves Bathing in Mini Marshmallows: Here is another one of many creative an elf on the shelf ideas. Your children always seem to skip a bath; let our elves help! Fill a small sink or basin with bubbles and place the Elf in the middle, wearing a rubber duck or snorkeling gear. Your child will enjoy watching Elf bathe in a bowl of mini marshmallows.
Snowball Fight: Coming from the north pole, where is the snow? Don't worry because the elves brought some back with them. Ask your Elf to organize a snowball fight with the other toys in the house. They can even build a marshmallow fort!
Tangled in floss Elf On The Shelf Ideas: This is one of those fun elf on the shelf ideas for all the naughty ones that don't brush their teeth. Place an elf in your children's bathroom tangled in dental floss, standing up straight in a small glass in the bathroom. Narrate his tangled story as a reminder that Santa will check on them to see if they have been taking care of their teeth!
Elf Christmas Card Photos: Have your Elf organize a mini photo shoot with the other toys in the house, complete with backdrops and holiday outfits. The photographs will be a fun and memorable keepsake for your child to look at when he grows up.
Baker Elf On The Shelf Ideas: Set up a mini kitchen area with an easy baking recipe and all the ingredients for the Elf to "bake" something. Sprinkle flour and sugar around the Elf to give the impression that they've made a mess. Holidays mean lots and lots of baked dishes! Your Elf can be seen baking cookies with the other toys. They can even include a note with the recipe for your child!
Elf With Surprise Gifts: Throughout the holiday season, have your Elf leave small gifts or treats for your child. This is an excellent way to reward good behavior while preserving excitement.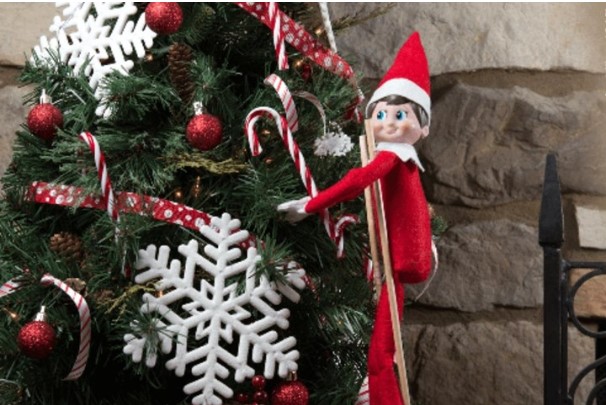 Elves Decorating Christmas Tree: While this may not seem like some of those new elf on the shelf ideas, it is still a classic one. Have your Elf build a miniature Christmas tree with ornaments and decorations. They can even leave a note requesting that your child assists in decorating the tree!
Spider-Man Elf On The Shelf Ideas: Who doesn't love all these superheroes? Dress the Elf in a Spider-Man costume or attach a Spider-Man action figure to their body, then hang them from a wall or ceiling with a string of webbing. This will be an exciting elf to find for your kids hanging from the top.
Elf Potty Time: Finding trouble training your little one to use the toilet? Santa's Elves can help! Place the Elf on top of a toilet seat, holding a roll of toilet paper. Pretty visual but conveys the message to your little one.
Book Reading Elf On The Shelf Ideas: Want to plant that seed for reading and learning in your child? Set up a mini library with books and a reading lamp, and have the Elf read one of the books. This'll be a cute and unmissable setup for sure!
Art Class Elf On The Shelf Ideas: Artsy much? Set the Elf up in front of a small easel with paintbrushes and a blank canvas as if they were creating their masterpiece. Have your children come close and look at the canvas. Then you can also follow that up by urging your children to develop their little art pieces, saying that the elves could take them back to Santa!
Tightrope Walker Elf: Create a mini circus in your home and entertain your kids in the best and most creative way possible! Set up a tightrope for the Elf to walk on, with other toys or objects positioned below to replicate a circus act. This will be a fun and exciting thing for the kids to watch.
Elf with Milk and Cookies: Not only is Santa a fan of milk and cookies, but elves love them too! Place the Elf at a small table with a plate of cookies and a glass of milk. You can also set other toys up and milk and cookies for your children beside theirs.
Slumber Party with the elves: Pull out those sleeping bags and set them up around the Christmas tree. Have some elves snuggled into these sleeping bags, and encourage your children to grab one and snuggle!
Elf popping out of a blind: A surprise never harmed anyone. Have an Elf pop out from one of your blinds and surprise your children at the beginning of their day. You can place many shelves around the windows in different parts of your home.
Sunbathing Elf: Sunbathing during peak winters is one way to say you miss summers. The elves miss summer too. To show a sunbathing elf, place an elf lying down on a small towel laid back with probably a pair of sunglasses.
Our Final Words On Elf On The Shelf Ideas…
Despite its popularity, the Elf on the Shelf tradition has been subject to controversy. Some critics have voiced concerns about using the threat of Santa's judgment to control children's behavior, claiming that it may not be a practical or healthy approach. Others have criticized the tradition for being too consumer-driven, with parents feeling pressured to create elaborate scenes and purchase expensive elf accessories.
Despite its flaws, Elf on the Shelf is a beloved holiday tradition for many families worldwide. It allows you to make treasured memories while reinforcing positive values like kindness, generosity, and good behavior. Whether you choose to partake in this tradition or not, there is no denying that for many people, the Elf on the Shelf has become an essential part of the holiday season.
Here are a few suggestions and quick and easy elf on the shelf ideas to get you started this holiday season. The possibilities are limitless, so get creative and have fun! Remember, the goal is to fill your children's holiday season with the best and most magical memories.