Outdoor kitchen ideas are a perfect way to make mealtime more exciting. When the weather is pleasant, we aspire to enjoy meals on the patio. The open-air fills our souls with cheerfulness, positivity and energy that can't be achieved indoors. Outdoor cooking and dining create a fun and celebration spirit because you can enjoy the scenic beauty of your backyard, breathe fresh air and exhibit your culinary skills in front of friends and family. It has been more than a BBQ session; it adds a unique culinary experience and little sophistication.
Enjoying meals in the backyard or patio is enjoyable; however, bringing food and supplies from the kitchen takes a lot of work. The worst happens when you forget to bring the essential ingredients you need immediately. In such a case having a functional and beautiful outdoor kitchen is an excellent idea for enjoying a meal under the warm sun or glittering stars.
Outdoor kitchen design in various sizes, shapes and styles helps you enjoy barbeque, drinks, games, kid's favorite pizzas and many more in the yard. Always go for a covered kitchen to avoid rain and untimely wind. It also saves kitchen appliances from rusting and protects furniture. If you long to take the entertaining Al Fresco, it's time to execute planning into reality. Here are some of the designs for every style to inspire you to have your own cooking space in the backyard.
Pro-Tip For Outdoor Kitchen Ideas
All the materials should be weather-resistant and durable.

Try to place the outdoor kitchen near an entrance to the inside kitchen for smooth functioning in case of social gatherings (you often need things from the main kitchen). It also helps you manage the plumbing line and gas easily.

Go for tiles and other accessories that serve dual purposes of functionality and form.

Decide on the layout.

Make an estimate of the actual expenses to make the kitchen. 

Hire a professional if the kitchen design is complex.
Essentials Of An Outdoor Kitchen Island
Cooking appliances

Food preparation space of a minimum of 1 meter

Storage c abinets to keep pans, utensils and pots

Sink of appropriate size

Outdoor fridge 

A heater to use during cold weather

Proper lighting to cook and to add aesthetic

Pizza oven if you are a pizza lover

Outdoor bbq area

Gravel pit

Hot and cold water taps

Stainless steel workplace because it's durable
The Best Outdoor Kitchen Ideas And Designs
White Outdoor Kitchen Ideas
All-white revamp gives a new look to the outdoor kitchen, especially with white cabinets and stainless steel workspace to complete the look. The proximity to the indoor kitchen ensures an easy transition of things from indoor to outdoor space. 
Coastal-Inspired Outdoor Kitchen Ideas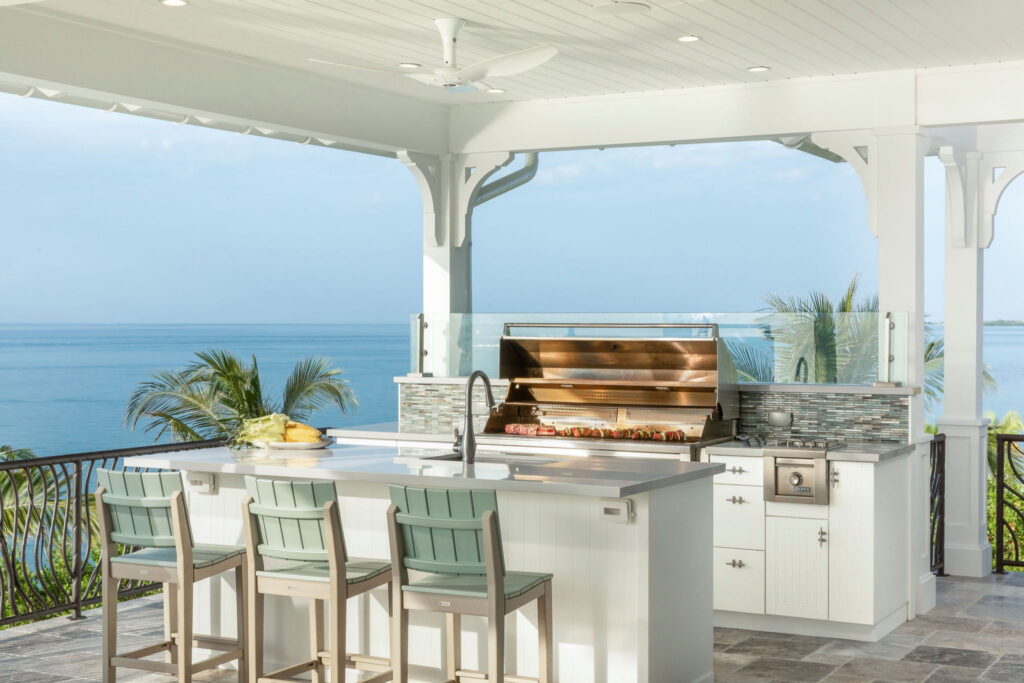 Coastal-look outdoor sofas in the alfresco kitchen ideas create a perfect space for a lazy and relaxing Sunday with the family. You will love it!
Dreamy Outdoor Kitchen Ideas
To transform a dream into reality, create an outdoor space that gives you a feeling of home's interior. Install an exposed ceiling beam, a ceiling fan and a statement barbeque unit. 
Tropical-Style Outdoor Kitchen Ideas
It's a perfect idea for riverside homes. Customize a bench to complete the tropical-style alfresco space serving functionality by creating seating for the family.
Farmhouse Vibe With Contemporary Black
For a chic modern farmhouse vibe, install black siding walls, timeless hanging lamps and beautiful cabinet handles. The best idea to have ample shade without closing the space is reed roofing. 
kitchen-In-A-Box Idea
The hideaway design for the outdoor bbq kitchen is a fantastic idea. Ready to use when needed and hidden when not in use. Enjoy the barbeque session during warm weekends.
Outdoor Kitchen Ideas With Grey Stone
To give the space a sleek and singular modern look, use materials like rough stone and wood in a grey shade to enhance the style.
Outdoor Kitchen Ideas With Bar
Style your outdoor kitchen with a pergola that will provide a roof and add character and definition to enhance the visual impact of the space. To have a dramatic effect during pleasant weather at night, hang some string lights. 
Enclosed Kitchen
Are you putting up in an unpredictable weather zone? No worries! The shaded kitchen is the best idea for you because you can easily close it when it rains, or heavy wind blows, making it difficult for you to cook. 
Southern Look Outdoor Kitchen Ideas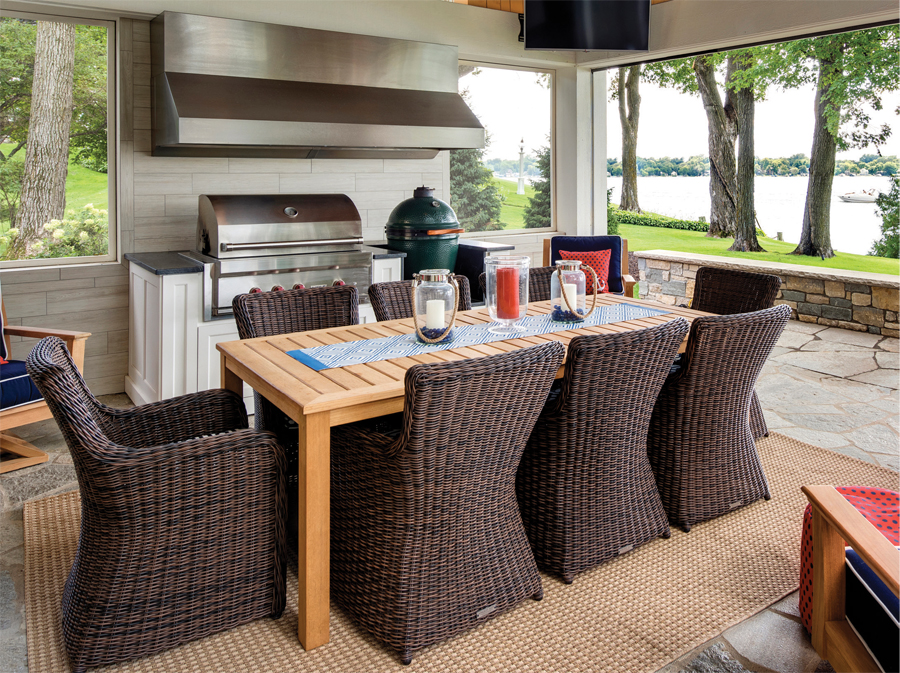 For a warm, charming, decent and welcoming southern look, get gorgeous basket weave style chairs, iron foot table and rustic chandelier. The bright shade wood ceiling goes perfectly with stone walls and lighter- tone floor.
Outdoor Kitchen With A Chiller
Many of you would love to sip cold drinks after a delicious meal on warm days. Why spoil the fun because of frequent indoor visits? Install a chiller trough on the dining table for easy reach.
Galley Outdoor Kitchen Ideas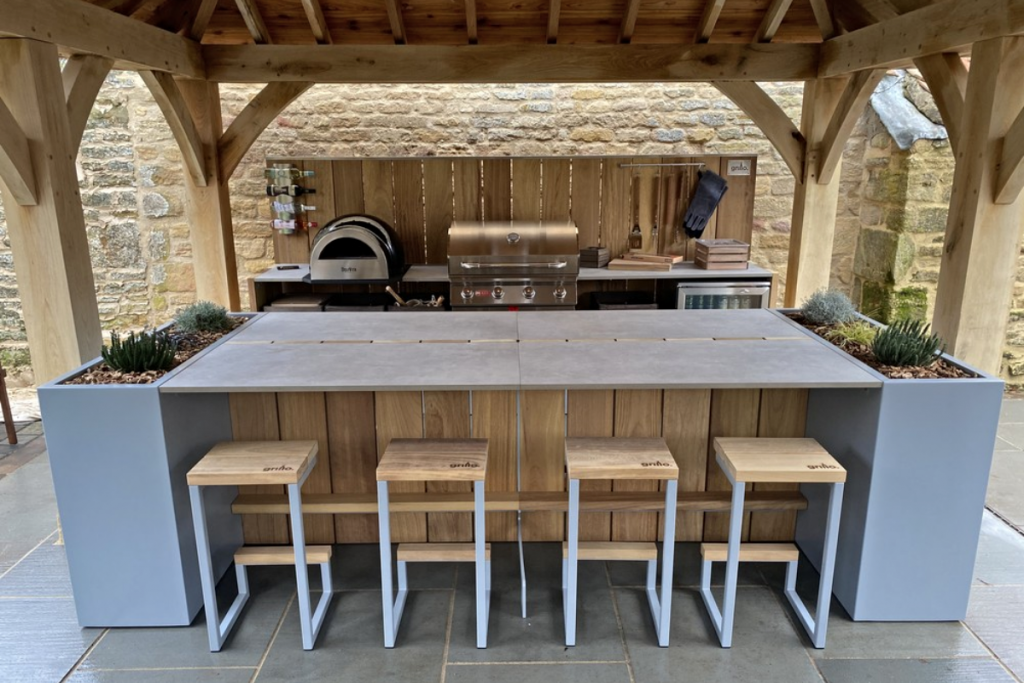 Make a small galley barbeque kitchen without walls with two counters on either side serving as the base of the pergola posts. One counter can be used to keep kitchen supplies, and the other serves as a bar and dining counter. The stacked stone base extends a rustic charm to the space.
Industrial Vibes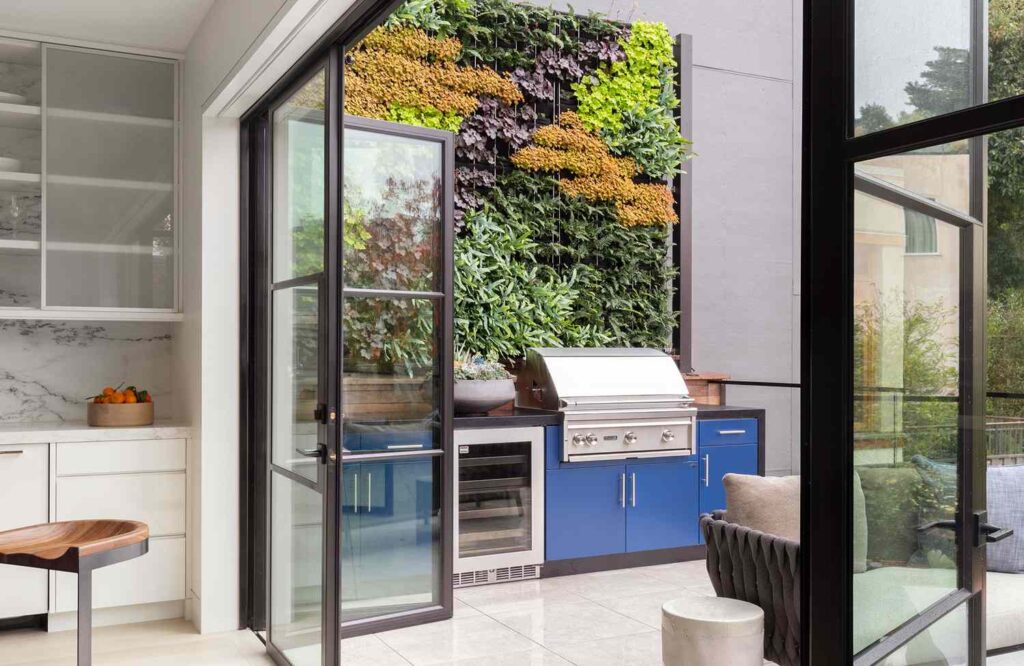 To get the desired industrial vibes in the outdoor space, get a grilling unit and matt finish wood fencing surrounded by lush green plants to soften the industrial look. 
Patio Kitchen
The patio kitchen is a charming place to spend afternoon and evening alfresco dining. Add a counter, a grill and oven, a dining table and some storage space to add the charm. You are now ready to spend a lovely moment in your patio kitchen.
Bring The Tuscan Air Into The Outdoor Kitchen
Construct the Tuscan-inspired kitchen to let warm Tuscan air flow in the backyard. Install a tile floor, sleek pergola, plank table and iron chairs. Add a patch of aromatic herbs for freshness.
Outdoor Kitchen Pavilion
If you have guests coming over the weekends regularly and you want to spend time with them, go for a kitchen pavilion design in the backyard. You will have enough space to host entertaining events and family get together. Place an eight to ten-seater dining chair and a bench for a nap.
Backyard Kitchen With A Glass Window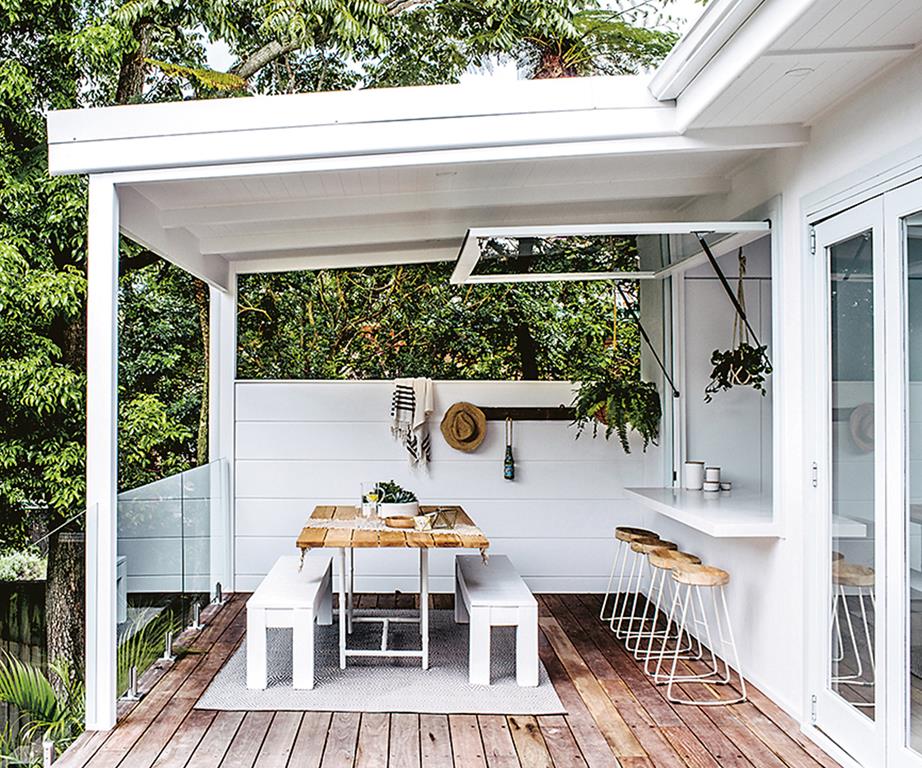 It's an ideal poolside option. You can pull it up or close it as per your requirement. Open it while having a picnic and close it while cooking. Buy a few stools and a folding counter to complete the outdoor kitchen. 
Outdoor Kitchen DIY
Create a charming cottage kitchen in the garden corner to enjoy. Add a comfortable and sleek chair and a wood plank table to keep up the essentials for cooking. Enjoy the scenic beauty while cooking. A complete diy outdoor kitchens idea is an easy and functional design.
Fenced Outdoor Kitchen For Small Backyard
Do you want privacy from neighbours in the backyard kitchen because of a small backyard? It's a common problem faced by many homeowners living in cities. A fenced kitchen with a vertical or horizontal fence is the perfect solution. It serves the dual purpose of maintaining privacy and allowing light inside. 
Black Pergola Outdoor Kitchen With Metal Roof
This design is among the most liked ones because of its unmatchable look of wooden plank flooring, metal dining set and pergola with a metal screen. It's a contemporary design that leaves a beautiful visual impact.
Red Rough Brick
The kitchen with red brick always extends an old charm of smokey well-prepared meals with a rustic feel because of the concrete counter, wood cabinets and red brick base. 
Small Refrigerated Drawers
For any barbeque parties(afternoon or cozy night ) with friends and family during warm days, an outdoor refrigerated drawer is the perfect solution to keep cold drinks handy when needed. The rush of the indoor kitchen to grab cold drinks can be easily avoided. 
Sail Shades Outdoor Kitchen Ideas
Outdoor kitchen with sail shades is an easy-to-install option that gives sufficient shade to the space during warm days and is easy to remove when not in use. To provide a modern look for the kitchen, keep it minimalistic with a light shade of white and grey.
Kitchen Against A Sturdy Wall
What an idea to save space and cost to build an outdoor kitchen against a sturdy concrete or stone wall! It looks stylish and modern, with an open grill with a touch of shining wood.
Classic Romantic Outdoor Kitchen Ideas
It is one of the most popular outdoor kitchen designs with brick walls, candle chandelier, wood ceiling and stone tiled floor, adding an old-world grace and drama. Get wicker chairs to complete the classic look. 
Curved Pergola With String Lights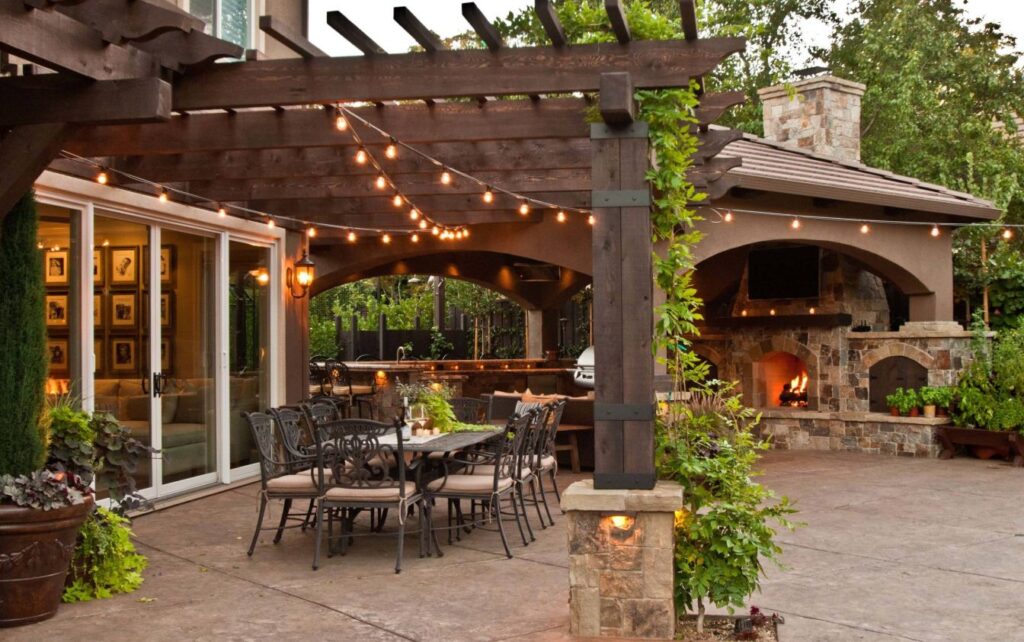 The curved pergola with string lights on the ceiling looks discrete. Wicker chairs and brick flooring evoke a sense of warmth where you can relax and gather memories. 
Stylist And Modern Outdoor Kitchen Design
The modern and sophisticated design is the best choice to elevate the outdoor look. Ample storage cabinets, comfy seating arrangement and a firepit in the centre with minimalist shades of grey and white wall and splashback look amazing. It reflects your personality. No one will go unimpressed.
Outdoor Kitchen In A Small Backyard
If your backyard is small, you need not worry. You can turn it into a beautiful outdoor kitchen in one corner with a portable dining set that you can remove when not in use. The same space can be used for another purpose. 
Clean Outdoor Kitchen Ideas
By default, use neutral colours and clear lines if you want a modern, covered outdoor kitchen. The clean design offers ample cooking space, clutter-free storage, and a big sink. For an ideal modern home, fix some statement lighting.
Hardtop Grill Gazebo
Hampton Bay hard-top grill gazebo keeps the home chef happy and comfortable. The storage shelves and countertops give ample space to cook and spread the grilling tools.
Final Thoughts
The outdoor kitchen ideas encompass several designs. What is the best design for you depends on your choices, usage, available space and budget. A well-researched idea with proper planning can hardly go wrong. A perfect design that suits you may not be suitable for another person. Therefore, consider all the functionality and design simultaneously before concluding to buy an item for an outdoor kitchen. 
FAQs
What are the advantages of an outdoor kitchen? 
There are multiple benefits of an outdoor kitchen that combines the functionality of the outdoors with the comfort of an indoor kitchen, complementing the greenery of your backyard. You can enjoy the garden view and fresh air while cooking, spending time with friends and family, and even trying new dishes. If there's no budget constraint, you have an edge to transform your dream of a perfect kitchen on the patio. 
How much does an outdoor kitchen cost?
The outdoor kitchen cost varies from as low as $50 to $7000. The price depends on your preference (aesthetics or high-quality kitchen appliances) and kitchen layout. A decent outdoor unit can be built with a budget of $1000.
Can You Use a Grill Under a Covered Patio?
Yes, you can use a grill under a covered patio, but the space should be well-ventilated to ensure proper circulation to blow away the solid unpleasant smell. If your outdoor furniture is placed near the grill, ensure it complies with the current fire retardant regulations. 
How can I style the outside kitchen area?
If you are a pro in interior decoration, things will come naturally with little thinking; however, if you are doing it for the first time, plan it properly considering all the possible things like available space, frequency of usage, budget and many more. The easiest way to style is to add comfy and stylish cushions, statement lighting, cabinets, a barbeque station, etc. Select the options carefully to make a noticeable impact on friends and visitors.