One of the vital steps of any home decor is the last step of the finishing touch extended to the identified decor area of the house, which makes the space sing with joy. If it comes to the heart of the home ( kitchen splashback), there is more to offer to the visual ecstasy of those entering the kitchen for the first time post-interior. Splashback protects the walls behind the sink or hob from excess oil or grease and gives you a chance to add some dazzling effect to the kitchen, which is most of the time on the backfoot while planning for kitchen splashback for renovation.
Kitchen splashback ideas are usually excluded from the planning process of kitchen makeovers and are an afterthought. More effort is exerted on having more storage options, which colour to apply in the cabinets, which texture will go well for the benchtop and many other similar priorities. Splashback is the last item on the bucket list for many. Create something more cohesive by including the splashback in the kitchen remodel plan.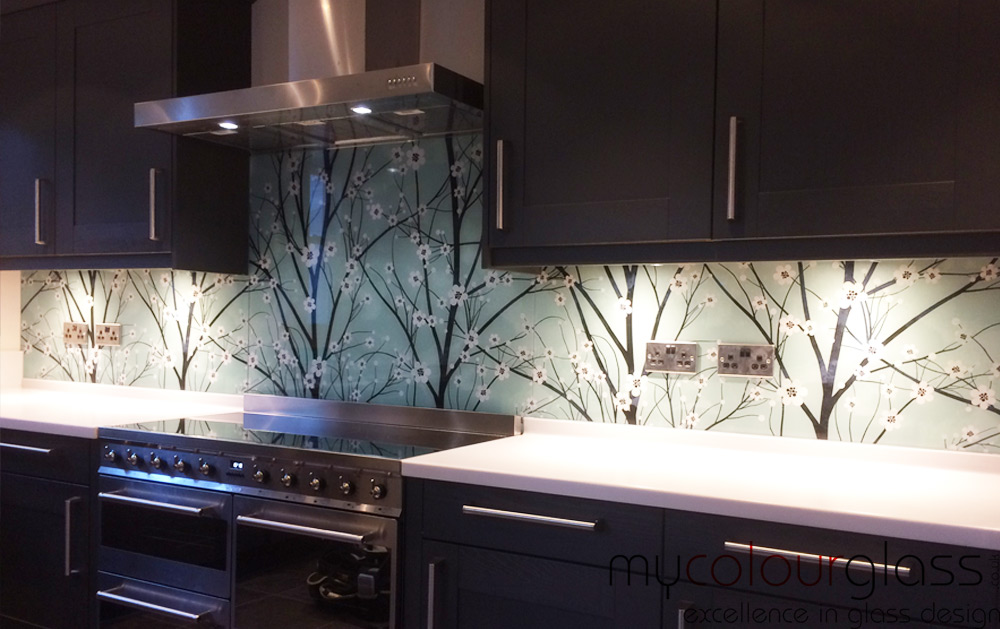 We forget that though it covers a small kitchen area, different kitchen splashback ideas can add a dramatic element if done correctly and may become the centre of attraction. There are a plethora of kitchen splashback ideas; rustic tiles, waterproof and heat-resistant wallpapers, or something to cope with the splashes. Let's have a look at some of the popular kitchen splashback ideas.
Style With Tiles
Using tiles is the easiest way to style and add patterns to your kitchen spalshback ideas. Porcelain and ceramic are the best options. However, these come with their pros and cons. Glossy Porcelain tiles are long-lasting, easy to clean and water-resistant, whereas matte finishes require treatment to prevent stains because of their dull texture.
Check out Tile Mountain for some beautiful and budget-friendly porcelain and ceramic tiles.
Though ceramic tiles are cheaper than Porcelain, they are less durable. Still, it's a perfect choice for the splashback as it's available in intricate kitchen designs because of the ease of cutting and shaping these tiles. You may consider kitchen splashback ideas for a white kitchen as well in ceramic.
Consider the colour of the tile grout while selecting the tiles for splashback. For a more noticeable vibe, go for a contrast colour; dark tiles for light hue grout and vice-versa. For a small space, go for the same colour tiles all over to have a more spacious appearance.
Glass or Mirror Kitchen Splashback Ideas
A tough and sturdy glass splashback gives an ease of cleaning with an illusion of depth. You may order a customised piece according to your priorities and the size of the area. It can be conveniently installed. AluSpalsh is a worthy option as it is energy efficient and made from recycled aluminium. It has a lustrous finish with heat, fire and steam resistance.
With a mirror splashback, the illusion of depth aggravates further, making your space look double the size. If you're not into weekly cleaning types, avoid a mirror splashback because it requires frequent cleaning. With glass, it adds a vintage charm to the space and conceals any smashes or dirt.
Natural Stone Splashback
Natural stones are the best choice to extend an earthy and grounded look to the splashback, though it comes with a pinch to the pocket and needs frequent treatment to uplift its longevity and water resistance.
A few options by Caesarstone can outshine the natural stones in stain, heat and scratch resistance, and durability. If you have a budget constraint, don't worry. There are numerous marble laminate or marble aluminium splashbacks in the market. Go for it.
Traditional Metal Splashback
Traditionally, metal splashback has been a favourite splashback behind the busiest area of the kitchen. The modern kitchen splashback ideas are to fix a natural platina that makes a bold statement tolerating the overtime in the kitchen space. Check for some copper splashbacks with Naked Kitchens.
PVC Wallpaper Splashback
How about wallpaper? It's not the ordinary wallpaper we are talking about. It's a PVC wallpaper that is waterproof, heat and water resistant, and unbreakable, making it a perfect choice for behind the sink or hob, an area with maximum oil and dirt.
It's budget-friendly and effortless to install. If you are staying in rented accommodation, you won't find a better option than a different pattern of wallpaper which is also easy to clean; use warm water and a cloth, and you are done. Cheap and the best choice!
DIY Splashback Solution
DIY splashback solution is mainly preferred for rented accommodation, especially for those living a nomadic lifestyle due to professional commitment. Select a trending design, peel it, stick it behind the sink or hob and level it firmly. Finally, seal the edges with silicone sealant.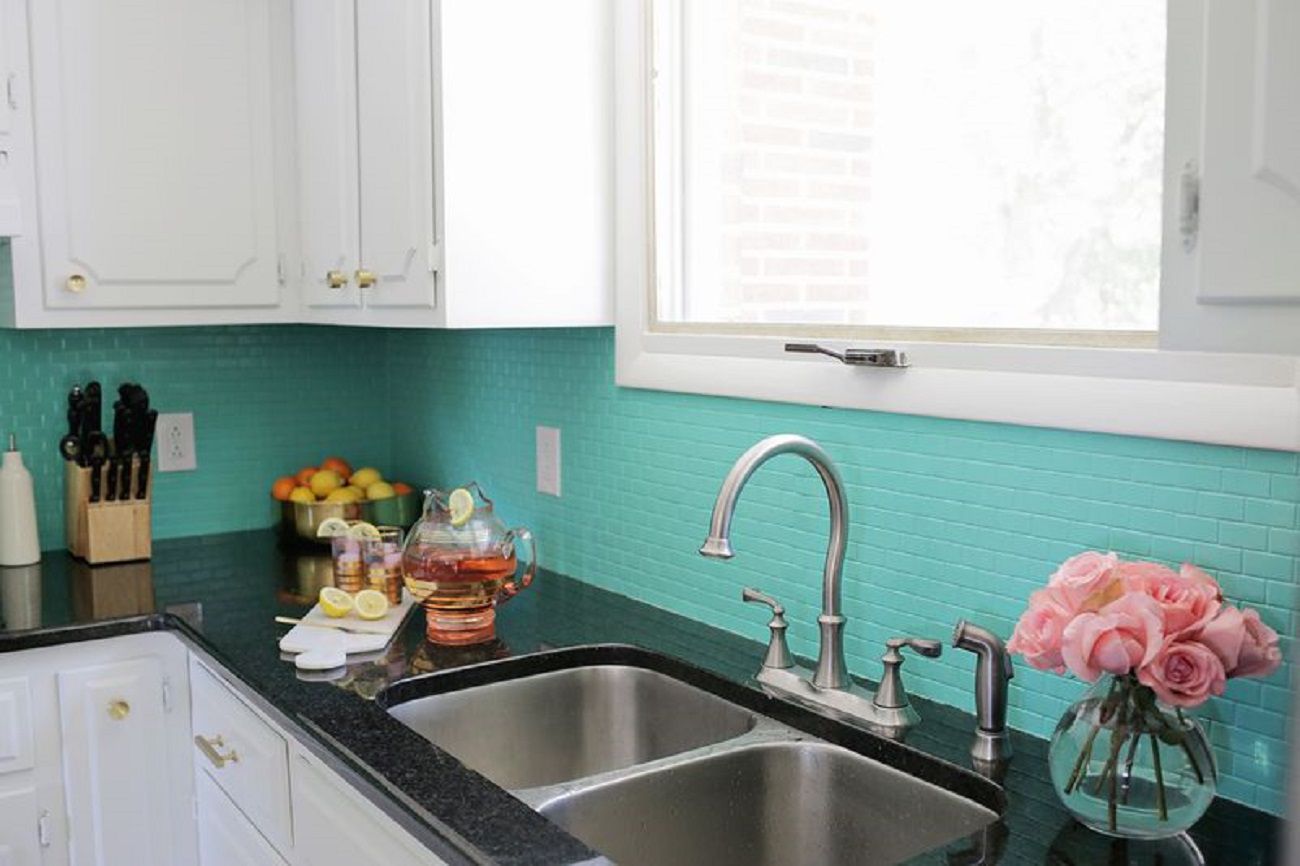 Colour-Coordinated Splashback and Ceiling.
To make a design statement for your kitchen, what could be a better way to colour your kitchen than terracotta, the trending kitchen splashback ideas? Terracotta is quite inviting, warm and an intelligent choice for the kitchen.
You can paint the ceiling the same colour as the splashback to have a dazzling modern effect on the entire space. To add more depth, colour the cabinets like the splashback and ceiling and use a lighter, muted white or cream hue for the remaining walls. Witness the style statement!
Style With Zig-Zag Tile
Though the zig-zag style is opted more for the bathroom, now it is becoming a modern trend for kitchen splashback ideas. The zig-zag style tiles look more uplifted than the typical straight lines and blocks.
A not-so-common placement of tiles can be the centre of attraction of the kitchen. Display your creativity with different styling patterns, and get ready to see how many unique looks can be created. You'll be astonished to see how much scope you have to play around with rectangular tiles to make a focal point for your kitchen.
Cover The Complete Wall With Tiles
Who says to fix tiles to the compact splashback? If you got a favourite tile, why not fix it all over the wall extending beyond the splashback? If your choice of tiles is natural or handmade, nothing like that.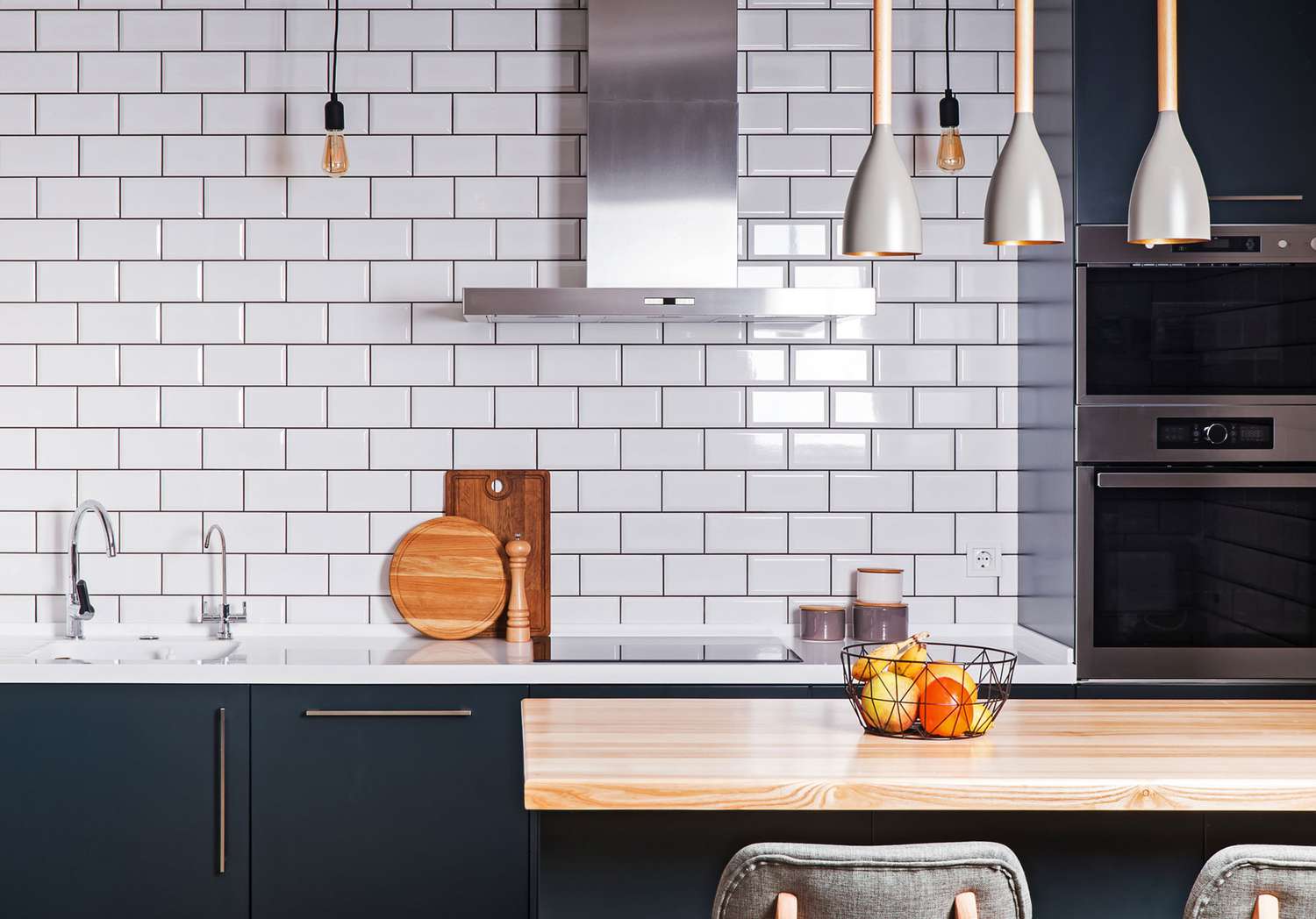 These tiles have a natural roughness that creates texture and drama so much that nobody can stop their eyes from rolling onto the walls.
Transparent Glass Splashback
If you are lucky to have a kitchen with a garden or scenic view with natural sunlight, ripe the maximum benefit of it and have a transparent glass splashback to allow the natural sunlight into your kitchen.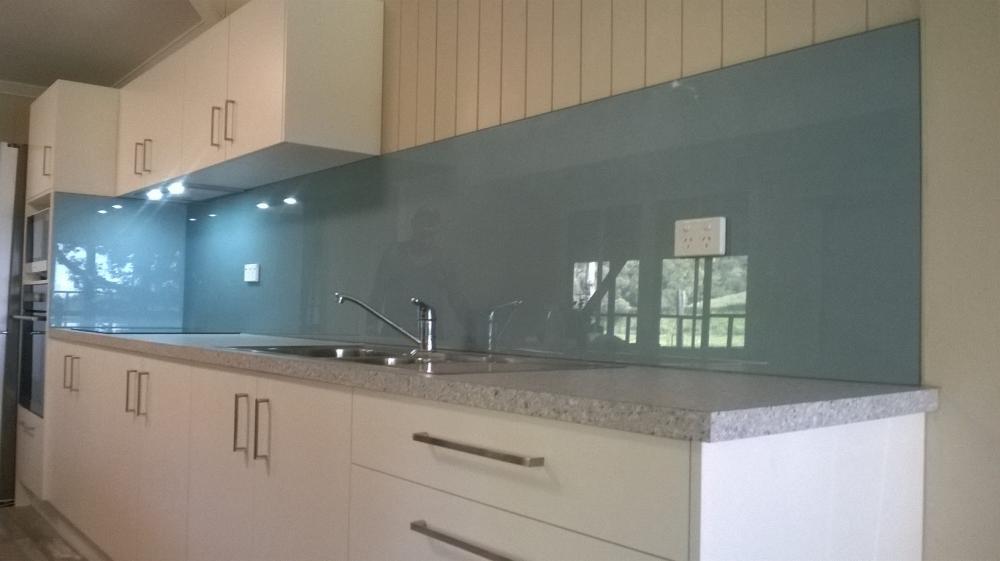 What more can one ask for than a natural view while cooking to enhance your mood and fill your kitchen with positive energy? Install blinds to ensure you have privacy when needed.
Timber-Look Tiles
To add a chic look to the surroundings, dark shade timber creates a modern ambience if matched with contrast light hue benchtops and cabinets. There are different ways to install and have a bold and unique look; install a toughened glass splashback with timber panels or timber-look tiles.
Though both look good, a better and easy option is printed glass splashback to revive the timber texture.
Glass Whiteboard
Installing a glass whiteboard has a significant advantage over the matte texture; wiping writings off temporary markers is easy, especially during cooking.
Italian Marble Printed Splashback
If you like modern home decor, Italian marble could be on your favourite list. It's loved for its unmatched richness. It's not so pricey and easy to install. No visitor can distinguish between printed Italian marble and the printed one installed behind the sink. Isn't it a fantastic idea?
Geometric Splashback
Geometric patterns have a spellbinding visual impact on others. Pair the geometric tiles with natural timber finish cabinets to add to the serenity and beauty of the space. It'll be pleasing to the eyes. This pattern is readily available in a pattern-printed glass splashback.
Glossy Splashback
The glossy splashback is reflective, adding depth and drama to the kitchen. Enjoy the brightness with much shine. What a perfect blend!
Black Hexagon Tiles
Black is always considered classy, be it clothing or decor. Add a bold and elegant flair to your kitchen with a beautiful black hexagon splashback for enhanced texture and personality.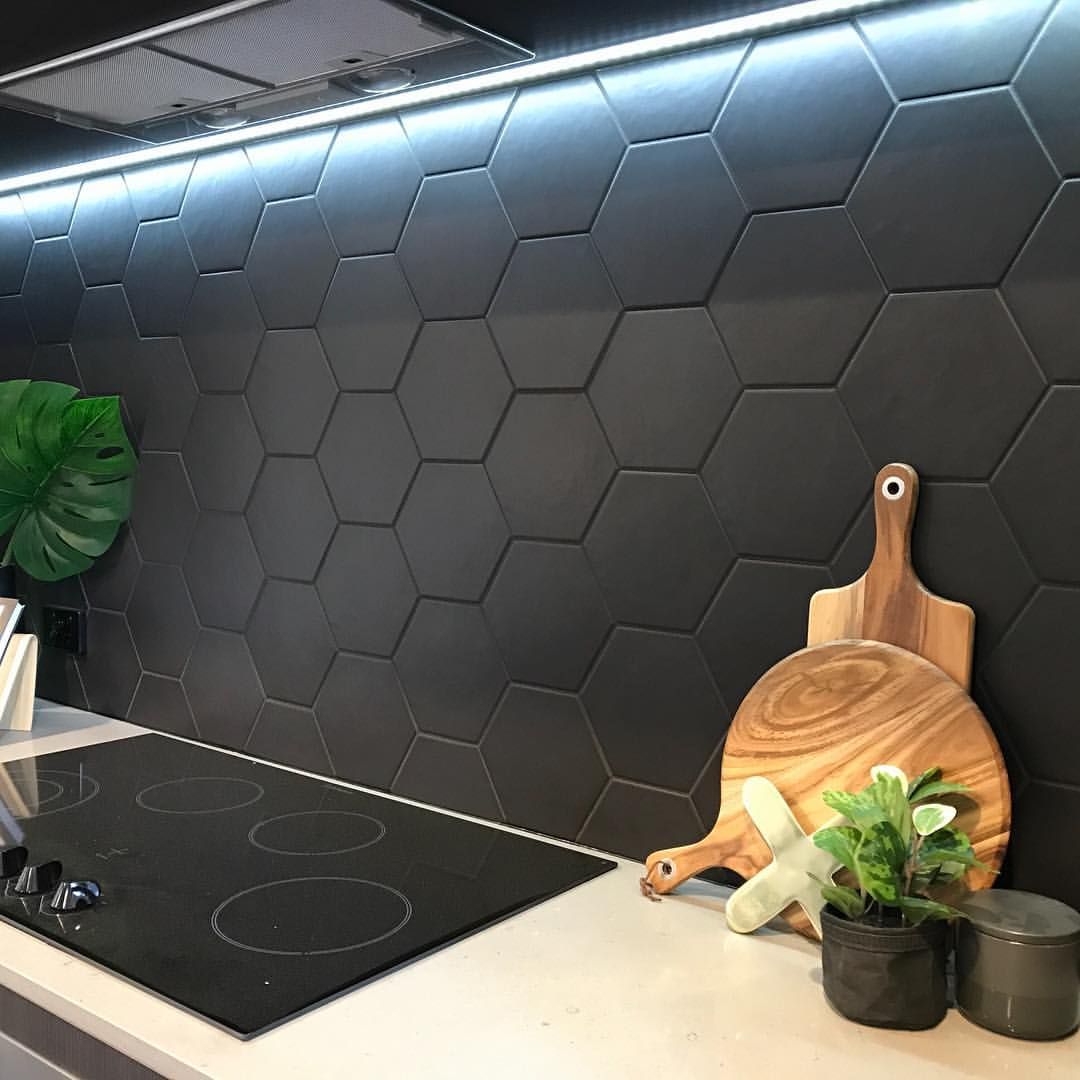 To stand out from the crowd, keep a minimalist look to the rest of the items; muted colours for cabinets and lighter shades for ceilings and walls. Hexagon tiles are available in a printed glass splashback.
Conclusion
The kitchen undoubtedly is a functional area of the home, yet you can add some aesthetics to it. Usually, there's a tendency to overlook certain kitchen areas, presuming they will only matter a little. However, the truth is a small amount of energy spent in a makeover of areas as splashback may become the centrepiece of your kitchen. While planning for kitchen repair or interior, consider kitchen splashback ideas in the front foot besides other items such as the colour of the cabinets, shade of the ceiling and walls and the benchtop texture and material. Balance the energy on every corner of the kitchen, including the splashback.