Just because you don't have room in your kitchen for a six-burner stove, double-bowl sink or breakfast bar, it doesn't mean you have to sacrifice function or style. Making the most of your small kitchen might seem overwhelming right now but here are 5 ways to max out space in your kitchen, from chic small-scale appliances to innovative storage options and details that make all the difference. But without spending a fortune, you can still pull off small kitchen renovations by making changes that allow you to reclaim your space and help you get your dream kitchen
Declutter
When was the last time you took a good hard look at everything stored within your kitchen cupboards and drawers? If you're struggling to find space, the first thing to do is to remove the unwanted things. Do you have display dishes you have never used? Did some of your crockery get clipped because of years of wear and tear? It's time to say goodbye! You'll be amazed at how much space this can give you. Take the opportunity to cull what you have in your kitchen. Responsibly get rid of anything you don't use by recycling or selling. Decide what is a priority for you, getting a new dishwasher or having a dresser of rarely used crockery and glassware. Also, aim to keep surfaces free of clutter and also consider varying depths of units and drawers.
Kitchen layout
Galley and L-shaped kitchens work best in a small space, as both will provide practical storage and prep space together with a layout where everything is close to hand. Thinking of adding an island to your kitchen? An L-shape layout can offer a similar solution. While a typical island can take up lots of space in a small kitchen renovation, a small table/peninsula is a much better use of space and can work as a breakfast bar as well as prep area. A galley layout has two runs of parallel units. Areas for the sink are typically on one side and the oven on the other, with plenty of storage on both sides. Be mindful not to include a full run of tall cabinets, which could make the space feel more enclosed. Instead, go for a full-height of cabinets at one end, with appliances integrated among lower-height styles.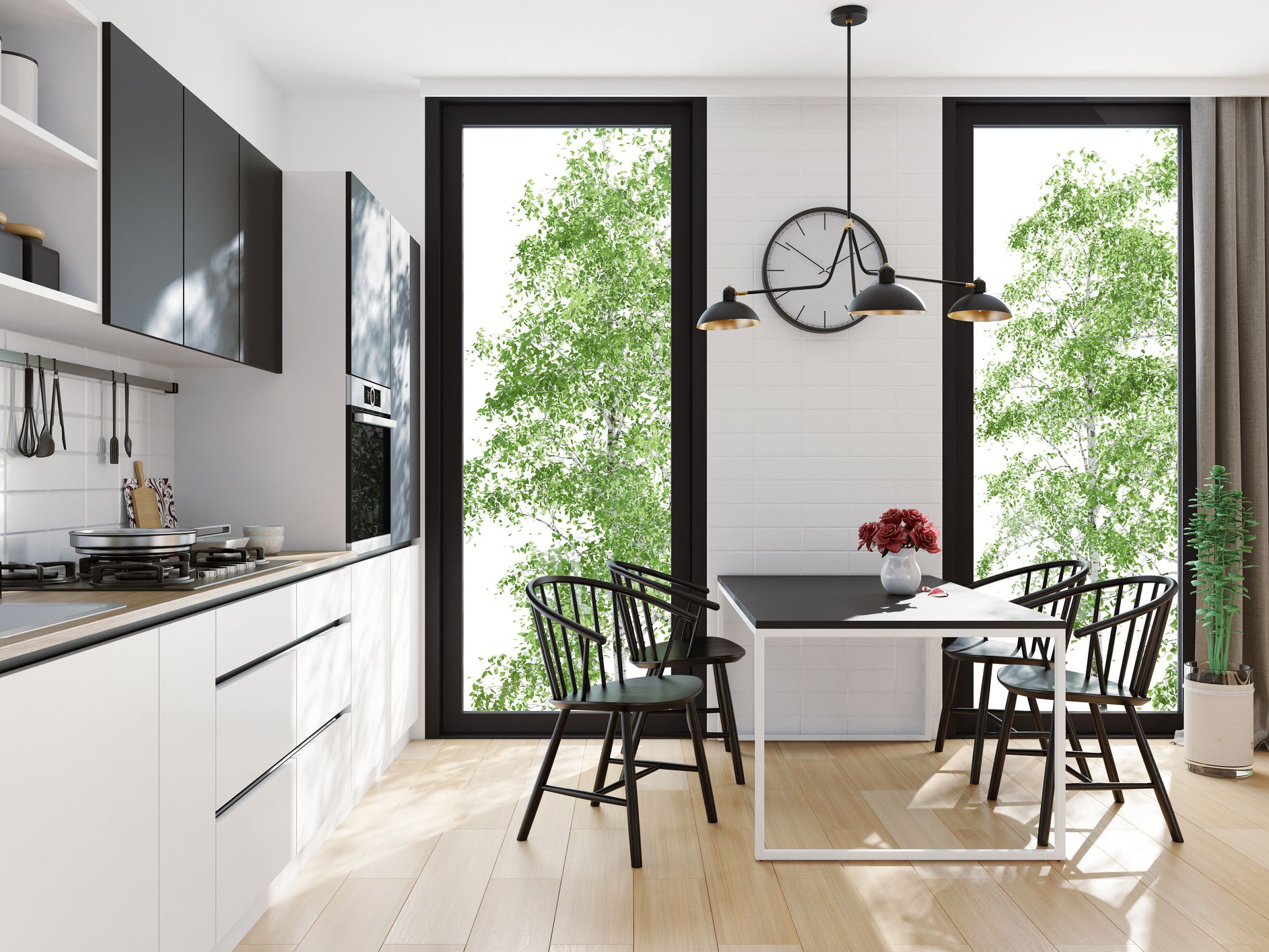 Unique storage solutions
Instead of adding cabinets everywhere and making the kitchen look cramped, consider a wall-mounted storage space. Make the most of the available space by mounting rows of racks on the wall from floor to ceiling. Drape towels over a bar, use S-hooks to hang kitchen tools and install a magnetic knife rack. Paint the wall black to avoid any scuff marks. You can use this space to hang pots and pans as well. Don't stop at one row; use all of the space you have. You can also store them over the stove taking advantage of an otherwise wasted space and they'll always be at hand when you need them. To know how much your kitchen renovation costs, read our latest guide. 
Getting the light right
The easiest way to make the kitchen look bigger than it is getting the lighting right. A small space can look and feel dark and cramped so access to natural light as well as a properly thought-out lighting scheme is vital. If your kitchen is located to the front or back of the house, with window and door openings, you may already have a light and airy space. However, if it is located towards the centre of a property or only has small windows, you should prioritise ways to introduce more light. Rooflights and sun tunnels help reflect natural light through a tube from an external opening bringing in lots of natural light. When strategically placed, they can offer daytime task lighting, too. But if you live in an apartment or do not have access to a lot of natural light, you can invest in bright, chic lights to brighten up the space. 
Sink it
Simply choosing a single bowl sink over a double bowl sink will save you a foot or more of counter space. Small-scale single-bowl sinks come in a variety of types, including farmhouse styles which are currently trending. If you really want to save room, go for a small undermount sink with a single bowl. Because the sink's edges will be hidden, you'll have a little more space on the counter beside the sink. No matter what you store under your kitchen sink, you can bet there's a better way to organise it.  Rolling drawers and smart organisers will help you make the most of that space. If your kitchen is old or beyond salvageable, get 3 no-obligation kitchen renovation quotes.